Couscous and quinoa are both considered superfoods that are great alternatives to pasta or rice.
| Product | Brand | Name | Price |
| --- | --- | --- | --- |
| | massoud freres | Moghrabieh Lebanese Couscous Mediterranean Pearl Couscous by Massoud Freres, Pack of 2 | Check Price on Amazon |
| | RiceSelect | RiceSelect Couscous, Moroccan Couscous, Non-GMO, 26.5 oz (Pack of 4 Jars) | Check Price on Amazon |
| | Moroccan Cookware | Couscoussier 6 Liter Moroccan Steamer Pot Imported from Morocco Couscous Cooker Pot | Check Price on Amazon |
| | Healthworks | Healthworks Quinoa White Whole Grain Raw Organic (80 Ounces / 5 Pounds) | Check Price on Amazon |
| | Yupik | Yupik Organic Black Quinoa, 2.2 Pound | Check Price on Amazon |
* If you buy through links on our site, we may earn an affiliate commission. For more details, please visit our Privacy policy page.
Given the similarities of these two in culinary applications, many people can simply wonder if there are differences between them.
While couscous and quinoa are somewhat similar in flavor and texture, they have significant differences.
Understanding how couscous vs quinoa differs allows you to pick the right superfood for your needs.
Couscous vs Quinoa
Couscous
Couscous is the national dish of Morocco, and it is also a staple food in many countries in North Africa.
Just like quinoa, couscous is not considered a grain despite their similar appearance.
Couscous is made of semolina wheat flour (which comes from durum wheat flour) and water. The mixture is then rolled by hand to form tiny pellets then dried.
Buy it now: Amazon (Lebanese couscous)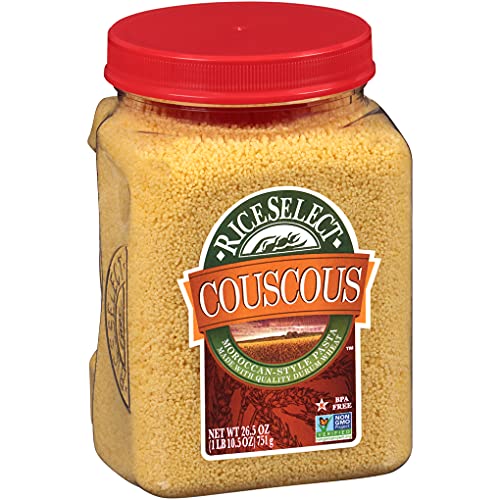 Buy it now: Amazon (Moroccan couscous)
Buy it now: Amazon (Israeli couscous)
There are three types of couscous: the Morrocan couscous, Israeli couscous and Lebanese couscous. The Moroccan couscous is the smallest in size, followed by Israeli couscous which is about the size of peppercorns, and Lebanese couscous which is the largest type.
Couscous grains are easy to store and easy to prepare.
Uses
Couscous cooks quickly. Generally, it just takes about 5 minutes to steam in a couscous cooker. Moreover, it is also great for salads and other dishes such as pilaf where you would otherwise use rice. You can also enjoy couscous as a healthy substitute for breakfast cereals.
---
There are many other ways on how you can incorporate couscous into your dish. There are many couscous recipe books that you can check out for some ideas.
Buy it now: Amazon
Flavor
Cooked couscous has a sweet and slightly nutty flavor that goes well with stews, grilled and roasted vegetables and meat, and braises among others.
Couscous Nutritional Value
Couscous has a nutritional profile that is similar to other grains. A hundred grams of couscous contains 112 calories, 3.8 grams of protein and 0.16 grams of fat.
The same amount of couscous also contains 1.4 grams of dietary fiber and 23.2 grams of carbs.
Moreover, according to a Healthline article, couscous is also rich in selenium.
The selenium in couscous provides 50% of the Daily Value (DV). It is a powerful antioxidant that helps the body fix damaged cells and manage inflammation.
Other minerals in couscous include manganese, folate and iron.
The same Healthline article also mentioned that couscous is an excellent source of plant-based protein. It provides 6 grams of protein per cup.
Couscous also contains essential amino acids such as glutamic acid, leucine, tyrosine, valine and proline among its health benefits. It's important to note that durum wheat is a high gluten flour and is therefore not ideal for those who have gluten sensitivity or celiac disease.
---
Quinoa
Quinoa is a naturally gluten-free superfood that is loaded with many health benefits. However, there has been confusion on whether quinoa is whole grain or not.
Technically, quinoa is not a true grain but a seed from the Chenopodium quinoa plant. Since grains are defined as seeds sourced from grasses and not plants, quinoa does not fall in this category.
However, the way we consume quinoa resembles more like a whole grain. This is the reason why many people consider it as grain.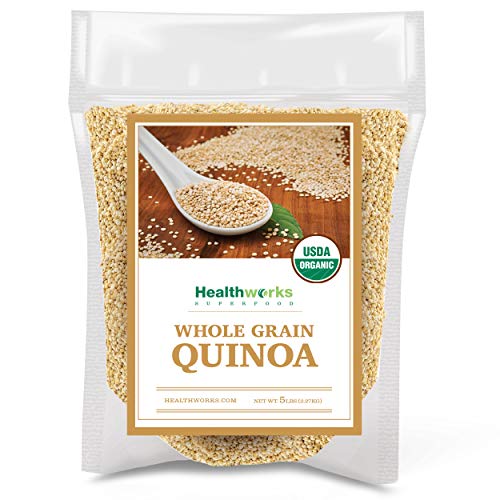 There are more than 120 different varieties of quinoa, and they differ in colors, taste and nutritional profile. However, the most common quinoas are white quinoa (tan), red quinoa and black quinoa.
---
Uses
Both couscous and quinoa are great substitutes for breakfast cereal or as an alternative for pasta.
Quinoa salads are also incredible. Simple toss cooked quinoa to your favorite veggies, and that's about it. Another popular recipe for quinoa is protein bars, soup, porridge as well as savory and sweet snacks.
However, the advantage of quinoa is that it is a complete source of protein and is gluten-free. That is why it is a number one choice for people on a gluten-free diet.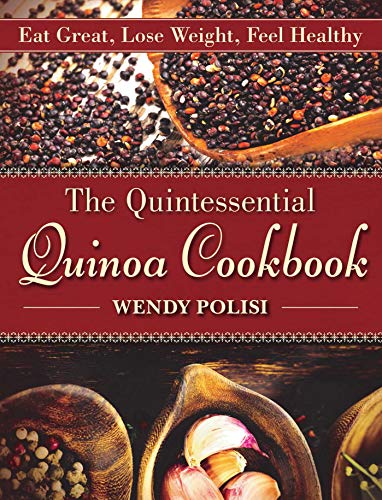 There are many other ways to use quinoa. You could check out your favorite quinoa recipe books for inspiration.
---
Flavor
Interestingly, the three popular types of quinoa taste differently.
White quinoa has a fluffier texture when cooked. Of all the different colors available, white has the lightest texture and most delicate flavor.
Red quinoa which transforms into a brownish hue when cooked is slightly chewier in texture when cooked. Compared with white quinoa, it has a richer and somewhat nuttier flavor. As it holds its shape better after cooking, it is an ideal choice for cold salads.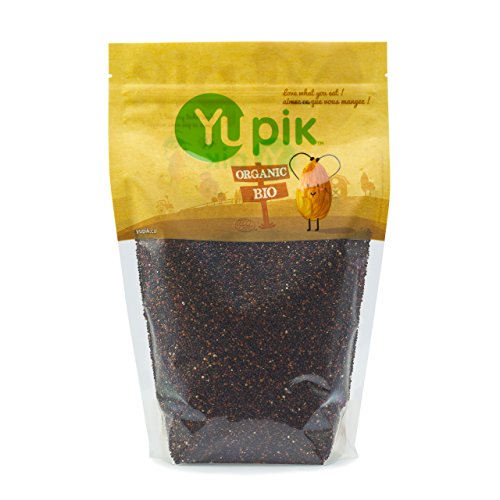 Black quinoa is slightly sweeter with a more earthy flavor than white quinoa.
---
Quinoa Nutritional Value
Quinoa nutrition profile includes complete protein which is not available in most grains. This is the reason why quinoa is a useful staple for vegans or those who do not consume animal protein.
A 100-gram serving of quinoa contains 120 calories and 21.3 grams of carbohydrates.
The same amount of quinoa offers 27.4% of the DV for Manganese. This mineral is essential for brain and nerve function, calcium absorption and sugar regulation.
Quinoa also contains folate which is 10.5% of the DV. Folate is important for healthy cell function and growth.
Additionally, quinoa is a good source of iron, providing 8.2% of the DV. Iron helps for overall health and growth.
It is also worth mentioning that quinoa contains essential amino acids such as leucine, lysine, tyrosine, cysteine, tryptophan and more.
Difference between Couscous vs Quinoa
Composition
As said earlier, both foods look like a grain but are not.
Couscous is made from pasta flour, particularly semolina wheat flour that has been shaped to form the rounded pellets we know of. This same flour is used in making other types of pasta.
Quinoa is technically not a grain but a seed of a plant. Quinoa is a seed of Chenopodium quinoa.
From the above information, we can establish that couscous is a processed food while quinoa is a whole food.
Uses
Despite the differences in the composition of quinoa vs couscous, they both have similar textures. For this reason, they can be used interchangeably in many recipes.
When substituting one for the other in preparing different foods, it's important to consider their differences in flavor.
Quinoa is a bit earthy while couscous has a milder flavor comparable to pasta. Both quinoa and couscous readily absorb the flavor of the food they are cooked with.
Moreover, it is also important to remember that between couscous and quinoa, couscous is high in gluten while quinoa is gluten-free.
Also, only quinoa offers complete protein. This means that you can use it as a substitute for meat.
If you are on a gluten-free diet, the best choice is quinoa.
Nutritional Components
Between quinoa and couscous, quinoa is more nutrient-dense. Its calcium, copper, iron, magnesium, phosphorus, potassium and zinc contents are a bit higher than couscous.
Couscous wins in terms of selenium, sodium and B5 (Pantothenic Acid) content.
Both foods do not contain a significant amount of vitamin D and vitamin C.
100 grams of dried quinoa offers 16% of DV for vitamin E while couscous just has traces of this vitamin.
As for calories, couscous has a bit more than quinoa.
Both foods contain dietary fiber. One hundred grams of quinoa offers 7 grams of fiber while for the same amount of couscous, you only get 5 grams of fiber.
Additionally, aside from the presence of nutrients and calories, it's also important to compare the glycemic index of these foods.
The glycemic index (GI) is a system that scores foods on a scale of 1 to 100 depending on how they affect blood sugar levels. Studies have also shown that consuming foods with low GI may also help with weight loss.
Quinoa has a glycemic index of 53. This number falls under the low glycemic index.
Couscous, on the other hand, has a GI of 65. This score is considered moderate.
FAQs
What is healthier: couscous or quinoa?

Both are healthy but quinoa has more nutrients and vitamins, fewer calories, and low GI.

Where can I buy these superfoods?

Quinoa, couscous and other similar superfoods are widely available in many supermarkets and online retailers

Can I eat couscous or quinoa every day?

You can cook quinoa and couscous every day, but consume them in moderation.

Can I use quinoa as a substitute for brown rice?

Yes, many people are already doing this.
Conclusion
Quinoa and couscous are healthy foods that contain vitamins, minerals and amino acids. In most recipes, you can use them interchangeably. However, before doing so, consider their nutritional benefits as well as flavors.
| Product | Brand | Name | Price |
| --- | --- | --- | --- |
| | massoud freres | Moghrabieh Lebanese Couscous Mediterranean Pearl Couscous by Massoud Freres, Pack of 2 | Check Price on Amazon |
| | RiceSelect | RiceSelect Couscous, Moroccan Couscous, Non-GMO, 26.5 oz (Pack of 4 Jars) | Check Price on Amazon |
| | Moroccan Cookware | Couscoussier 6 Liter Moroccan Steamer Pot Imported from Morocco Couscous Cooker Pot | Check Price on Amazon |
| | Healthworks | Healthworks Quinoa White Whole Grain Raw Organic (80 Ounces / 5 Pounds) | Check Price on Amazon |
| | Yupik | Yupik Organic Black Quinoa, 2.2 Pound | Check Price on Amazon |
* If you buy through links on our site, we may earn an affiliate commission. For more details, please visit our Privacy policy page.