In general, Wok is a kind of pan used commonly in China as it originates there. To describe a Wok, it is a deep round-bottomed cooking pot and is similar to other pans that can be found elsewhere in the world, particularly in parts of East, South and Southeast Asia.
| Product | Brand | Name | Price |
| --- | --- | --- | --- |
| | HexClad | HexClad 12 Inch Hybrid Stainless Steel Wok Pan with Stay-Cool Handle | Check Price on Amazon |
| | Calphalon | Calphalon Flat Bottom Wok with Lid, 12", Hard-Anodized Nonstick | Check Price on Amazon |
| | Lodge | Lodge Pro-Logic Wok with Flat Base and Loop Handles, 14-inch, Black | Check Price on Amazon |
| | Bruntmor | Bruntmor, Pre-Seasoned Cast Iron Wok, Black, 14-inch w/ Large Loop Handles & Flat Base (14" Wok) | Check Price on Amazon |
| | Cuisinart | Cuisinart 726-38H Chef\'s Classic Stainless 14-Inch Stir-Fry Pan with Helper Handle | Check Price on Amazon |
* If you buy through links on our site, we may earn an affiliate commission. For more details, please visit our Privacy policy page.
Regular Woks are being used in stir-fries, while others have specially designed lids used in steaming dishes. It's deep bottom is good for boiling foods or deep frying. And this is one of the metal cooking utensils being used in kitchens frequently, just like a cooking pot.
If you are using an electric stove, you might ask "Will Wok work on them? Or what is the best Wok for electric stove?" Well, we are providing you some of the answers as we sort out some of the best Wok that should work perfectly on an electric stove.
What are the Best Wok for Electric Stove
If you are looking for a Wok that can be used on an electric stove, you should look for its design. Make sure that it won't damage the stove and it fits perfectly. Checking the materials being used is also considerable when choosing what Wok to use on an electric stove.
Lastly, you might need to check the pricing of the product. It is very important to have a nice quality Wok, yet for a reasonable price. Here are some of the products that we have chosen and it might help you decide on which Wok for electric stove is best.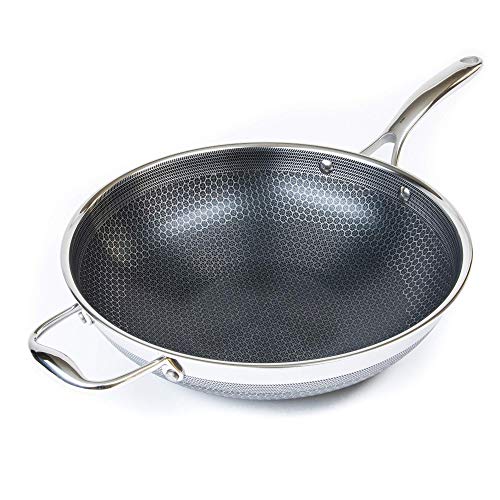 This wok won't only work on electric stoves, but it is an all-rounder that is also usable on gas stoves and newer magnetic induction cooktops. The triple-layer stainless steel has a non-stick surface which is a very nice feature to have.
Hexclad is also a flat-bottomed wok which is best for stir frying. Aside from that, it is also deep enough to handle soups or cook pastas. The Hexclad also uses their unique patented laser etching design that allows even heating.
It is constructed with a double handle that allows the user to lift and transfer foods from the stainless steel wok easily.
To buy this product, simply click here.
---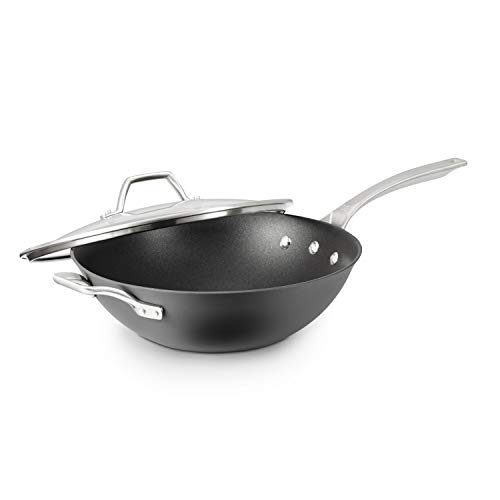 If you want to have a Wok that can be used for steaming food, then this one's for you. It has a durable nonstick surface made from heavy-gauge, hard-anodized aluminum.
The material also allows even heat distribution for precision cooking and performance, just like the other stainless steel construction pan.
It features a long, stainless steel handle and a tempered glass lid for easy cooking of steamed fish or vegetables. Aside from that, you can still use this Wok if you want to have a stir-fry dish.
One of the best features that the Calphalon Wok offers is that it is PFOA-free, making it a more safe utensil to cook your delicious dishes.
If you want to buy this flat-bottomed Wok, just click here.
---
If you need a Wok with a flat base and loop handles, this won't disappoint you. The handles are large enough for easier handling and food transferring.
This Wok is made of cast iron, with similar durability of carbon steel Wok. It also features unparalleled retention and even heat distribution. To add up, it is also pre-seasoned of 100% vegetable oil that allows you to use little or no oil when cooking dishes.
Adding to its features would be an oven-safe functionality. Professional chefs love to use this Wok as it is also great for induction cooktops and gas stoves.
If you want to buy this cast iron Wok, just click here.
---
SKY LIGHT WOK PAN
This Wok is made out of carbon steel, so you can be assured of its durability. Aside from that, it is believed the carbon steel wok allows more retention of vitamins from the food being cooked in this Wok.
The good thing about using this Sky Light carbon steel wok is that it can resist corrosion. The cooking surface also has no coating and is absolutely PTFE & PFOA free. You don't need to worry about chemicals being mixed into the food you cook in the carbon steel wok.
The Sky Light wok pan carbon steel is available in different varieties that can be used on induction, gas, ceramic and electric stoves.
---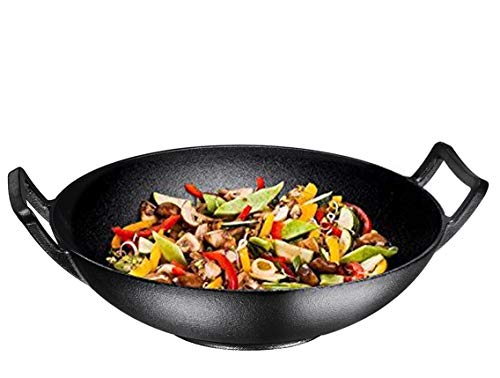 This wok is made out of high quality cast iron, and protrudes elegant pattern design and bright color for easy daily use. Since bruntmor is a cast iron wok, you can rely on its sturdiness when cooking.
Aside from that, it is also pre-seasoned and can be used immediately. Bruntmor cast iron pan also features large loop handles for easy handling. Sad to say, this Wok is not dishwasher safe and can only be cleaned through handwashing.
Aside from electric stoves, you can also use this cast iron wok on any stovetop: may it be gas or induction. The cast iron wok can also be used in the oven if the recipe calls for it.
To buy this cast iron Wok, just click here.
---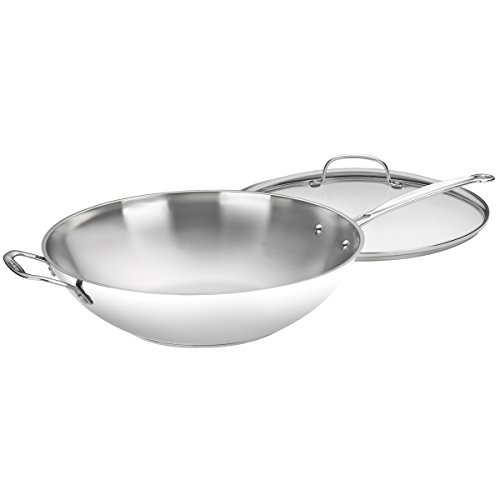 The Cuisinart 726-38H Chef's Classic stir-fry pan is made out of Stainless Steel with encapsulated aluminum core that is being used by a professional chef. It also features a stay-cool riveted handle with a helper handle on the other side for a more secure handling.
The lid has a glass surface that allows you to see-through on the food you are cooking. It also has a loop handle and stainless-steel rim.
For quick and easy cleaning, the Cuisinart Chef's classic wok offers dishwasher proofing and it is also safe to be used in an oven up to 550°F.
To buy this one of the amazing stainless steel woks, simply click here.
---
If you need a mini-version of the lodge pro-logic Wok, this one is what you are looking for. Just like its bigger sibling, the miniature version is also made of cast iron.
The 3.5 inch skillet is great for individual uses and cooking small portions of food, such as frying an egg. It is also the perfect utensil to sear, sauté, bake, broil, braise, or fry foods.
You can use it on an oven, electric burner, grill or over the campfire. That versatility is one of the reasons why you might need this Wok that you can use on-the-go.
You can buy this one of the best cast iron Woks by clicking here.
---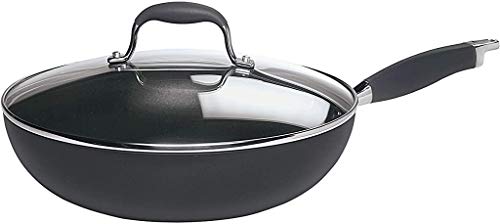 The Anolon(r) Advanced Hard-Anodized Nonstick 12-Inch Covered Ultimate Pan is one of the best go-to pans that can be used for electric stove cooking. It is made from hard-anodized aluminum material that can heat up faster than stainless steel and has non-stick coating surface.
To add up, hard-anodized aluminum is also lighter when compared to stainless steel and other metal utensils. The handle of this Wok offers a solid, comfortable grasp and is dual riveted for extra handling strength.
If you need to retain heat and flavor during cooking, its heat-resistant domed glass lid will do the job for you. The pan itself can hold up to 400°F in temperature.
Buy this hard-anodized aluminum by clicking here.
---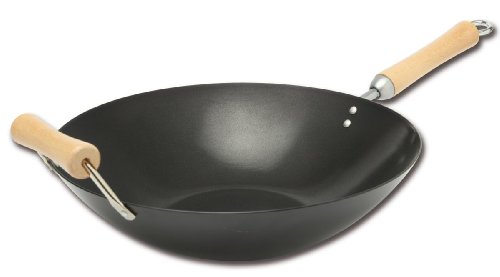 The Joyce chen classic Wok is made from heavy gauge carbon steel material to ensure its toughness and durability. It also has a Xylan nonstick surface and flat bottom interior for secure cooking.
The easy-to-clean birch wood handle provides great assistance during food handling and transferring. You can use this one of the carbon steel woks it on a gas stove, electric or induction stovetops.
These amazing features won't cost a fortune as this one of the budget-friendly Wok available in the markets these days.
To buy the Joyce Chen Classic Nonstick Surface Wok-carbon steel cookware, just click here.
---
Looking for Different Wok for Electric Stove
If the list above is not enough for you, you can still search for a variety of options online. Your options may vary from Woks with a flat bottom or round bottomed wok. You might want to check other carbon steel Woks or a round Wok, Woks with a stainless steel surface or with a nonstick coating material.
There are Woks that may provide an aluminum lid or wooden lid and can be used on a glass top stove or induction cooktop. There are also Woks, aside from the flat bottom wok, where you can do stir-frying and would only use a small amount of cooking oil or vegetable oil.
No matter what you are looking for a cooking Wok, also ensure its quality by checking the Wok material. You can also check some reviews about the product before buying one.
| Product | Brand | Name | Price |
| --- | --- | --- | --- |
| | HexClad | HexClad 12 Inch Hybrid Stainless Steel Wok Pan with Stay-Cool Handle | Check Price on Amazon |
| | Calphalon | Calphalon Flat Bottom Wok with Lid, 12", Hard-Anodized Nonstick | Check Price on Amazon |
| | Lodge | Lodge Pro-Logic Wok with Flat Base and Loop Handles, 14-inch, Black | Check Price on Amazon |
| | Bruntmor | Bruntmor, Pre-Seasoned Cast Iron Wok, Black, 14-inch w/ Large Loop Handles & Flat Base (14" Wok) | Check Price on Amazon |
| | Cuisinart | Cuisinart 726-38H Chef\'s Classic Stainless 14-Inch Stir-Fry Pan with Helper Handle | Check Price on Amazon |
* If you buy through links on our site, we may earn an affiliate commission. For more details, please visit our Privacy policy page.