Preparing dishes on a gas stove is not that simple if you don't have the proper cookware. It would be more challenging to keep the food delicious while aiming it to be properly cooked in an open flame. In this article, we have listed six best wok for gas stove in the year 2021.
* If you buy through links on our site, we may earn an affiliate commission. For more details, please visit our Privacy policy page.
Wok For Gas Stove
Wok Definition
Typically, a wok is a round bottomed cooking ware with one large handle (can also be with 2 side handles) used in Chinese cooking. Because the bottom of the wok is round in shape, cooking the food will not take much time compared to a saucepan, as it allows the heat to be distributed evenly. This cooking utensil is perfect for cooking stir fry because of its high walls.
Brief History of The Wok
It is believed that wok was invented during the Han dynasty due to food shortage in China. Its name is derived from the Cantonese word which means "cooking pot". Since typical wok has a round bottom surface and high walls, cooking a large variety of meals with the same ingredients has been made possible. These were usually cast iron woks. Cast iron wok is proven more durable and long lasting.
It is also assumed that wok was first used to carry the tribe's belongings while travelling across the country. Thus, the traditional wok was considered a dual-purposed utensil, for cooking and for carrying belongings.
The last theory is that tribes during the Han dynasty opted to use wok due to fuel and oil shortage. This cooking utensil allows them to prepare dishes using a small amount of oil.
What Is Modern Wok Used For?
Known to be the most versatile cooking tools all over the world, wok can be used for various cooking methods such as stewing, smoking, searing, braising, deep frying, stir frying, pan frying, and steaming. Among the advantages of using wok in cooking dishes are being able to use a small amount of cooking oil but still having mouth-watering and non-sticking foods.
What Is The Best Wok Made From?
The best woks for gas stoves are usually made from carbon steel material. The woks that are made from carbon steel are guaranteed to be durable, non-stick, light-weighted, and heat up evenly and quickly. Aluminum, stainless steel woks, and cast iron woks are also being used in the cooking field, but professional Chinese chefs prefer carbon steel woks.
Majority of these woks have two side handles and come with a wok lid (wooden, tempered glass lid, or stainless steel dome lid), spatulas, and a wok ring.
So here are the best wok for gas stoves that you might want to try.
Best Wok For Gas Stove in 2023
We have listed 6 different woks that are designed for gas stove use. These woks can be purchased at your nearest commercial kitchenware stores or via Amazon. To check out your desired item, simply click the link on each product. Read further…
This new release heritage edition wok is made of carbon steel material. It comes with lid and spatula, and has a flat bottom that heats up uniformly on your gas stove. Made of heavy-duty, black carbon steel, this non-stick wok stir-fry pan is easy to use, clean, and store.
It has an ergonomic and removable wooden handle that ensures safe and comfy grip. Healthy and mouth watering dishes are guaranteed when cooked on this chemical-free non-stick steel wok. Stir frying, steaming, and boiling boiling wouldn't be that difficult because its cooking surface has 3.5 inch depth and a total of 12.5 inches item diameter. Take advantage of this non-stick coated wok at a reasonable price.
Check out this product at Amazon
---
Yosukata carbon steel wok pan is a Chinese round bottomed wok made of carbon steel. It has a diameter of 14 inches and a round bottom that is designed to secure the flavor and juice of the ingredients, leaving your dish with a rich and genuine taste. It is a pre seasoned wok with a nonstick surface.
Made of high-quality materials, this large wok has an ergonomic design of wooden handle giving you a comfy grip while cooking. This easy to carry and store wok can be used to prepare dishes using different traditional cooking techniques like deep drying, braising, and pan-frying.
Check Amazon for the product price.
---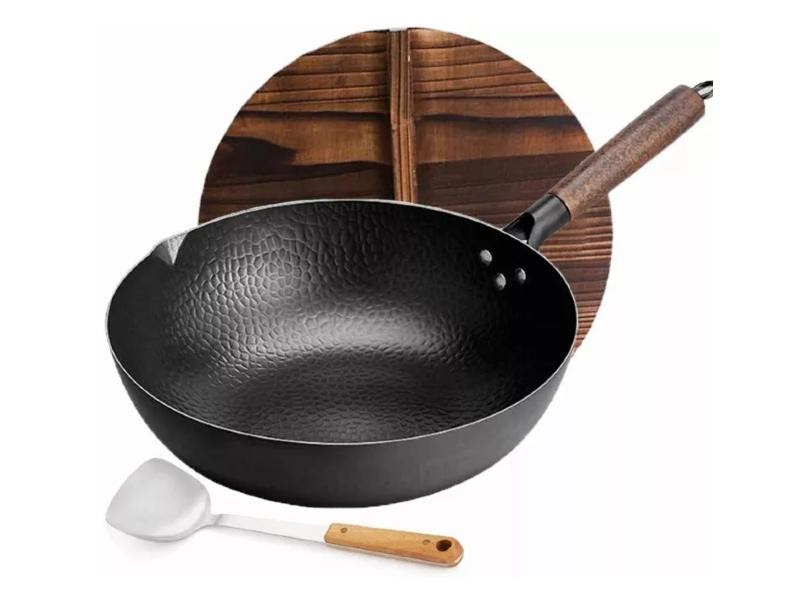 Bielmeier wok pan is also one of the best woks available in the market today. It is made of carbon steel, 12.5 inches in diameter, and a flat-bottomed wok. This carbon steel pan comes with a wooden lid, wok spatula, a Loofah pot brush, and 12.5 inch cooking chopsticks. Compared to other woks, this flat bottom wok is a lightweight wok, and heats up quickly.
These types of woks work perfectly for braising, pan-frying, boiling, steaming, deep-frying, and other Asian cooking style.
Biemeier wok is also chemical and PFOA (perfluorooctanoic acid) free. The manufacturer of this kind of wok adopted nitriding craftsmanship to prevent rusting. This durable wok works for all stoves like electric stove and gas stove.
Buy it now on Amazon
---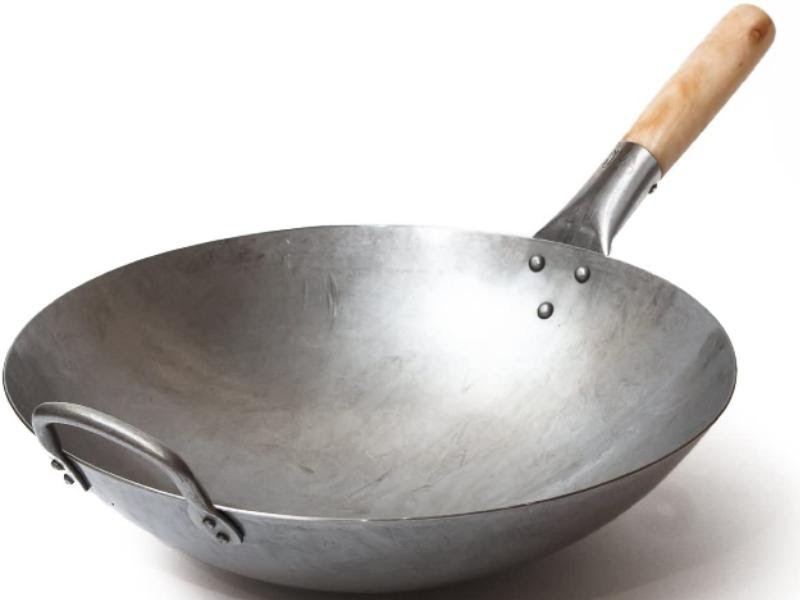 Craft wok traditional hand hammered carbon steel pow wok is a round bottom wok with a nonstick cooking surface. The product diameter is about 14 inches, with 22.52 x 14.02 x 5.98 inches dimensions, and weighs approximately 2.1 kg. Since this carbon steel wok has the tendency to get rust, it is advised to season cooking oil before using.
This craft wok traditional hand hammered carbon steel pow wok is one of the best woks with a steel helper handle that doesn't burn even when stir frying over high heat. Because of the special hygroscopic shape, the wooden handle surface is not slippery. Thus, can be tightly gripped while stir frying or deep frying. The craft wok with nonstick coating is 100 percent authentic traditional carbon steel wok is proven durable, dishwasher safe, has high quality, and is definitely worth its price.
Visit Amazon for your orders.
---
Kenmore Maxwell flat bottom carbon steel wok with a sturdy stainless steel handle is considered the best wok for gas stove. This 12 inches wok is made of stainless steel material. Its black still is has an excellent thermal conductivity, durable, and can build up natural seasoning when properly cared. This type of wok is dishwasher safe and guarantees fast and even heat distribution.
Its stainless steel construction helps for uniform heat distribution and heat retention.
Kenmore Maxwell is proven one of the best woks use in cooking deep fry, stir fries, and the likes.The wok's natural nonstick surface and flat bottom guarantee even heat distribution and fast cooking. Compared to other types of wok, this carbon steel wok is more advantage in the aspect of durability and heat retention.
This nonstick cookware is also suitable for high heat cooking, and is compatible with electric, ceramic, gas, and induction stoves. Its natural nonstick cooking surface is not susceptible to corrosion, and is guaranteed PTFE and PFOA free.
Buy it now on Amazon
---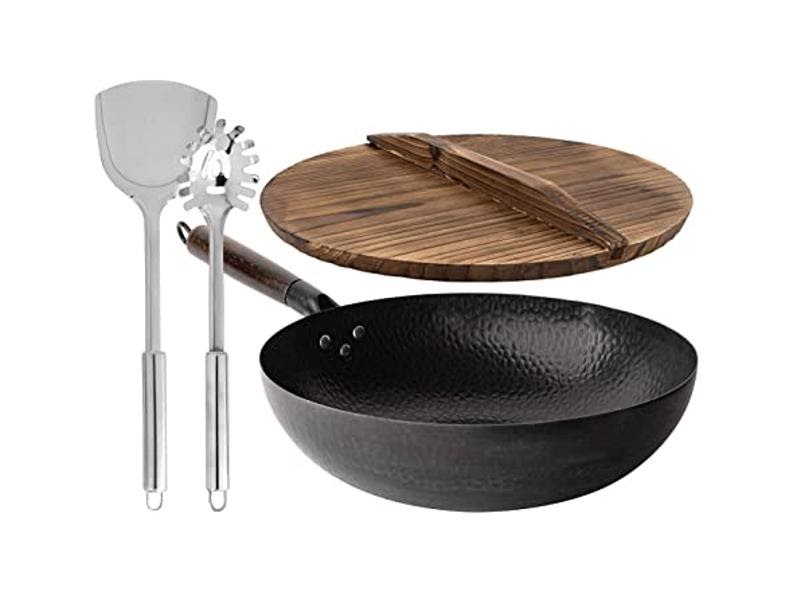 Homeries carbon steel woks are nonstick woks with flat bottom, and are suitable for electric, induction, and gas stoves. Homeries are available in two styles, the carbon steel wok and the cast iron woks. The item diameter is around 12 to 12.5 inches. It has nonstick coatings and is dishwasher safe.
Homeries carbon steel wok works perfectly in stir-frying delicious and healthy foods like prawns, fish, rice, vegetables, and other home cooks. The complete stir fry wok set comes with Lid and 2 spatulas. It has a wooden lid that makes the wok easy to handle.
The slick cooking surface of this carbon steel wok will efficiently transfer the heat. It also has an ergonomic wooden handle designed for a comfortable hand grip while stir-frying on high heat. Its flat base should ensure safe sitting on the stovetop and other cooking surfaces. This versatile wok can be used on electric stoves, gas stoves, electric and induction glass tops, open flame, and other direct heat source. It is among the professional Chinese chefs' choice because it's definitely perfect for Chinese cooking.
Buy it now on Amazon
---
Rest assured that the above-mentioned woks (most especially the round-bottomed woks) are best for gas stoves. If you are interested in purchasing any of these, visit Amazon or simply click the link on the respective item. Thank you for reading!
* If you buy through links on our site, we may earn an affiliate commission. For more details, please visit our Privacy policy page.