Sushi is one of the most popular Japanese Cuisine. It is made up of raw fish wrapped around sushi rice and nori seaweed sheet. There are some sushi that is produced with the use of robots, however sushi made by hand is much better. It may sound easy, but making Sushi is difficult and it usually takes a lot of practice. But if you do not have the time to master the skills in making sushi, there are sushi mold presses that are available to purchase in order for you to make the perfect shape as well as the taste of the sushi even better at the comfort of home. In this guide, we will show you the best sushi mold presses that you can find in the market. Read on this article to know more.
* If you buy through links on our site, we may earn an affiliate commission. For more details, please visit our Privacy policy page.
Best Sushi Mold Press
Sushi mold is made from either plastic or wooden mold that helps you easily make different styles and shape of Sushi. Traditionally, wooden molds are being used but many find using plastic mold to be more convenient as it is easier to clean and wash. There are three different kinds of sushi molds and we will be discussing each mold below.
Differences between three of the most popular Sushi Molds: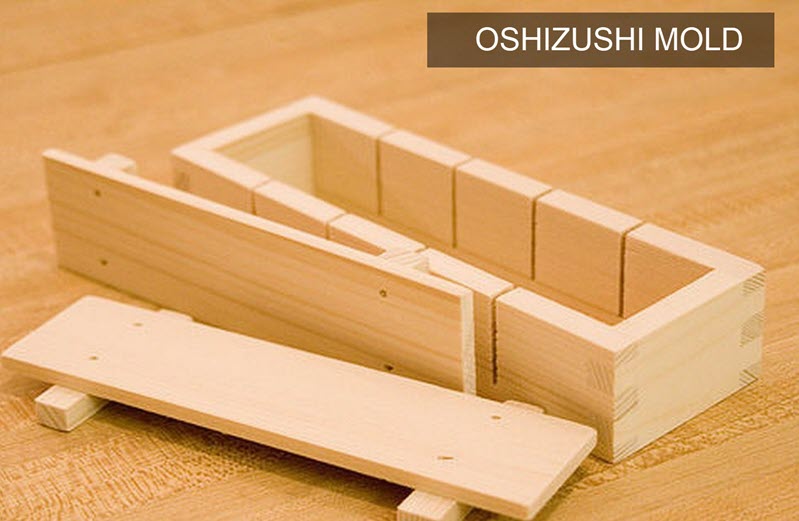 OSHIZUSHI MOLD
A type of sushi that is also referred to as Oshi Sushi that basically means pressed sushi or box sushi. Considered to be the oldest forms of sushi wherein the fish are tightly packed inside the box together with the sushi rice. Today, Mackerel is the most popular topping that is why pressed sushi nowadays consists of sushi rice topped with Mackerel.
In making this form of sushi, a wooden sushi mold which is called Oshibako is used. How does Oshibako works? Basically, the ingredients such as sushi rice, condiments and toppings are places together inside the sushi mold in an alternating pattern. After which the top layer of the toppings are then pressed into the sushi block. The sushi mold has visible grooves where you can slice the sushi in place. The sliced sushi are then pushed out from the mold.
---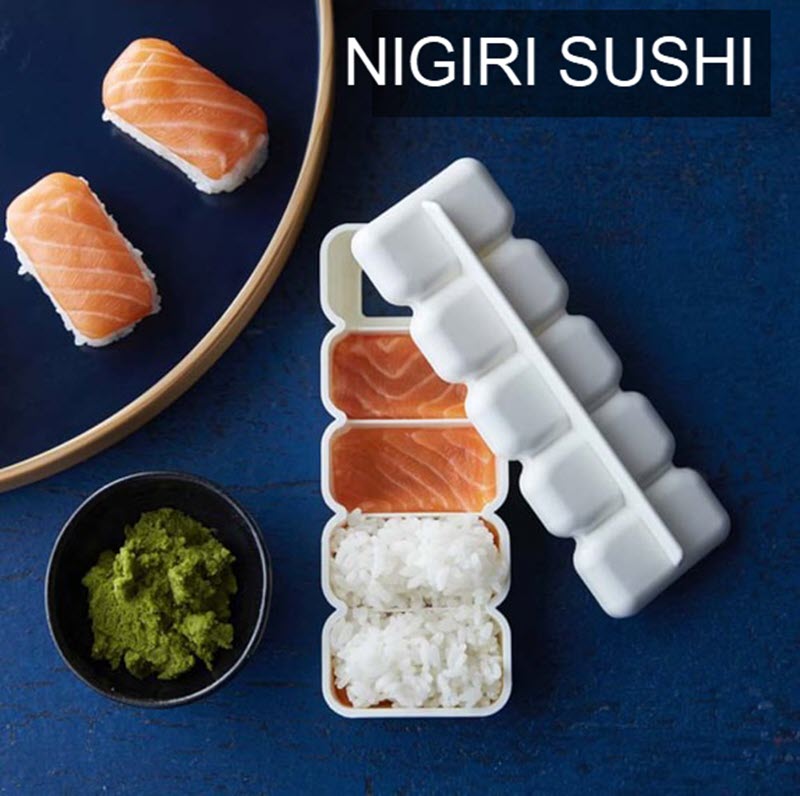 NIGIRI SUSHI
Nigiri Sushi also called Nigirizushi means hand pressed sushi. Making sushi using the Nigiri mold is pretty simple. All you need to do is to press the sushi rice into the sushi mold to shape it. Remove the molded sushi from the sushi mold or you can just turn it over so that sushi will just loosen up. Hitting it against the wall or counter is also a good choice.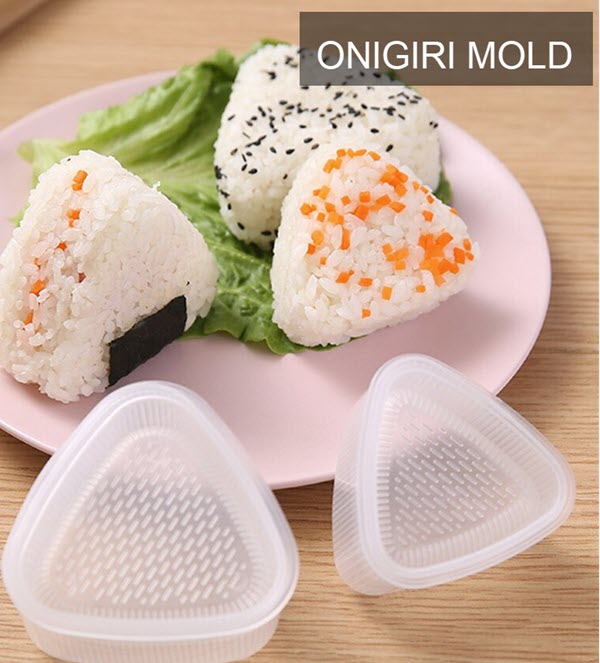 ONIGIRI MOLD
Onigiri sushi or rice balls made using white cooked sushi rice. Using rice molds is very simple and pretty easy. What you need to do is to fill the rice into the mold to get its shape then flip the mold upside down. As simple as that.
However, not all sushi molds are for convenience. With Oshizushi mold, it will take some time for you to practice and will get to using the mold. While on the other hand, Nigiri and Onigiri mold are perfect for beginners since creating and molding the shape can be difficult when using the hands therefore you will be needing the molder.
---
Sushi Mold Presses
We have outlined some of the best sushi mold presses that you can find on Amazon. Check it out below: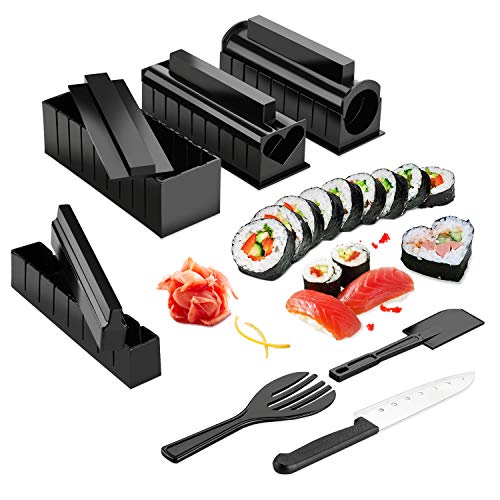 Another Sushi mold kit that contains 11 pcs that includes different shapes to make sushi that includes :
Triangle shaped sushi
Large square shaped sushi
Classic-round shaped sushi
Heart shaped sushi
Small square shaped sushi
An ideal choice if you want to make different size and different shapes of sushi the easier way. Also included in the kit is a sushi knife, serving fork and the spatula. What more can you ask for, all-in-one sushi making tools in a single kit.
You can find this Sushi mold on Amazon
---
If you want to make Nigiri sushi using sushi mold while at the same time having fun, then this one right here is the perfect choice for you. Kids and adults of all ages will be able to make nigiri sushi using sushi mold.
The mold is made of plastic and colored wood. The dimensions of the mold kit is 7.87 x 1.73 x 4.8 inches LxWxH. Even if its plastic, guarantees to be BPA safe.
You can find this mold on Amazon
---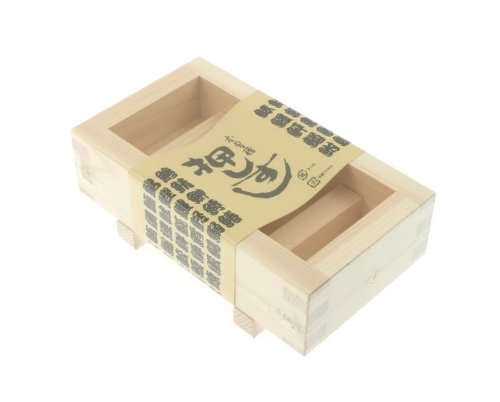 Making Oshizushi sushi the traditional way has never been this exciting. These mold is made from high quality bamboo or Japanese Cypress wood. It is also waterproof, durable and guaranteed to last with continued use. You must get this sushi mold if you want to make sushi just like professional chef's.
The wooden mold measures 7 x 4 x 2.5 inches LxWxH and weighs about 0.6 pounds.
You can find this mold on Amazon
---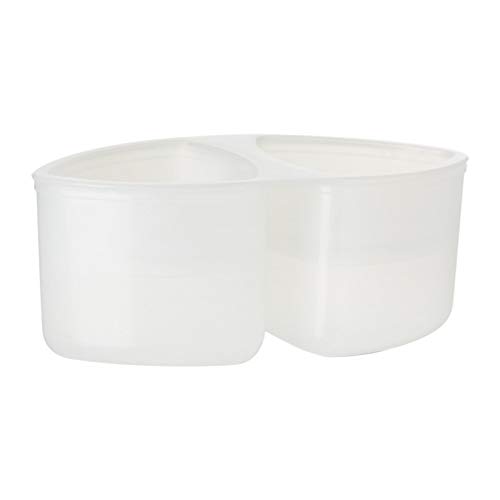 Next we have Sana Seiko Japanese Plastic Sushi mold. It is commonly used to make Musubi. Musubi is a Japanase cuisine that is often referred to as rice ball. Although it is termed as rice ball, the sushi mold that is used to make it is actually shaped as Triangle.
Making Musubi can be difficult especially if you do not have the skills to make one, if that is the case then this is the perfect sushi molder tool for you.
These item is Japan made and the material is made from plastic that has a non-stick feature on its surface. These sushi press measures 3.94 x 2.76 x 1.97 inches LxWxH.
You can find this mold on Amazon
---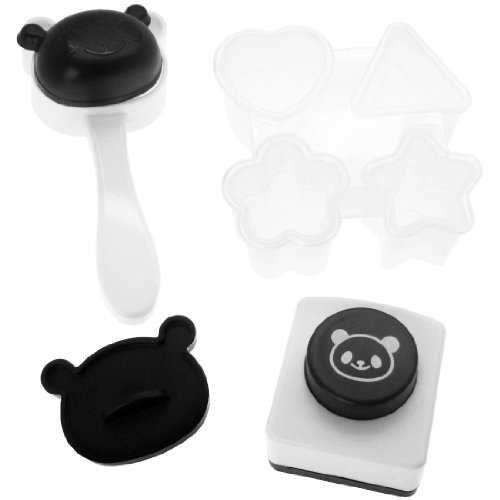 This is one of the cutest sushi molder I have ever seen that your kids will surely like. This Panda Sushi molder can make those cute sushi molds that is perfect not only for lunch time and dinner time but can also be added to bento boxes as well.
This Panda plus sushi mold kit contains the following:
1 panda face-shaped rice molder
1 panda face-shaped nori puncher
1 set of 4 sushi shapers that has shapes of heart, triangle, star and flower
This is the perfect choice if you want to be more creative with your sushi.
You can find this on Amazon
---
This is considered to be the easiest molding sushi kit and a perfect tool for beginners. It is made of plastic that is dishwasher safe for easy cleaning and washing.
The process is simple and easy. All you need to do is to fill the mold with sushi contents and then do the sushi press. You will be getting yourself a delicious sushi in round shape.
The kit weighs about 310 g and it measures 8.3inch×3.2inch×1.9 inch. LxWxH
You can find this on Amazon
---
* If you buy through links on our site, we may earn an affiliate commission. For more details, please visit our Privacy policy page.