One of the reasons why people chose to make celery juice is because it is quiet effective in suppressing one's appetite. One of the most effective wats to lose that excess weight that you've been trying to get rid of is by drinking celery juice and other fresh juices from vegetables and leafy greens. Hence, most of the weight conscious individuals are trying to find the best juicer for celery machine in the market. Therefore in this guide we have rounded up some of the best celery juicer available nowadays. Read on this article guide to know more.
* If you buy through links on our site, we may earn an affiliate commission. For more details, please visit our Privacy policy page.
Best Celery Juicer
Blending and Juicing are two separate processes. The difference between these two is the output it produces. With Juicing, all fibrous materials of the vegetables are completely removes, this simply means that the liquid from the fruit and vegetables is what's left, while with blending on the other hand, you tend to get it all after the blending process. Getting it all means, the pulp and fiber are blended all together.
Before you purchase a Celery Juicer for juicing celery, you need to know what you really need because there are two different types of celery juicer machine: Centrifugal Juicer and Masticating Juicer. Let us talk more about each type.
Centrifugal Juicer
This juicer works with any fruits and vegetables but it works well with apples and carrots. The Juicer has a mesh chamber and the chamber has a sharp teeth. The teeth functions by shredding the fruits or vegetable into a pulp.
Centrifugal Juicers works by taking the fruits and vegetables through the large feeding chute and then the fruits and vegetables are then forced against the spinning metal blade where the juicing process begins as it will be cut and spun at a very high speed. The juicing process with the high speeds of about 6,000-14,000 RPM usually takes 2 minutes for the process to complete. The juice and the pulp are separated in a different containers.
Although because of its very high speed, most of centrifugal containers tend to produce noise and usually tends to product more bubbles on the juice.
With Centrifugal Juicer, preparation time is fairly reduced since you no longer need to cut large fruits because the large feeding chute can fairly accommodate large fruits.
Masticating Juicer
Masticating Juicers are also known as Slow Juicer, Auger juicers, and or cold press juicers. Unlike Centrifugal juicers, the fruits and vegetables are crushed in a slow rotating speed of its Auger.
The juicing process with masticating juicer is pretty simple, the fruits and vegetables that are placed inside the tube are then pressed for the juice to come out and it will go through the mesh, while on the other hand the pulp are also pushed and goes to another separate container.
Since it works on slow rotating speed, the process takes longer as compared to centrifugal juicers. But the good thing about it though is that it is quieter than centrifugal juicers. The juice produced has little foam too and tend to be thicker.
Masticating Juicers has a small feeding chute, this means that preparation time tends to be longer since you still need to cut fruits and vegetables into small pieces that would fit into the small chute of the juicer.
Other than that, masticating juicers are more pricey than centrifugal juicers.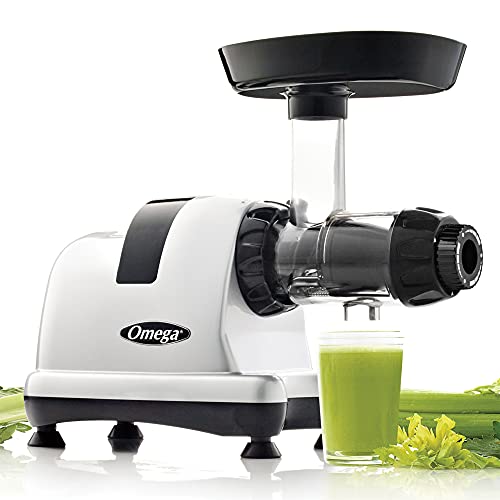 Product Dimension: 14.5 x 6.5 x 15.5 inches
Item Weight: 14 pounds
Material: Plastic
Finish type: Brushed
The Omega MM900HDS is one of the best celery juicer and high quality juicer in the market. A medical medium celery juicer but can also be used for other fruits and vegetables too.
A slow masticating juicer with a low speed of about 80 RPM. Its low speed extracts juice from the celery with heat buildup to a minimum.
This product has its own adjustable end cap that is used solely for celery juicing and not for use on any fruits and vegetables. It basically squeezes the juice out of the celery therefore getting more juice in every load. Aside from the end cap used only for celery, not to worry since it also has another end cap that is used also for juicing other vegetables and fruits aside from celery.
If you are interested in this product, check the pricing and availability on Amazon
---
Product Dimension: 13.78 x 6.89 x 14.17 inches (LxWxH)
Item Weight: 8.31 pounds
Material: Stainless Steel
Color: Graphite
Another celery juicer and considered to be of best value is the Ninja JC101 Cold press compact powerful slow juice. Best value since it is affordable compared to other celery juicers.
A feature that these celery juicer has to offer are its auger and pulp filters (no pulp, some pulp and lots of pulp) that are interchangeable. The auger is rotated at a low speed and is stainless steel too, therefore it is more sturdier as compared to the material made from plastic.
Another feature is that it can produce more celery juice with a lesser foam formed with its cold press technology feature.
If you are interested in this product, check the pricing and availability on Amazon
---
Product Dimension: 8 x 9.5 x 19 inches (LxWxH)
Item Weight: 21.99 Pounds
Material: Stainless Steel, Ultem, Plastic
Color: Gold
This one right here is considered to be a high end juicer. A whole slow masticating juicer from Kuvings is low speed juicer with about 50 RPMs.
Kuvings Whole slow juicer has a wide feeding chute of about 82mm. The large chute can receive large ingredients without the need to cut it into smaller pieces therefore saves you some preparation time.
Another feature about this product is that is has a powerful and durable motor of 240W. Aside from that, noise is also kept to a minimum.
Other than the large feeding chute, the large pulp also allows more pulp to be extracted and released, with that pulp residues with be lesser on the strainer of the machine. Lesser pulp means easier for the machine to clean.
If you are interested in this product, check the pricing and availability on Amazon
---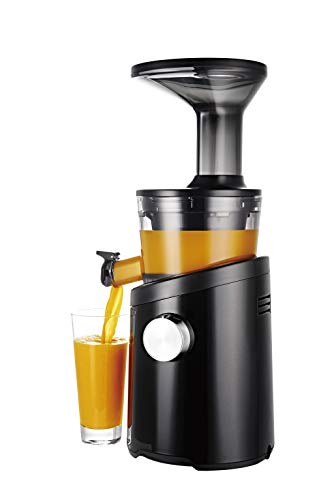 Product Dimension: 15.5 x 14 x 14 inches (LxWxH)
Item Weight: 22.9 pounds
Blade Material: Stainless Steel
Material: Pearl
Color: Pearl Black
As the name implies, the best feature of this juicer is that it is easy to clean. Why is that so? If most of the slow juicers has a small holes on the strainer (makes cleaning more hassle to remove the pulp), this product no longer has it. In fact, the strainer and its spinning brush are already taken from the product and is instead replaced by a top set and a plastic filter basket than the previous filter basket with small holes.
Another feature of this product is the tilted chamber and its juice outlet. The tilted chamber has a 3-degree tilt and a juice outlet that allows you to pour the nutritious juice easily while leaving the pulp inside the slow masticating juicer.
The pulp outlet on this juicer that simply open (180-degrees) that allows you to flush out the pulps that remains in the chamber.
It also has a control lever and a strainer (coarse and fine) that will allow you to control the pulp
If you are interested in this product, check the pricing and availability on Amazon
---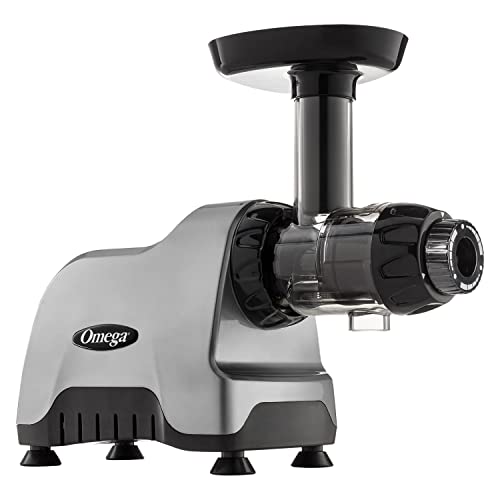 Product Dimension: 16.4 x 6.3 x 12.4 (LxWxH)
Item Weight: 13 Pounds
Material: Plastic
Color: Silver or Red
Another great product from Omega, the compact slow speed 7th generation multi-purpose nutrition system. It is similar to the famous Omega 8006 juicer in size despite this product to be of compact design.
It features a slow and low speed of 80 RPMs, with a speed like that heat built up is close to a minimum. It can produces nutritious celery juice with just a minimum amount of vegetables, leafy greens, fruits and wheatgrass as well.
Using the product is pretty simple since it features an automatic pulp ejection. And it also has a large funnel, makes putting fruits and vegetables inside easier.
It is called a multi purpose nutrition system because it can grind coffee, make butter from nuts, create baby foods and even frozen desserts and can also minced herbs as well.
Since the chute is narrow on this one, preparation time will increase because you need to cut the fruits and vegetables into smaller pieces to fit through the chute.
If you are interested in this product, check the pricing and availability on Amazon
---
Product Dimension: 20 x 16 x 14 inches (LxWxH)
Item Weight: 24.4 pounds
Color: Black
Hurom H-200 easy clean slow juicer is another great product from Hurom Brand wherein most of their products also features easy-clean.
A great feature that this product has to offer is its large chute, and the chute also has an inlet. The inlet allows you to add more fruits or vegetables while the machine is currently in the process of juicing.
Most of the slow masticating juicer has an average range hopper, while this one is perhaps 3x more larger than the rest. This means that preparation time is reduced since you no longer have to cut large sized apples in order to fit through it.
Another good thing about this product, as the name implies, it is easy to clean. It has a chamber set that includes the strainers. The strainers does not have small holes but instead an elongated one. With that, you no longer need to scrub the strainer as compared to when you have the small holes on the strainer.
If you are interested in this product, check the pricing and availability on Amazon
---
Product Dimension: 13.2 x 16.5 x 18.2 inches (LxWxH)
Item Weight: 9.9 pounds
Material: Stainless
Color: Brushed Stainless Steel
The last but definitely not the least amongst the best celery juicers from Breville , the JE98XL Juice Fountain Plus Centrifugal Juicer. This affordable but reliable Breville Juice Fountain features a 3 inch fruit chute that is extra wide, ingredients will no longer be cut into smaller pieces therefore preparation time is lessen.
The product is made from stainless steel both the disc and the micro mesh filter basket. Stainless steel products are proven to be durable, reliable and long lasting. Breville Juicer has a froth separator that can basically produce more celery juice but lesser froth.
The juicer also features a 2-speed control: the low speed for softer fruits and leafy greens while the high speed is used for more denser and harder fruits and leafy greens.
In terms of storing the machine, Breville Juicer has a detachable base and pulp container. The package includes the juice jug with a capacity of 35.2 fl oz with a froth separator and a cleaning brush used to clean and remove the pulp.
If you are interested in this product, check the pricing and availability on Amazon
---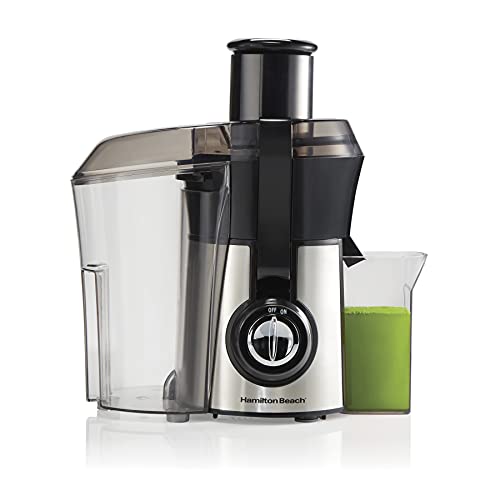 Product Dimension: 11.5 x 7.8 x 14.4 inches (LxWxH)
Item Weight: 7.8 pounds
Finish type: Smooth plastic
Color: Silver
An affordable yet reliable juicer machine from Hamilton Beach that you can use for juicing celery. It can produces a delicious celery juice as it features a stainless steel micromesh filter that basically strains the pulp and the seeds of fruits and leafy greens making a nutritious celery juice every time.
It features a large (3 inches) mouth chute that allows you to add whole ingredients, saving you time and effort from cutting the fruits into smaller pieces just to make it fir right into as with other juicers with smaller chute.
Maximum high juice yield is produced with its 800 wattage motor and the stainless steel strainer.
Included in the package is the cleaning brush for easy cleaning of the machine after juicing celery and other ingredients, pulp bin, juice bowl, lid and pusher (dishwasher safe) as also included.
If you are interested in this product, check the pricing and availability on Amazon
---
What are Twin Gear juicers?
If you want to effectively extract celery juice from the juicer, it is recommended to use Twin gear juicers. These are juicers that has two long gears that allows breaking down the celery into smaller pieces and then pressed to a screen. Although it is very useful, it is not affordable as compared to other types of celery juicers.
FAQ
Why is Celery Juice nutritious?
Celery Juice is nutritious because it contains of no more than 5 grams of carbohydrates and fat free. It contains high amounts of Vitamins K, C and A.
How much celery do you need to make celery juice?
Well, it basically depends on the size of the juicer that you will be using in juicing celery. However, most of the time a single bunch or batch of celery can produce about 16 oz. of celery juice ( a high juice yield). To receive the maximum health benefits that you can get when you drink celery juice is to drink at least 16 oz. of celery juice daily.
What can make Celery Juice tastes better?
Most of the time, making celery juice should not only contain the main ingredient which is the celery but if you want to make your celery juice tastes even better you can add more ingredients to the mixture. A good example would be to add an apple or perhaps a cucumber.

You can be as creative as you want, it just really depends on the taste that you want to achieve when adding more ingredients to the celery juice.
Why make Celery Juice instead of eating it raw?
Making celery juice instead of eating celery raw is because of the taste and the nutritional value that you can get. In order to get the most of the nutritional benefits that celery has to offer, it is recommended to drinking celery juice than eating it raw.
Conclusion
Now that we have mentioned some of the best juicers for celery, we hope that this guide has helped you decide which type of celery juicer to get one for yourself to make drinking celery juice anytime at the comfort of home.
* If you buy through links on our site, we may earn an affiliate commission. For more details, please visit our Privacy policy page.