Commercial Countertop mixers is an essential restaurant supplies for business establishment such as catering services, bakeries, cafe, or any restaurant that has menus using cake batter and doughs. Mixers are basically an alternative to an individuals hands. This means that instead of kneading dough for pasta and breads using your own hands, you will use the mixer for your convenience. Not only does Countertop mixer saves you the effort but also saves you time. In this post, we have rounded up some of the best commercial countertop mixers that you can find in the market today.
| Product | Brand | Name | Price |
| --- | --- | --- | --- |
| | Waring | Waring Commercial WSM20L 20 qt Planetary Counterop Mixer 1 hp, 120v, 1100 Watts | Check Price on Amazon |
| | KitchenAid | KitchenAid KSM8990DP 8-Quart Commercial Countertop Mixer, 10-Speed, Gear-Driven | Check Price on Amazon |
| | Hamilton Beach | Hamilton Beach Commercial CPM800 8 Quart Stand Mixer, Die-Cast Aluminum, Black | Check Price on Amazon |
| | Globe | Globe SP10 10-Quart Countertop Planetary Mixer, NSF, Silver | Check Price on Amazon |
| | Adcraft | Adcraft BDPM-20 Gear-Driven 20-Quart Planetary Mixer, Stainless Steel, 120v | Check Price on Amazon |
* If you buy through links on our site, we may earn an affiliate commission. For more details, please visit our Privacy policy page.
Best Commercial Countertop Mixer
Commercial mixers are especially useful for commercial use when mixing batters, kneading doughs, whipping eggs and butter, and can also make icings too. If you want to know the best commercial countertop mixers, read on the guide below to know more.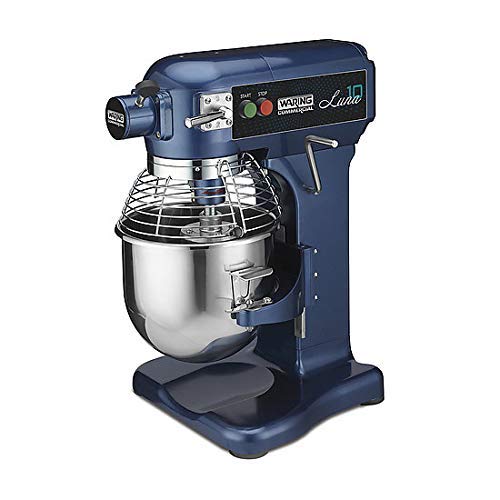 Material: Stainless Steel
Wattage: 1100 watts
Volt: 120V
Product Dimensions: 24.63 x 22 x 36.88 inches LxWxH
Weight: 229 Pounds
If you are looking for a powerful countertop mixer for your big foodservice professionals establishment, this item from Waring is the perfect machine for that job. With 1 hp motor power, and a 20 quart stainless steel bowl it can withstand larger quantities of ingredients to do the mixing.
It can do large amounts of batters, mashing potatoes and even the toughest jobs there is in mixing.
It can be exceptionally helpful in high volume kitchens in restaurants that requires faster movements and high volumes of orders and big restaurants with more customers to serve in large batches.
Buy it now on Amazon
---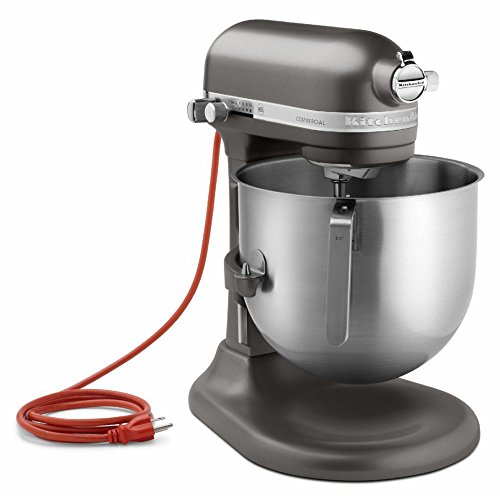 Material: Metal
Color: Dark Pewter Body
Wattage: 500 watts
Product Dimensions: 13.3 x 14.6 x 16.5 inches LxWxH
Weight: 30 lbs.
A durable commercial mixers manufactured by KitchenAid. The mixer includes elliptical whisk, a flat beater and a spiral dough hook and a mixing bowl. All stainless steel made
Elliptical Whisk used for whipping egg in making omelets, or can possibly make egg whites and turn it into meringue. For the consistency of the mixture to be fluffy, it basically absorbs the air during the mixing process.
Steel Flat Beater is ideal when mashing potatoes, mixing cake batters and can also be used for cookie dough too and so much more.
The spiral dough hook is usually used to knead thick yeast doughs to be used for making breads, rolls and even biscuits. The spiral is designed to combine ingredients easily in making that perfect bread that you want.
This Commercial mixers has an 8-quart capacity. Slow and quiet performance that uses 10 speeds with about 0.44 hp. If you are mixing large quantities of ingredients, the bowl has a handle installed for easy lifting.
Buy it now on Amazon
---
Material: Stainless Steel
Color: Black
Wattage: 800 watts
Volt: 120V
Product Dimensions: 16.93 x 13.78 x 15.75 inches LxWxH
Capacity: 8 quarts
Weight: 23.45 Pounds
These stand mixers by Hamilton has a tilt-back head feature. The feature enables users to lift the bowl easily and careful and to attach it back again. The feature helps users to conveniently add ingredients into the bowl.
There are 3 attachments included in the package that are all made from stainless steel: dough hook, beater. and wire whisk.
The steel bowl can accommodate up to 8 quarts or 8 L of ingredients. The bowl does not only have 1 handle, but instead has two handles for safety and to securely life and carry the ingredients in the bowl.
It also features a 7-speed dial speed control while having the ability to adjust the speed during the mixing process according to one's preference. It is also easy to operate with just a push of a button. An light indicator also blinks that allows users to know that the mixer is already turned on and ready for mixing.
Buy it now on Amazon
---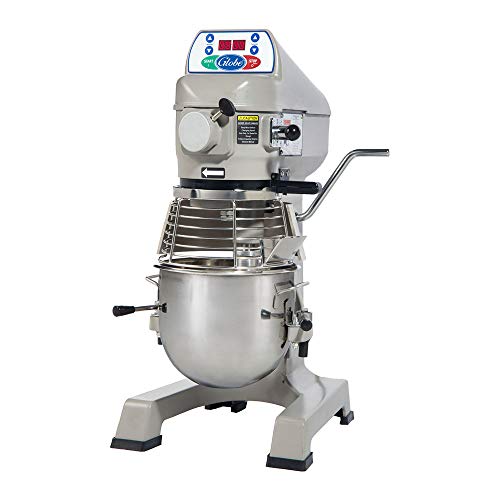 Material: Stainless Steel, Aluminum
Color: Silver
Capacity: 10 quarts
Wattage: 800 watts
Volt: 115 Volts
Product Dimensions: 31 x 16.3 x 17.7 inches LxWxH
Number of speeds: 3
Weight: 245 Pounds
Dishwasher safe: Yes
A 10-quart bowl capacity countertop mixers with built-in chute. The Countertop mixers has a 3-speed speeds feature. The mixer includes a bowl, aluminum spiral dough hook, stainless steel whip and an aluminum beater.
For safety and for easy lifting, the bowl has a safety interlocked handles. It also features a 60-minute digital timer. The cord for plugging is measured at 6 ft.
It also features a high speed motor of up to 1.3 HP.
Dishwasher safe for easy cleaning of the mixers.
Buy it now on Amazon
---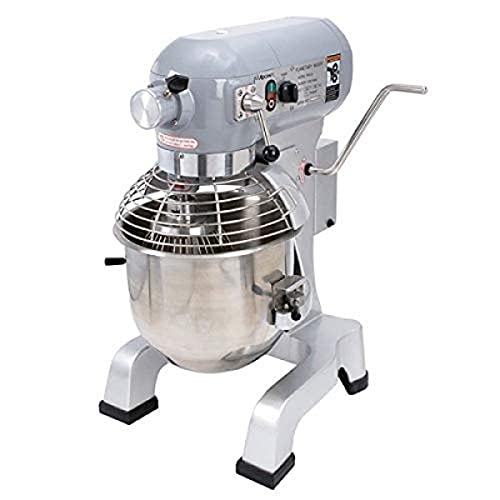 Material: Stainless Steel
Color: Black
Capacity: 10 quarts
Wattage: 1100 watts
Volt: 120 Volts
Product Dimensions: 19 x 22 x 32 inches LxWxH
Number of speeds: 3
Weight: 250 Pounds
A commercial planetary mixers that is idea for small business establishment such as bakery and small restaurant.
It also features a 1.5 HP motor that can handle and withstand any mixing process with any ingredients. With its 3-speed gear driven 20 quarts planetary mixers.
The mixer includes stainless steel attachments such as the wire whisk, dough hook, and flat beater along with the stainless steel mixing bowl. An additional #12 hub is included with the mixer package for grinding meat.
Buy it now on Amazon
---
Conclusion
Commercial Countertop mixers are very useful in helping you save time and effort in doing specific tasks that can also be done when using commercial mixers. There are many types of commercial mixers in the market nowadays, we hope that this guide has helped you in choosing the right and the perfect commercial mixer for restaurant equipment that you intend to use for your business. Let us know what you think.
| Product | Brand | Name | Price |
| --- | --- | --- | --- |
| | Waring | Waring Commercial WSM20L 20 qt Planetary Counterop Mixer 1 hp, 120v, 1100 Watts | Check Price on Amazon |
| | KitchenAid | KitchenAid KSM8990DP 8-Quart Commercial Countertop Mixer, 10-Speed, Gear-Driven | Check Price on Amazon |
| | Hamilton Beach | Hamilton Beach Commercial CPM800 8 Quart Stand Mixer, Die-Cast Aluminum, Black | Check Price on Amazon |
| | Globe | Globe SP10 10-Quart Countertop Planetary Mixer, NSF, Silver | Check Price on Amazon |
| | Adcraft | Adcraft BDPM-20 Gear-Driven 20-Quart Planetary Mixer, Stainless Steel, 120v | Check Price on Amazon |
* If you buy through links on our site, we may earn an affiliate commission. For more details, please visit our Privacy policy page.