This post talks about some of the popular Nepali sauces, the ingredients used, and their individual recipe.
NEPAL
Nepal is a landlocked country in South Asia, mainly situated in the Himalayas. It is officially known as the Federal Democratic Republic of Nepal, and has a diverse geography including the highest point on earth— the Mount Everest.
NEPALI CUISINE
However, Nepal is not only diversified in terms of tourist attractions but also in the field of culinary.
Sekuwa (Nepali Grilled Skewers) and Choila / Chhwela / Chhoyela (Spicy Meat Salad) are some of the popular Nepali Dishes you should look forward to when visiting Nepal.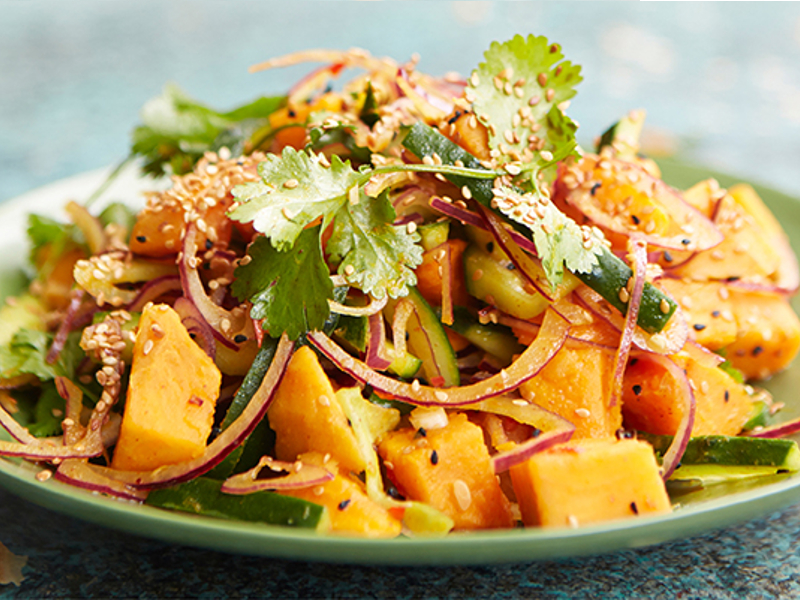 Spicy Meat Salad
– is a traditional Newari spiced grilled meat (can be chicken, buffalo, lamb, mutton, or duck). And to deepen the spiciness of the food, red or green chilis, fenugreek seeds, and turmeric are being used.
---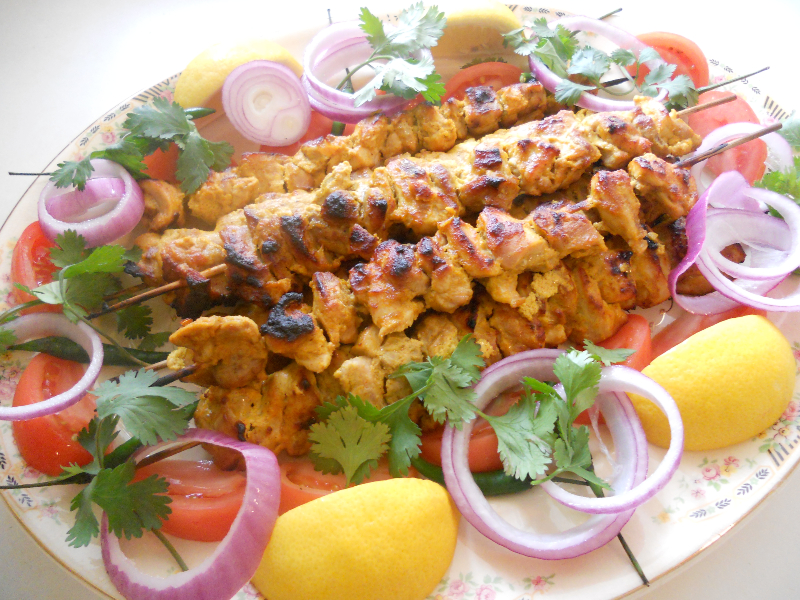 Nepali Grilled Skewers
-are usually made from different meat types and meat parts. Choices include chicken, pork, lamb, and goat meat. And to upgrade the flavour of this Nepali Skewers, fresh herbs and condiments are used to marinate the meat.
Nepali cuisine has a wide variety of both traditional and regional cuisines. These cuisines are commonly prepared using the available local spices, herbs, fruits, and vegetables/veggies.
A typical Nepali meal is a cereal complemented with savory dishes and flavorful sauces. The most common Nepali spices are jimbu, cinnamon, cardamon, turmeric, coriander, ginger, and garlic.
These ingredients are used in cooking Nepali dishes and making Nepali sauces.
DIFFERENT TYPES OF NEPALI SAUCES
While store-bought sauces are very convenient to use, knowing how to prepare them is still an advantage as you have the option to adjust the flavor according to your preference.
Here are some of the famous Nepali sauces you should try.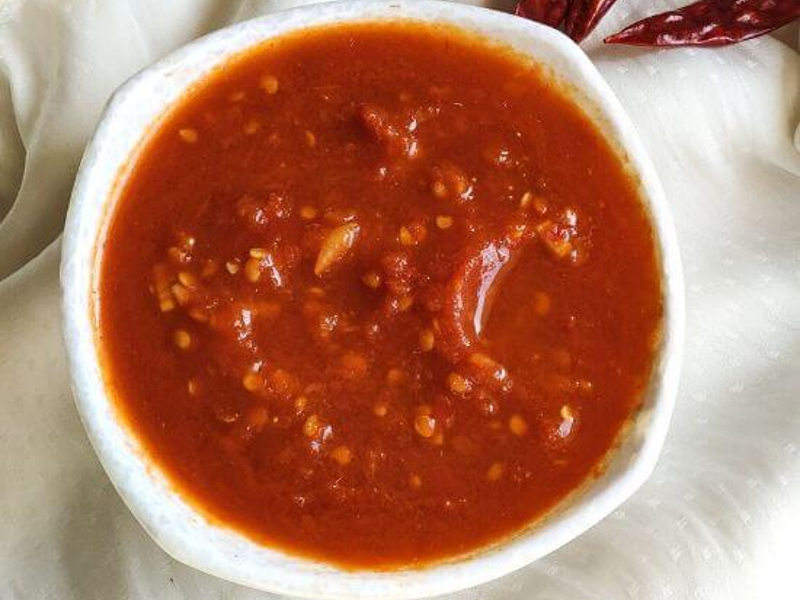 MOMO CHUTNEY (recipe)
Momo chutney, also known as momo sauce, is a street style recipe that is bright, spicy, sweet, and delicious. This sauce is commonly served with chilli paneer noodles, momos (a traditional dish in Nepal and a popular street food) or steamed dumplings.
Preparing the momo chutney sauce is very simple. You simply need to saute and mix the ingredients.
The main ingredients in making the momo chutney recipe are ginger, garlic, onions, red chillies, and tomato.
If you have a blender, small pot, and the ingredients mentioned, you can try the momo chutney recipe listed below.
Ingredients:
¼ tsp salt
¾ cup crushed tomatoes (canned)
2 medium tomatoes (fresh)
1 tsp oil
1 tsp garlic crushed
1 tsp ginger finely shredded
1 tsp soy sauce
1 tsp sugar
1 tsp lemon juice
2 tsp spring onion greens, chopped
4-5 dried red chillies(preferably sichuan)
STEPS:
Heat the small pot over medium high heat, then add oil. Once heated, add garlic and ginger. Whisk for at least 60 seconds or until cooked. Then add the onions and cook for 1 minute.
Add the sichuan or the dried chiles, and mix. If you use sichuan, make sure to remove the seeds. 
Add the tomatoes (crushed), soy sauce, sugar, water, and salt. Stir and cook for 4 minutes or until thickens. Remove from the stove. Add the lemon juice, then mix.
Once the mixed ingredients are no longer hot, pour them into the blender and jumble until they become a smooth chutney.
Best eaten and served with soup and other Nepali main dishes.
---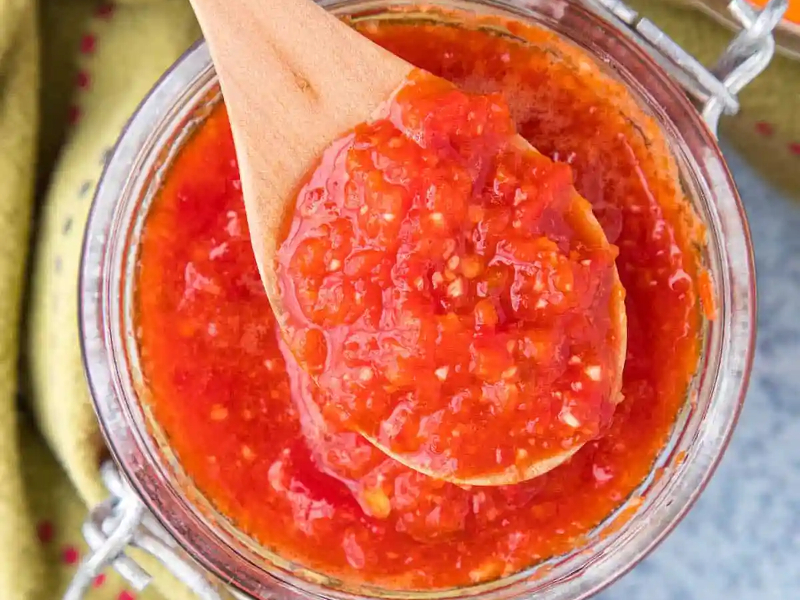 NEPALI HOT SAUCE (recipe)
Nepali hot sauce is also a good appetizer and can best complement any Nepalese food. And just like the momo sauce, cooking a nepali hot sauce is plain and easy.
Secure the main ingredients in making this hot sauce such as rice vinegar, garlic, fresh ginger, plum tomatoes, and olive oil.
Ingredients:
2 plum tomatoes (6 ounces)
3 tablespoons extra-virgin olive oil
2 to 3 teaspoons crumbled dried red chiles
2 tablespoons coarsely chopped garlic (2 large cloves)
2 tablespoons coarsely chopped fresh cilantro
1 tablespoon coarsely chopped fresh ginger
3/4 teaspoon coarse salt
1/2 teaspoon rice vinegar
1/2 teaspoon cumin seeds
3/4 cup coarsely chopped yellow onion (1 medium onion)
NOTE:
If you want your Nepali hot sauce extra spicy, use at least 3 teaspoons of dried chiles (crumbled). Otherwise, use 2 teaspoons.
STEPS:
1. Add water to a saucepan and bring to boil. Add tomatoes and cook for 5 minutes or until softened. Drain. Once the tomatoes are no longer hot, squeeze out the juice and seeds over a small bowl. Set aside. Then finely chop the tomato flesh.
2. Heat the skillet over medium high heat and add oil. Add chiles and cumin. Cook for about a minute or until the chiles turn dark and smell aromatic. Add onion, ginger, and garlic. Cook for 3 minutes or until they become golden brown. Lower the heat and cook for 2 minutes. Add tomatoes (chopped) and salt, then cook for another 2 minutes. Mix the tomato juice and seeds and simmer. Once the liquid has evaporated, remove the skillet from the heat. Let cool.
3. Pour the mixed ingredients in a food processor and grate until smoothened. Add vinegar and salt. Put the finished product in a container (airtight) and refrigerate. You can store it in a fridge for at least two weeks.
This spicy sauce will surely add more flavor to any Nepali recipes or dishes, except dessert.
---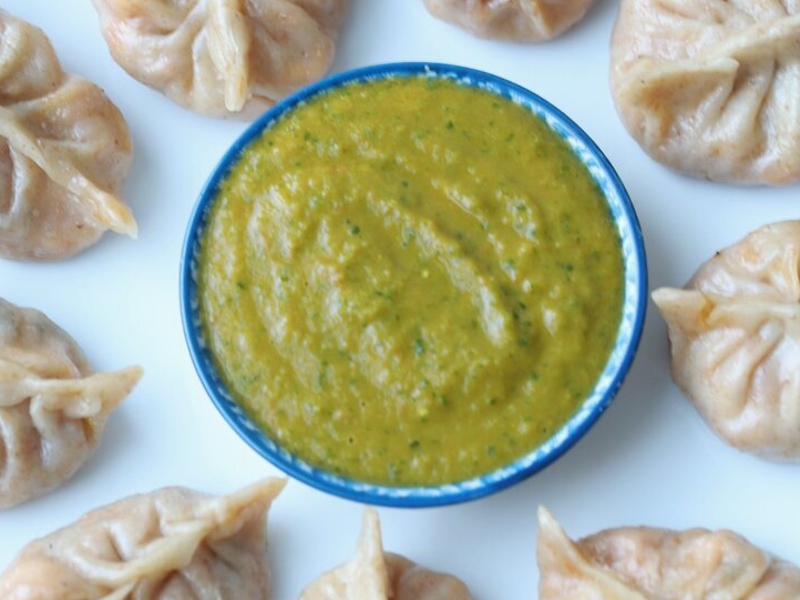 TOMATO AND CILANTRO ACHAR (recipe)
Tomato and cilantro achar has a versatile and vibrant taste. Its main ingredients are tomato and cilantro. Depending on your taste, you can add more cilantro than tomato or vice versa.
This sauce pairs well not only with Nepali cuisines but other food from other countries like burrito, taco, or quesadilla. It can also be used as marinade for chicken or shrimp.
Similar to other Nepali sauces, the cooking process is very simple and easy.
Ingredients:
1 large size lemon
1/2 cup chopped cilantro
1/4 cup cilantro
2 Bird's eye chile (chopped)
3 cloves of garlic (minced)
2 Roma tomato (chopped)
1/4 teaspoon turmeric powder
1/2 teaspoon cumin powder
1/4 teaspoon red chile powder
1/2 cup onion (chopped)
1 tbsp. canola oil or avocado oil
salt
STEPS:
1. Heat a medium size pot and add chopped onion. Cook for about 3 minutes or until the texture becomes translucent. Then add garlic and stir. Wait until the smell becomes fragrant, and add chopped tomatoes, turmeric powder, cumin powder, red chili powder, and the chopped bird's eye chili. Add salt and 1/2 cup of chopped cilantro.
2. Gradually stir everything. Cook for around 20 minutes or until the tomatoes and cilantro are cooked. Remove the pan from the gastove, set aside, and let cool.
3. Once cooled down, add it to the blender and blend for 3 minutes or until it is already creamy. Slice the lemon and squeeze on the blended ingredients. Add the remaining 1/4 cup of cilantro and blend once again.
---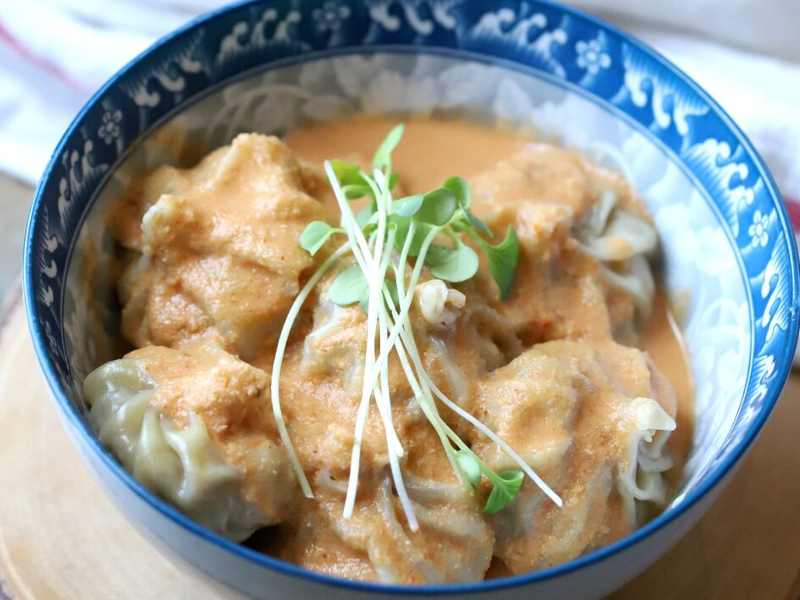 TOMATO ACHAR WITH SOYBEAN AND SESAME (recipe)
This Nepali sauce is made from tomato, soybean, and sesame. It is brothy and thin and is usually paired with food served during special occasions.
Ingredients:
2 tomatoes (chopped)
3 cloves of garlic (minced)
2 dried red chile
2 cups of water
1 large lemon
1 tsp. ginger (minced)
1/4 tsp turmeric powder
1/2 tsp cumin powder
salt
1/4 cup soybean seed
1/4 cup white sesame seed
STEPS:
1. Heat oil over medium-heat in a medium size pan. Add cumin and wait until fragrant. Then add tomatoes, ginger, garlic and chili. Cook for about 2 minutes.
2. Add cumin powder, turmeric powder, cumin powder, and salt. Cook for 10 minutes or until the tomatoes soften. Remove the pan from the stove and set aside.
3. In a different pan, toast soybean seeds until they turn brown. Remove from the stove and transfer to another bowl. Using the same pan, toast the sesame and remove immediately when the color changes. Let cool the fried ingredients.
4. Blend the toasted sesame seeds and shelled soybeans in a blender until they become fine powder. Then add 1 cup of water, tomato mixture, and squeeze half of the lemon. Blend the mixture again.
5. Adjust the flavour by adding seasonings. Add another cup of water if needed.
---
WRAP UP
So those are some known Nepali sauces that you can pair with your favorite dish.
There are still other known Nepali sauces you can check out like classic momos achar. You can visit google and check for its recipe.