Yin Yang Fried Rice is a visually stunning and delicious Cantonese rice dish that will wow your family and friends. This article will provide step-by-step instructions and ingredients to make this restaurant-quality dish right in your kitchen.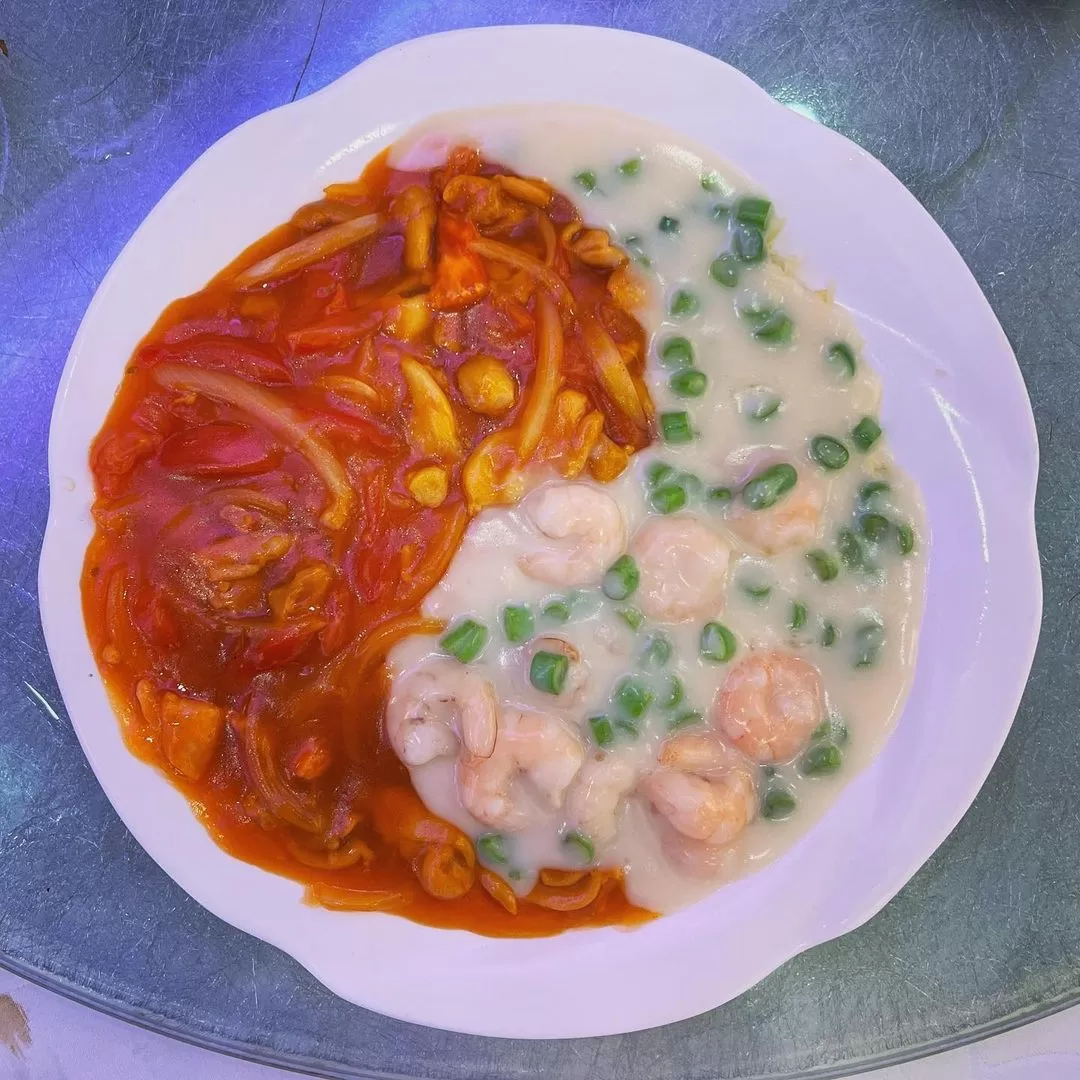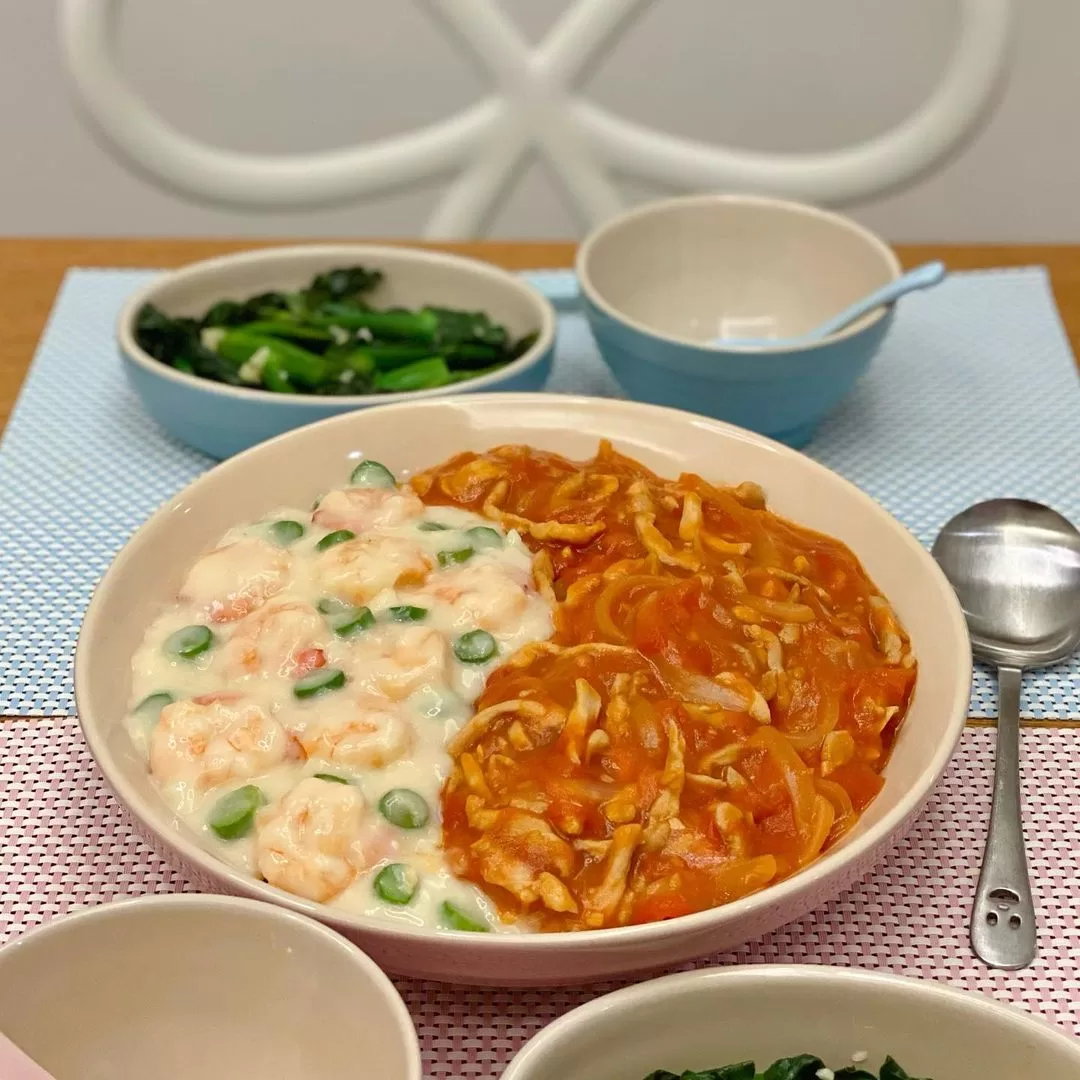 A Brief History of Yin Yang Fried Rice
The name "Yin Yang" refers to the concept of duality in Chinese philosophy, represented by the familiar circular symbol. The white and red sauces depict this duality in the fried rice dish.
The Chinese name yuan yang chao fan (Mandarin) means "mandarin duck fried rice." Mandarin ducks mate for life, making them a symbol of marital bliss. This auspicious connotation is why Yin Yang Fried Rice is commonly served at Chinese weddings.
The dish was created in Hong Kong, combining the local love of fried rice with a visually striking presentation. It has become a menu staple at Cantonese restaurants around the world.
Shopping List for Ingredients
To make this fried rice at home, you'll need the following ingredients:
For the fried rice:
3 cups cooked white rice
3 eggs
1 tbsp vegetable oil
1⁄2 tsp salt
For the chicken marinade:
lb of sliced, boneless, and skinless chicken breasts
1 tbsp grated ginger
1 tsp salt
1 tsp sugar
1 tsp chicken bouillon powder
1 tbsp cornstarch
1⁄4 cup water
1 tbsp vegetable oil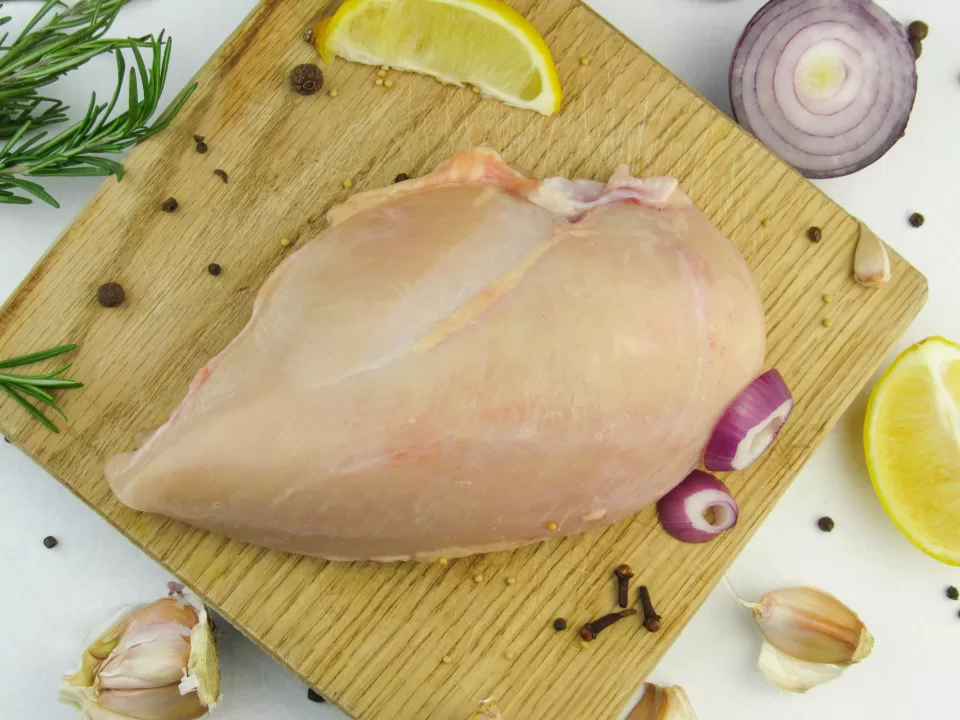 For the red sauce:
1⁄2 onion, sliced
2 tomatoes, cut into wedges
3 tbsp tomato paste
3 tbsp ketchup
1 tbsp distilled white vinegar
1 tbsp soy sauce
2 tsp sugar
1 cup chicken broth
1 tbsp cornstarch
2 tbsp water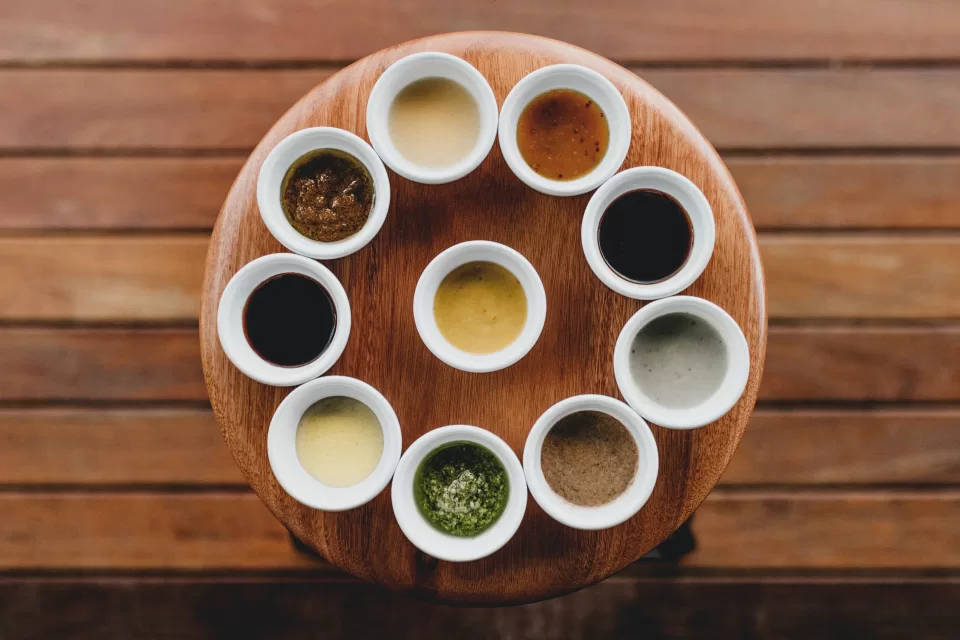 For the white sauce:
1 lb peeled deveined shrimp, halved lengthwise
1⁄2 onion, diced
1 cup frozen peas
1 cup chicken broth
1⁄4 tsp white pepper
1⁄2 tsp salt
1⁄4 cup heavy cream
Other supplies:
Wok or large skillet
Spatula
Small bowls for holding sauces, marinades, and slurries
Aluminum foil for molding
Servins dish
Step-by-Step Recipe
Follow these simple steps to make picture-perfect Yin Yang Fried Rice.
Prepare the Ingredients
Rinse 3 cups of uncooked rice and cook according to package instructions. Allow to cool before frying.
Separate the yolks and whites of three cracked eggs. Set aside whites for white sauce.
Slice chicken breast into thin strips. Mix chicken with ginger, salt, sugar, bouillon, cornstarch, 1 tbsp oil, and water in a bowl. Set aside marinade.
Halve shrimp lengthwise. Rinse and drain peas.
Slice onions and tomatoes. Mince 3 cloves garlic for red sauce.
Make the Red Sauce
Mix ketchup, tomato paste, vinegar, soy sauce, and sugar in a small bowl. Slowly whisk in 1 cup chicken broth.
In a different little bowl, whisk together 1 tablespoon cornstarch and 2 teaspoons water. Set aside slurry.
Heat wok over high heat. Add 1 tbsp oil and sliced onion. Stir fry for 1 minute.
Add marinated chicken. 2 minutes of stir-frying should yield barely cooked food. Remove chicken from the wok.
Add garlic and tomatoes to the wok. Stir fry for 1 minute.
Return chicken to wok. Bring to a simmer after adding the ketchup mixture.
The sauce will thicken as you gradually mix in the cornstarch slurry. Add salt to taste.
Remove red sauce from the wok and keep warm.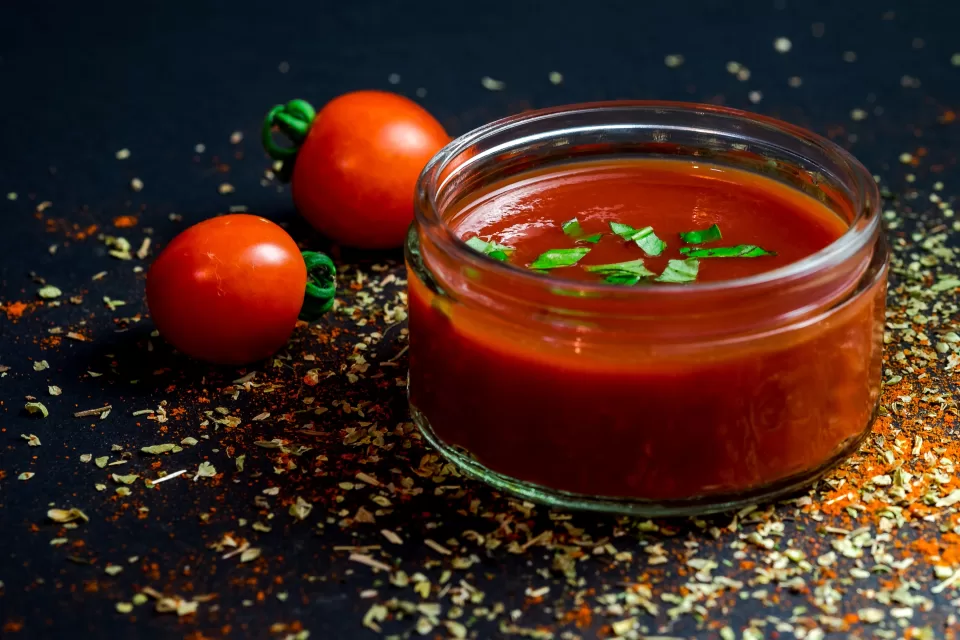 Make the White Sauce
1 tbsp cornstarch and 2 tbsp water should be combined in a small bowl.
Heat wok over high heat. Add 2 tbsp oil and shrimp. Stir fry for 1 minute until pink. Remove shrimp from the wok.
Add onion and peas to the wok. Stir fry for 1 minute.
Return shrimp to the wok. Add chicken broth and white pepper.
The sauce will thicken as you gradually mix in the cornstarch slurry.
Remove from heat. Stir in heavy cream and salt.
Fry the Rice
In a wok, warm 1 tbsp of oil over high heat.
Add egg yolks and quickly scramble before adding rice.
When adding the rice, break the eggs and stir to cook for 5 minutes. Salt the food with 1/2 tsp.
Transfer the fried rice to a plate. Spread evenly.
Assemble the Dish
Place a foil "S" shape onto the rice. This will separate the sauces.
Spoon white sauce onto one side of the foil.
Spoon red sauce onto the other side.
Carefully remove the foil mold.
Garnish the dish with green onions. Serve immediately while hot.
And that's it! You can prepare Yin Yang Fried Rice of restaurant quality at home by following these easy instructions. Impress your family with this stunning culinary creation.
Cooking Tips and Variations
Use chicken, pork, beef, shrimp, or tofu instead of chicken and shrimp.
Substitute broccoli, carrots, peppers, and other veggies for colorful fried rice.
Oyster sauce or miso paste can provide an umami flavor instead of cream for the white sauce.
Add ginger, garlic, sesame oil, scallions, and other aromatics to boost flavor.
For a vegan/dairy-free option, use vegetable broth and coconut milk or cream.
Mix the sauce flavors – curry red sauce or pesto white sauce would be delicious!
Cook the proteins separately from the sauce veggies to better control doneness.
Use new woks for best results, or thoroughly clean woks between red/white sauces.
Chill rice overnight before frying for the best texture, or spread fresh rice on a sheet pan to cool quickly.
Use tongs and spatula to safely move ingredients in and out of the hot wok.
Ensure sauces thicken to the right consistency so they don't make the rice soggy.
The Versatility of Fried Rice
One of the great things about fried rice is that it's endlessly adaptable. Use this recipe as a template and substitute based on what's in your pantry and fridge.
The basic formula is:
Carbs – Rice, quinoa, noodles
Protein – Meat, poultry, seafood, tofu Aromatics – Garlic, ginger, scallions Veggies
Sauce
Eggs
Oil/Fat for Frying
With this formula, you can whip up any style of fried rice. Here are some flavor combo ideas:
Mexican – cilantro rice, black beans, corn, avocado, salsa
Italian – farro, sausage, zucchini, sun-dried tomatoes, pesto
Greek – quinoa, lamb, olives, feta, lemon, mint
Indian – basmati rice, chicken tikka masala sauce, peas, raisins
Thai – jasmine rice, curry paste, bell peppers, basil, peanuts
Do you know what goes well with some homemade fried rice? Egg rolls, potstickers, or wontons. Consider making a whole Asian-inspired meal for your family. The possibilities are endless with Yin Yang Fried Rice!
The Joy of Cooking and Eating Together
More than just a meal, preparing, cooking, and sharing food is part of the human experience. Teach your kids or partner to make this fried rice with you for quality time together in the kitchen. Eating also brings people closer together. Serve this restaurant-worthy dish for your family on a weeknight, or impress guests at your next dinner party.
The contrasts of the flavor, texture, and appearance make Yin Yang Fried Rice an unforgettable feast. With this easy recipe, you can savor the nostalgic aromas of garlic, ginger, and sesame oil, the crunch of juicy wok-seared shrimp, and the tenderness of egg-fried rice. Enjoy the sweet tanginess of the red sauce, enriched by the creaminess of the white sauce.
So gather those you love, pull up a chair, and delight your tastebuds with this Yin Yang Fried Rice.
Frequently Asked Questions
What does "Yin Yang" mean in the name? 
The name refers to duality or opposing forces in Chinese philosophy. The white and red sauces represent this duality in the dish. The Chinese name, yuan yang chao fan, translates to "mandarin duck fried rice" because mandarin ducks symbolize love and marriage.
Do I need a wok to make it?
While a wok is ideal, you can make Yin Yang Fried Rice in any large non-stick pan or skillet. The key is to use high heat and keep ingredients moving by stirring and tossing. This allows for that coveted wok hay flavor.
Can I use brown rice instead of white?
It's best to use white long-grain rice like jasmine or basmati. When fried, short-grain brown rice won't achieve the right fluffy, light texture. However, you can use a long grain brown rice and increase the frying time to compensate.
How do I keep the sauce colors separate?
Use a piece of foil folded into an "S" shape down the middle of the rice to separate the white and red sauces. Remove it before serving for that perfect Yin Yang presentation.
Can I make it dairy-free?
For a dairy-free version, use coconut milk or cream for the white sauce. You can also omit the cream entirely for a lighter sauce. Veggie broth can sub for the chicken broth, too.