Fried glutinous rice dumplings, or Ham Sui Gok or Jin Dui, are a beloved dim sum dish and a favorite at yum cha restaurants. These chewy dumplings have a lightly crispy exterior and a soft, sticky rice flour exterior, enveloping a savory pork filling. They take some time and special ingredients but are worth the effort for a tasty homemade version of this classic Cantonese dish.
In this article, we will walk through step-by-step instructions for making fried glutinous rice dumplings, starting with the dough wrapper and moving on to the flavorful filling. We've also included tips for substitutions and getting the perfect fry on the dumplings. Read everything you need to know to make this dim sum delight at home.
Gathering the Ingredients
Making fried glutinous rice dumplings dough requires picking up some specialty flours and starches. Here's what you'll need:
Glutinous rice flour – Also labeled "sweet rice flour," this flour made from sticky glutinous rice is crucial for the stretchy, chewy texture of the dumplings. It is available online or in Asian grocery stores.
Wheat starch – This gluten-free starch adds structure to the dough. Cornstarch or tapioca starch can be substituted.
Boiling water – A small amount of hot water gelatinizes the starches for a cohesive, pliable dough.
Sugar – A bit of sugar balances out the dough and gives the dumplings' exterior a sweet flavor.
Neutral oil – A small amount of vegetable, peanut, or canola oil makes the dough smooth and workable.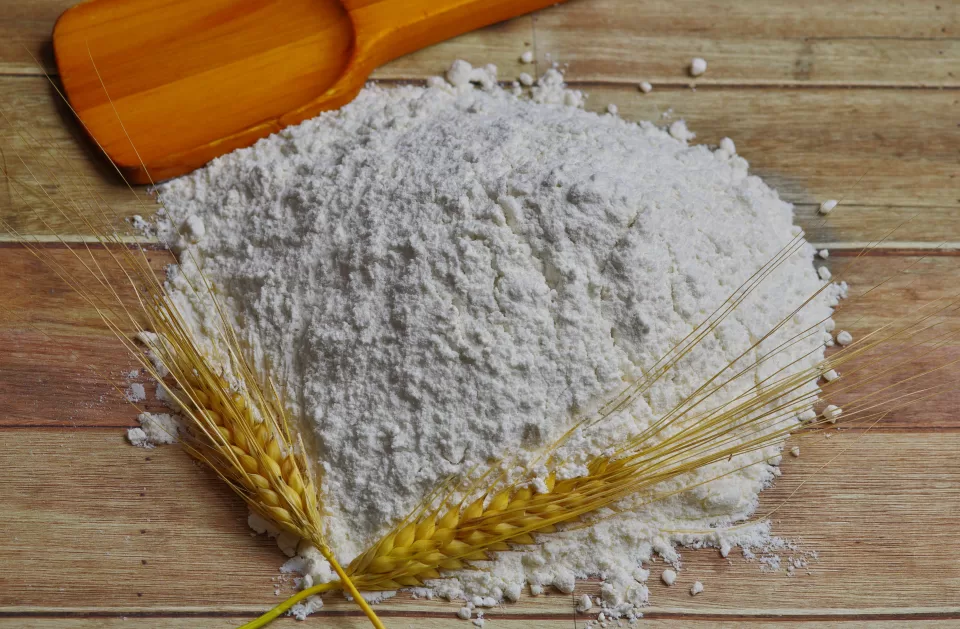 For the filling, you'll need:
Ground pork – Opt for a fattier pork-like shoulder. The fat keeps the filling moist.
Shiitake mushrooms – Dried shiitakes are rehydrated and minced for the filling. They add meatiness.
Garlic – Minced garlic provides an aromatic base for the filling.
Soy sauce – Soy sauce gives the pork filling a rich, umami flavor.
Oyster sauce – Adds MSG-free savoriness.
Sesame oil – A touch of sesame oil provides nutty depth.
White pepper – The powerful flavor of white pepper counteracts the sweetness of the dough's surface.
Green onions – Finely chopped green onions give freshness.
Cornstarch – A cornstarch slurry thickens the filling slightly.
Making the Dough Wrapper
With your ingredients assembled, it's time to make the dough. Here are step-by-step instructions:
In a small bowl, stir the wheat starch and 2-3 tablespoons of boiling water until a soft dough forms. Set aside.
In a medium bowl, stir together the glutinous rice flour and sugar.
Add the wheat starch dough to the center of the glutinous rice flour.
Gradually pour in 120ml warm water while stirring the flour mixture with a wooden spoon.
When the dough becomes shaggy, start kneading with your hands until a smooth dough forms.
Drizzle in 11⁄2 Tbsp vegetable oil and knead again to incorporate.
For 30 minutes, wrap the dough in plastic and let it rest. This allows the starches to hydrate for a cohesive yet pliable dough.
After the rest, the dough should be soft, silky, and not sticky. Portion into 16 equal pieces and roll into balls. Use lightly oiled hands to prevent sticking.
Preparing the Filling
While the dough rests, you can prepare the filling:
Combine the pork, mushrooms, garlic, soy sauce, oyster sauce, sesame oil, white pepper, and 1 tsp cornstarch in a bowl. Mix well and set aside.
1 Tbsp of oil must be warmed in a skillet over medium-high heat. Add the pork mixture, breaking it up with a wooden spoon as you cook it for about 2 minutes or until the meat is no longer pink.
Push the pork to one side of the pan. Mix 1 tsp cornstarch and 2 Tbsp water in the cleared area, then add to the pork and stir to combine. Cook for 1 minute more until thickened.
Remove the filling to a bowl and mix in the green onions. Let cool completely before assembling.
Filling and Forming the Dumplings
Once both components are ready, it's time to assemble the dumplings:
Each dough ball should be rolled onto a lightly dusted board into a 4″ circle.
Place a heaping tablespoon of filling into the center of each wrapper.
Lightly brush the edge of the wrapper with water.
To seal, squeeze the edges of the dough after folding it over the filling.
Gently roll between your palms to smooth the seams and shape it into an oval.
Place the formed dumplings on a tray, not touching, and cover with a damp towel.
Once all dumplings are filled and formed, they are ready to fry.
Frying the Dumplings
The final step is frying the dumplings for a crispy exterior.
Heat 11⁄2 inches of neutral oil in a heavy pot or Dutch oven to 350°F.
Fry the dumplings in batches without crowding, about 6 at a time.
Fry for 1 minute on each side until lightly browned.
Move to a plate covered with paper towels to drain any extra oil using a slotted spoon.
Serve the hot dumplings immediately while the exterior is still crispy.
The dumplings are best fresh from frying when the filling is molten hot, and the exterior is perfectly crispy. But they can also be frozen uncooked for up to 1 month and fried directly from frozen for a quick snack.
Tips for Perfect Dumplings
Making fried glutinous rice dumplings does take some practice. Here are a few tips:
Use a digital thermometer for accurate oil temperature. This prevents under or overcooking.
Refrain from filling the dumplings, or they'll burst during cooking. About 1 Tbsp is perfect.
Work quickly to assemble once the dough is made while still pliable.
Ensure the filling is completely cool before assembling to prevent melting the dough.
Fry in small batches for even cooking. Be sure to allow the oil to return to temperature between batches.
Enjoying Your Dumplings
Homemade fried glutinous rice dumplings may take effort, but they are worth it for an authentic yum cha experience. Enjoy them immediately, dipped in soy sauce, sriracha, or Chinese black vinegar. Leftovers can be refrigerated and quickly reheated in the microwave or pan-fried. The dough may lose a bit of crispiness but will still have wonderful chew and flavor.
Recreate the dim sum experience at home with flaky char siu bao, juicy siu mai, refreshing mango pancakes, and steaming bowls of congee. Fried glutinous rice dumplings will round out your spread for a delicious feast.
Frequently Asked Questions
What are the main ingredients needed to make fried glutinous rice dumplings?
The main ingredients are glutinous rice flour, wheat starch or cornstarch, boiling water, sugar, oil, ground pork, dried shiitake mushrooms, soy sauce, oyster sauce, sesame oil, garlic, and green onions.
Can I substitute regular rice flour for the glutinous rice flour?
No, regular rice flour does not have the same properties as glutinous rice flour. Glutinous rice flour contains amylopectin, giving the dough a chewy, stretchy texture. Regular rice flour would result in dumplings that are too dry and brittle.
Do I need a mold or special equipment to shape the dumplings?
Shaping can be done by hand – no special tools are required! Roll out small dough rounds, add a spoonful of filling, fold over, and pinch closed. Then, roll between your palms to create the signature oval shape.
What oil is best to use for frying?
A neutral oil with a high smoke point, like vegetable, peanut, or canola oil, works well. Avoid using olive oil, which can impart too strong a flavor. Lard or shortening can also be used for excellent crispness, but this is not vegetarian/vegan friendly.
How do I get the dough wrappers perfectly round?
Use a circular object like a cup or bowl as a guide while rolling out the dough balls into rounds. Roll evenly and avoid creating creases. The dough will stretch easily into shape if well-rested and hydrated, so the wrappers don't need to be perfectly uniform. Focus on getting a good seal on the dumplings.