Mapo tofu with pork is a beloved Chinese dish that combines soft tofu cubes with ground pork in a spicy, flavorful sauce. While this Sichuan specialty may seem intimidating to recreate at home, it's easy with the right ingredients and techniques.
This article will walk you through a traditional Mapo tofu with pork recipe step-by-step. With a few key seasonings and 20 minutes of active cooking time, you can enjoy restaurant-quality Mapo tofu with pork from your kitchen.
Gather the Ingredients
The first step is gathering the ingredients you'll need. While Mapo tofu with pork has a complex, layered flavor, it calls for just a few staple items you can find at an Asian grocer or order online.
For the tofu:
1 14-ounce package of firm tofu
For the sauce:
1 tablespoon Sichuan peppercorns
2-3 tablespoons doubanjiang (spicy fermented broad bean and chili paste)
1-2 teaspoons crushed red pepper flakes
1 tablespoon chopped, rinsed, and fermented black beans
1 tablespoon soy sauce
1 teaspoon dark brown sugar
1 tablespoon toasted sesame oil
1⁄2 cup chicken or vegetable stock
1 tablespoon water and 1 tablespoon cornstarch
For the pork and aromatics:
1 tablespoon neutral cooking oil
8 ounces ground pork
3 cloves garlic, minced
1 tablespoon minced ginger
2 scallions, thinly sliced, greens and whites separated
You'll also need salt, white pepper, a wok or large skillet, and a plate lined with paper towels or a paper towel.
While specialty ingredients like doubanjiang may be new to your pantry, they last a long time and are integral for authentic Sichuan flavors. Reduce the red pepper flakes to your preferred level of heat.
Prepare the Ingredients
With your ingredients assembled, it's time to prep.
Start by draining the tofu. Please remove it from the package and place the block between layers of paper towels or clean dish towels. Apply pressure to drain excess liquid, then cut the tofu into 1-inch cubes.
Combine the soy sauce, sugar, and cornstarch mixture in a small bowl and set aside.
Rinse the fermented black beans to remove any grit, then mince them.
Finally, combine the Sichuan peppercorns and red pepper flakes in a mortar, pestle, or spice grinder and grind into a coarse powder.
You want your aromatics ready to go, so mince the garlic and ginger and separate the white and green parts of the scallions.
Cook the Pork
A big skillet or wok should be warmed over medium-high heat before adding the oil. Add the meat after the oil is heated. With your spatula, shred the meat and heat for 5-7 minutes or until it is crisp and lightly browned.
Use your spatula to push the pork to the sides of the wok. Add the garlic, ginger, and scallion whites. Cook for 1 minute until fragrant.
Return the pork to the center and add the doubanjiang and black beans. Continue cooking for 2-3 minutes, making the doubanjiang aromatic.
Simmer the Tofu
Add the chicken stock and stirred cornstarch mixture to the wok. Bring to a simmering boil.
Nestle the tofu cubes into the sauce, spreading them evenly. Let simmer for 3-4 minutes until the sauce has reduced slightly and the tofu has absorbed some flavor.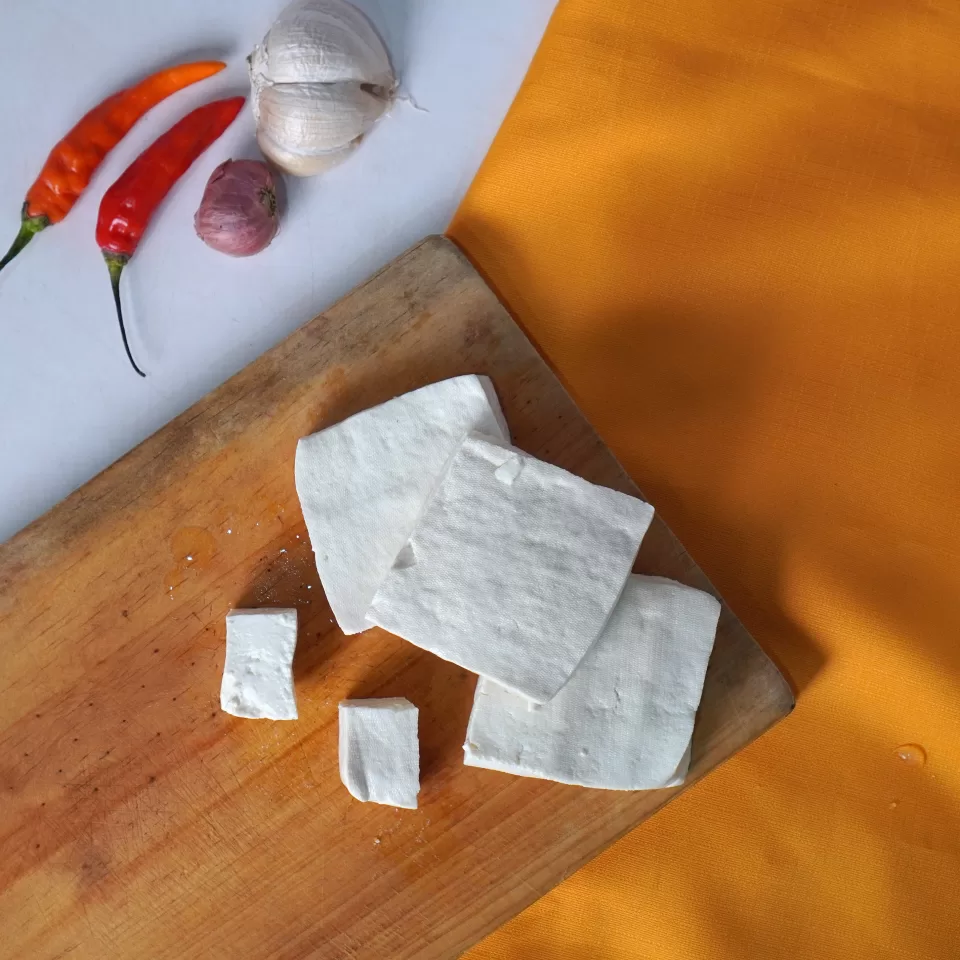 Gently turn the tofu over halfway through to ensure even cooking.
Finish and Serve
Once the tofu is cooked, stir the toasted Sichuan pepper mixture into the sauce. Add the sesame oil and a sprinkle of white pepper.
Turn off the heat and stir in the scallion greens. Transfer the Mapo tofu with pork to a serving plate.
Immediately serve the Mapo tofu with pork over steamed white rice for the best texture and flavor contrasts. The tender tofu, flavorful sauce, crispy pork, and fluffy rice combine for a wonderfully balanced meal.
Leftovers will be refrigerated for up to 3 days – reheat gently before serving.
Tips for Making Perfect Mapo Tofu with Pork
Making delicious Mapo tofu with pork is easy when you follow a few helpful tips:
Buy fresh tofu and handle it gently to keep the cubes intact. Blanching helps further firm up the tofu before cooking.
Use Pixian doubanjiang for authentic flavor. The chili bean paste can vary a lot by brand.
Add the aromatics at the end for maximum fragrance.
Simmer the tofu just until heated through and absorptive. Overcooking can cause the cubes to break down.
Adjust spices to your taste. You can reduce red pepper flakes for less heat.
Serve immediately over rice. The soft tofu contrasts wonderfully with the crispy pork and fluffy grains.
Customize Your Mapo Tofu with Pork
Once you master the classic recipe, try personalizing your Mapo tofu with pork with mix-ins like:
Diced shiitake mushrooms
Julienned bamboo shoots
Blanched green beans or broccoli
Thinly sliced baby bok choy
Substitute cooked ground beef, chicken, or turkey for pork
Fried tofu for extra crispy texture
A splash of Shaoxing wine
Fresh chopped cilantro
Toasted sesame seeds
Fried shallots or garlic chips
The possibilities are endless for experimenting with your Mapo tofu with pork flavors!
Make a Meal with Mapo Tofu with Pork
While Mapo tofu with pork is delicious on its own, you can expand it into a complete Chinese-inspired meal by adding a few simple sides like:
Steamed jasmine rice or brown rice
Quick pickled cucumbers
Stir-fried garlic spinach
Pan fried potstickers or gyoza
Hot and sour soup
Sauteed pea shoots
Braised eggplant in garlic sauce
A little meal planning helps you round the menu with tasty vegetable dishes and carb options.
Mapo tofu with pork and dishes like Peking duck, kung pao chicken, and tea-smoked ribs are wonderful for special occasions. A feast is only a week away!
Make Mapo Tofu with Pork a Regular Part of Your Rotation
Once you realize how easy it is to make restaurant-worthy Mapo tofu at home, you'll want to add this dish to the regular rotation. The ingredients likely still need to be staples in your pantry, but having them on hand makes whipping up map tofu anytime a breeze.
Keep extras of spices like Sichuan peppercorns and dried red chili flakes. Opt for a larger tub of doubanjiang so you don't run out mid-recipe. And get in the habit of keeping tofu in the fridge and frozen ground pork or turkey on hand.
You can double the recipe and have the leftovers for lunch the next day because Mapo tofu reheats well. It also freezes well for up to 3 months – defrost gently in the fridge before reheating.
With a well-stocked pantry and some meal prep, Mapo tofu can become one of your go-to weeknight dinners. Once you get the basics down, experiment with add-ins and side dish pairings.
This versatile, crave-worthy dish will become a staple meal in your home cooking rotation.
Frequently Asked Questions
What type of tofu should I use for Mapo tofu?
Use soft or silken tofu for the silkiest, most tender texture. Firm tofu can also work but may not absorb the sauce as well. Avoid extra firm tofu, which can become rubbery.
Is Mapo tofu spicy?
Authentic Mapo tofu has a pronounced spicy and numbing flavor from doubanjiang chili bean paste and Sichuan peppercorns. But you can control the spice level by adjusting the amount of chili paste and flakes. For less heat, use 1 tbsp paste and 1 tsp chili flakes.
Can I make vegetarian Mapo tofu?
Absolutely! Omit the ground pork or replace it with an equal amount of chopped shiitake mushrooms. For the best flavor, look for dried shiitakes and reconstitute them before using.
What should I serve with Mapo tofu?
Mapo tofu is usually served over steamed white rice, which beautifully soaks up the flavorful sauce. It also pairs well with steamed or fried vegetables like green beans, broccoli, or bok choy.
How long does Mapo tofu keep in the fridge?
Leftover Mapo tofu will be refrigerated for 3 to 4 days. Before serving, gently reheat on the stovetop or in the microwave. The tofu may become more delicate, so handle it carefully when reheating.