Want to prepare a delectable dessert for the entire family without ever using the oven? Why don't you try our no-bake cheesecake recipe? With a creamy center, this no-bake cheesecake is guaranteed to delight.
* If you buy through links on our site, we may earn an affiliate commission. For more details, please visit our Privacy policy page.
If you are craving cheesecake, and interested in this no bake cheesecake recipe, scroll down and continue reading.
Make Cheesecake Without Baking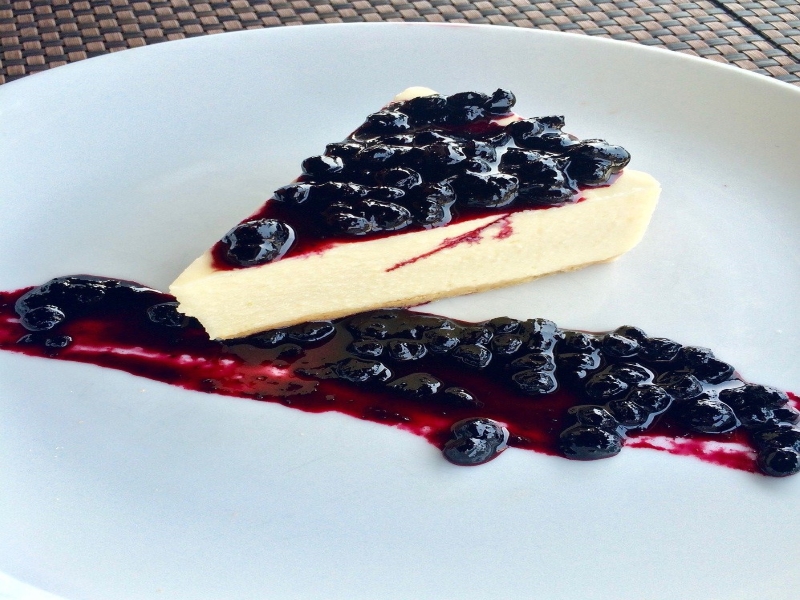 What Is A No Bake Cheesecake?
Everything that you enjoy about baked cheesecake is also true with no-bake cheesecake. In most situations, neither the sweet graham cracker crust nor the luscious, creamy cheesecake filling are baked.
---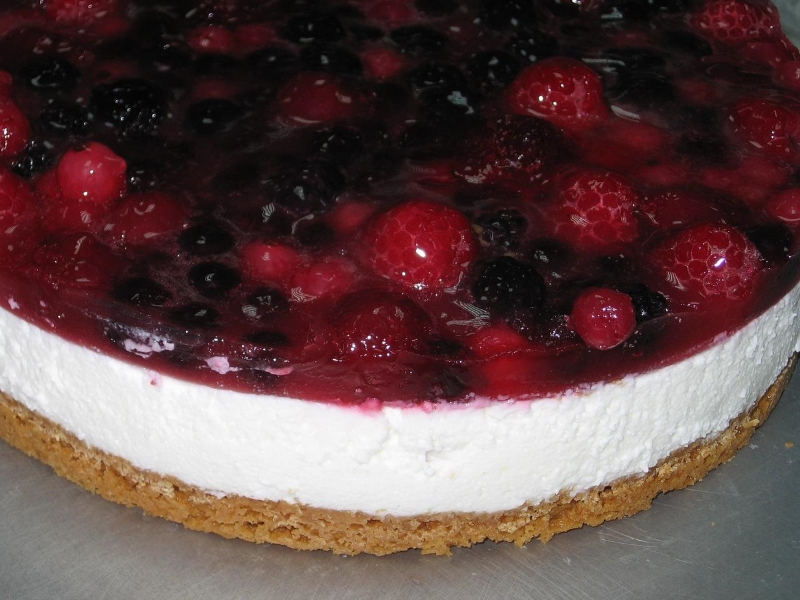 Which Is Better No Bake Cheesecake Or Baked Cheesecake?
Unbaked cheesecakes have the huge advantage of being easier to prepare than baked cheesecakes. They're also quite great if you're craving a slice of rich cheesecake in the heat of the summer. Your kitchen won't be heated by an oven. Putting those points aside, because each form of cheesecake has a different texture, one sort of cheesecake isn't always better than the other.
Cheesecakes are rich and tasty whether they are baked or not. The texture of a cheesecake that hasn't been baked is light and fluffy, almost like mousse. Custard-like firmness characterizes the texture of baked cheesecakes.
Compared to baked cheesecake, no-bake cheesecake is more simpler. There is essentially no room for mistake when baking and using eggs. It's possible for classic cheesecake to overbeat the eggs, bake it too long or too short, and have the cheesecake break.
---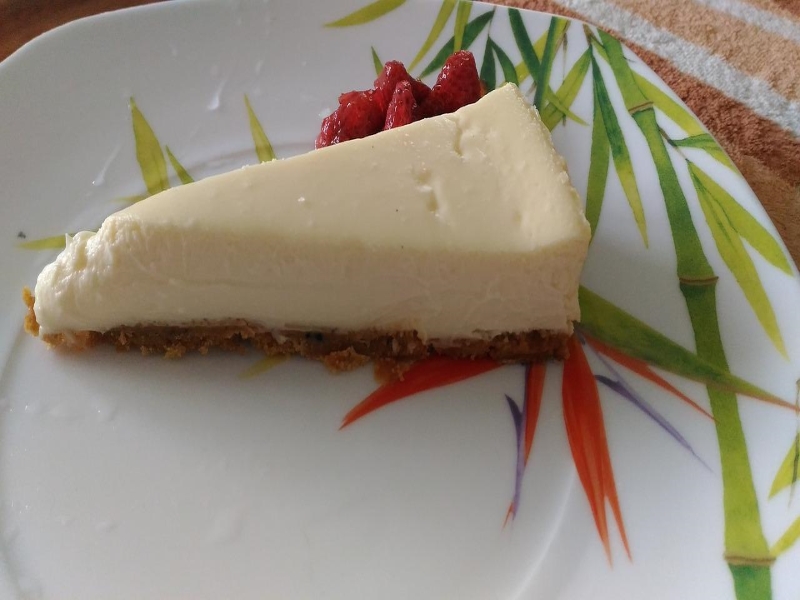 Ingredients Of Cheesecake
Cream cheese, white sugar, and heavy whipping cream are the main components needed to prepare a variety of cheesecake recipes, whether baked or unbaked.
No matter which kind, graham cracker crusts are often produced with melted butter, and basic graham cracker crumbs in cheesecakes. There may sometimes be a small amount of sugar added for sweetness.
Another option for a cheesecake crust is to use cookie or chocolate graham cracker crumbs to enhance the taste.
Eggs are a common ingredient in baked cheesecake recipes. The no-bake cheesecake recipes won't use raw eggs because doing so carries a danger of food poisoning.
Some no bake cheesecakes, but not all, call for sweetened condensed milk to produce a fluffy cheesecake filling with good structure.
---
No Bake Cheesecake Filling Ingredients
Heavy Whipped Cream
The most crucial step in this homemade cheesecake and the way to a rich no-bake cheesecake filling is beating heavy cream into firm peaks.
---
Cream Cheese
Use actual cream cheese blocks, not the cream cheese spread, whenever possible. The cream cheese must be softened at room temperature. If you think it is not enough , give the cream cheese a little more time to soften. To shorten the preparation, you can also chop the cream cheese block into pieces.
---
Confectioners' Sugar/Powdered Sugar
The filling is made thicker with a tiny bit of confectioners' sugar while yet being fluffy. As much as possible use confectioner's sugar, and avoid using substitute in making the no bake cheesecake.
---
Granulated Sugar
The cream cheese is broken down with granulated sugar. Sugar can sometimes be used in excess, so keep it moderate. Less sugar makes the vanilla and sour cream cheese tastes more prominent.
---
Sour Cream
For that recognizable tangy cheesecake flavor, mix in a little sour cream.
---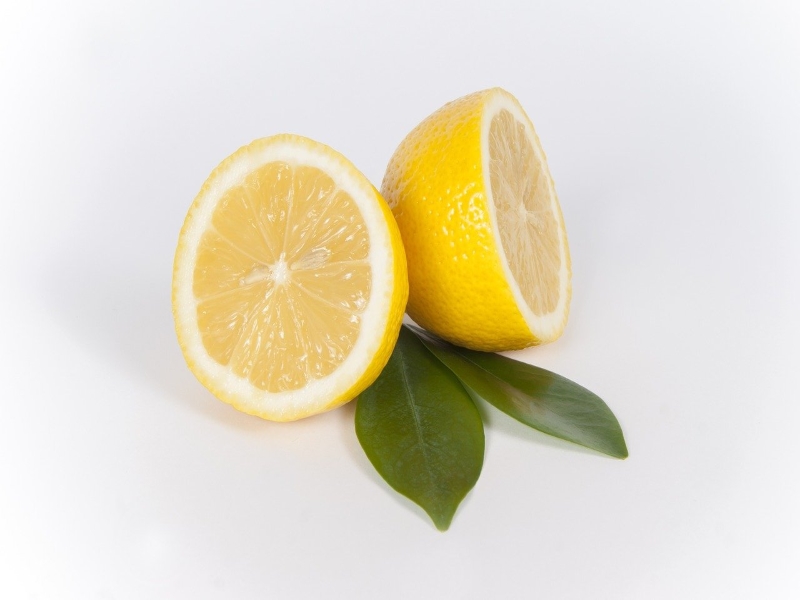 Lemon Juice/Lemon Zest And Vanilla Extract
A drop of each flavor gives the dish a unique touch.
---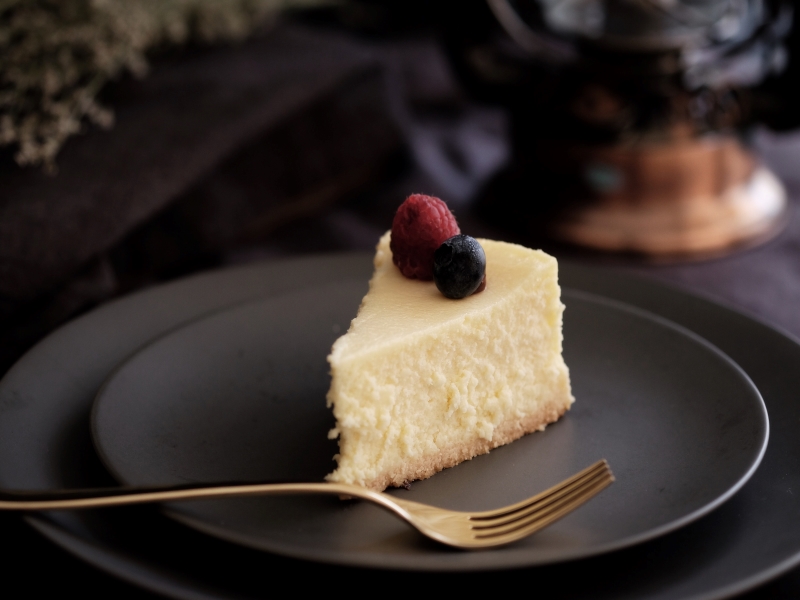 Easy No Bake Cheesecake Recipe (Classic Cheesecake)
The easiest and most ideal no-bake cheesecake is probably this one. The result will be a light, smooth, and creamy dessert that builds up perfectly in the fridge if you use this no-bake cheesecake recipe. The heavy cream must be whipped into firm peaks before being mixed into the filling, and this delicious cheesecake must be chilled overnight or for at least eight hours.
Ingredients
For Graham Cracker Crust recipe
2 cups graham cracker crumbs or around 12–14 full sheet graham crackers
1/3 cup packed light or dark brown sugar
1/2 cup of melted unsalted butter
For The Cheesecake Filling
300 ml heavy cream or heavy whipping cream
3 8-ounce blocks full-fat cream cheese, softened to room temperature
1/2 cup granulated sugar
2 tbsps confectioners' sugar
1/4 cup sour cream, at room temperature
2 tsps lemon juice
1 tsp pure vanilla extract
Instructions
The first thing to do is to make the crust. Combine the ingredients for the graham cracker crust. Pour the mixture into a 9- or 10-inch springform pan and compress it down firmly. When cutting the cheesecake, it will be less likely to crumble if it is packed tightly. To pack it into the bottom and up the sides, it is much better to use the bottom of a measuring cup. As you make the filling, freeze this for ten to twenty minutes.
Next, make the filling. Beat heavy cream until stiff peaks form using a hand mixer or a stand mixer with a whisk attachment for about 4-5 minutes on medium-high speed. Place aside.
Combine cream cheese and granulated sugar together until perfectly smooth and creamy using a hand mixer or a stand mixer equipped with a whisk or paddle attachment. If necessary, use a rubber spatula to scrape the bowl's bottom and sides. Add the vanilla extract, sour cream, confectioners' sugar, and lemon juice. Do this for about 3 minutes of medium-high pace beating is needed to achieve seamless blending. Make sure there aren't any noticeable cream cheese lumps. Continue to beat if there are lumps to obtain smoothness.
The whipped cream should be combined with the cheesecake mixture by folding it together with a rubber spatula or using a low-speed mixer. Your rubber spatula must be turned around a few times for this. You don't want to completely deflate the whipped cream, so combine carefully.
Now, take the prepared crust out from the freezer. Spread the creamy filling into the crust. The top should be smoothed down with an offset spatula.
Refrigerate for a minimum of 6 to 8 hours and a maximum of 2 days with a firmly sealed plastic wrap or aluminum foil cover. The ideal time frame is 12 hours. You can also refrigerate overnight. The no-bake simple cheesecake will firm up more nicely the longer it is chilled.
With the use of a knife, remove the springform pan to loosen the cooled cheesecake. Slice the cheesecake into portions using a clean, sharp knife. Between each slice, wipe the knife clean for neat slices.
Add toppings and serve cheesecake. You may add whipped topping, fresh berries, lemon curd, salted caramel. strawberry sauce, or any cheesecake toppings that you prefer. Enjoy these perfect no bake cheesecake with your family and friends.
---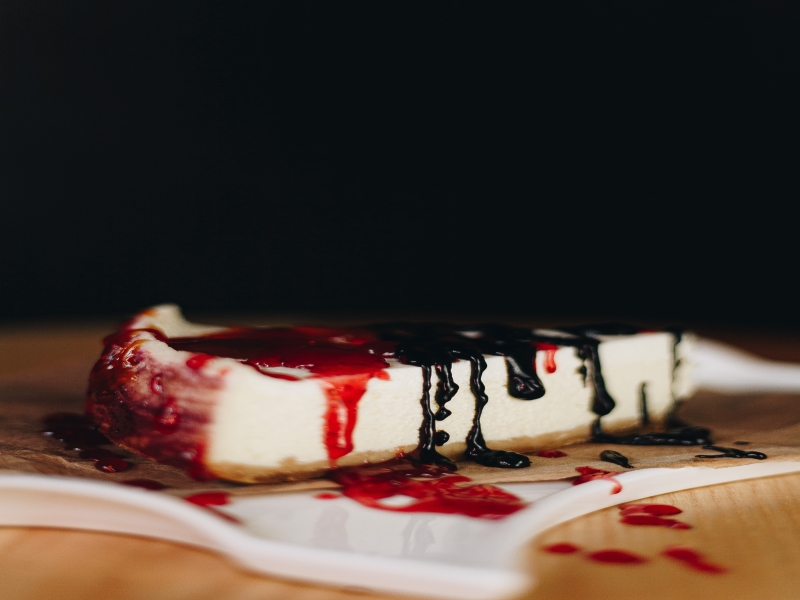 Important Reminders:
The taste of the cheesecake is improved with lemon juice. It doesn't taste like lemon in this cheesecake. Skip the sour cream from the recipe and substitute it with 2 tablespoons of lemon juice and 1 tablespoon of lemon zest if you prefer a lemon-flavored no-bake cheesecake.
This cheesecake may be prepared one to two days prior to serving. Before serving, it can be chilled for up to two days. The crust can also be prepared a day or two in advance. You can freeze for up to an hour, then securely cover and chill for a few days before adding the filling. You can freeze cheesecake for three months.
Room temperature ingredients include cream cheese and sour cream. Before starting, let the cream cheese and sour cream come to room temperature. Ingredients that are at room temperature provide a creamy cheesecake filling. A chilled mixture of ingredients will produce a thick cheesecake filling. However, heavy cream must be chilled in order to be whipped into firm peaks.
---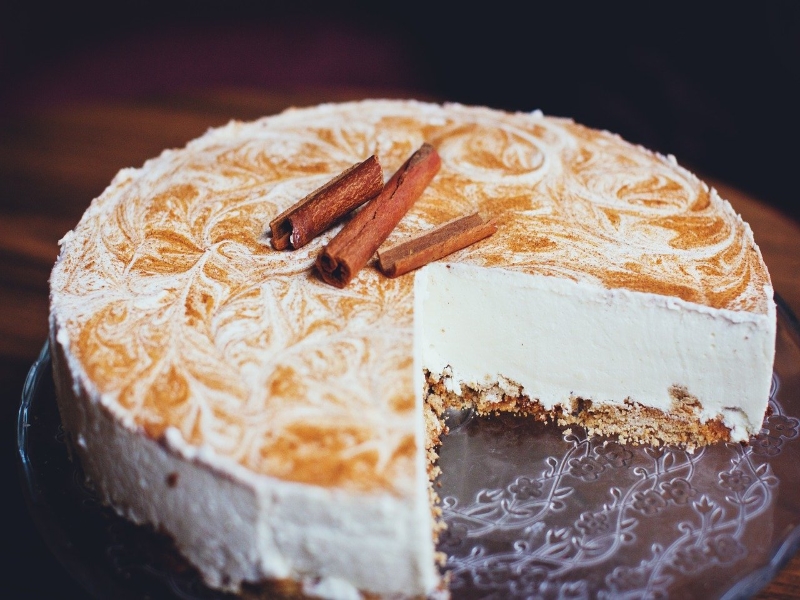 Other Variants Of No Bake Cheesecake Recipes
Check out some these easy cheesecake recipes below. You may have an idea on what variety of cheesecake you want to make.
No Bake Cheesecake Oreo Crust
Making a cheesecake crust out of Oreo cookies or any other type of chocolate cookie provides the cheesecake a lovely color contrast. You have the option to substitute any other variety of cookie crumbs for the Oreos.
No Bake Fruit Cheesecake
A cheesecake with fresh fruit (fresh berries) on top is very lovely. Use paper towels or a clean kitchen towel to blot the fruit's excess moisture to stop fruit juices from leaking into the cheesecake mixture.
No Bake Chocolate Cheesecake
A luscious treat that will make everyone crave is chocolate cheesecake. Most chocolate cheesecake no bake recipes require for melted chocolate. In certain recipes, cocoa powder is substituted. You can use any chocolate kind or flavor that you like. You should try dark chocolate cheesecake.
Jello No Bake Cheesecake
Gelatin-based cheesecakes have a lovely, firm texture that sets up rapidly. Your cheesecake gets a wonderful splash of color and taste with the use of flavored gelatin.
---
Here are some useful items you can use to create cheesecake more quickly.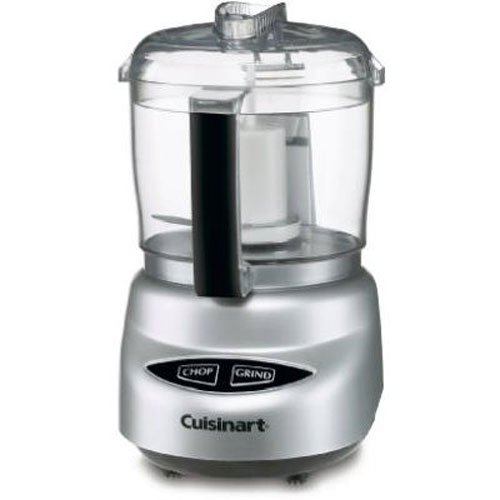 Brand: Cuisinart
Material: Plastic
Color: Brushed Chrome and Nickel
Blade Material: Stainless Steel
Wattage: 250 watts
Superior function: Using a unique, reversible stainless-steel blade, the Cuisinart 250-watt micro prep plus food processor swiftly chops and grinds food.
Control is provided via a push-button control panel with an auto-reversing SmartPower blade for two potent processing modes.
Very easy to clean. For simple cleanup, use the dishwasher-safe bowl and lid. Wipe the motor base clean with a moist sponge or cloth.
Includes a 24-ounce work bowl with handle, a spatula, a stainless steel blade with sharp, blunt edges, and a recipe/instruction book.
This is a perfect kitchen tool when you want to grind graham crackers.
If you are interested in buying this product, simply click on Amazon
---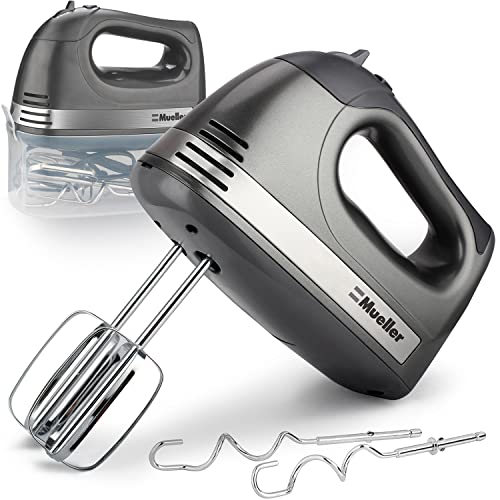 Brand: Mueller Austria
Color: Silver
Material: MU-HM
Model Name: MU-HM
Wattage: 250 watts
Voltage: 110 Volts
This top-tier hand mixer offers all the features you require right away. With a 5-speed dial and optional turbo function that enable you select the ideal mixing speed for each recipe, it is the ideal answer for the busy baker.
You can combine, whip, and knead comfortably thanks to the lightweight design and non-slip handle. The hand held mixer's upright shape and sliding control make it simple to set aside and change speeds with a single touch.
Ideal for whipping cream. The heavy effort of kneading dough and other heavy combinations is avoided by the heavy-duty dough mixer hooks. The strongly constructed beater attachments are ideal for whipping up batters, mashed potatoes, heavy cream, butter, egg whites, and more. To release and clean your dishwasher-safe accessories, use the quick eject control.
This kitchen tool is extremely space-efficient thanks to the specifically created snap-on storage case, making it simple to store away with your baking ingredients or carry with you wherever you go.
If you are interested in purchasing this item, just click on Amazon
---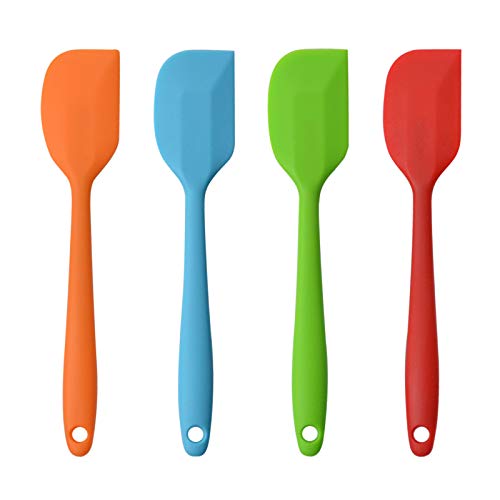 Brand: MOACC
Material: Silicone
Color: 4 Colors
Item Dimensions LxWxH: 10 x 1.6 x 0.2 inches
Item Weight: 0.51 Pounds
These items are heat-resistant. The spatulas are constructed of food-grade silicone and are safe to use with coated and non-stick cookware. Dishwasher safe, safe to use over the cooktop and with hot meals, and heat resistant up to 500°F.
Standard spatulas are indispensable in the kitchen and work well with everything from small jar to large bowl. No seams or crevices to trap food, making it ideal for stirring, scraping, and folding a broad range of foodstuffs.
The entire spatula has a seamless design. The handle is comfortable to grasp and is made of stainless steel inside, with a soft silicone coating. These tools can withstand the rigorous use of both home cooks and professionals in restaurants. convenient to handle.
You can purchase this product now on Amazon
---
Brand: Zulay Kitchen
Material: Alloy Steel
Color: Black
Shape: Round
Special Feature: Stainless steel springform opening
This is a premium 9-inch Springform Pan. This non-stick stainless-steel cheesecake pan is designed with interlocking layers for a perfect release, allowing you to make professional-looking cheesecakes, coffee cakes, tarts, and more. Once the spring hinge is closed, the honeycomb textured base ensures even heat flow, baking the layers of the cake constantly.
Perfect for every favorite bake and no bake cheesecakes. This is the pan you should have in your kitchen if you're seeking for a dependable springform cake pan that will produce excellent results while baking items in the oven. This pan has the extra benefit of being non-stick, which avoids the need to dust or grease the pan for baking your delectable cheesecakes, cakes, quiches, mousse, or even deep-dish pizzas and lasagna, or as an attachment for an instant pot. This feature goes beyond the pan's outstanding quality and performance.
Double Layer Non-Stick Coating. The non-stick coating is safe for the environment and your health. It doesn't have harmful substances like BPA, PTFE, or PFOA. You can lock and unlock the pan's walls with ease thanks to the huge stainless-steel latch, which also makes it quick and easy to remove cakes. No flowering or lubricating is required. Washing by hand is advised. There are no harmful or abrasive compounds in the coating.
Purchase this product now on Amazon
* If you buy through links on our site, we may earn an affiliate commission. For more details, please visit our Privacy policy page.