Pear is delicious fruit that grow on trees and are harvested in the Northern Hemisphere from late summer to October. Many varieties of pears are grown all over the world. Pears come in a variety of shapes and taste. Fresh, canned, juiced, or dried fruit are all options. Take a look at some of the different types of pears that are available in your grocery stores. If you want to learn more about them, scroll down and keep reading.
Types Of Pears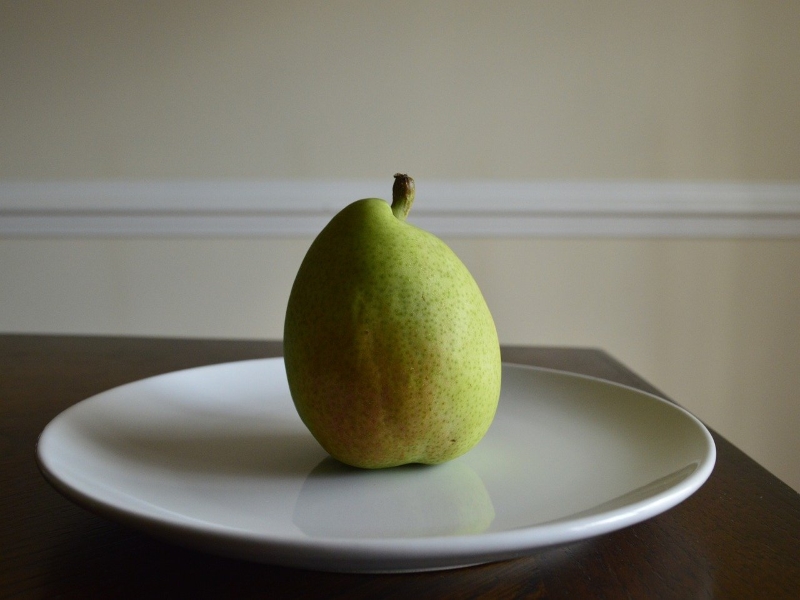 Anjou Pears
Also known as D'Anjou pear. Anjou pear is a European pear cultivar with a short neck. In Europe, these type of pears were originally known as Nec Plus Meuris, and when they were introduced to America and England, the name Anjou or d'Anjou was mistakenly named to it. Anjou pears are believed to have originated in Belgium or France in the mid-nineteenth century.
The Anjou pear is a medium to big pear with a weight of 270–285 grams, a height of 85 mm, and a diameter of 80 mm. It features a broad, globular base, a short stem, and a thin skin with several distinct lenticels. Anjou pears are one of the juiciest pears.
Varieties Of Anjou Pears
There are two varieties that make up these European pears. The Green Anjou pear and the Red Anjou pear.
Green Anjou Pears
Unlike most other varieties of green pears, which become yellow as they ripen, the Green Anjou pear has a pale green skin that does not change color as it ripens.
Red Anjou Pears
The Red Anjou pear was first discovered as a naturally occurring bud sport on Green Anjou trees. Except for the color, Red Anjou pears are remarkably identical to the original Anjou.
Taste
The creamy flesh has a sweet taste. The pear is also juicy, with mild citrus notes, and it's great for fresh eating or preserving. The pears can be preserved for up to six months.
---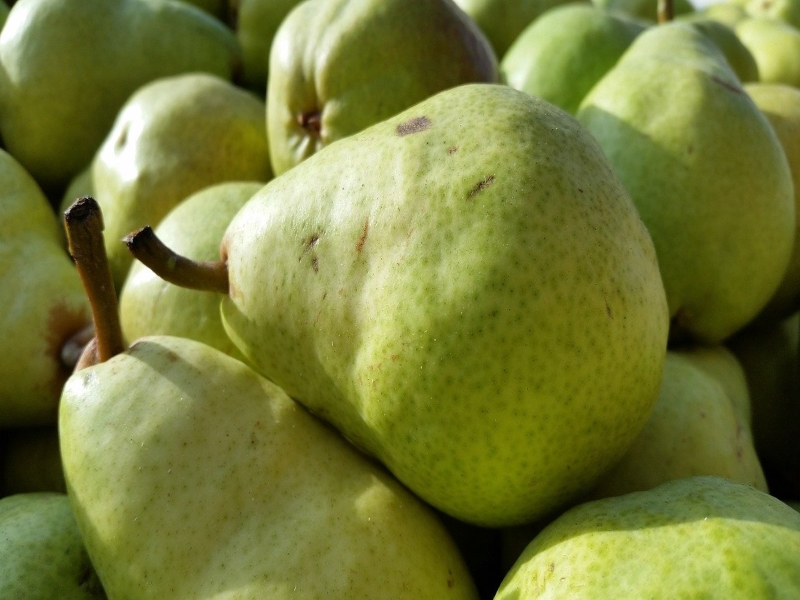 Bartlett Pears
Williams' bon chrétien pears, or simply the Williams pears, are other names for Bartlett pears. In most nations outside of Asia, it is the most widely produced variety of pear.
It belongs to the species Pyrus communis, which is also known as the European Pear . Early spring brings stunning white blossoms on the branches, and harvest starts towards the end of August. Cross pollination from other pears in the same group is required for Bartlett pear tree.
The colors of bartlett ranges from green (unripe), yellow (fully ripe) to red (ripe). The only difference between Red Bartlett and Williams pear is that they ripen to a crimson color rather than a yellow one. The fruit has a bell shape, which is considered the traditional pear shape in the west. It is a summer pear that cannot withstand the cold as well as some other pear varieties. It is usually eaten raw, but bakes well and is a popular choice for canned or other processed pear usage.
The pyriform "pear shape" of Bartlett pears is characterized by a rounded bell on the bottom half of the fruit and a distinct shoulder with a smaller neck or stem end.
Taste
Bartlett pear is considered a juicy fruit. It has a buttery texture and a smooth skin. When cooked, Bartlett pears lose their form. The fruit may be preserved for one to two months and is ideal for eating fresh as well as canning or preserving.
---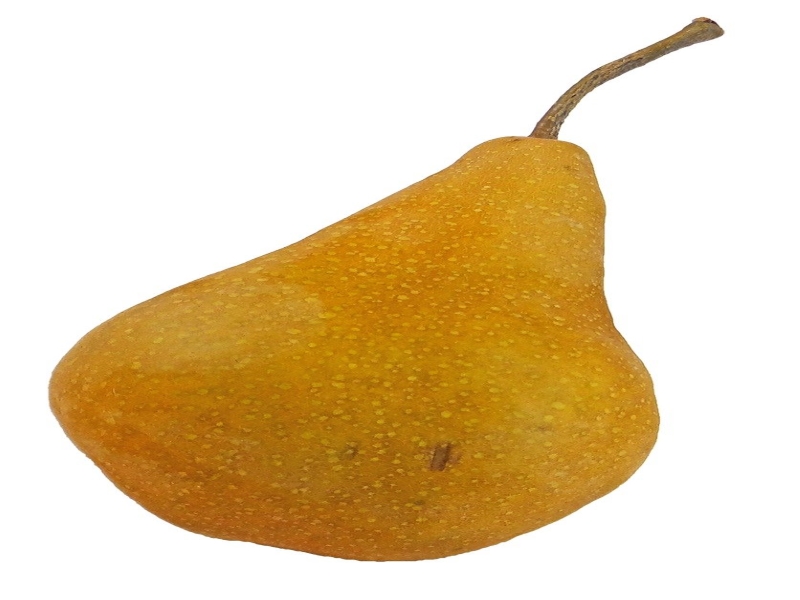 Bosc Pears
This type of pear is also known as the Beurre Bosc. It is a cultivar of the European pear (Pyrus communis), originated in France or Belgium. The pear is also known as the Kaiser and is grown in Europe, Australia, British Columbia and Ontario, Canada, as well as California, Washington, and Oregon in the United States. The pear is one of the best pears of the late-season to add to your garden.
The name Bosc comes from a French botanist named Louis Bosc, and "Beurré" means "buttery" which refers to the soft, juicy texture of the fruit.
A long tapering neck and russet skin are distinguishing features. Because of its shape, the Bosc pear is frequently utilized in drawings, paintings, and photography because of its warm cinnamon color. The white flesh of bosc pear is denser, sharper, and smoother than the Williams or Anjou pears. It is known as the aristocrat of pears. It is appropriate for use in poaching.
Cross pollination from other early bloomers is required for bosc pear trees. Early spring brings white blossoms, and the lustrous green leaves turn a deep burgundy in autumn.
Taste
Bosc pears have a sweet taste, grainy texture and firm texture. The taste of bosc pears becomes sweeter as they ripen, while the texture becomes softer and wrinkled. The top section of the fruit, where the skin gets wrinkly, is one indicator of when bosc pears are fully matured.
---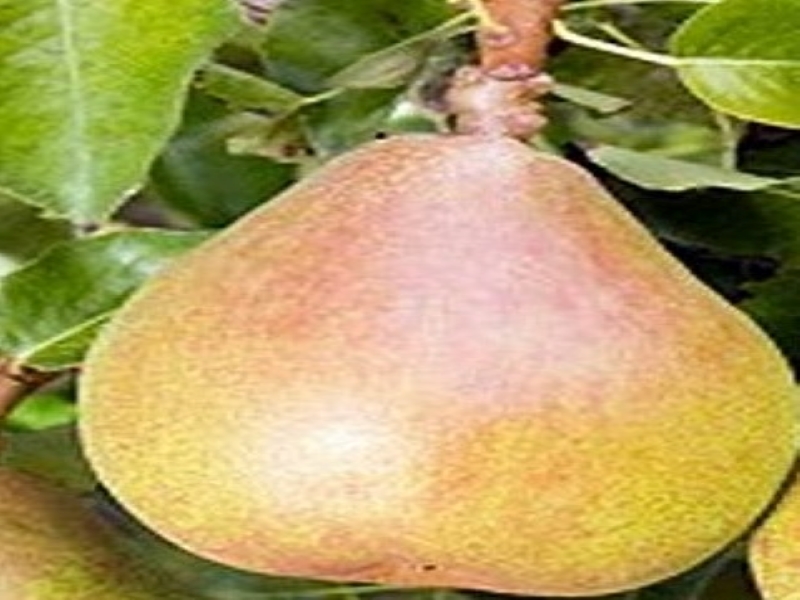 Comice Pears
Comice pear is also known as Doyenné du Comice. This type of pear is French pear variety first cultivated in the 19th century.
Once planted, the comice pear tree can take care of itself. Its branches are tenaciously durable and hard, and its upright, vigorous growth is easily managed with minor pruning.
The comice pear is a large greenish-yellow pear with a red blush and some russeting on the skin. It has a pale, melting and juicy flesh. Because the skin of comice pears is so sensitive and easily bruised, it needs special handling and is not appropriate for mechanical packing.
Taste
Comice pears make a great snack. Because of their fruity flavor, they are wonderful when eaten raw. The sweet fruit has a firm texture.
This pear is one of the best pears for eating raw. Comice pears feature a somewhat finer, less grainy texture than other pears, as well as a fantastic fruity scent and flavor.
In cold storage, comice pears can last up to three months.
---
Concorde Pears
Concorde pear is a cultivar that originated in England. It's a combination of the Conference and Comice types of pear, including features from both parents.
The Concorde pear is a cross between its Conference and Comice parents, with the Conference's elongated shape and crisp texture paired with the Comice's sweetness. Concorde pears are typically greenish in hue, turning yellowish as the pears ripen, and may have some russeting.
Concorde pears have a classic pear form, but their necks are significantly longer than those of other pear varieties.
Taste
Concorde pears are juicy and smooth. The delicious fruit is ideal for both cooking and eating raw. When cut, their flesh retains its color and does not brown considerably. Because of their dense mass, cooking pears will keep their shape. The fruit is a great pear for making pear tart and perfect for poached pears.
---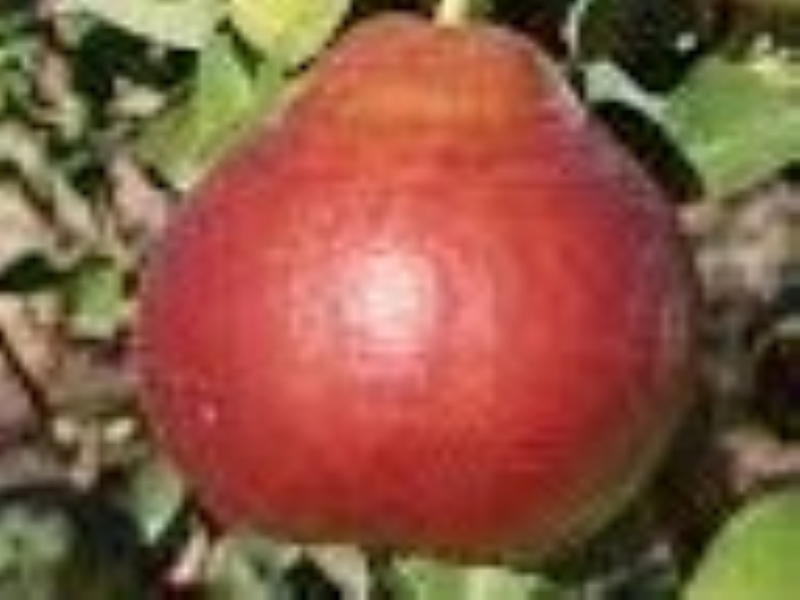 Forelle Pears
Forelle pears are easily identified because they are one of the smallest varieties of pears, and oval in shape. Their skin is smooth and freckled with yellow and green specks and is smooth.
Forelle pears have a symmetrical, bell-shaped body that starts with a small spherical base and gradually taper to a short neck. The stem is typically long, straight, and slender.
Taste
The fruits are very sweet. They're ideal for kids because they're little and sweet, and they make a pleasant snack.
---
Asian Pears
Asian pears are extremely crisp, similar to crisp apples than other pears. They also resemble apples rather than pears. There are a lot of varieties of colors and textures, but the the ones most typically found in the United States have a matte tan color and a rougher skin than other varieties of pears.
Asian pear is also known as Japanese pear, Chinese pear, Korean pear, Taiwanese pear, apple pear, zodiac pear, three-halves pear, papple, naspati, sand pear, as well as nashi pear.
Taste
Asian pear is perfect for eating raw, they are delicious when put into salads. When eaten raw, they have a crisp texture just like an apple.
The fruits have a high water content and a crisp, grainy texture that differs from European types, they are not commonly baked in pies or cooked into preserves. They are usually served peeled and raw.
---
French Butter Pears
French butter pear is green in color, some turn to a golden color when ripe. French Butter pears have a tear-drop form with a large, rounded base that tapers to a short, straight neck and thin greenish-brown stem. They are small to medium in size.
Taste
The flavor of French butter pears have a hint of lemon. When choosing them, keep in mind that they might be sour when raw. However, when they're fully ripe, they are juicy and tender, making them ideal for eating raw. These type of pear also has a unique scent of roses.
---
Seckel Pears
The Seckel pears, also known as sugar pears or candy pears, are small, sweet cultivar of pear that is thought to have originated in Pennsylvania. The fruit trees are tiny, growing to a height of 15-20 feet and a width of roughly 10 feet. The bark of Seckel pears is light gray in color that looks like an apple tree.
The pear measures less than 3″ in length and width when compared to most other pears. The Seckel pear is picked in the fall. It is a winter pear.
They make great preserves and may be stored for up to three months, making them a favorite for sweets and fresh eating.
Taste
The fruit has a coarser grain than other European pears and is highly sweet and crispy.
The fruit can also be eaten raw, cooked in a variety of cuisines, or canned.
---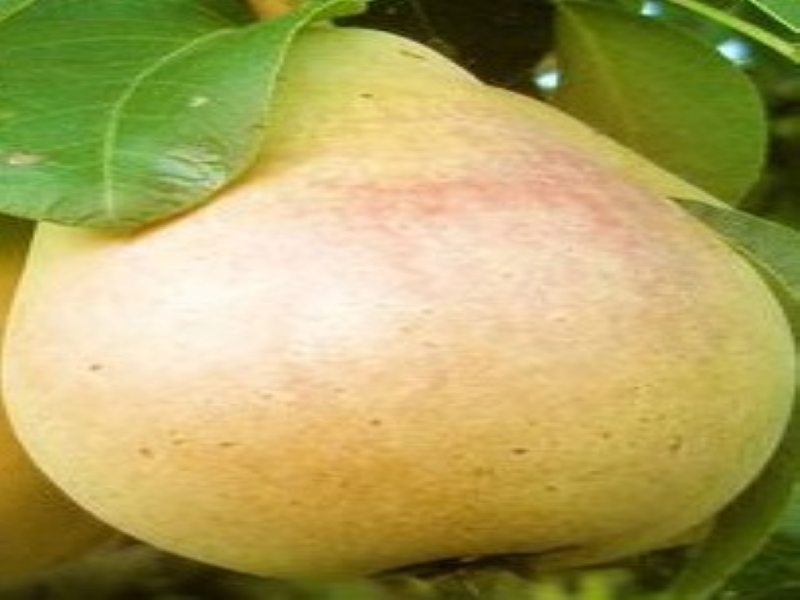 Pineapple Pears
Pineapple pear, a cross between European pear varieties and Asian pear, produces large, rectangular pears with a golden skin, russet overtones and a rose blush.
Early spring provides delicate white blooms, and fruit begins to ripen in mid-July. The gleaming green leaves turn shades of yellow in the autumn.
Taste
Pineapple Pear has a crisp and firm flesh that is great for making pear butter, preserves, and delicious for fresh eating. The flesh is grainier compared to other varieties of pears, with a tart flavor that includes flavors of pineapple and apple. It is certainly a one-of-a-kind pear.
---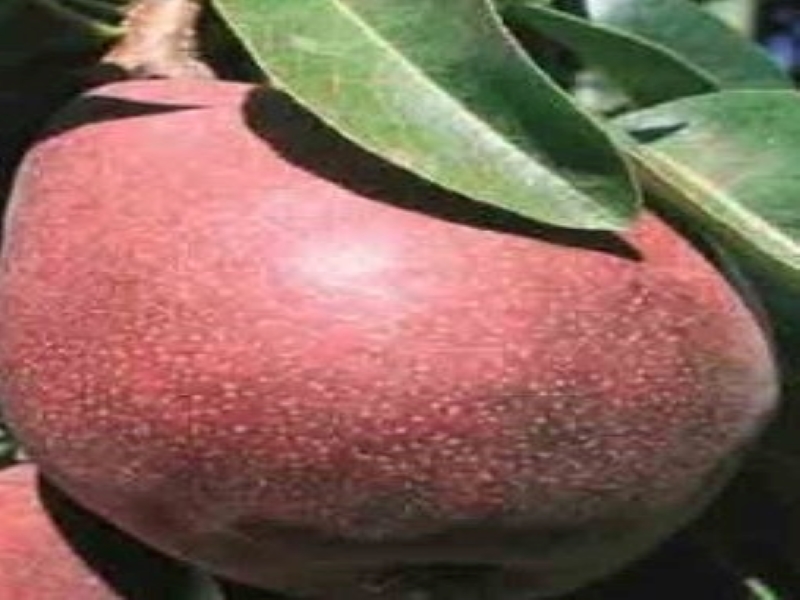 Starkrimson Pears
Starkrimson pear also known as Red Clapp's pear. The pear has a thick, smooth skin, and bright and intense red in color. From August through December, starkrimson pears are abundant.
Taste
The creamy flesh is delicious and aromatic. Expect a mild flavor on the inside.
---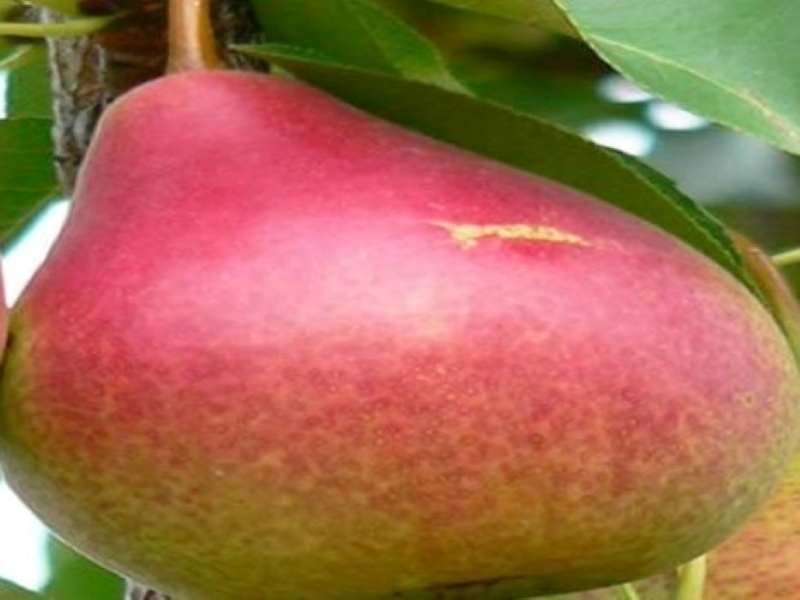 Summercrisp Pears
Summercrisp Pear is a green fruit with a unique red blush. The size ranges from small to medium and fruits can be harvest in late August.
Summercrisp Pears require cross-pollination from another cultivar nearby. Asian Pear cultivars can be used as pollinators. The fruit is plump and round with a golden skin streaked with red.
Fruit can be kept for up to two months.
Taste
The white flesh is crisp and juicy, and it's great either eaten raw or preserved.
---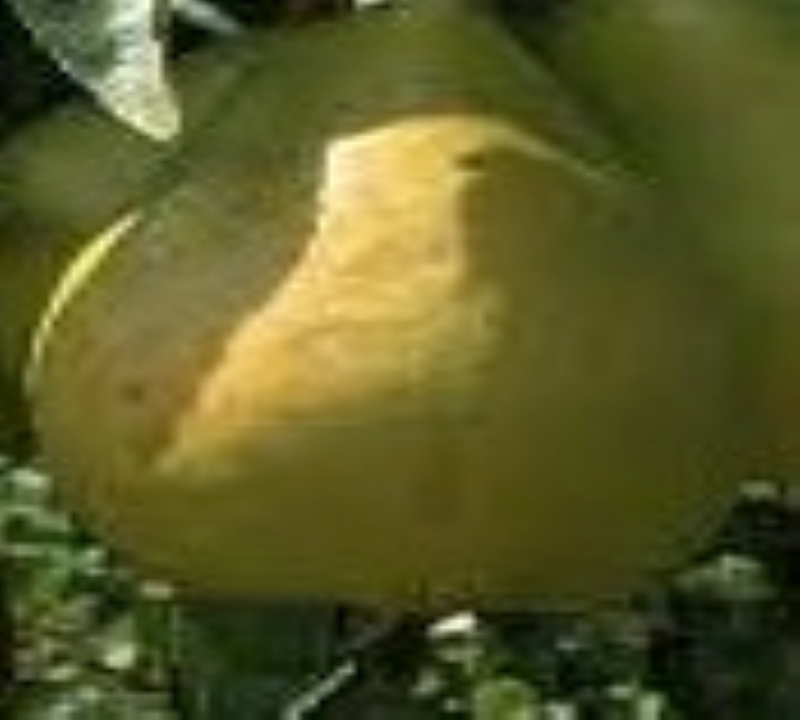 Sunrise Pears
Sunrise pear trees offer pretty yellow pears with a slight blush. It is another hyrbrid of European pear (P. communis) and Asian pear (P. pyrifolia). The trees can grow up to 8 to 10 feet and a spread of 6 to 7 feet.
Taste
Sunrise pear is sweet and juicy. It is perfect for fresh eating or baking into pastries, and the fruit may be kept for up to three months.
---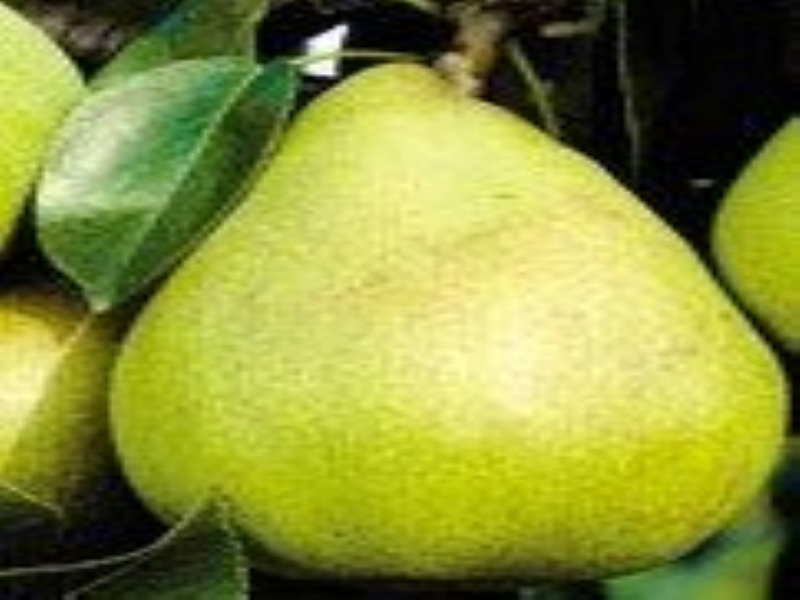 Kieffer
The Kieffer pear is a hybrid pear, a cross between the Sand Pear and the Bartlett pear. The fruits are oblong, yellow in color with a faint russet spotting and a rose blush on occasion.
In the fall, the lustrous green leaves become a warm yellow and bronze color. When cross pollinated with similar late-blooming types, this variety bears a greater crop.
Taste
The crisp and coarse white flesh is ideal for preserving, baking, and making jam and other preserves.
---
Pear Nutritional Content
Pears contains 84 percent water, 15% carbs, and have very little protein and fat. Raw pear provides 57 kilocalories of food energy and a moderate quantity of dietary fiber in a 100 g reference amount.