What Is A Truffle?
Truffle is a type of edible fungi, that is usually found on the roots of a tree, mostly oak or hazelnut tree. It is actually a type of mushroom. It is the fruit of mycorrhizal fungi. Truffles grow entirely underground, they are subterranean. Fruit initiation in truffle mycelium releases numerous aromatic compounds from bacterium that supply truffle their distinctive aroma and taste. The scent is like a garlic, cheese or fruit. Truffles are expensive and known to be a delicacy for the rich. Because of their capacity to flavor dishes, they are valued by chefs. Basically the stronger the fragrance, the stronger is the taste.
French, Italian, and other several national haute cuisines use edible truffles. Truffles are cultivated and harvested from natural environments.
Truffles were first mentioned in the inscriptions of the neo-Sumerians regarding their Amorite enemy's eating habits. Truffle is considered a fine aphrodisiac by ancient Greeks and Romans due to its uniqueness and aroma.
Truffles were originated in Italy and France, however they are now cultivated worldwide including New Zealand and west coast of the United States.
Truffles come in different colors, size and shapes. Let's learn more about the different types of truffles below.
Types Of Truffles
Australian Black Truffle
The first Australian truffles were harvested in the year 1999. This happened in Tasmania. Hoping to produce a local truffle industry, trees were inoculated with truffle fungi.
Production of truffles has expanded into the regions of Western Australia and Victoria, New South Wales.
Australian black truffles or Tuber melanosporum are a rare fungus classified as the tuberaceae family. They are the same species as the European black winter truffle. This truffle has a black gleba, with dense and thin white veins. The average weight is 1 oz-4 oz and the average size is 1 inch-3 inches. These truffles are harvested in the months of May, June, July, and August.
Australian black truffles have a robust aroma and provides a rich, earthy, distinct flavor. The truffles are great in raw or lightly heated applications. Usually they are shaved, split, grated, or thinly sliced, and they go well in fatty oils, cream-based sauces, dishes with starches such as pasta and rice. Australian winter black truffles can also be grated and added to pizza, soups, omelets, and mixed into fish dishes, mashed potatoes, cheese and pasta dishes. Fresh truffles will keep up to 7 days when wrapped in a paper towel and stored in a sealed container in the fridge. For best quality and flavor, keep the truffle dry.
Benefits
Australian Truffle is a rich source of antioxidants and vitamin C. These antioxidants protect the body against cellular damage and reduce inflammation. The truffle is also a good source of fiber to aid in digestion, calcium to protect teeth and bones, and small amounts of vitamin A, Vitamin K, magnesium, manganese, iron, and phosphorus.
---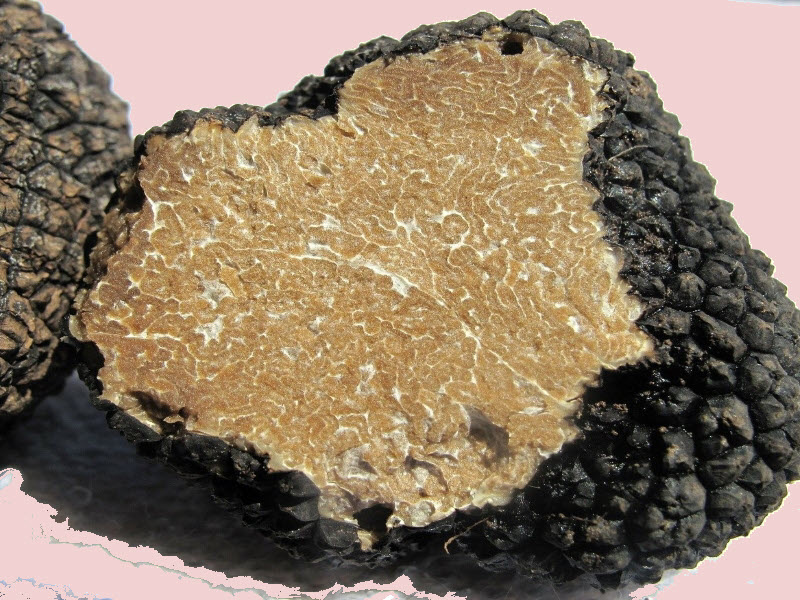 Black Summer Truffle
Black Summer Truffle is also known as Tuber aestivum. This truffle is the most commonly used in the Italian cuisine. Their size varies. Average size is 2 to 10 cm in diameter. It has a rounded, lumpy appearance. The surface of the truffle also varies in color from brown-black to dark brown. This truffle has a subtle aroma and a delicate, mild taste.
This Truffle is available in the summer. They are harvested between May to September.
These truffles add flavor to raw or cooked dishes. They are usually grated, sliced or shaved. Please keep in mind that the truffles should only be added at the end of cooked preparations, as prolonged periods of heat can reduce the truffle's flavor. The truffles can be added to wine or cream-based sauces, olive oil, and ingredients such as rice, potatoes, and pasta to enhance the flavor. Black Summer truffle also go well with steak, chicken, turkey, fish, and other seafoods.
Benefits
Just like the other black truffle varieties, this truffle is a good source of Vitamin C, which can help boost the immune system. It also contains calcium and phosphorous to strengthen the teeth and bones. This truffle is also rich in antioxidants and fiber.
---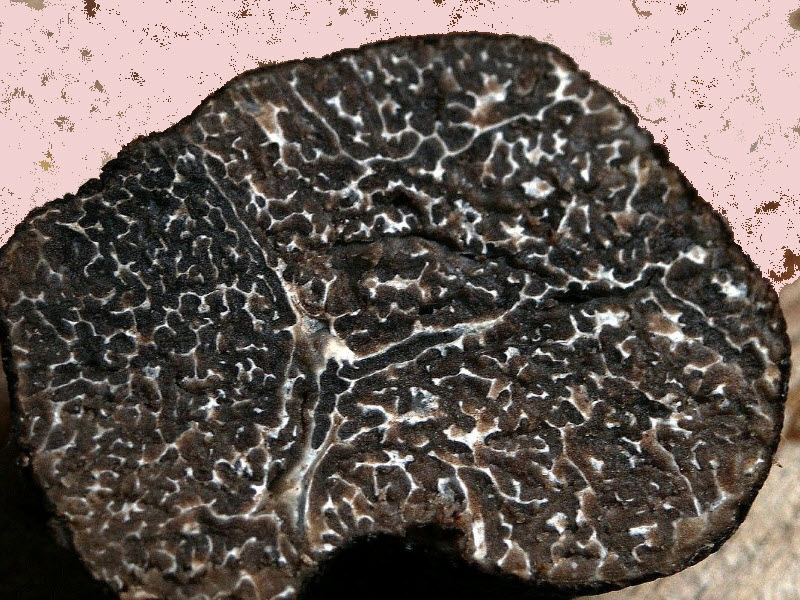 Brumale Truffle
Also known as Tuber Brumale. Brumale Truffle has a similar appearance with the Black Périgord truffle. This truffle is harvested between November 1 to March 15. Brumale Truffle's covering has a dark and brownish nuances with noticeable large warty areas. This truffle has an intense aroma and the tastes is like of a hazelnut, almond or nutmeg.
The fresh Brumale truffle can be kept in the fridge wrapped in a paper and sealed in a container. Make sure that the truffle remains dry. It can be preserved for approximately ten days.
Benefits
Just like other truffles, Brumale truffles are a great source of antioxidants. It is low in fat and calorie.
---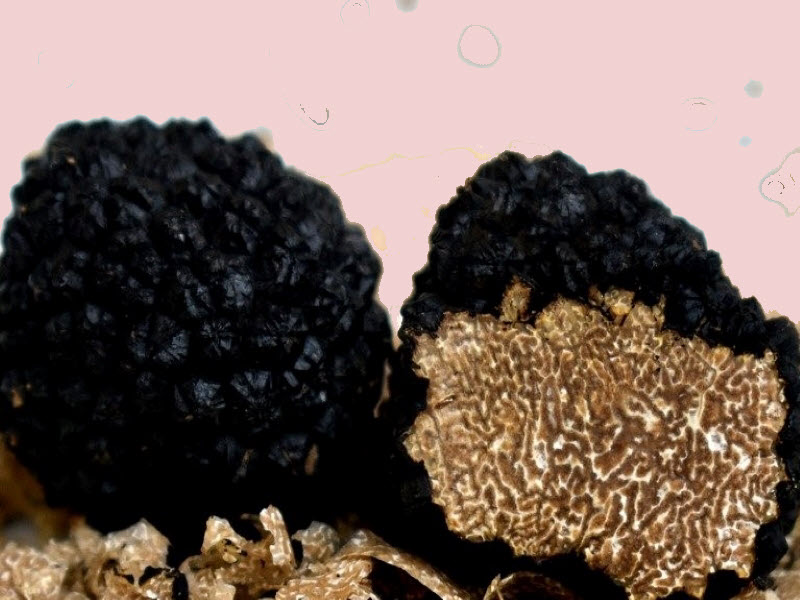 Burgundy truffle
Burgundy truffles are known as Tartufo Nero di Fragno, and classified as Tuber uncinatum. Burgundy truffle is similar to the summer truffle, but it grows at a different time of year. The skin varies from dark brown to black, with tiny warts. Burgundy truffles are harvested from October 1 to March 15.
The aromatic flesh can be hazel to chocolate brown color, with whitish veins. This truffle is usually served fresh in dishes. Burgundy truffles
The truffle is also used as an alternative for the more expensive, rare Périgord truffle. Burgundy truffle can be shaved fresh and added to pasta dishes, salad, soup, fish dishes, meat, appetizers, and eggs to enhance flavor. These truffles are also infused into olive oil for dressings, cooking oils, and can be added into sauces.
Benefits
Burgundy Truffle is rich in vitamin C to boost immune system, and minerals such as phosphorus and calcium to strengthen teeth and bones. This truffle also contains antioxidants.
---
Chinese Black Truffle
Also known as Tuber indicum, Himalayan Black Truffle, or Asian Black Truffle. It has a similar appearance to the Périgord truffle. There are a lot of varieties of Chinese black truffles. These truffles have a rubbery taste and texture. The truffle flesh is spongy, black and rubbery. Chinese Black Truffle has a mild, earthy, and woody taste.
Benefits
Rich in vitamin C, which can boost immune system, aids in collagen production, and reduce inflammation. This truffle has also been used in the traditional Chinese medicine. It is an appetite enhancer, and can rejuvenate and detox organs.
---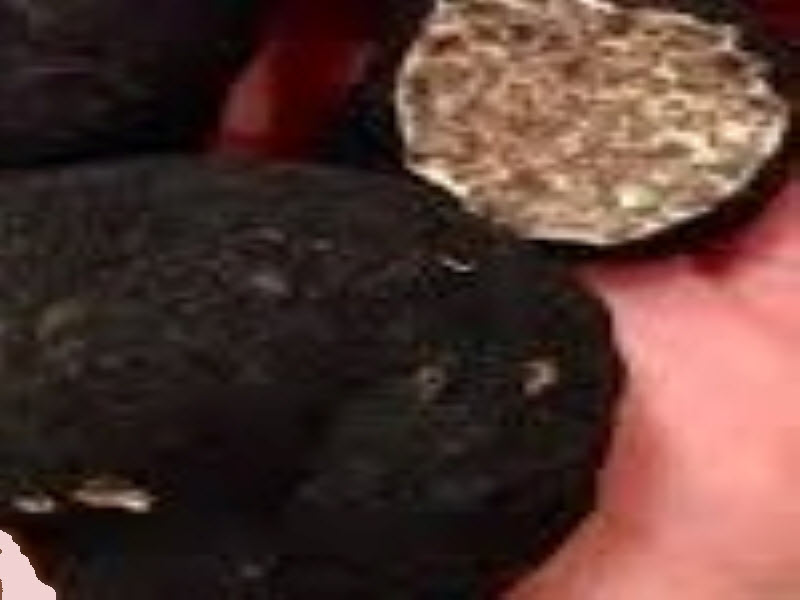 Oregon Black Truffle
Oregon Black Truffle has a dark brown exterior and glebe is white when unripe. As it matures, glebe will turn dark brown with white veins. Oregon Black Truffles have a pungent, earthy aroma with a hint of pineapple. They are popular with chefs. Oregon Black Truffles are harvested in November to March. They can be used in meat dishes. The aroma of Oregon truffles dissolves in heat. It is best to shave them raw over food and never cooked.
Benefits
It contains antioxidants to protect body against free radical damage. Rich in vitamin C to boost immune system.
---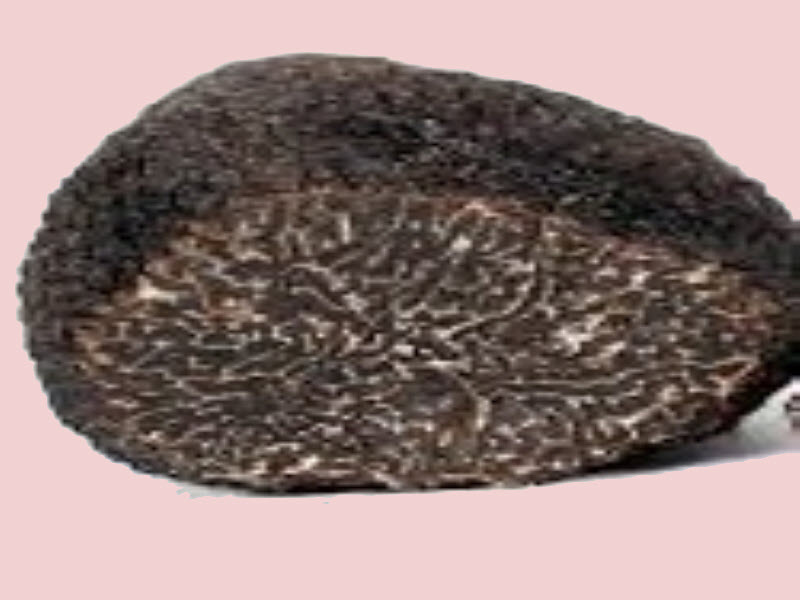 Périgord Truffle
Périgord Truffle is found in Southern France. It is considered as one of the most aromatic of all the truffles. A type of winter black truffle that is harvested between November 15 and March 31. The taste is similar to roasted dry fruits. The flesh is dark brown in color with white veins. Its aroma is very pleasant. These truffles are also called black diamonds because the are very expensive.
Benefits
It contains significant quantities of Vitamin B2, B3, B5, D and K.
---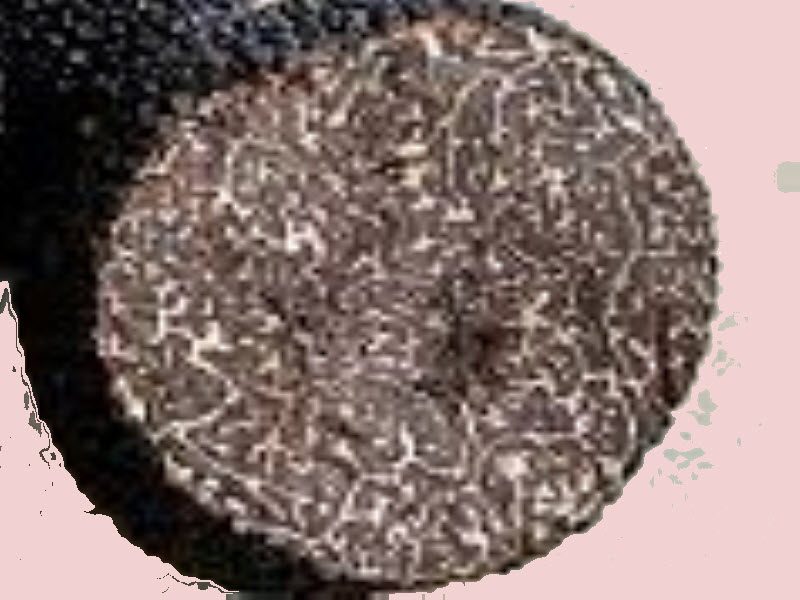 Spanish Black Truffle
Spanish Black Truffle is found in the hills of east-central Spain. Spain is one of the biggest exporter of black truffles today, however because of climate change, Spanish black truffle crops have reduced. This truffle also goes well in sauce, pasta dishes, risottos, meat and seafoods.
Benefits
High in antioxidants, which helps fight free radicals. Spanish Black Truffles are also rich in nutrients such as Vitamin C, phosphorus, sodium, calcium, magnesium, manganese and iron.
---
Tuscan Truffle
Tuscan truffle is harvested between January 10 to April 30. It has a sharp flavor when consumed raw, but if you add this truffle to oil or butter, it has a very unique flavor. Tuscan truffle is typically used to produce truffle oil or truffle paste.
Benefits
Rich in vitamin C and minerals such as phosphorus, manganese, calcium, and magnesium. It also has a good source of fiber, which aids in digestion.
---
White Piedmont Truffle
Italian White truffles are classified as Tuber magnatum Pico. This truffle can be found in Piedimonte region of northern Italy. It is also known as Alba truffle. Italy's white truffles are harvested from October 10 to December 31. These white truffles are used sparingly in culinary dishes because of their expensive price and pungent flavor. The surface of this truffle is semi-smooth, firm, and textured. The color varies from light brown, ivory, and yellow with dark brown spots. The flesh is tender and spongy.
White truffles are served raw and uncooked. These truffles are also shaved over pasta, risotto, mashed potatoes or salads. White Piedmont Truffle goes well with parmesan cheese and fontina cheese, and seafoods such as crab, scallops, and lobster. It is advised to use alba truffle within 2 to 3 days for the best flavor and quality.
Benefits
White Piedmont Truffle is known to have low amounts of fiber to help in digestion, phosphorus and calcium to strengthen the teeth and bones, and vitamin C to boost the immune system and collagen production. These truffles also contains a good source of magnesium, iron, manganese, vitamin B1, vitamin B2, and antioxidants to protect the body against free radical damage.