Do you enjoy bubble tea but are unsure about its ingredients? Do you want to know if what you're drinking is a vegan bubble tea or if the bubble tea you are drinking contains gelatin? Find out in this post.
* If you buy through links on our site, we may earn an affiliate commission. For more details, please visit our Privacy policy page.
If you love bubble tea, and are interested to know if boba contains gelatin or it is completely vegan, then scroll down and continue reading.
Does Boba Have Gelatin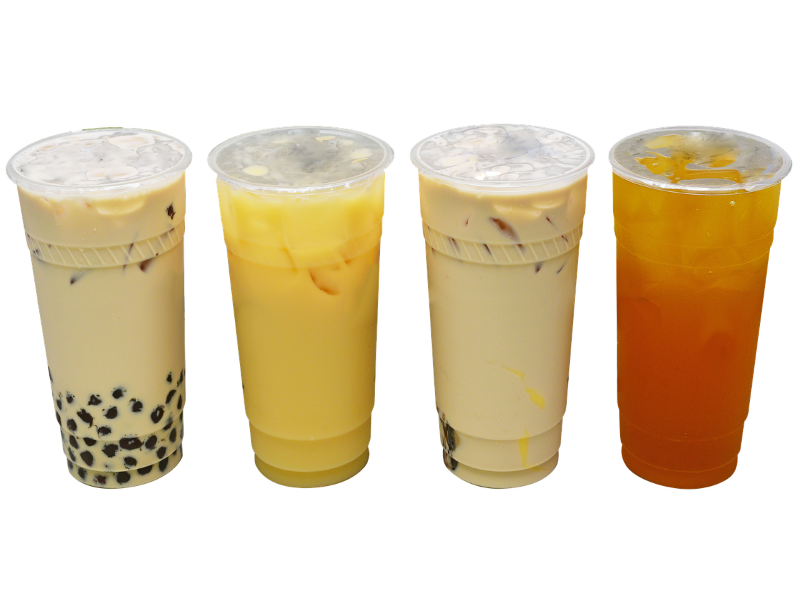 What Is Boba Tea?
One of the most popular refreshing drinks today is Boba tea. Also commonly known as bubble milk tea, tapioca milk tea, pearl milk tea, Tapioca tea, boba nai cha or simply boba.
The bubble tea trend has gotten so popular that even coffee shops are offering this delicious drink to their customers.
This milky tea-based beverage was first made in Taiwan in the early 1980s. It can be made with other toppings as well, such as red beans, grass jelly, aloe vera, etc., but its most traditionalingredient is tea prepared with chewy tapioca balls, also known as boba pearls, boba balls, boba tapioca pearls, boba or simply pearls.
Generally speaking, strong black tea, sugar, and milk are the essential components of bubble tea or boba tea. However, the inclusion of one unique ingredient, tapioca pearls, makes bubble tea unique. These chewy, frequently black, tapioca-based pearls are what distinguish a bubble tea after they are placed to the bottom of a milk-based tea.
With the wide straw, also known as boba straw, that comes with bubble teas, you may slurp up the boba balls that is somewhat sweet and delightful to chew in between sips of your sweet, milk tea.
These days, there are available in an enormous amount of flavors and varieties in bubble tea shops, such as fruity and savory. The beverage is also available in blended tea drink types. These versions frequently involve the blending of ice cream or smoothies made with fruit and tea.
---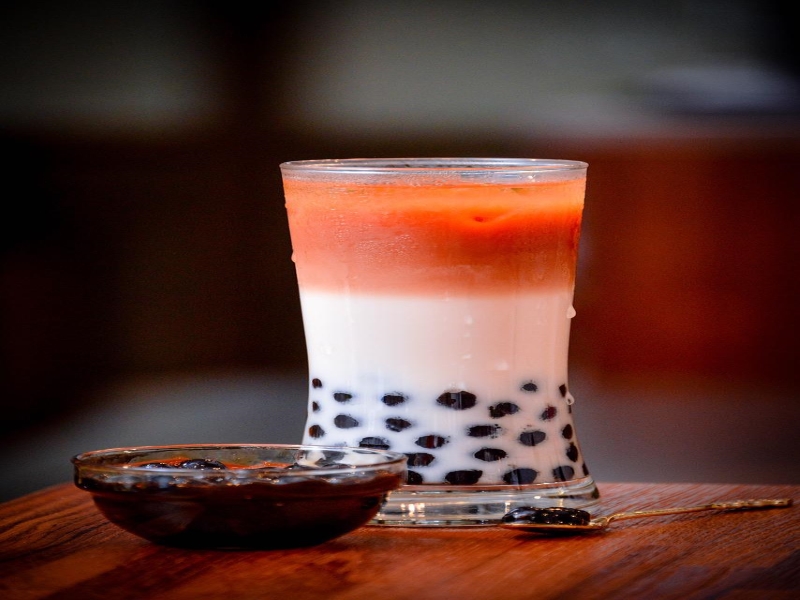 What Are The Common Toppings Of Bubble Tea?
Boba Pearls
One of the most common boba ingredients of milk tea are boba pearls. Also known as tapioca pearls or tapioca balls. Tapioca balls are made from tapioca, which is a starch produced from the cassava root. Basically, tapioca starch is used to produce the delicious transparent spheres known as boba pearls in bubble tea. Tapioca pearls are usually 0.2 to 0.4 inches in diameter. In Asian cuisine, tapioca balls were first used as a substitute for sago, because it is cheaper.
Tapioca pearls have lately become more well-known on international market, due to the popularity of Taiwanese bubble tea.
Jelly
Jelly is available in a various forms and flavors, including coffee, mango, coconut, lychee jelly, konjac, grass, and rectangular strips. The traditional toppings for Taiwanese shaved ice sweets, azuki bean or mung bean paste, provide bubble tea an additional mild taste and texture. If you go to a bubble tea shop, egg pudding/custard, aloe, grass jelly, and sago are also offered.
Popping Boba
Other popular toppings for bubble tea include popping boba, also known as popping pearls with fruit juice or syrups within. Mango, strawberry, coconut, kiwi, and honey melon are some of the flavors.
Some bubble tea shops top the drinks with milk (cow's milk or vegan milk) or cheese froth, giving them whipped cream-like consistency and saltier taste qualities.
So Does Boba Have Gelatin?
No. As mentioned above, boba pearls are made from tapioca starch, which is produced from cassava root. These delectable little balls are made without the use of gelatin.
Is Bubble Tea Vegan?
It is actually rare to come across any typical boba ingredients that contain gelatin in any bubble tea shops.
However, if you are a vegan but enjoy drinking milk tea, you have the option to create your own version of boba tea vegan. There are a lot of plant based ingredients substitute to make a delicious boba tea. Every ingredient that gets into it is within your control.
Boba tea may still be made without dairy milk and be creamy and tasty.
---
How To Make Boba Vegan Friendly
Vegan Ingredients
For Sugar Syrup
3 1/2 tbsps water
1/2 cup brown sugar
For Tapioca Pearls
3/4 cup quick cook boba pearls
3 cups water
For Tea Base
4 teabags black tea or 2 tbsp Ceylon black tea
2 cups water, filtered
1/2 cup almond milk, unsweetened
Instructions
To make the sugar syrup, using a medium pot, combine brown sugar and water in medium heat. Cook till it boils, then turn the heat down to low. Cook the mixture for a further 4-5 minutes, or until it thickens and sticks to the pan but still remains runny.
Next, following the instructions on the packaging of your tapioca pearls, cook it. Once done, put them to the heated sugar syrup and continue to simmer for 2–3 minutes on low heat.
Bring filtered water to a boil at 208°F (98°C). Put the teabags in the teapot, add the boiling water, and then cover. If you are using black tea powder, brew the tea with boiling water.
Remove the teabags once the tea has brewed for 5 minutes. Allow the tea to cool.
Place the boba pearls in a big glass. Add 2 teaspoons of sugar syrup, or whatever you prefer.
Add the tea over the boba pearls, about 3/4 of the way up.
Next, add ice and almond milk to the top. Quickly serve with a bubble tea straw. If want, you can add non-dairy cream on top or almond flakes.
---
If you want to make your own bubble tea, take a look at these amazing items below.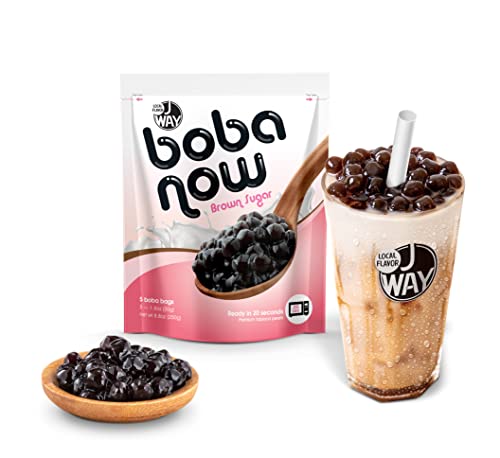 Brand: J WAY LOCAL FLAVOR
Flavor: Brown Sugar
Size: 5 Servings
Boba Now is ready in 20 seconds. Individually packed, single-serving pieces of quick tapioca pearls covered in brown sugar syrup without preservative is microwaveable or you can heat up the pouch with boiling to make bubble tea on the go.
Boba Now is vegan and gluten-free. Their Boba is safe for kids as their product is caffeine-free. Their original Taiwanese fresh, not dried, tapioca is created with the finest ingredients and, of course, is always vegan and gluten-free.
Boba Now is very convenient and easy to use. Forget making bubble tea in huge batches or by washing pots and pans. For a quick snack, bring a boba bag to work or school. You may also stock up on boba for usage at home.
Boba Now enhances flavor. Use as a topping for yogurt or dessert, or add to a smoothie, milk tea, or drink. Almost anything gets a taste boost from their tasty boba.
5 individually wrapped servings of brown sugar-flavored boba make up BOBA NOW. In a cool, dry environment, unopened packets have a shelf life of up to one year (no refrigeration necessary).
If you are interested in this product, simply click on Amazon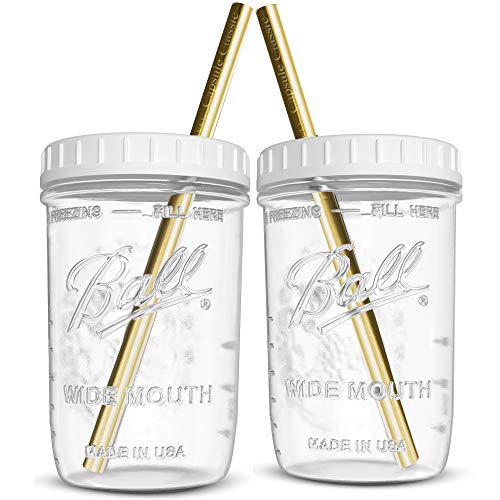 Brand: Capsule Classic
Color: Clear
Material: Glass
Capacity: 16 Ounces
Item Dimensions LxWxH: 0.04 x 0.5 x 8.5 inches
This high quality Boba Tea Cup Set includes 2 glass Ball Mason jars, 2 reusable straws that are 7″ x 0.5″ in size, 2 steel lids, and 2 plastic lids. It also includes everything you'll need to enjoy creating homemade boba, shakes, and smoothies.
Enjoy Delectably Yummy Drinks. Their boba bubble tea cups are perfect for enjoying and sharing boba bubble tea pearls, smoothies, protein shakes, fresh cocktails, and all of your other favorite summer or wintertime drink alternatives.
Reusable Glassware, Straws, and Lids. They make their Ball Smoothie Cups with Lids and Straws from BPA-free plastic, borosilicate glass, and stainless steel for long-lasting usage since sustainability is essential to leading a healthy lifestyle.
With wide mouth gold straws. The two straws that were provided not only suited their 16 oz. Mason jar cups, but are ideal since they're made to allow boba pearls to flow smoothly into your mouth for a delicious treat you'll adore. Excellent for visitors and children alike.
Each pair of bubble tea cups also includes white plastic lids with pre-drilled straw holes and stainless steel lids, both of which offer a leak-free, airtight closing so you can enjoy a beverage while traveling or in the vehicle.
If you are interested to buy this item, kindly click on Amazon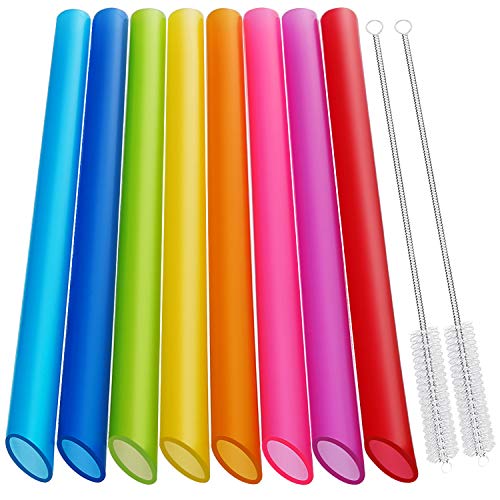 Brand: HIWARE
Material: Plastic
Color: Multicolor
Size: 10 Piece Set
Special Feature: Reusable, Extra Wide, Disposable
Unit Count: 1 Count
Food-grade and BPA free material. These products are reusable straws. Hiware makes every effort to employ materials that are safe and non-toxic for food, so feel free to use them in hot or cold beverages.
Perfect size for boba and smoothies. 8 multicolored straws in all, with 2 cleaning brushes. Extra wide straws, which are 10.5″ long and have inner diameters of 0.4 and outer diameters of 0.47, are the optimal size for making thick beverages such frozen smoothies, thick milkshakes, jelly, jumbo drinks, and large boba/bubble tea (tapioca pearls, boba pearls).
These boba straws have angled tips. They have compiled a number of complaints from customers who purchased boba straws with straight tips. Reusable plastic straws from Hiware have slanted tips that make it easier to pierce bubble tea tops.
The straws are made from thick plastic and they are dishwasher-safe. These boba straws are composed of thick, BPA-free plastic in addition to food-grade materials. With two cleaning brushes, the dishwashing machine is safe, as well as hand washing.
You can buy this product now on Amazon
Brand: Colnic
Color: Pink
Capacity: 1.5 Pounds
Number of Items: 1
Unit Count: 1.0 Fl Oz
Unique and Eco Friendly. They have adorable cherry boba cups with pink straws and lids that are both unique and practical. A reusable boba cup with a straw is a safer and greener alternative to typical throwaway cups. Since there are two walls, heat and cold may be insulated, less water droplets will wet your hands.
This boba cup is leak-proof. When not in use, the cup may be plugged thanks to a hole plug and sealing ring in the lid. The boba cup is totally airtight and won't leak. It may be safely transported in your bag. You deserve to have a travel-friendly bubble tea cup so that you won't have to worry about spilling your beverage.
Has an excellent size & a large straw. The big boba cup holds 24 ounces, which is the same as the large cup size seen in the majority of milk tea shops. Boba, jelly, etc. can be easily sucked. You may also use this boba tumbler cup to drink milkshakes, iced coffee, smoothies, etc.
The wide-mouth cup contains a straw brush that makes cleaning the straw simple. The boba cup can be reused once it is cleaned well after each use. Because the cherry blossoms are printed on the inner wall, the color won't fade during several washes and will stay vibrant.
This reusable boba cup with straw comes packaged in a well created, adorable gift box and is appropriate for giving it as a gift to girlfriends or spouses, relatives, coworkers, etc.
Purchase this now on Amazon
Brand: Bob's Red Mill
Weight: 48 Ounces
Package Weight: 1.36 Kilograms
Item Form: Pearl
Cassava root is used only in the production of Bob's Red Mill Small Pearl Tapioca. Additionally, it is NON-GMO and Paleo Friendly certified.
Ideal for dessert. Tapioca pearls are essentially flavorless on their own but take on the flavor of whatever they are cooked in or soaked in, like brown sugar, making them ideal for bubble tea. They can also be used as a thickener in puddings, pies, and jellies as well as in desserts and sweetened drinks.
You can purchase this product now on Amazon
* If you buy through links on our site, we may earn an affiliate commission. For more details, please visit our Privacy policy page.