Have you tried a smoked leg of lamb? Was it cooked medium rare or is it well-done? Well, no matter what doneness it is, a smoked leg of lamb will be tender, delicious, and juicy.
* If you buy through links on our site, we may earn an affiliate commission. For more details, please visit our Privacy policy page.
If you are looking for a healthier meat alternative, lamb will be a good candidate. Despite having more fat than beef, most lambs are grass-fed, meaning their meat tends to have plenty of omega-3 fatty acids than the grass-fed cows.
Eating lamb meat in moderation should also provide other essential vitamins and minerals such as vitamin B, zinc, iron, and selenium. But always be cautious not to eat too much lamb meat as it may impose a risk of getting a higher level of bad cholesterol.
Smoke Leg Of Lamb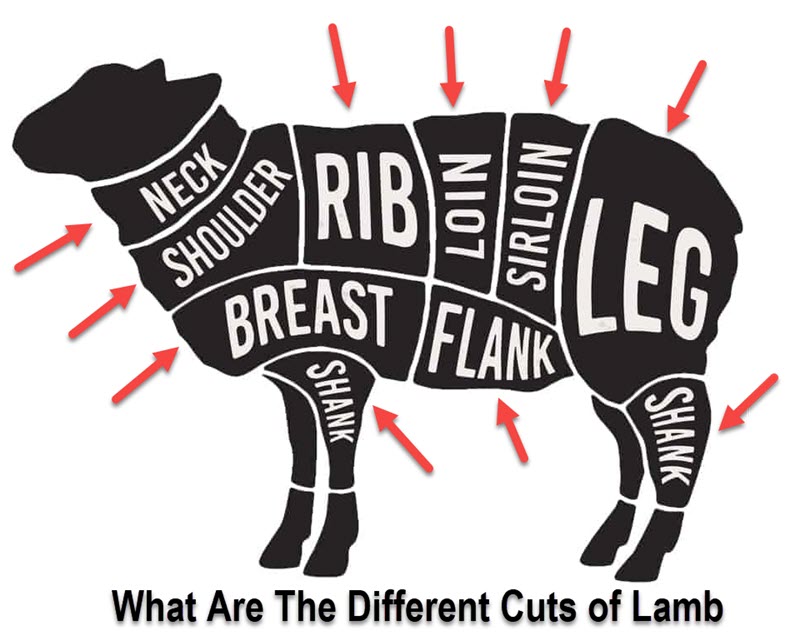 What Are The Different Cuts of Lamb
There are different cuts of lamb depending on what you will be cooking. Shoulder, leg, forequarter, shanks, neck chops, lamb ribs, and some sausages would be the best cuts for slow cooking recipes.
These cuts are a bit tougher due to the connective tissue and fats, but that's the reason why they are intended for a slow cooking lamb recipe.
A leg of lamb can still be cooked in slow cooking, but you will need to keep it moist and juicy as it is not as fatty as the shoulder part. This is the reason why a lamb recipe for the leg cut would always be best if smoked.
If you are asking for the best leg of lamb, American leg of lamb is preferred by most chefs as they are always larger and less gamy than its Australian or New Zealand counterparts. If you are going to a butcher, you may ask for a whole boneless leg of lamb, without the sirloin attached.
Smoked Leg Of Lamb Recipes
Every person has their own preferred doneness when it comes to smoked lamb leg. Some may find the rare and bloody lamb to be unappetizing, but some may eventually love it. Others would prefer medium-rare to medium that is still tender and with that pink center. Or some may want it well-done.
There are different recipes for a smoked leg of lamb. What you will find below are some of the most common ways on how to create that perfect smoked leg of lamb. Check them out.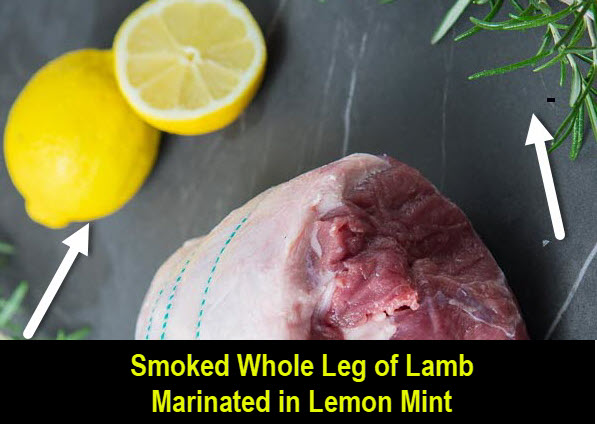 Smoked Whole Leg of Lamb Marinated in Lemon Mint
This recipe would need you to marinate the leg of lamb for 24 hours to infuse the flavors into the meat.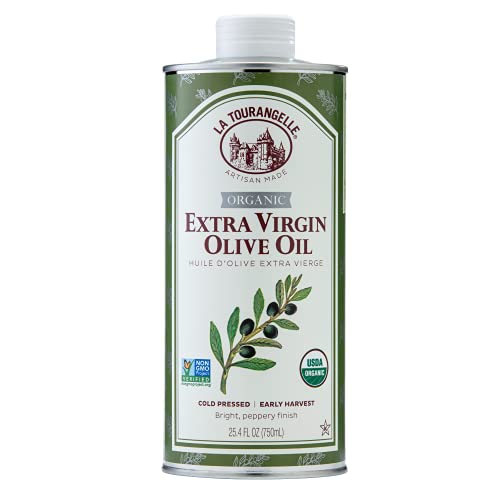 Buy it now: Amazon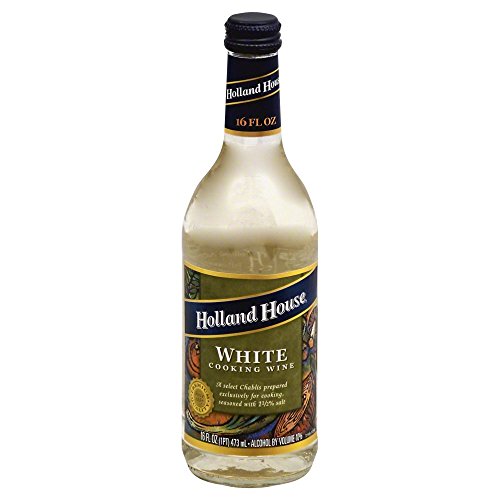 Buy it now: Amazon
Main ingredient:
1 boneless leg of lamb (5-7 pounds)
For the marinade, you will need these ingredients:
¼ cup of olive oil (buy it here)
¼ cup of white wine (buy it here)
6 cloves of garlic
2 Tablespoons of fresh mint (chopped)
2 Tablespoons of fresh rosemary (chopped)
2 Tablespoons of fresh thyme (chopped)
Lemon juice from two lemons and lemon zest
How to prepare a smoked leg of lamb:
In a zip top bag, combine all ingredients for the marinade. Put the tied boneless leg of lamb inside and do a lamb rub or massage the lamb until all ingredients are mixed together and distributed evenly. Marinate the lamb overnight (preferably 8 to 24 hours) inside a refrigerator.
After marinating the leg of lamb, preheat your smoker to 225°F or 107°C.
Remove the boneless leg of lamb from the zip top bag and place it on the grill grates of the smoker directly.
Sear the leg of lamb by increasing the heat on the grill to 400°F (204°C). If you want a medium-cooked leg of lamb, finish cooking it until the internal temperature reaches 135-140°F (57-60°C).
Remove the lamb leg from the grill and let it rest to a serving platter for 15-20 minutes. Untie the lamb leg and slice it before serving.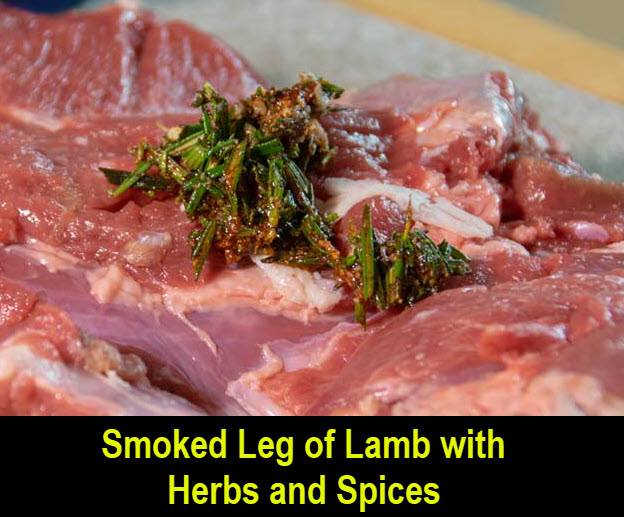 Smoked Leg of Lamb with Herbs and Spices
This recipe for a smoked leg of lamb is very easy to prepare. What you will have would be delicious, tasty garlic and herb-flavored meat. The smoked leg of lamb would be incredibly tender and juicy.
To maintain that meaty goodness of the smoked leg of lamb, use some mild and fruity wood to smoke the lamb like cherry or apple wood chunks.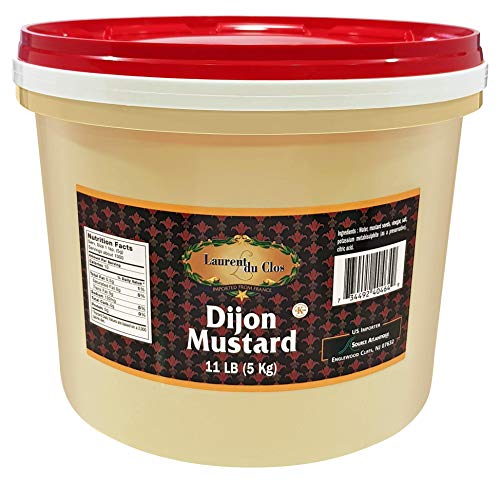 Buy it now: Amazon
Here are the ingredients:
1 leg of lamb (5-7 pounds in weight)
cherry or apple wood chunks (smoking wood)
For the Garlic and Herb Flavors:
1 cup of olive oil
6 tablespoons of lemon juice
1/4 cup of Dijon mustard (buy it here)
10 garlic cloves
12 rosemary sprigs
12 thyme sprigs
4 shallots
1/2 cup of kosher salt
2 tablespoons of black pepper
How to cook this delicious smoked leg of lamb:
Preheat your smoker to 250°F (121°C). Then put a handful of cherry or apple wood chunks into the hot coals to start smoking.
Mix the ingredients under garlic and herb flavors using a food processor. Blend them until you get a paste-like texture.
Use the paste as your flavor enhancer by brushing it to the leg of lamb until it is completely covered.
Once it has been covered with the flavored paste, put the leg of lamb into the smoker. Cook until the internal temperature of the meat reaches 145°F for about 2 to 3 hours. You can use an instant read thermometer to measure the temperature of the meat. Be mindful that bone-in leg of lamb may take longer to cook than those with boneless leg of lamb.
Remove the leg of lamb from the smoker. Get an aluminum foil and cover it loosely on the cooked leg of lamb.
Let it rest for 30 minutes. Slice the meat and then serve.
What Are the Best Type of Wood for Smoked Leg of Lamb
Hardwoods such as apple, cherry, maple, hickory and oak would often provide a good result in smoking a leg of lamb, either boneless or bone-in leg. To get that smoky flavor without overpowering the meat, you will add wood chunks or wood chips to heat producing lump charcoal or commonly known as smoker.
Getting the right internal temperature is essential to get the lamb tender and juicy. If you want to have a medium-rare leg of lamb, the internal temperature is 135°F. If it gets beyond 145°F, the leg of lamb will be cooked in medium doneness.
It is said that olive wood briquettes would provide an even and very clean burn, plus you would get a more consistent temperature with this type of wood. If you want that boneless lamb or bone-in leg of the lamb to be cooked perfectly, you might want to use this.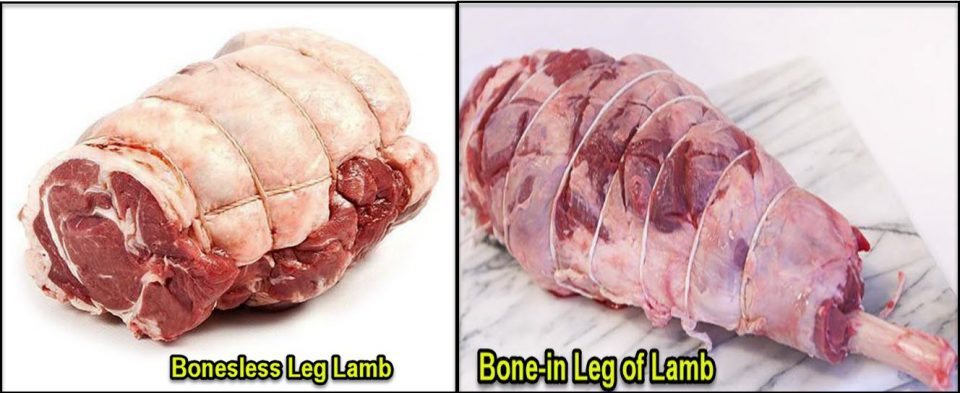 What is the Difference Between Boneless Lamb and Bone-in Leg of Lamb
If you are buying a leg of the lamb, you will find them being sold into two parts. It would be the lower shank end and the upper, also fattier sirloin end. The upper sirloin end is more recommended due to its shape that cooks more evenly and is easier to cut.
Boneless leg of the lamb would tend to be faster, reducing your cooking time. It also cooks more evenly and slicing the cooked meat would be a breeze, as there's no bone to obstruct the knife.
On the other hand, bone-in leg of the lamb tends to cook longer when smoked and cutting it is not that easy. However, the bone-in lamb is more flavorful than the boneless variety.
Leaving the fat on top of the leg of the lamb is also a good idea, whether it is boneless or not. The fat provides flavor to the meat and it also diffuses into the meat, giving it a texture and making it tender and juicy.
The next time you cook a lamb leg, make sure to let the fat stay, as you can always remove it during the slicing process and before serving.
* If you buy through links on our site, we may earn an affiliate commission. For more details, please visit our Privacy policy page.