Canned sardines are a staple in many homes and commercial kitchens around the world. They are priced for their versatility in elevating a wide variety of dishes. Only your creativity is the limit.
| Product | Brand | Name | Price |
| --- | --- | --- | --- |
| | Crown Prince | Crown Prince Natural Two Layer Brisling Sardines in Extra Virgin Olive Oil, 3.75-Ounce Cans (Pack of 12) | Check Price on Amazon |
| | King Oscar | King Oscar Sardines Extra Virgin Olive Oil, 3.75-Ounce Cans (Pack of 12) | Check Price on Amazon |
| | Wild Planet | Wild Planet Wild Sardines in Extra Virgin Olive Oil, Lightly Smoked, Keto and Paleo(Pack of 12) | Check Price on Amazon |
| | SEASON | Season Sardines in Pure Olive Oil, 4.375-Ounce Tins (Pack of 12) | Check Price on Amazon |
| | Nuri | NURI Portuguese Sardines Variety Pack | 4 Pack Bundle | One of Each | | Check Price on Amazon |
* If you buy through links on our site, we may earn an affiliate commission. For more details, please visit our Privacy policy page.
Packed with nutritional benefits and rich in flavor, the best-canned sardines are a must-have in your pantry. You can consume them as-is, turn them into fish cakes, add them to your salad or pasta, or use them as pizza toppings – the ideas are endless.
As canned sardines are a big industry, you can expect to have numerous options when you are looking for one. In this review, we will help you pick the best-tasting and best-nutrition sardines.
Best Canned Sardines Reviews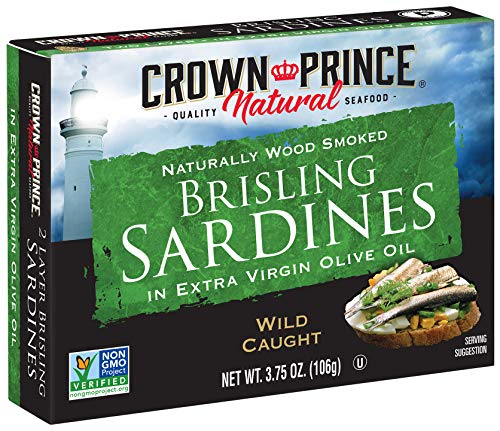 If you have tasted the Crown Prince skinless sardines in olive oil and are satisfied with its taste, you'll probably also like this product. This canned brisling sardines is one of the brand's best-rated and best-selling products.
A product of Scotland, the Crown Prince Sardines are sustainably wild-caught and hand-packed to ensure optimum quality. The brisling sardines are naturally nutritious and they also boast of a firm texture and delicate flavor.
A serving of this canned brisling sardines which is about 82 grams contains 25% DV for calcium, 15% DV for vitamin D, 10% DV for iron and 4% DV for potassium. It also contains 1,860mg of omega-3 per serving.
PROS:
Non-GMO Project Verified
Certified Paleo
Naturally wood smoked for that smoky flavor
Brisling sardines are wild-caught
Full flavor and rich in Omega 3 fatty acids
CONS:
Contains 330mg of sodium which is 14% of DV
---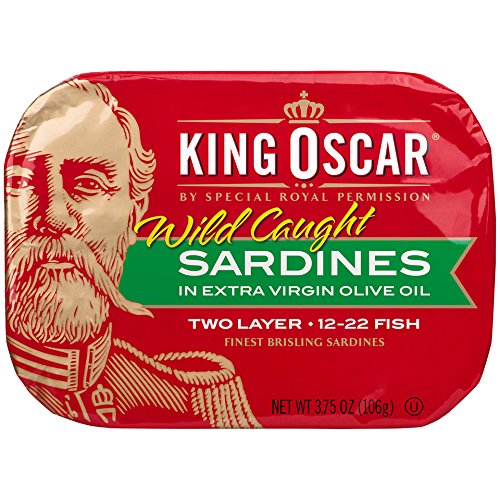 King Oscar is one of the well-known canned sardines brands. The company was founded in 1902 when King Oscar II of Norway and Sweden gave the company permission to use his name. Today, King Oscar sardines are exported to various countries in the world.
The King Oscar Sardines is available in different flavors including extra virgin olive oil, cracked pepper, hot jalapeno peppers, Mediterranean, and zesty tomato among others. The wild-caught sardines are wood smoked and hand-packed to ensure quality. Each can contains 12 to 22 pieces of sardines.
This extra virgin olive oil flavor King Oscar sardines is a convenient superfood as it is packed with nutritional goodness. One serving (85 grams) of this product provides 40% Daily Value (DV) for Vitamin D. It also contains 20% DV for calcium and 6% DV for iron and potassium.
PROS:
Rich in omega-3 and other essential vitamins and minerals
Non-GMO and gluten free
No sugar added and low in carbohydrates
Lightly smoked to achieve the distinct taste
Kosher certified
CONS:
One serving contains 15% of your DV for sodium
Buy it now: Amazon
---
Those who frequently buy canned sardines may also be familiar with Wild Planet Wild Sardines. It is one of the widely available canned sardine brands in the market.
Wild Planet sardines are available in different flavors including extra virgin olive oil, lemon, no salt added, lemon and water among others.
The Wild Planet Wild Sardines in Extra Virgin Olive Oil is made from wild-caught sardines that are lightly smoked for a rich and smoky flavor. Apart from that, it is also considered a nutritional powerhouse. One serving of this Wild Planet sardines in extra virgin olive oil (85 grams) contains 50% of your DV for vitamin D, 35%DV for protein, 15% DV for calcium, 10% DV for iron and 4% DV for potassium.
PROS:
Non-GMO, gluten-free and OU Kosher Pareve
Prepared using sustainable methods
Paleo and Keto compliant
Wild-caught
CONS:
Cholesterol content per serving is 12% of DV
---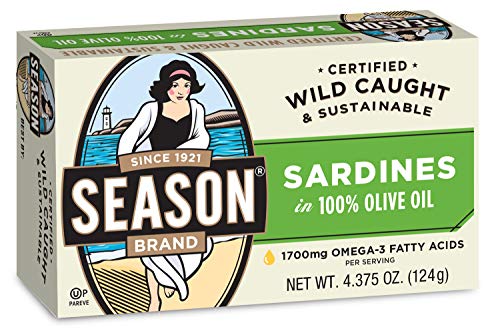 This product is a popular choice by people who like their sardines in 100% olive oil. The company sources their sardines in the wild. The fish are then processed while they are fresh.
The Season brand is one of the pioneers of the "easy pull tab" and their can is always easy to open. When it comes to the content, their sardines are plump, tender and not fishy. It has a mild flavor that is not overpowering.
A serving of Season sardines which is equivalent to 55 grams contains 14 grams of protein, 2 % DV for vitamin C and 15% DV for calcium and iron.
PROS:
Easy to open can
High in calcium and iron
No fishy odor
Wild-caught
CONS:
Some customers commented that it's a bit dry with no extra oil
Buy it now: Amazon
---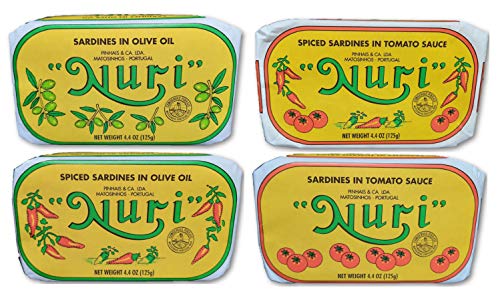 If you want to sample all of Nuri's gourmet sardines, this variety pack is a perfect choice. It comes with 4 cans of sardines in different flavors including sardines in pure olive oil, sardines in spiced olive oil, sardines in tomato sauce and pure olive, as well as sardines in tomato sauce (spicy) and pure olive oil.
Just like the first four brands of canned sardines in our list, Nuri Portuguese too uses wild-caught sardines. Nuri Portuguese sardines are canned with no additives and preservatives to retain the naturally rich flavor of the fish.
It's worth mentioning that the company behind the Nuri Portuguese sardines uses a fully artisanal method since 1920 and they have perfected the process over time. Based on feedback, Nuri sardines are plump, firm and moist. Every 135 gram serving of this delicious goodness contains about 45% of your DV for calcium, 20% of your DV for iron and 10% DV for potassium.
PROS:
Non-GMO
Gluten-free
Very high in calcium
Moist and firm
CONS:
A bit high in cholesterol
Buy it now: Amazon
---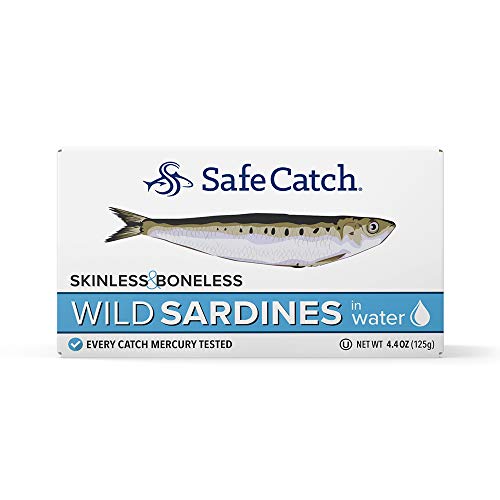 Prefer your sardines to be cooked in water? Check out the Safe Catch brand. This skinless and boneless canned sardine is full of flavor and packed with nutritional elements that offer many health benefits.
This brand uses wild-caught sardines. The fish are slow-cooked to preserve their natural oils and juices. This process also helps retain the vital nutrients present in the fish.
An 88-gram serving of these canned sardines contains 28 grams of protein which is already 48% of DV. It also contains 8% DV for calcium and iron and 6% DV for potassium.
PROS:
Lower mercury content compared with other brands
Healthy option for pregnant women, kids and athletes
Keto and Paleo Certified, kosher and gluten-free
Non-GMO Project Verified and While30 Approved
CONS:
One serving contains 380 mg of sodium which is a bit high
---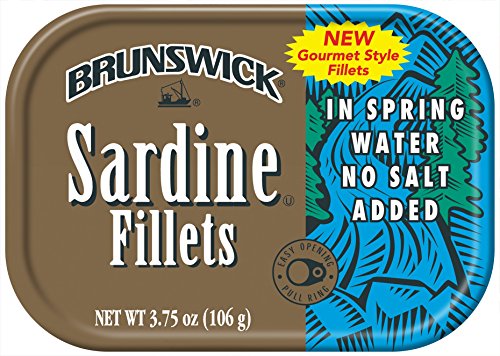 Have you ever tried eating Brunswick sardines? This product is a good choice for people who are watching their sodium intake as it does not contain salt.
You may think that the Brunswick sardine fillets are bland because it has no salt, but many customers like it that way. Each can contains flavorful fillets with a buttery and rich sardine taste that can easily complement your salad or pasta dish.
These canned sardines are high in protein and are gluten-free. They are also a perfect choice for those who are into Paleo or Keto diets.
PROS:
Gluten-free
High in protein
No sodium
CONS:
Some customers say it has a fishy smell
---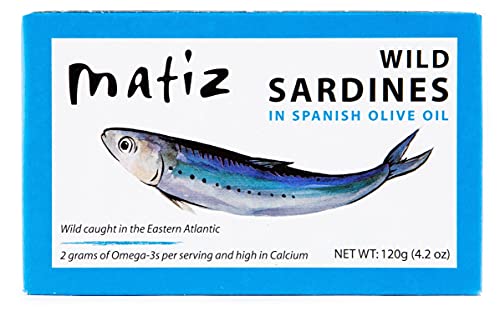 Matiz may be last on our list but definitely, it is not the least. The sardines used in this product are sustainably wild-caught off the coast of Spain and are packed in olive oil. The actual sardines still have skin and bones and they have that rich bold flavors.
If you are thinking about tapas, pasta dishes and other delicious appetizers, Matiz Sardines is worth considering. It is packed with vitamins, proteins and Omega 3 fish oils which are great for your overall health.
PROS:
Gluten free and non-GMO
No artificial additives and preservatives
Versatile as you can add it in a wide variety of dishes
Bold flavors
CONS:
Some customers are put off by the scales on the fish
---
5 Popular Canned Sardines Recipes
There are various seafood dishes where you can use regular sardines or canned sardines as the main ingredient. As they contain many essential nutrients including Omega-3 fatty acids which are important for your normal growth and development, you can make any dish tastier and healthier with the addition of sardines.
1. Sardine Salad
Sardines in olive oil, water or tomato sauce can make your salad more appetizing. On a bowl of lettuce, tomato, onion, cucumber and other vegetables, add some sardine fillet then drizzle it with your favorite dressing, or simply add zesty lemon juice.
Alternatively, you can also add sardine flakes to your potato salad bites. It makes a perfect appetizer.
2. Sardine Pizza
The delicious flavor of sardines also makes them a fun topping for your pizza. Boneless sardines or sardine flakes are more ideal for this recipe. You can grill them to have that lightly smoked taste or toss them to your pizza straight from the can.
3. Sardine Toast
Sardine toast makes a perfect appetizer or snack. On your toasted bread or Wasa crackers, add a bit of cream cheese and some slices of red onion, tomatoes and sardines. Squeeze some lemon and take a bite!
4. Sardine Pasta
Sardines are also a perfect addition to many pasta dishes. You can mix them with your pesto or marinara pasta dish, or add them to your carbonara sauce.
5. Grilled Sardines
Another simple recipe for whole sardines is to grill them. Once cooked, squeeze lemon on top of it. You can do the same process with fresh sardines.
Factors to Consider When Buying Canned Sardines
If you have tried canned sardines before and did not have a great experience, here is something you should know. There are many other brands of sardines out there that are flavorful. You should try different brands first before concluding that sardines aren't for you.
To help you make the right choice this time, it's a good idea to consider the following factors when buying sardines in a can. Whether you are buying at your grocery store or online, these tips are helpful.
Medium of preservation
Fresh sardines can be preserved in a variety of mediums including organic olive oil, water, tomato sauce and other types of oils. The best medium is olive oil because it doesn't influence the flavor of the fish but enhances the omega-3 fatty acids. The olive oil itself is also rich in fatty acids, particularly oleic acid which is beneficial to your heart's health and in reducing inflammation.
It's important to note that other brands may contain artificial preservatives which are not good for your health. Stay away from brands that contain other preservatives other than the natural ones we mentioned.
Seasonings
Seasonings other than sea salt or regular salt can greatly alter the taste of sardines. That's why before buying, check the ingredients first for the other seasonings added to it.
Sardine Size
Sardines may slightly differ in taste, depending on their size. Larger sardines have an oilier and fuller flavor than small ones. Small sardines, on the other hand, have a more delicate taste, the kind that melts in your mouth. If you have a preferred brand that offers different sizes of sardines, you may consider tasting the different sizes to see which size is perfect for your palate.
Additionally, when it comes to sardine size, it's important to note that larger fish have larger bones. That puts some people off especially if the sardines you are buying are not boneless.
Form
Sardines in cans may come in different forms. You might easily find sardines in fillet and flake forms. For fillet, you might also find some brands offering skinless and boneless sardines.
The best choice depends on how you intend to use the sardines. Of course, if you are using them on a dish like salad, pasta or pizza, the best choice is sardines in flakes.
FAQs
What kind of fish are sardines?

Sardines are oily small fish that are abundant in the Atlantic, the Mediterranean Sea and the Pacific Ocean. Large sardines only grow up to 40cm at maturity. Sardines are highly perishable so they are commonly canned. You'll commonly find canned sardines packed in olive oil, water and tomato sauce. Skinless and boneless sardines in cans are also popular.

Are sardines safe to eat?

Sardines are low in the food chain and they feed on plankton. For those reasons, they are low in contaminants such as mercury. They are also known for their nutritional value and health benefits. They are safe to consume.

Are canned sardines good for you?

Canned sardines are high in omega-3 fatty acids and other nutritional value. They don't only make a delicious meal but they also offer many health benefits. However, canned sardines are not created equal. Some brands have high fat, cholesterol or sodium content. If you have a health condition and you love eating sardines, it's a good idea to check with your health provider if doing so is okay.

How do you eat canned sardines?

Canned sardines are ready to eat. You can eat them as is, heat them, or add them to your favorite dish for added flavor.
Conclusion
Canned sardines are healthy and versatile in their application. With a variety of sardine brands in your pantry, you can easily elevate a simple dish into something better and more flavorful.
The best canned sardines we have listed above are among the most popular options because of their taste and quality. But if we have to choose one product, our top pick is the Crown Prince Sardines. We love the richness and full flavor of the fish without that fishy odor you usually would get in a can of sardines.
| Product | Brand | Name | Price |
| --- | --- | --- | --- |
| | Crown Prince | Crown Prince Natural Two Layer Brisling Sardines in Extra Virgin Olive Oil, 3.75-Ounce Cans (Pack of 12) | Check Price on Amazon |
| | King Oscar | King Oscar Sardines Extra Virgin Olive Oil, 3.75-Ounce Cans (Pack of 12) | Check Price on Amazon |
| | Wild Planet | Wild Planet Wild Sardines in Extra Virgin Olive Oil, Lightly Smoked, Keto and Paleo(Pack of 12) | Check Price on Amazon |
| | SEASON | Season Sardines in Pure Olive Oil, 4.375-Ounce Tins (Pack of 12) | Check Price on Amazon |
| | Nuri | NURI Portuguese Sardines Variety Pack | 4 Pack Bundle | One of Each | | Check Price on Amazon |
* If you buy through links on our site, we may earn an affiliate commission. For more details, please visit our Privacy policy page.