Are you planning to smoke chicken? If yes, then you need to make sure you're using the right wood.
* If you buy through links on our site, we may earn an affiliate commission. For more details, please visit our Privacy policy page.
Some folks don't think too much about the wood they use. This is actually a big mistake when smoking chicken. Your chosen wood can and will affect the outcome of your food. Thus, it is super important that you use the right wood.
However, what wood should you use? Here are 11 of the best woods for smoking chicken that you should try!
Best Wood For Smoking Chicken
Applewood
Applewood is perhaps the most commonly used type of wood when it comes to smoking chicken. Applewood can be in the form of chunks, logs, or splits.
Here are some of the benefits of using Apple wood:
Apple wood doesn't have too much resin in it. Resin, when burned, can produce heavy soot that can latch into your food.
Apple wood comes with a high level of sugar molecules. These molecules are transferred to your chicken, making it sweeter on the outside and juicy on the inside.
Apple wood is known to add a sweet and savory smell to your food.
Here are some Applewood products you might want to use to create the perfect smoked chicken: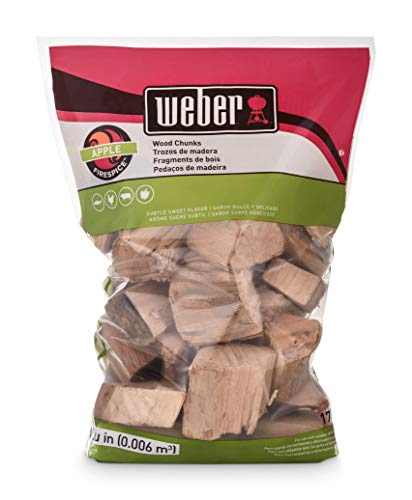 Buy it now: Amazon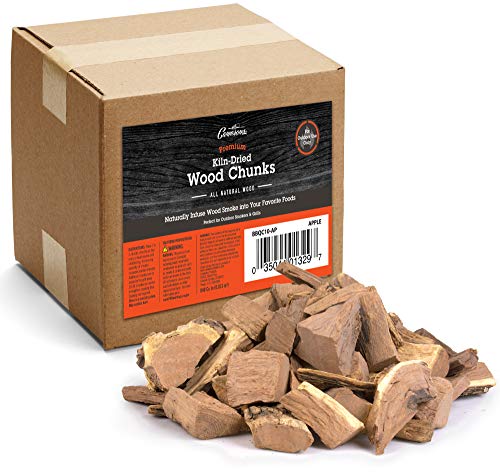 Buy it now: Amazon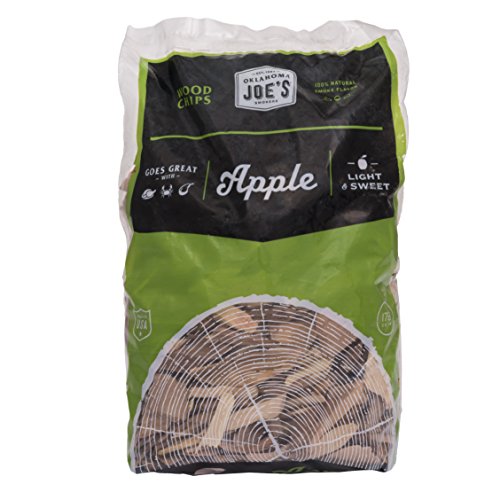 Buy it now: Amazon
---
Maple wood
Maple wood is another great wood used for smoking chicken. It has the ability to add a mild and subtly sweet flavor to your chicken meat. Aside from smoking chicken, maple wood is also an ideal choice when smoking duck, turkey, and quail. Maple wood is even used to smoke vegetables and cheese.
Here are a few of the best maple wood products for smoking you should give a try: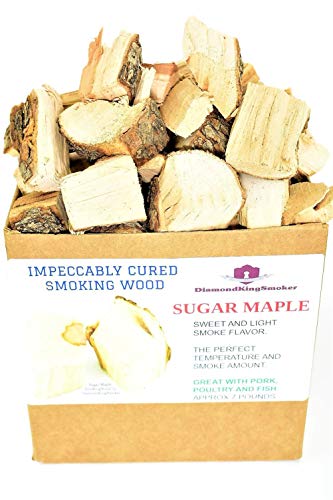 Maple wood by DiamondKingSmoker – made with 100% natural barbecue smoker chunks. The maple wood chunks are also cured to add premium flavor. They are properly stored to preserve their natural moisture and cleanliness.
Buy it now: Amazon
Maple wood by Napoleon – this product effectively adds light and sweet smoky flavor to your chicken. Because it comes in wood chips, you can easily regulate the heat it produces.
Buy it now: Amazon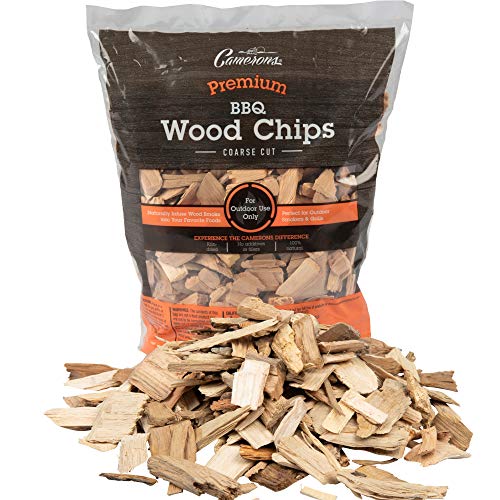 Maple wood by Camerons – you get wood chunks that you can use with charcoal grills, gas grills, and smoker boxes. The product comes with raw timber precisely cut and kiln-dried.
Buy it now: Amazon
---
Cherry wood
You probably heard about the story of George Washington cutting his father's favorite cherry tree. Some jokingly said that George used the cherry tree to smoke his chicken.
Well, if that's the case, then George would have eaten a delicious meal on that day. Cherry wood is a great smoking wood because of its great versatility. It's a team player that can easily be used to smoke a wide range of meat, especially chicken.
Check out these top-rated cherry wood for smoking and find the right one for you: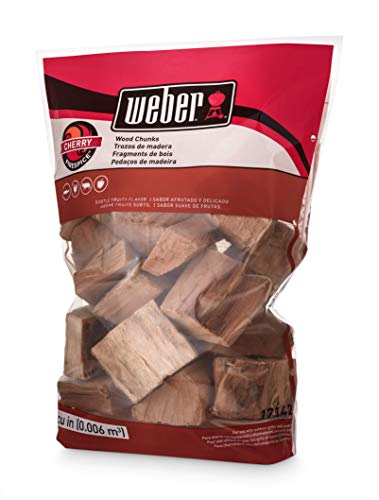 Cherry wood by Weber – this product comes in wood chunks. The fruity flavor that comes from the cherry wood would make your chicken meat extra flavorful. Weber's cherry wood is also a good choice when smoking fish, vegetables, and meat.
Buy it now: Amazon
Cherry wood by Oklahoma Joe's – this product comes in wood chips. This means that you can easily control the heat with this cherry wood. The best thing about these wood chips is that you get long-lasting burns and heat for your meat.
Buy it now: Amazon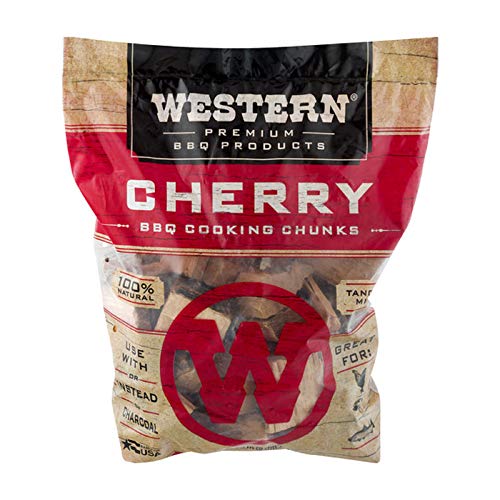 Cherry wood by Western – you receive treated cherry wood chunks that can withstand mold, rotting, and pests. Western's smoking cherry wood is not just perfect for your chicken, but also for hamburgers, spare ribs, and other meat.
Buy it now: Amazon
---
Pecan
Pecan wood, when it comes to smoking, is best known for its buttery, rich, and sweet smell. It is worth noting that pecan is a common wood used for construction. This means that when you use pecan for smoking, it can withstand long hours of burning.
With this in mind, if you're going to choose pecan wood, the type, and size of the wood matter. Since you're going to cook chicken, you may want to choose wood chips for smoking chicken. However, in case you want to cook tougher meat, then wood chunks should be a good choice. Of course, you can choose any size of pecan wood. You simply need to skillfully adjust the heat.
You can consider the following pecan wood to start cooking your food:
Pecan wood by Weber – Weber's pecan wood is made with quality in mind. This means that you get premium wood that provides long-lasting and reliable fire.
Buy it now: Amazon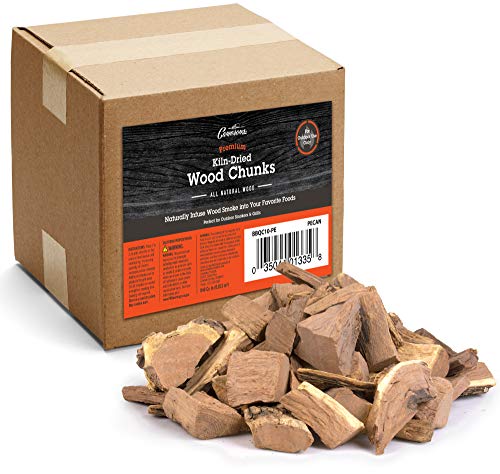 Buy it now: Amazon
Pecan wood by Jax Smok'in Tinder – the wood in this product is harvested from Texas, Missouri, and Colorado. Jax only uses the best pecan wood there is. The precise 3-inch square cut of Jax ensures that you get a consistent heat source too.
Buy it now: Amazon
---
Whiskey barrel wood
Perhaps, whiskey barrel wood is the most unique type of smoking wood on our list. One reason is that the wood came from white oak barrels used to age whiskey or other alcoholic beverages.
During the aging process of the alcoholic drink, elements of the whiskey sip into the wood, giving the wood a distinct and unique flavor. So, you can just imagine when you use the whiskey barrel wood in smoking your chicken. It makes your chicken infused with whiskey in a subtle and interesting way.
If you want to give whiskey barrel wood a try, here are a few products to consider: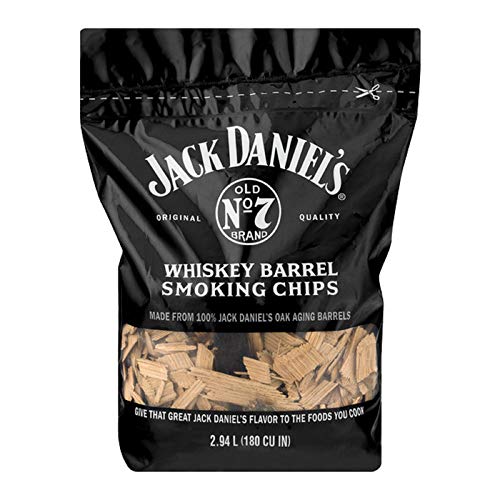 Whiskey barrel wood by Jack Daniel's – If you're a fan of Jack Daniel's, then you will love this smoking wood. You will get the same wood they use in aging their whiskey. You can use this whiskey barrel wood with gas grills, electric smokers, and charcoal grills.
Buy it now: Amazon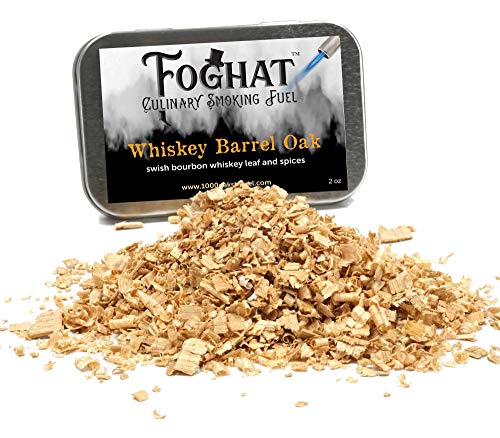 Whiskey barrel wood by Thousands Oaks – this product comes with wood chips that can easily start a fire and sustain it. If you are planning to smoke a small amount of chicken meat, then this is a good choice. The wood chips also come with rolled leaves for added extra flavor.
Buy it now: Amazon
Whiskey barrel wood by Mr. Bar-B-Q – comes with 100% real old whiskey barrel wood smoker chips. The wood chips are sourced in Spain, which is home to some of the finest whiskeys in the world. The product is neatly stored in a resealable bag to ensure you can set aside the wood for future use.
Buy it now: Amazon
---
Peachwood
Did you know that peachwood is a great flavoring wood for your chicken? Yes, you read that right. However, not too many people are aware of this. In fact, when you suggest to them to use peachwood, they would probably be hesitant.
For those who have tried peachwood already, you would soon know from them that they are happy with their choice of wood. When you use peachwood, your chicken will receive a lightly fruity and mildly sweet taste.
Peachwood isn't a common smoking wood. Thus, it is not that easy to find them on the market. Thankfully, you can start with these peachwood products for your next chicken smoking session: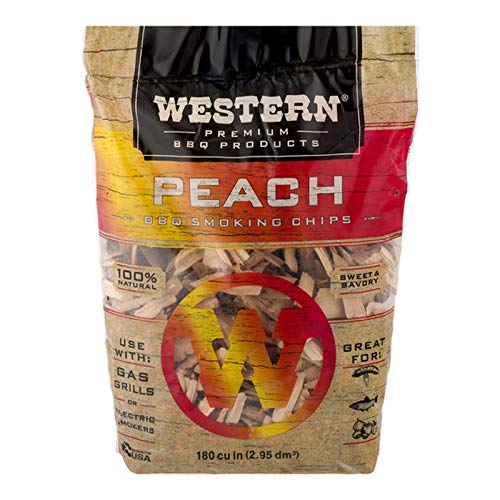 Buy it now: Amazon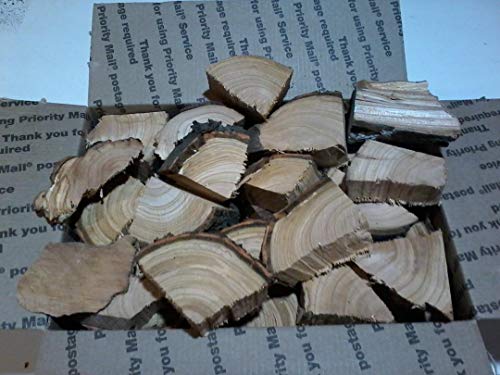 Buy it now: Amazon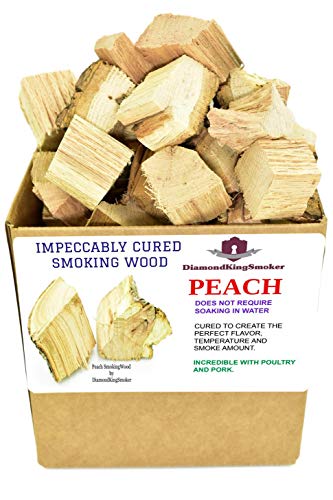 Peachwood by DiamondKingSmoker – made with chunks of wood. It is best used for grilling chicken. Each piece of wood is air-dried to ensure the wood's flavor is kept.
Buy it now: Amazon
---
Hickory wood
Hickory is another popular wood used for smoking. It is a versatile choice because it can smoke not just chicken but also other types of meat. The hickory flavor makes your meat tastes sweet, savory, hearty, and bacony.
Hickory can be used not just in smoking, but also in barbecuing and grilling meats. Remember not to use too much hickory flavor. It can overpower your meat and make it bitter.
If you're looking for hickory wood, check out these options: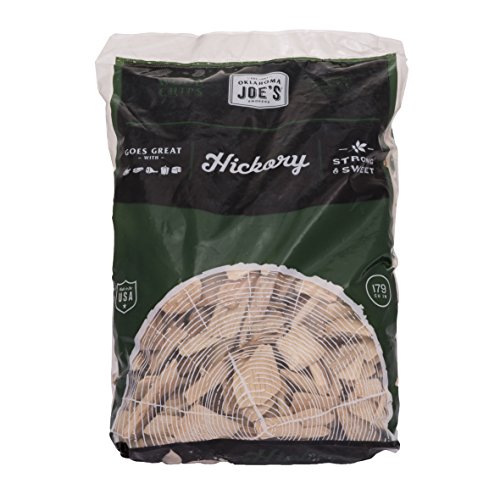 Hickory wood by Oklahoma Joe's – you get nothing but long-lasting burn while all the while you infuse great flavor to your meat. Oklahoma Joe's hickory wood comes in one pack, three packs, or four packs.
Buy it now: Amazon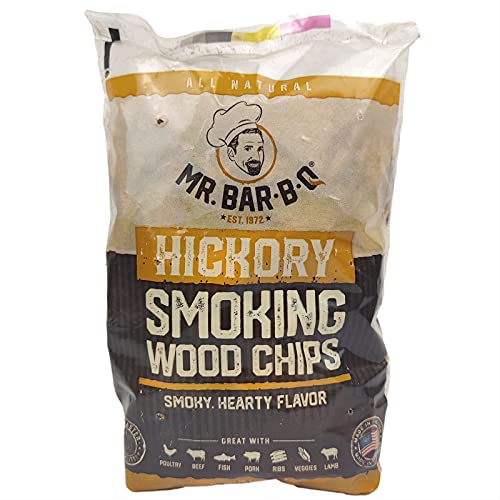 Hickory wood by Mr. Bar-B-Q – this product comes with a premium and quality hickory woodcut and is designed to infuse flavor to your meat at a maximum level.
Buy it now: Amazon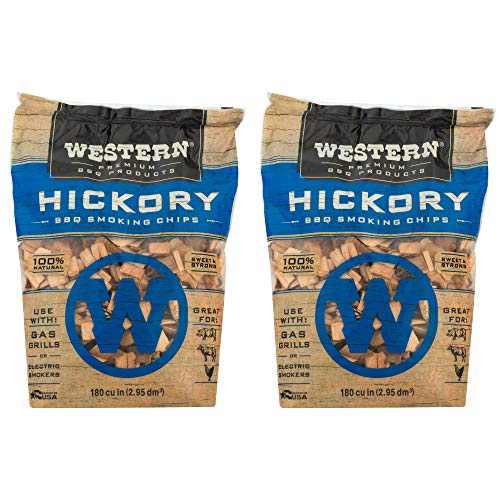 Buy it now: Amazon
---
Mesquite wood
Mesquite wood isn't the most ideal wood type for smoking chicken. However, with the right skills and adjustments, you can still use mesquite wood. Usually, mesquite wood is best used for smoking dark meats such as wild game meat, Tex-Mex barbacoa, duck, and lamb.
There are a lot of advantages that you will get when you use mesquite wood. Some of them include the following:
Produces a lot of smoke making it an ideal choice for smoking meat.
Easy to ignite, burns fast, and stays hot.
Best used for quick cooks
As you can see, mesquite wood is the right choice for steak. However, you can still try it for chicken meat:
Mesquite wood by Mr. Bar-B-Q – the product comes with a 1.6-pound bag of 100% natural hardwood chips with no added chemicals. What's so special about this product is that Mr. Bar-B-Q Mesquite Smoking Chips come with delicious spicy and smoky flavors.
Buy it now: Amazon
.Mesquite wood by Oklahoma Joe's – these wood chips come with a special flavor that could infuse that earthy and strong flavor. It can be used with smokers and electric, charcoal, or gas grills.
Buy it now: Amazon
Mesquite wood by Camerons – you can effectively control the heat of your fire with these barbecue wood chips. Kiln-dried and naturally prepared, Camerons' mesquite wood would make your chicken deliciously exciting.
Buy it now: Amazon
---
Alder wood
Other types of smoking wood are great in adding strong and bold flavor to your food. While this effect is desirable, there are some cases that you simply want to use a smoking wood that doesn't overpower the natural flavor of your chicken meat. If this is what you want, then alder wood is the right choice.
Alder wood is best known for its delicate and subtle sweet taste. It keeps your meat's natural taste even better. Alder wood is highly versatile. This means that it can be used to cook almost any meat because of its neutral smell.
Alder wood is commonly used to smoke salmon, but you can use it for chicken as well as fish and beef.
Here are top alder wood products you might want to consider: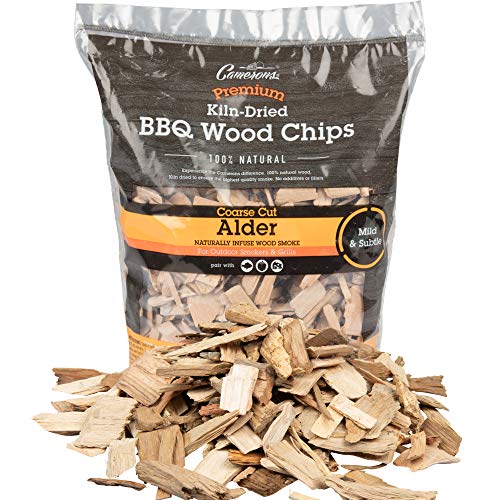 Alder wood by Camerons – the best feature of this product is that you can easily start a fire with it. The alder wood burns completely, ensuring that you maximize it as a source of fuel.
Buy it now: Amazon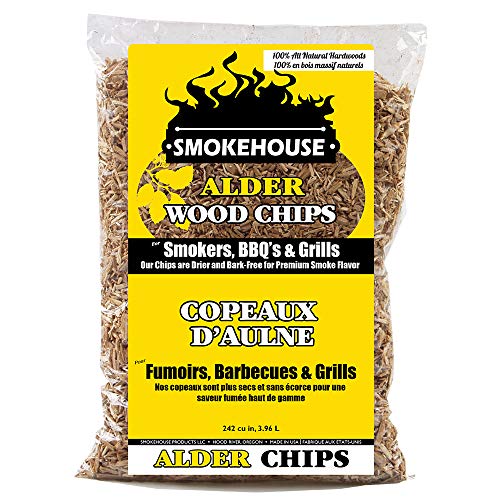 Alder wood by Smokehouse – you get dry, reliable and best wood chips in the package. These chips burn quickly and thoroughly.
Buy it now: Amazon
---
Oakwood
Oakwood is a type of hardwood that lasts longer when used as smoking wood. It is true that oakwood is strong and bold when it comes to adding flavor to your meat. However, if used correctly, it won't overpower your chicken meat, but rather it will deliciously complement your cooking. Aside from chicken, oakwood is the best choice for smoking beef and lamb.
To start cooking with oakwood, check out these products:
Oakwood by Western – cook like a professional chef with Western's oakwood. These oakwood chunks are treated to prevent pest infestation and mold formation.
Buy it now: Amazon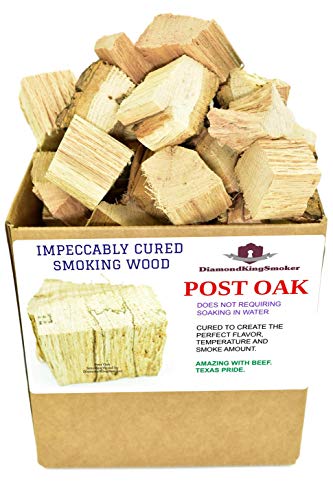 Oakwood by DiamondKingSmoker – clean, flavorful, and fresh — these are just some of the words used to describe the oakwood product of DiamondKingSmoker. As a product made in the US, the oakwood pieces are produced with quality and precision.
Buy it now: Amazon
---
Orangewood
Imagine if you can add that sweet taste of orange into your chicken meat without actually adding orange to it. With orangewood, that's certainly possible.
Not too many people know it but citrus or orangewood is a great option for smokers. Whether you are having a campout or simply cooking chicken in your backyard, orangewood can add great flavor to your cooking.
The main characteristic of orangewood when it comes to smoking is its light fruity flavor. Although, orangewood has a milder fruity flavor than apple and cherry.
Check out this orangewood product and use them the next time you smoke chicken: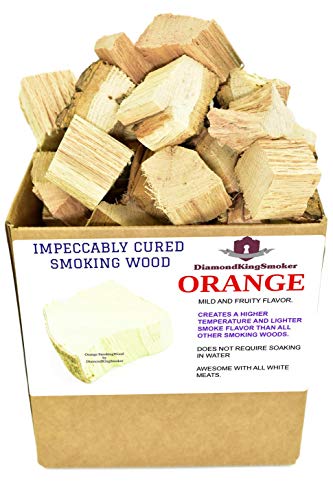 Orangewood by DiamondKingSmoker – add the sweet taste of orange to your chicken meat and enjoy a more satisfying and hearty meal with DiamondKingSmoker's orangewood.
Buy it now: Amazon
---
What is smoking chicken?
When you talk about smoking chicken, it means cooking your food slowly over wood with the aim to expose your food to flavorful smoke. Smoking chicken allows you to infuse your food with delicate, smoky, and aromatic flavor. In other words, it's not just grilling your chicken, but rather it's a way of enhancing its taste.
Different forms of wood for smoking chicken
Aside from the specific wood, you need to know its different forms. Here are some of the most common wood forms you'll find in the market today.
Pellets
This is the smallest type of wood. The wood is reduced into wood pellets and this is ideal when you need a small amount of fire that you can easily control.
Wood chips
As its name suggests, wood chips are chips of wood that can easily burn. It is bigger than pellets but smaller than wood chunks.
Wood chunks
Depending on the manufacturer, wood chunks vary in size, but they are definitely bigger than wood chips. The size of wood chunks may range from about 2 inches long to fist-sized chunks.
Wood logs
Wood logs are the biggest form of wood on our list. It is ideal for grilling or smoking chicken for a long period of time.
When choosing the right form of wood, make sure to think about how long you're going to smoke your chicken, how much chicken you are going to smoke, and how you are going to smoke your chicken.
Choose the right wood for smoking chicken
These are just some of the best wood that you'll find in the market today. Remember, the wood you choose would make a great impact on your food. For example, if you use wet and moldy wood, it can produce a lot of black smoke leaving your chicken tasting and smelling musty.
Be sure to explore your options. It doesn't mean once you made a choice, you're not free to try other types of wood. This way, you get to see which one best works for you and which one best meets your preference.
* If you buy through links on our site, we may earn an affiliate commission. For more details, please visit our Privacy policy page.