Craving for a hot pizza? Nothing beats a hot, freshly made slice of pizza with loads of cheese, flavorful toppings, and tons of tomato sauce.
Choosing the best pizza chain in America can be quite challenging because there are so many chains available. You have to consider the type of pizza, the crust, the toppings, the cheese to sauce ratio, and many other factors to satisfy your taste buds.
The finest pizza chains in the USA are listed below. Find out what makes these chains different from other pizza chains.
If you want to learn which American pizza chains are the best, scroll down and read on.
Best Pizza Chains In America
Pizza
Pizza is an Italian dish prepared of a typically flat, round base made of leavened wheat-based dough that is topped with sliced fresh tomatoes, cheese, and frequently other ingredients like different kinds of sausage (such as Italian sausage), anchovies, mushrooms, onions, bell peppers, and olives ( such as black olives). The pizza is then baked at a high temperature, generally in a wood-fired oven. A pizzetta is another name for a little pizza. A pizzaiolo is someone who creates pizza.
In Italy, a knife and fork are used to consume the unsliced pizza that is offered in restaurants. However, in casual settings, it is cut into wedges and eaten using the hand.
The word "pizza" was first used in a Latin manuscript from the southern Italian town of Gaeta, which is located in Lazio and borders Campania, in the 10th century. The modern pizza was created in Naples, and it has since gained popularity throughout the world. It is now among the most well-known cuisines in the world and a typical fast food item throughout Europe, North America, and Australasia. It can be found in pizzerias (restaurants that offer specialty pizzas), restaurants that serve Mediterranean food, via pizza delivery, and as street food. In grocery stores, a variety of food corporations sell frozen, ready-baked pizzas that can be heated in a home oven.
The global pizza market was worth $128 billion in 2017. In the US, it was $44 billion, distributed among 76,000 pizzerias. Overall, 13% of Americans 2 years of age and older ate pizza on any given day.
Check out the finest pizza chains in America.
---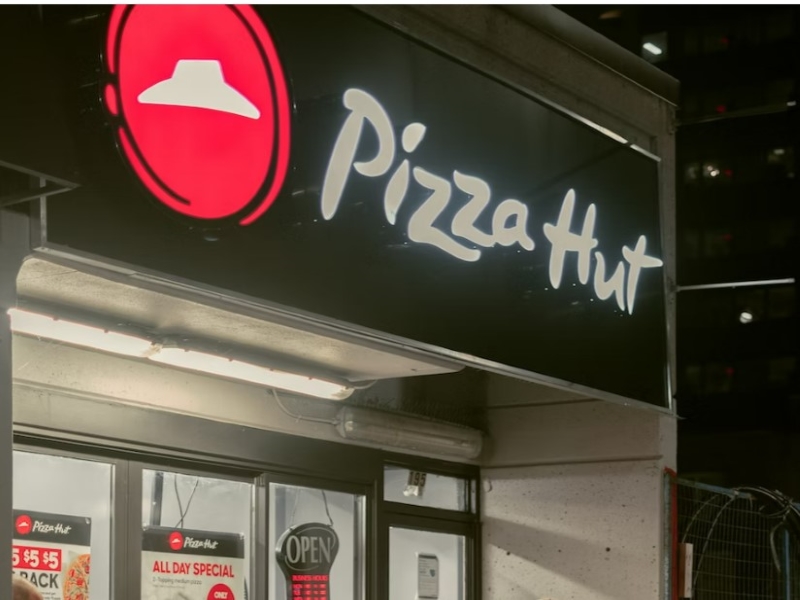 1. Pizza Hut
Dan and Frank Carney launched Pizza Hut, an American multinational restaurant chain and international franchise, in 1958 in Wichita, Kansas. In addition to their famous pan pizza, Pizza Hut also provides pasta, breadsticks, and desserts.
As of 2020, the Pizza Hut, which has its corporate headquarters in Plano, Texas, had 17,639 locations worldwide, making it the largest pizza chain in terms of the number of restaurants. One of the biggest restaurant chains in the world, Yum! Brands, Inc., is the owner of it.
Pizza Hut offers a wide variety of pizzas, the most of which come in medium or large sizes. Some even come in "personal" size, excellent for when you're eating alone.
Pizza Hut provides eight meats and nine vegetables in addition to four crusts (original pan, hand-tossed, thin 'n crispy, and stuffed crust), three crust tastes (garlic butter, toasted parmesan), and four sauces. A pizza with packed garlic knots around the crust and enormous cheese-stuffed Cheez-Its were among the company's other inventive offerings. You should also try other pizza variants like the P'Zone. Surely Pizza Hut provides us a satisfying tasty pizza.
---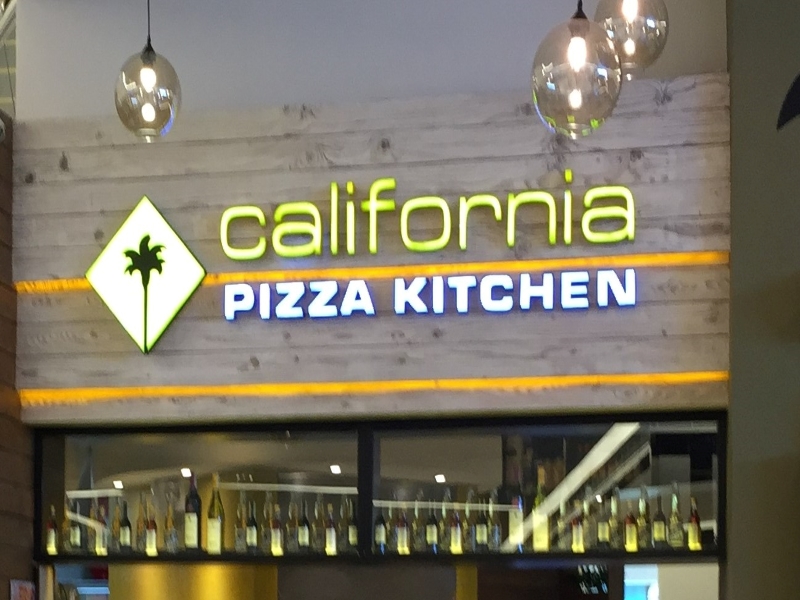 2. California Pizza Kitchen
Another great pizza chain is California Pizza Kitchen. California Pizza Kitchen (CPK) is a dining restaurant pizza chain in America . One of their specialty pizzas is California-style pizza. Rick Rosenfield and Larry Flax, two American lawyers, opened the restaurant in Beverly Hills, California, in 1985.
Pizzas like the "Original BBQ Chicken Pizza", Thai Chicken, and Jamaican Jerk Chicken are just a few of the creative and distinctive options offered by the California Pizza Kitchen chain. Additionally, a variety of pasta dishes, salads, soups, sandwiches, and desserts are available. Children ten years of age and younger can choose from a wide selection of pizzas, pastas, salads, and chicken dishes on their extensive children's menu.
The pizza chain includes more than 250 locations across 32 U.S. states and 10 other nations, including 15 exciting CPK franchise designs created for stadiums, campuses, and airports.
This is definitely one of the best pizza chains. A barbecue pizza was their brilliant invention, and it instantly became popular.
In addition to their wonderful, wood-fired pizzas, they also offer salads and power bowls.Thei
Their pizza comes in twenty distinct varieties, but there is only one size of each. Each one may accommodate six substantial slices.
---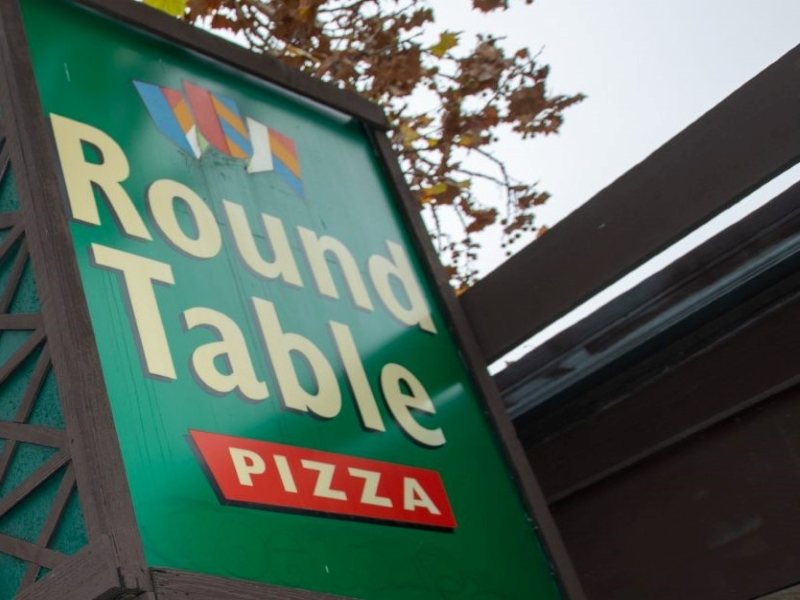 3. Round Table Pizza
In the Western United States, there is a chain and franchise of pizza restaurant called Round Table Pizza. Over 400 restaurants make up the Round Table Pizza chain, which had its first location open in 1959. Atlanta, Georgia serves as the company's headquarters.
The chain pizza is renowned for piling on the toppings to the very edge of the pie and for offering a wide variety of creative combos, such as the King Arthur's Supreme, which includes pepperoni, Italian sausage, salami, linguica, mushrooms, green peppers, yellow onions, black olives, and red sauce.
Pizzas from Round Table Pizza are made with delectably fresh dough. The Street Taco Pizza is another of the many flavor and topping options they offer.
They are a preferred option for families as many of their chains offer kid-friendly entertainment and craft beer for the adults. Generally speaking, the traditional restaurants continue to place a premium on the food, but more recently, a Clubhouse brand has been introduced. Pizza, pub, and play are all included in the tagline, which also mentions beer, big-screen sports, and kid-friendly entertainment.
---
4. Papa John's
One of the best American pizza chains is Papa John's. With corporate offices in the metropolitan areas of Atlanta, Georgia and Louisville, Kentucky, it is the fourth-largest network of pizza delivery restaurants in the US.
The third-largest pizza delivery business in the world, Papa John's has over 5,500 stores throughout 49 countries and territories.
They have excellent value for the money and incredibly good takeout pizza. They offer products like sandwiches and wings in addition to their delectable sauces. Even though their menu isn't very extensive, they are a fantastic option if you want to eat pizza. They provide a wide variety of pizza styles and toppings.
Additionally, they are generous with the number of toppings and quantity sizes. They also provide a good selection of meatless dishes.
Pizza ideas including parmesan-crusted Extra Cheesy Alfredo and Hot Honey Chicken and Waffles Pizzas have won over a loyal following, and the cheese sticks and dipping sauces alone are irresistible.
Generally, they are a pizza business you can trust to consistently offer fresh and delicious pizza without making you wait too long.
Although each restaurant has different hours of operation, in general, this is a solid choice for late-night pizza. During the weekend, Papa John's pizza delivery is available from 11 p.m. to 1 a.m. at some branches.
---
5. Cicis
The Coppell, Texas-based Italian American buffet restaurant franchise Cicis, formerly known as CiCi's Pizza, specializes in pizza. The business was established in 1985, and by 1987, it had begun franchising. In 24 states, there are 299 franchised and corporately owned restaurants. The company changed its name to Cicis in November 2015, along with a new logo and a revamped website, as part of a new marketing campaign. This involved dropping the apostrophe, making the second "C" lowercase, and removing the word "pizza" from the company's name.
Cicis is the only place to go if you want an unlimited pizza buffet.
It is among the best in the country., There are numerous things to select from, including salads and pasta, in addition to their delectable macaroni and cheese pizza.
---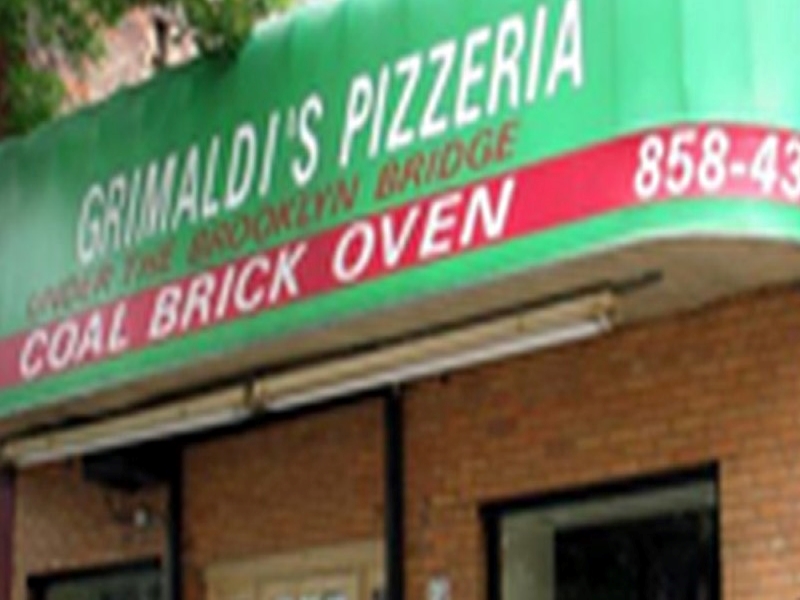 6. Grimaldi's Pizzeria
A pizza restaurant chain with locations across the country, Grimaldi's Pizzeria is from the New York City area. Next door to its original home, at 1 Front Street under the Brooklyn Bridge, is where it has its most legendary restaurant. In 2007, the Zagat Survey ranked Grimaldi's as New York's top pizzeria. in 2023, it operated 43 restaurants altogether with a carry-out and delivery business strategy in response to the COVID-19 epidemic. Only whole pies, prepared in a coal-fired brick oven, are offered for sale. In addition to calzones, it also sells wines and appetizers. Cannoli, tiramisu, and cheesecake made in the New York style are examples of desserts.
You can either choose one of the classic pies or create your own pie from a range of toppings, such as spicy chicken sausage, prosciutto, baby spinach, fresh tomatoes, and pesto. Choices include one topped with sausage and wine-braised onions, and another with red onions, artichokes, ricotta and basil pesto. Newbie might prefer to stick with the traditional Margherita, which combines mozzarella, basil, and marinara with a crisp and chewy crust.
---
7. Sbarro
Sbarro is a pizza chain restaurant of in the United States that specializes in Italian-American cuisine and New York-style pizza sold by the slice. Among U.S.-based quick-serve and fast-casual businesses, the company was placed 15th in overseas sales by QSR Magazine in 2011. In 2008, Sbarro was named the top quick service restaurant in the Italian market by Entrepreneur magazine. Not all reviews were favorable; the food's quality had come under fire, and it was suggested that this had contributed to two bankruptcy. Sbarro has more than 600 restaurants in 28 nations. There are Sbarro locations at The Pentagon, American naval facilities, casinos, and shopping centers, airports, service areas, and college campuses.
The restaurant that invented the XL NY pizza was Sbarro. Although they also offer thin crust and Stromboli, their pizzas are pie-style. In the US, they have more than 600 different restaurants, with the first one opening in 1956.
It's either breadsticks or nothing when it comes to the sides. There is also no dessert available here. Although the selection is more limited than that of some other restaurants, the cuisine is of excellent quality. For bigger groups, there are also some great catering alternatives.
---
8. Domino's Pizza
Dominos is perhaps the first pizza delivery service that comes to mind when you think about takeout.
In Ypsilanti, Michigan, Tom and James Monaghan established Domino's in 1960; currently, there are more than 6,500 locations nationwide and 3 million pizzas are served daily. In addition to specialized pies like the ExtravaganZZa, Philly Cheese Steak, and Wisconsin 6 Cheese, there are five crusts, nine sauces (with blue cheese and mango habanero), eight meats, seven cheeses, and ten vegetables available. Specialty Chicken, wings, hot sandwiches, pastas, and desserts like chocolate lava crunch cake are also available.
Their pizzas are worth it and they regularly offer customers exciting new toppings.
---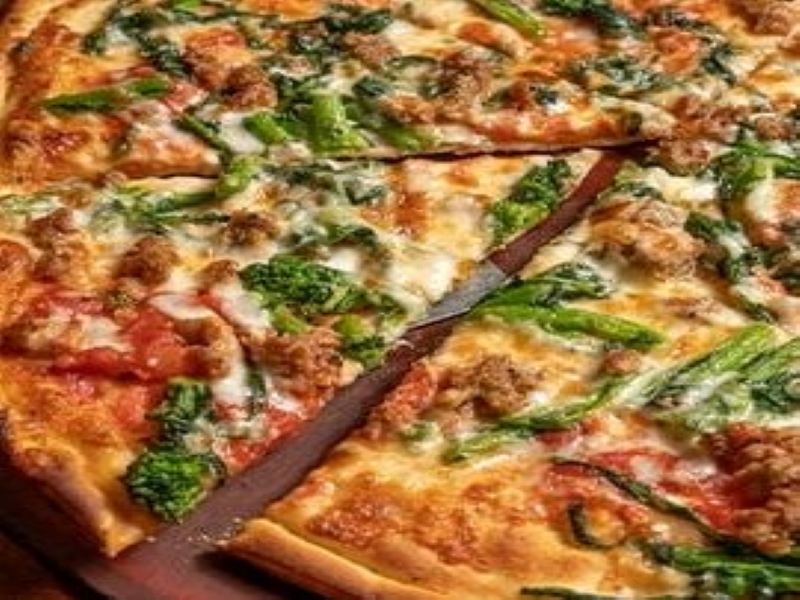 9. Anthony's Coal Fired Pizza
Anthony Bruno launched Anthony's Coal Fired Pizza in 2002 in South Florida, and it now has more than 60 sites across the country. It is most renowned for cooking its pizzas and other menu options such as wings and ribs in an 800-degree coal oven. A pot of 13 meatballs made using Bruno's grandmother's recipe, broccoli rabe with Italian sausage, and a coal-oven roast beef sandwich are some of the other menu specializations. Fresh ingredients and traditional Italian recipes are the main focus here.
---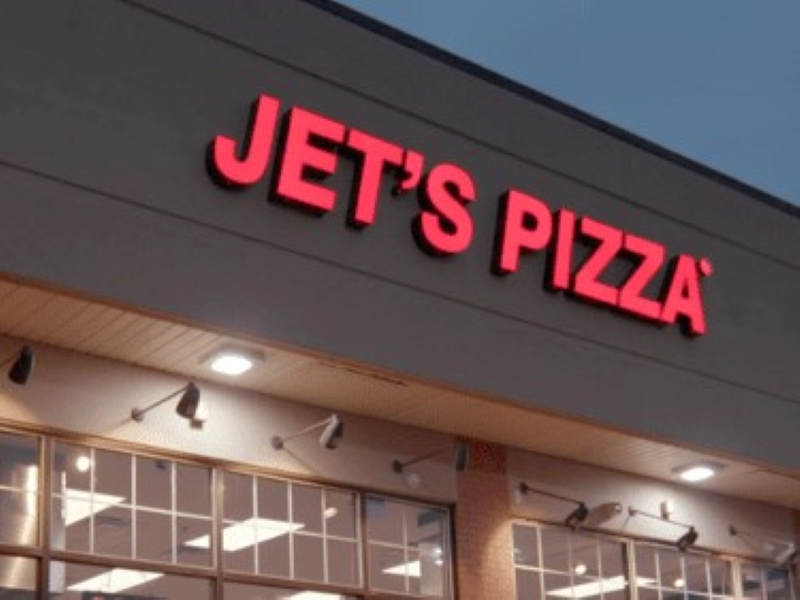 10. Jet's Pizza
An American pizza franchise restaurant, Jet's Pizza, was established in 1978 in Sterling Heights, a suburb of Detroit, and primarily serves the state of Michigan.
Brothers Eugene and John Jetts established the first Jet's Pizza in Sterling Heights, Michigan, in 1978. An abandoned party shop that was the original location was changed into a restaurant. Later, the Jetts developed other outlets and, in 1992, together with their cousins Jim Galloway, Jr. and Jeff Galloway, founded Jet's America Inc.
In 1990, the initial franchise location was opened. Jet's Pizza had 390 franchises as of October 2020, expanded over 19 states, including diners in Arizona, Georgia, Colorado, Tennessee, Florida, Illinois, Indiana, Kentucky, Minnesota, Missouri, New York, North Carolina, Ohio, Michigan, Virginia, Pennsylvania, South Carolina, Texas, and Wisconsin.
The 8-corner pizza, which Jet's has registered as a trademark, is well recognized for being made in a square deep-dish Detroit style. The store's square pizzas were a curiosity when it initially opened. The original recipe, which the Jetts' mother provided, has not been modified since 1978.
Even pizzas with cauliflower bases and no gluten are available. Deep dish pizzas with a square form are popular at Jet's Pizza.
---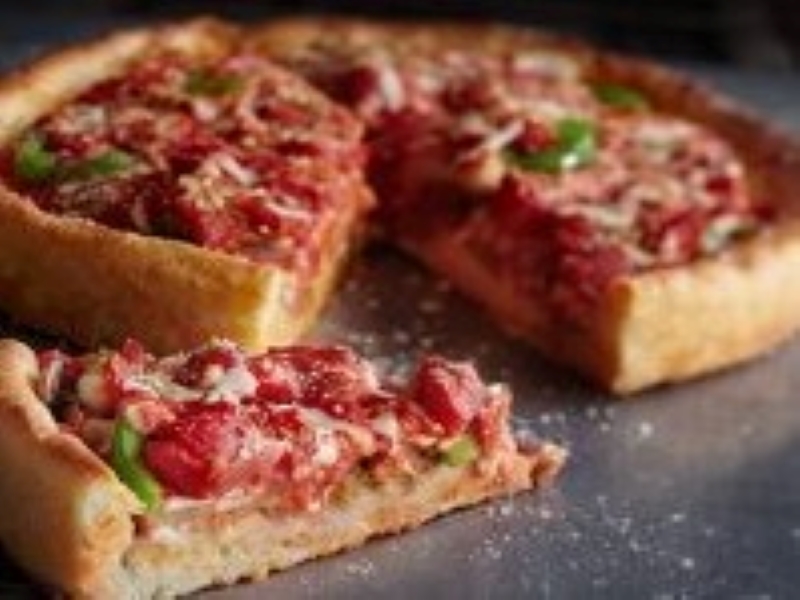 11. Uno Pizzeria & Grill
Uno Pizzeria & Grill, also known as Unos or formerly Pizzeria Uno and Uno Chicago Grill, is a franchised pizza chain restaurant run by Uno Restaurant Holdings Corporation. Best known for its Chicago-style deep dish pizza. In 1943, Ike Sewell founded the original Pizzeria Uno.
Chicago style deep dish and thin crust pizzas are their specialty. Aside from their tasty pizza, they also provide soups, salads, burgers, spaghetti, and steaks.
There are options for everyone on their broad menu. It is simple to understand why this Chicago pizza restaurant is so well-liked.
---
12. Lou Malnati's Pizzeria
Located in Northbrook, Illinois, Lou Malnati's Pizzeria is a another chain restaurant of Chicago-style pizza. One of the most well-known local pizza restaurant chains in the Chicago area, it was started by Rudy Malnati's son, who played a key role in creating the recipe for Chicago-style pizza. Lou Malnati's runs a section of its business called Lou Malnati's Presents Tastes of Chicago, a collaboration with Portillo's Restaurants and Eli's Cheesecake, which sends Chicago-style food around the country.
The business is currently owned by Lou Malnati's sons Marc and Rick, who received the recipe for the buttery crust from their father. The sausage blend is prepared using a family recipe, the mozzarella is sourced from the same Wisconsin dairy that has provided the cheese for more than 40 years, and each pizza is freshly prepared. One of those restaurants that you really must go to is this one.
---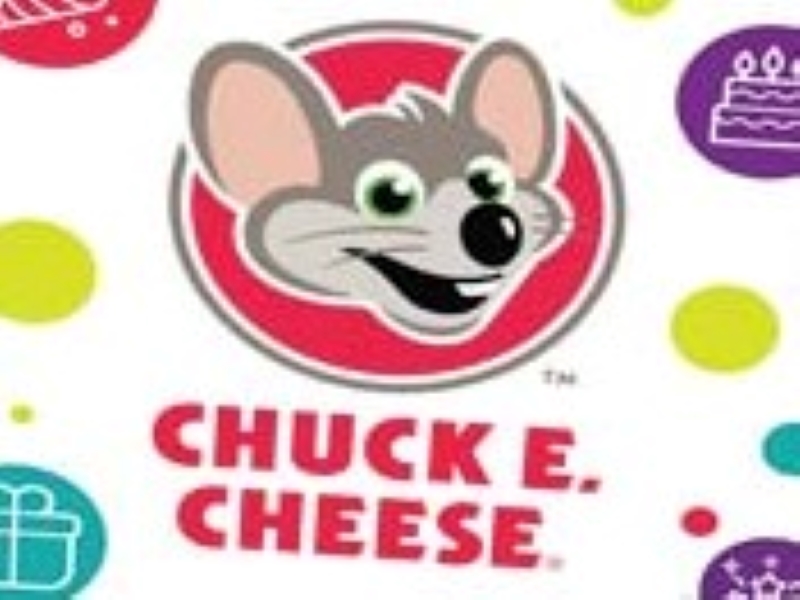 13. Chuck E. Cheese
Nolan Bushnell, a co-founder of Atari, opened the first Chuck E. Cheese family entertainment center and pizza restaurant in the United States in 1977. With head office in Irving, Texas, each site serves pizza and other foods in addition to offering arcade games, amusement rides, and character stage presentations. Animatronic performances, ball pits, and crawl tubes were once mainstays. The chain's name is derived from Chuck E. Cheese, its star and mascot. In San Jose, California, Chuck E. Cheese's Pizza Time Theatre debuted at its first site. Animated entertainment and arcade games were combined with food for the first time at a family restaurant.
All pizzas are available in gluten-free varieties, while specialty pies comprise barbecue chicken and the Cali Alfredo, which has chicken, sausage, mushrooms, spinach, and Alfredo sauce. Wings, a 30-item salad bar, cheesy bread, chicken nuggets, and subs are among the other menu items.
---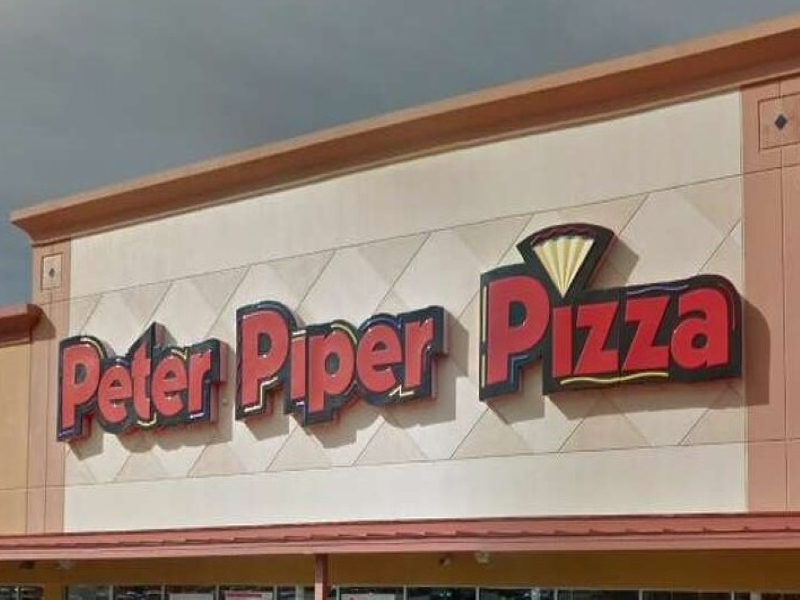 14. Peter Piper Pizza
With locations in Arizona, California, Mexico, New Mexico, and Texas, Peter Piper Pizza is an Arizona-based pizza and entertainment establishment. A spacious dining area and a game room are features of restaurants.
In addition to pizza, Peter Piper Pizza offers a wide range of other items on its menu, including salads.
Although they might not be the most expensive option, this restaurant is well-liked by families and offers good food at a reasonable price.
---
15. Little Caesars
The third-largest pizza chain worldwide is this one, behind Pizza Hut and Domino's Pizza. It runs and franchises pizzerias both domestically in the US and abroad in Asia, the Middle East, Canada, Latin America, and the Caribbean. Little Caesars pizza was established in 1959 and has its headquarters in the Fox Theatre building in Downtown Detroit, Michigan. The owner of Little Caesar Enterprises, Inc. is Ilitch Holdings.
Most famous for the tagline "Pizza Pizza! ". In addition to wings, Italian cheese bread, and Crazy Bread, it also sells round and deep-dish pizzas. It has been known to mix it up with items like lasagna pizza and a Fritos pizza, and its well-known Hot-N-Ready deal ensures a hot pizza for just around $5.
---
16. Godfather's Pizza
Fast-casual Italian franchises and Pizza Express outlets are both part of the American privately held restaurant chain Godfather's Pizza, which has its corporate office in Omaha, Nebraska.
In addition to a huge salad bar and buffet, the restaurants provide a wide selection of pizzas (including Bacon cheeseburger and Taco pie), breadsticks, chips, cookies, and pastas. They provide the Original, Golden, Mozza-Loaded, and Thin varieties of crust. The chain began selling rice-flour-based gluten-free pizzas (prepared from gluten free crusts and toppings) in January 2010.
---
17. Marco's Pizza
Italian-American food is the focus of Marco's Pizza, a multinational restaurant franchise that is based in Toledo, Ohio. On Starr Avenue in Oregon, Ohio, the first store was established. Pasquale "Pat" Giammarco, an immigrant from Italy, established it in 1978.
There are delivery and takeout choices for the Marco's Pizza menu, and some locations also provide dine-in and catering services. Pizza, sandwiches, wings, salads, CheezyBread, CinnaSquares, pizza bowls, and brownies with the Ghirardelli brand are all on the menu.
White Cheezy, one of Marco's specialty pizzas, was awarded first place in a California gourmet competition.
Pizzas such the Chicken Florentine, Pepperoni Magnifico, Chicken Fresco, Spicy Fresco, and Double Pepperoni Spicy Fresco are featured on the Marco's Pizza menu from time to time. The giardiniera, an actual Italian pepper relish, that Marco makes especially for the Fresco pizzas is its distinguishing component.
---
18. Papa Murphy's
In Vancouver, Washington, there is a take-and-bake pizza business called Papa Murphy's. Papa Aldo's Pizza, founded in 1981, and Murphy's Pizza, established in 1984, a local take-and-bake pizza business, merged to form it in 1995. . More than 1,300 locations are run by the company and its franchisees throughout the United States, Canada, and the United Arab Emirates. The fifth-largest pizza chain in the country is Papa Murphy's.
Orders can be placed over the phone, online, or in person. Customers can pick up call-in orders at some establishments' drive-thru windows. The pizzas are produced at the store, but they are not baked there, in keeping with the take-and-bake approach. Customers instead bake the pizzas themselves.
Pizza is the primary focus on Papa Murphy's menu, and they are a well-liked option.
Their "take and bake" method of serving pizza sets them apart from other chains. It is their signature pie. Basically, the pizza is picked out by the client, who then bakes it at home. There are all the traditional pizza options, such as loaded pies, gluten-free crusts, and keto-friendly "crustless pizzas", as well as baked goods including cinnamon wheel and chocolate chip cookie dough that you can make at home.
---
19. Shakey's Pizza
Another pizza restaurant chain with headquarters in the US is Shakey's Pizza. It was the country's first franchised pizza chain when it opened in 1954. The chain had 342 outlets in 1968.
Try their Shakey's Special, which includes ground beef, Italian sausage, salami, mushrooms, and black olives. Get some of the sliced, battered, and fried Mojo potatoes as well.