A Buffet is a meal wherein the foods are displayed either in a long table or sets of table. A buffet restaurant on the other hand is also known as "All you can Eat" restaurant. A restaurant wherein customer usually pay a fixed price to eat everything that is displayed on the table and you can visit the table and fill your plates as much as you want. With Buffet, there are wide variety of dishes to choose from such as starters, main dishes and even desserts. Almost all countries have Buffet restaurants but the best buffet restaurants can be found in the United States. In today's guide, let us take a closer look at the best buffet restaurant in the United States.
What makes a Buffet restaurant great?
Before we will tackle the best buffet restaurants, let us first talk about what makes Buffet restaurants great.
With Buffet restaurants, a wide variety of dishes to offer. This means that, there should always be something for everyone. Not only should a buffet restaurant have everything you need but the food should also look great and tastes good too. Most of the time, Buffet restaurants closes simply because the food is not delicious and the food is not presentable.
To make a good buffet restaurant, unlimited trips should also be considered. All you can eat restaurant means that you can have as much food on your plate as you can or you can do unlimited trips to the buffet bar. Some Buffet restaurants do not offer unlimited drinks, but would it be great if there will be unlimited drinks too? There are some restaurants who are also offering unlimited soft drinks and juices.
Aside from the food and unlimited trips, a good buffet restaurant should also consider the price. A good buffet restaurant price should also be based on the dishes displayed on the buffet bar. When the factors mentioned are being considered, it will definitely turn out to be a good buffet restaurant and will most likely succeed in the line of business.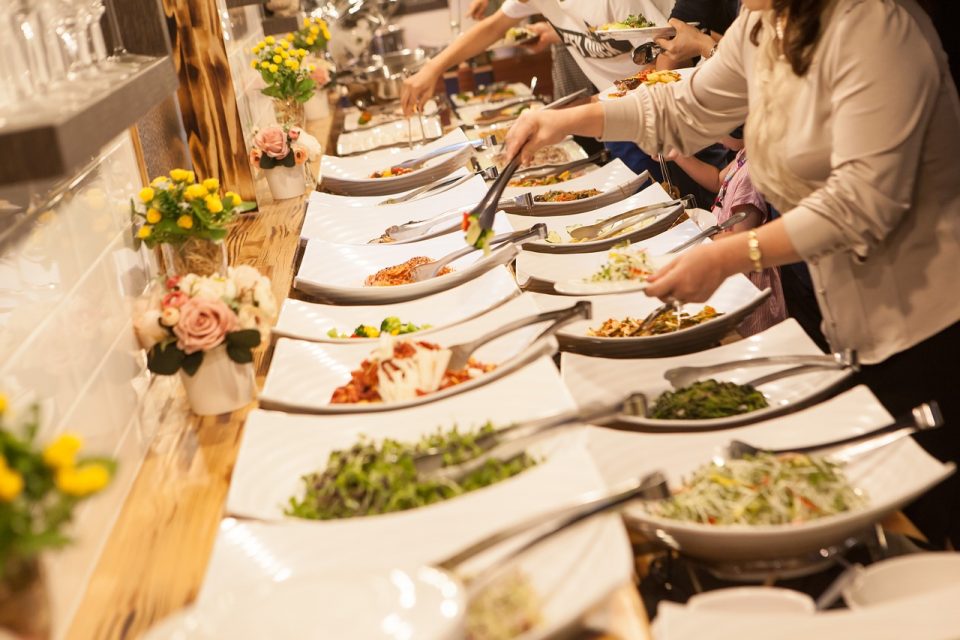 Best Buffet Restaurants
Let us now take a closer look at some of the best buffet restaurant that can be found in the United States.
Bacchanal Buffet Restaurant
The Bacchanal Buffet is located in Caesars Palace in Las Vegas, Nevada. Although it is not only the best buffet restaurant in Las Vegas but is considered to be the largest buffet restaurant in the city.
Bacchanal Buffet in Las Vegas has a massive nine kitchens and 15 chefs per day with dozens of meat dishes, salad, desserts and side dishes to choose from. The food served are from wide variety of cuisines such as Asian, Mediterranean and includes wide choices of seafoods and sushi bars. There are some buffet restaurant that do not offer fresh foods, but in Bacchanal Buffet restaurant quality of food is guaranteed.
The Buffet restaurant had a major renovation last March 2020, but at present it is again open to the public but of course health protocols and safety measures are still being observed in this restaurant. Although it may not be an affordable buffet, usually costs you around $64.99 per head but it is definitely worth the price as it is one of the best Buffet restaurants in the City.
Red Apple Buffet
The Red Apple Buffet is located in Avondale, Chicago was first opened sometime in year 1989. After a few years, Red Apple Buffet opened their second location located in Norwood park. But unfortunately due to issues with managing two locations, in 2019 the original location was closed then in 2023 the Norwood park location was also forced to close temporarily. Due to high demands from customers and loyal customers as well, the restaurant opened again and resumed its operation after 16 months of being closed.
For more than 30 years now in the line of business, it is still known to provide not only affordable buffet but serving absolutely delicious European and Polish cuisines. Although Chicago is not known for its buffets as compared to Las Vegas, but still there are still a number of buffet restaurant available in the City.
Polish cuisines is usually served in Red Apple Buffet where the Classic Pierogies is that staple food. But the most popular choice of dishes are the tilapia, roasted beef, baked chicken and chicken noodle soup.
Although fancy dishes is not served in this restaurant, but with an affordable price of just $30 per head the restaurant still delivers what other buffet restaurants can and that is delicious food, good variety and excellent service. After all, isn't that what every buffet restaurant should possess and that is still enough for the restaurant to succeed.
Golden Corral
Golden Corral is on of the biggest buffet chains in America with over 500 buffet restaurants. It was in 1973 when Golden corral started its buffet business located in Fayetteville, North Carolina.
It is also considered to be one of the best in this line of business simply because Golden corral has all the factors and criteria that a good buffet restaurant has and that is affordable price, delicious food.
Pizza Hut
Pizza hut is known to make the best pizza. Pizza hut buffet is not your typical buffet meal since Pizza hut buffet offers unlimited pizza and unlimited salad. Buffet in Pizza is not on a daily basis but rather is available only during lunchtime between Mondays to Fridays.
Shakey's Pizza
The buffet in Shakey's pizza is similar to that of Pizza hut mentioned above. Buffet style in Shakey's pizza is usually offered during lunchtime, as lunch buffet therefore for unlimited pizza and other dishes in Shakey's, go to this place during lunch time usually between 11am to 2pm.
In Shakey's buffet, wide selection of foods to choose from: hot pizza to crispy Mojo to healthy salad option and pasta as well. Fried chicken is also included in the buffet menu.
Sizzler Buffet Restaurant
Another best buffet restaurant in USA is the Sizzler restaurant. The price for their buffet depends on the time of the day, cheaper during lunchtime than when you go there during dinnertime.
Sizzler Buffet first started as a restaurant that offers all you can eat shrimp, but since then it has now extended to offer more choices of delicious food.
For buffet restaurants with different varieties of food offerings, Sizzler buffet is the perfect place for you.
The Buffet at Wynn
Another best buffet still located in Las Vegas strip is the Wynn Las Vegas resort and Casino. It is also an all you can eat buffet similar to other popular buffets in the city. Food options for buffet at Wynn includes 90 different delicious meals and dishes. What's more, it also has 16 live food stations where you will have to choose live foods and will let the chef's cook the food right then and there, freshness as its best. Aside from that, side dishes are also available as well.
The Buffet at Wynn is not only for lunch or dinner time but you can also enjoy breakfast buffet with lots of delicious breakfast meals to choose from. From omelets to pancakes to eggs with your choice of toppings and fillings too.
When it comes to buffet price, it actually depends on the time of the day. Head over to Wynn Las Vegas Resort and Casino for that mouthwatering buffet meals that will surely satisfy your palette.
Jacob Restaurant
Heading over to New York is the popular Jacob restaurant. A buffet restaurant located in Harlem, New York.
The Buffet restaurant features different varieties of food choices from different cuisines such as Caribbean, Southern and Continental dishes to choose from. Unique dishes such as oxtail and turkey wings are available too, along with comfort foods such as spaghetti in meat sauce, pork chop and a whole lot more.
Jacob restaurant also offer cold salad bar and hot bar. With Cold salad bar, it is where foods for vegans and vegetarian are displayed.
Most of Buffet restaurants pay a set price for the entire meal but with Jacob restaurant it is quite unique. Customers are paying by the pound after selecting the foods they like.
Shady Maple Smorgasbord
Another large buffet restaurant in the United is the Shady Maple Smorgasbord conveniently located in East Earl Pennsylvania. If you are looking for a delicious and authentic Pennsylvania Dutch classic meal, then Shady maple smorgasbord is your restaurant of choice.
The restaurant is over 200 feet that features different stations such as stations for seafoods, stations for omelet and there is also stations for carvings and a whole lot more.
What's unique in Shady maple smorgasbord that people keeps coming back is how the food options is changing constantly. This means that different foods options are being served every night. That is why when it comes to buffet pricing, it also depend on the night, for example:
Thursdays Shrimp and Steak & Rib night at $20.99 per head.
Tuesdays Seafood night at $26.99 per head.
Breakfast Buffet that ranges between $11.99 to $15.99 per head.
Sirloin Stockade
Sirloin Stockade is a an all you can eat buffet steakhouse serving both hot and cold dishes. It is an American family restaurant that was founded in Oklahoma City way back 1966.
In 2016, the company has around 80 restaurants operating in different cities across the United States and in Mexico.
Although at present, there have been a few Sirloin stockade restaurants that was closed for some reason but nevertheless Sirloin stockade has already gained its popularity over the years.
In Sirloin stockade, the food choices for their buffet focuses on meat such as ribs, steaks and beef briskets. You know where to go if you want extra protein in your diet. Loyal customers claims that the meat dishes are simply irresistible but what has come to their attention and makes them keeps coming back are the side dishes such as corn in the cob, sweet potato casserole and the famous mac and cheese.
Charley's Buffet
Charley's Buffet restaurant is located in Lincoln, Missouri. The restaurant offers wide variety of hot and fresh American comfort foods and sides dishes such as green beans, mac and cheese. Main dishes also includes pork chop and fried chicken. When it comes to dessert, Charley's buffet also offers pies, puddings and a lot more.
At present, opening hours for Charley's buffet are on Fridays and Saturdays only with opening time between 4:30 pm to 8:30 pm only. No wonder if you happen to pass by this restaurant you will clearly see long lines of customers waiting for their turn to get inside the restaurant and experience the buffet choices it offers.
Carolina Restaurant
Carolina Restaurant is located in Chesterfield, South Carolina. If you are looking for the best steaks in the area, you might want to try this restaurant.
Souper salad
Souper Salad is not your typical Buffet wherein all the different dishes are displayed but in Souper salad it offers unlimited soup, salad and unlimited desserts too.
At Souper salad, the menu is constantly changing. That means, the menu on their salad bar is changing everyday. Although during holiday season, they also offer seasonal buffets. For unlimited soups and salad but on a limited budget, Souper salad is the perfect place.
Dakotah Steakhouse
Dakotah Steakhouse is located in Rapid City, South Dakota. You can easily spot an authentic Dakotah Steakhouse because of its unique buffalo icon. From the name of the restaurant suggests, steak is the specialty of this restaurant. Although they also have other food choices that are also delicious such as Walleye Fingers and Elk Ravioli.
Captain George
If you are looking for the best seafood Buffet, you can go Captain George's restaurant located in the East Coast. With wide selection of seafoods to choose from with a price per head at $47.99/adult.
There are other Captain George's location for you to try:
Virginia Beach, Virginia
Kill Devill Hills, North Carolina
Myrtle Beach, South Carolina (can accommodate up to 1,050 guests)
Williamsburg,Virginia
Seafood choices on their menu includes shrimp, steamed and stuffed clams, snow crab legs, mussels, crawfish, and deviled crabs. Although Captain George is known for its seafood buffet, they are also offering meat choices as well such as beef brisket, sirloin steak, rice, mac and cheese and different varieties of soup and so much more.
Western Sizzlin
At Western Sizzlin buffet restaurant they offer different selection of food, over 100 menu options to choose from. After all, good food and plenty food is what's make a a good buffet.
Food options ranges between sides, salads, steaks and a whole lot more. No wonder Western Sizzlin restaurant is well known in the buffet line of business.
Buffet doesn't have to be expensive, in Western Sizzlin the price is budget friendly and affordable.
Huhot Mongolian Grill
Huhot Mongolian Grill is different from other buffets in a sense that it does only offer different cuisine but rather it is not actually a buffet restaurant (going back to buffet tables every now and then).
When you dine at Huhot Mongolian grill, the experience is unique. Customers are given with a list of ingredients to choose from. Then the chef on the restaurant will prepare the dish for you. Although if you are not a fan of Mongolian cuisine, this restaurant may not be for you.
The Ranch Steakhouse
The Ranch Steakhouse is located in North Dakota. Being popular and known throughout the years of serving quality food, the restaurant still maintains its image of looking like an old barn as it was when it first started way back 1946.
Shoney's
If you are the type that simply wants to indulge in everything a buffet restaurant has to offer, head over to Shoney's. Not only are they offer regular meals but they also have fresh food bar where wide variety of delicious foods are displayed.
The restaurants starts to operate in the morning, so you will also have breakfast options to chose from that ranges from seafoods, vegetables, fresh salads and more.
North Country Steak Buffet
North Country Steak Buffet is located in La Crosse, Wisconsin. In this restaurant, wide selections of chicken, steaks and other meat options to choose from at very affordable prices.
In this restaurant, there is a set of different bars such as taco bar, dessert bar and cold salad bar. But the most promising part of this restaurant is the grilling section. In this section, you choose from the selections of meat options such as burgers, sirloin steak, chicken and pork chop and as the chef to grill it for you.
The price for the buffet depends on the time of the day you will dine in. When eating on a Sunday, dinner costs around $14.99 and lunch costs around $12.99. Very affordable as compared to other buffet restaurants and steakhouses.
Honey Pig Korean BBQ
Who says buffet restaurant is only limited to American foods, in Honey Pig Korean BBQ restaurant you will have wide selection of popular and authentic Korean dishes such as bulgogi, spicy chicken, spicy squid, kimchi, beef brisket and pork neck. The all you can eat Korean Buffet is located in Rockville, Maryland.
In this restaurant, only the meat and seafood dishes are all you can eat but if you want additional dishes such as noodles, eggs, soy bean paste stew it will costs you additional price too.
King's Buffet
Ever thought of indulging into Chinese dishes, try King's buffet if you happen to be in Los Angeles. A modern buffet restaurant that offers wide selection of Chinese dishes.
This place is not only popular but affordable as well. Lunch buffet during weekdays only costs you $10.00 per head while dinner buffet costs around $15.99. While on weekends, buffet is at $16.99 per head.
King's Buffet offers long table for large groups or for special occasions.
Wicked Spoon Buffet
Las Vegas is known for different buffet restaurants we have another one called Wicked Spoon Buffet located in The Cosmopolitan Resort and Casino in the City.
With its oversized buffet displays, you will find different dishes such as Cajun shrimp, pizza, green chile tamales and so much more. Steamed crab legs can also be found in this restaurant.
Wicked Spoon Buffet in Las Vegas is open only for breakfast and lunch while during the weekend the restaurant is open for brunch. The price to pay if you want to dine-in in this restaurant varies with the time you dine in. For breakfast, price is $38 (adult), while during lunch time price is $45 (adult). During the weekends, the price for the buffet will costs you around $49 per head. However if you want a taste of their special drinks such as Champagne and Mimosa, there's an additional fee of $21.
Borgata Buffet
While most of the casino buffets are located in Las Vegas, there is another casino buffet located in the Atlantic City in New Jersey. This restaurant is open daily from breakfast till dinner on weekends and brunch on the weekend.
Borgata Buffet is located in Borgata Hotel, Casino & Spa. Same as with other buffet restaurants, Borgata buffet closed down temporarily because of the pandemic but thankfully it reopened its doors in 2023 while maintaining health protocols as well.
The restaurant offers wide selection of America's comfort food, fresh seafood, desserts and a lot more.
Conclusion
Aside from the lists of the best buffet restaurant mentioned above, there are still a lot of buffet restaurants you can find in the United States. If you are into "all you can eat" experience, do check out the lists above and find out which one is the best buffet restaurant for you.
Which from the lists above have you tried and which one is your favorite? Let us know what you think.