For many years now, chopsticks have become a popular eating utensil in Asian countries like China, Korea, Japan and Vietnam. However due to the popularity of these countries cuisine, chopsticks is now being used in countries with other east Asian cuisines. Chopsticks are also made using different materials such as wood, bamboo, steel, and plastic. Using chopstick differs with every individual, but most of the time it is placed on a person's dominant hand and then in between the thumb and the fingers.
* If you buy through links on our site, we may earn an affiliate commission. For more details, please visit our Privacy policy page.
In today's post, let us talk about what you need to know about chopsticks and the different types of chopsticks that you can find in the market. Links are also provided if you want to purchase one.
Different Types of Chop Sticks
At some point in our life, we may have used chopsticks as a eating utensils right. But did you know that there are different varieties of chopsticks out there.
Not to worry, in this guide we will show you what are the different kinds of chop sticks.
Differences Between Chinese, Japanese And Korean Chopsticks
Before we proceed with the types of chopsticks, let us first tackle some interesting facts about the difference of these authentic chopsticks according to the different Asian culture. Chinese, Japanese and Korean chopsticks slightly differs in length, material and difference on the its end or tip.
China
Chinese Chopsticks differs from the rest since it is made longer and thicker than Korean Chopsticks and Japanese Chopsticks.
The length of Chinese Chopstick is usually 25cm long with squared or rounded sides and the ends are either blunt, wide or flat tips. Blunt tips are more common for plastic chopsticks while on the other hand tapered pointed tips are more common for chopsticks made out of wood or bamboo
Chinese chopsticks are made bamboo, plastic, wood , metal chopsticks or pure silver chopsticks.
Since Chinese chopsticks makes food stop slipping, you will be able to hold Chinese food, salad, noodle, sushi and other Chinese cuisine hassle free.
Japan
In Japan, the chopsticks made are shorter than Chinese chopsticks and the ends are pointed or rounded. Most of the time, Japanese chopsticks are made out of lacquered wood or bamboo that appears to have a shiny finished.
Most of the Japanese diet consists of large quantities of fish, mostly bony fish. With that, pointed chopsticks come in handy when removing those bones from the fish even the small ones.
It is also observed that there are places in Japan that usually give a more shorter chopsticks to women and children but giving a long chopsticks to men.
Korea
Korean chopsticks are made to have a flat rectangular shape with a medium-length. The Koreans usually uses chopsticks that are crafted from silver chopsticks, korean metal chopsticks and brass.
Most of the Korean chopsticks have designs or are ornately decorated mostly at the grip of the chopsticks to make it look more appealing.
Types of Chopsticks
Bamboo Chopsticks
Bamboo is the most common material used for making chopsticks nowadays because perhaps Bamboo is more affordable, readily available and considered to an appropriate material in making Chopsticks. Aside from that it is non toxic and pesticide free as well as eco friendly.
However, Bamboo chopsticks does not usually lasts long with repeated use. It can deteriorate in time. That is why most of the time, Bamboo chopsticks are considered disposable chopsticks and used mostly in Asian restaurants and to-go foods.
Another subtype of Bamboo Chopsticks are the carbonized bamboo. It means that different patterns can be printed on the chopsticks and it can also darken the color of the natural bamboo to make it more durable.
Wood Chopsticks
Wooden Chopsticks are different from bamboo chopsticks because the materials used to make it is made of hardwood. Examples of hardwood includes boxwood, wood, ebony, birch wood, snake wood and red sandalwood.
Chopsticks made from hardwood tends to be lightweight and more durable. However, be careful when purchasing wooden chopsticks as some just happens to be painted with artificial colors instead of its original color of the wood.
Steel Chopsticks
Since it is made of steel, it is durable and does not break nor gets damaged. Steel chopsticks are also water resistant, non corrosive and will last even with continued use.
Silver Chopsticks
Considered to be an item of luxury and an idea gift to give for family and friends. If you want to make it more appealing and attractive, carvings and designs can also be added to the silver chopstick.
Plastic Chopsticks
Plastic Chopsticks is an ideal utensil for large gatherings that requires numerous pieces of chopsticks to be used. Aside from that, since it is lightweight you can carry it with you when travelling.
Plastics tends to melt at high temperature, we all know that right, therefore plastic chopsticks should never be used when cooking.
These type of chopsticks are not so popular though and rarely used as they are not eco friendly.
Melamine chopsticks
These are chopsticks made with plastic or melamine varieties. Considered to be study and strong and since it is dishwasher safe, most of the restaurants use this type of chopsticks.
Best Chopsticks to buy
Now that we have covered the different types of chopsticks according to its size and materials used, we have gathered a few Chopsticks suggestions that you can find in the market if ever you are planning to purchase a chopsticks. The links are also included on each of the items listed below.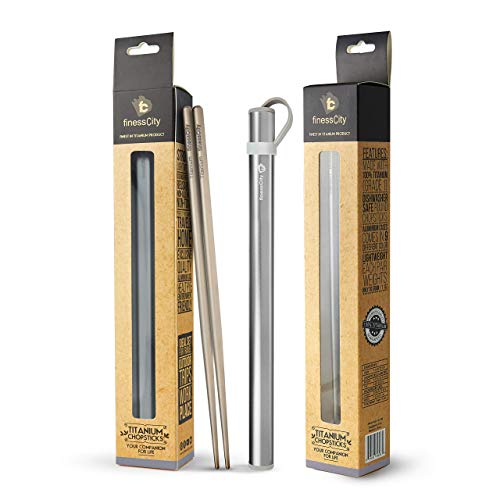 These chopsticks are lightweight (0.5 0z) and easy to hold and handle. Each set contains 1 pair of 9 inches in height chopstick and an elegant chopstick case.
The titanium chopsticks are reusable and of course dishwasher safe for easy cleaning and washing.
Titanium chopsticks made from FinessCity are non corrosive, eco friendly and durable. It comes in different colors to choose from. It has a round edge which means it is the perfect choice when eating sushi rolls, noodle soup and eating rice.
Since it has its own strong aluminum case, you can bring it with you anywhere such as travelling or camping.
Buy it now on Amazon
---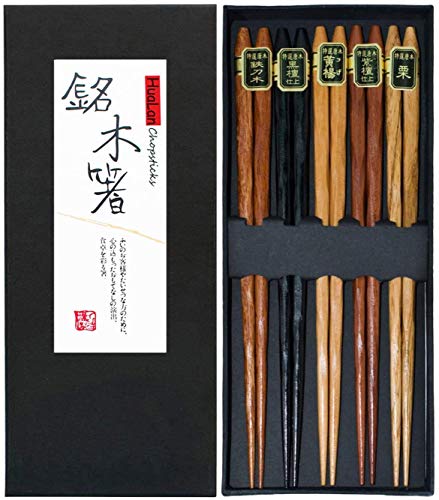 These chopsticks are lightweight weighing just about 13.6 grams is an excellent chopsticks to use for as training chopsticks beginners. The set includes 5 pairs of different lacquered colored chopsticks that are 8.8 inches long (2.5 cm).
A natural wood chopstick made from using 5 different varieties of materials such as chestnut wood, box wood, ebony wood, cherry wood and rose wood.
Buy it now on Amazon
---
A stainless steel chopsticks with a little bit of silver tone with a swirly design on the hand grip for a more comfortable experience and so that you can easily pick up the Asian food.
The set includes 5 pairs of stainless steel chopsticks with a length of 8.8 inches long.
Buy it now on Amazon
---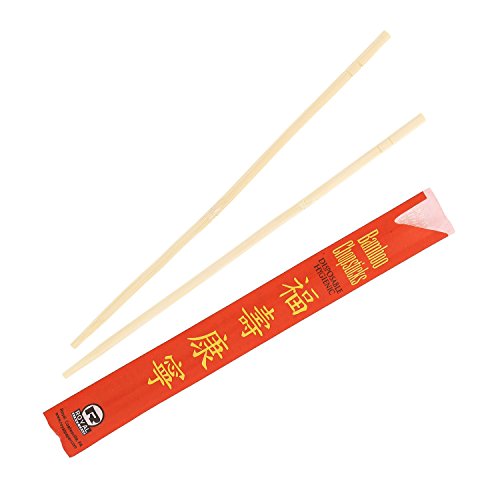 The set includes 9 inches 100-pieces of disposable bamboo chopsticks, each pair is placed in a purple paper sleeve packaging. At the back of the packaging of each sleeve has a guide on how to use the chopsticks. Since each pair has its own sleeve and are disposable chopsticks, most restaurants prefer to use this.
Also, sanitary wise the chopsticks are clean to use and because of its individual sleeve that are all UV treated there is an assurance that the chopsticks did not in any way the staffs have direct contact with the chopsticks.
Most of the chopsticks are still attached to each other, but not this one. These are already separated, therefore splintering is prevented.
Moreover, most disposable chopsticks helps the restaurant from saving it the time from cleaning up used and reusable utensils.
Buy it now on Amazon
---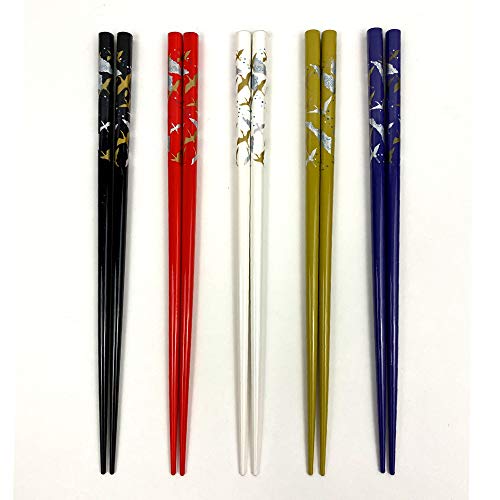 These chopsticks measures about 9 inches and are made out of Bamboo material. It is dishwasher safe for easy cleaning and washing of the chopsticks, to prevent the coating from damage it is recommended to do handwashing method when cleaning the chopsticks.
The set includes 5 pairs of reusable chopsticks. A great choice of chopsticks for Chinese people, Japanese, Korean and Vietnamese foods. Each chopsticks have a different colors to choose from and can be an ideal gift for occasions.
Buy it now on Amazon
---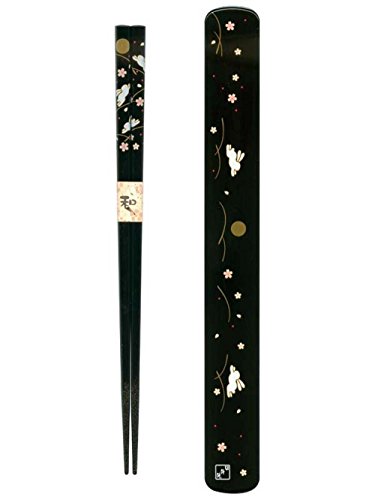 The Chopstick set includes a pair of lacquered wooden chopsticks colored as black and a chopstick box for the pair. The chopstick box is also black with a rabbit design. Since these chopsticks have its own case, you can carry it around with you and even bring it with you in the restaurant and use your very own chopstick when dining.
The decorative box can be a perfect gift for special occasions.
Buy it now on Amazon
---
This one right here is the favorite for most Hello Kitty fanatics. These cute Silicon made chopsticks with a hello kitty designed holder is 16.5 cm long and weighs about 30 grams. The materials used for the chopstick is made from methacrylic resin while the holder is made from silicone resin.
Buy it now on Amazon
---
FAQ
How many countries use chopsticks?

Chopsticks are commonly used in Asian countries such as China, Japan, Korea and Vietnam

What are the different varieties of materials used?

Chopsticks are made using different materials such as bamboo, plastic, wood, steel and silver.
Conclusion
There are different varieties of chop sticks that can be used in different styles and occasions. There are disposable chopsticks, household chopsticks, restaurant chopsticks and chopsticks that can be given as a gift. I hope this guide has helped you understand the differences and similarities of the different chop sticks.
* If you buy through links on our site, we may earn an affiliate commission. For more details, please visit our Privacy policy page.