If you enjoy bubble tea, you've probably experimented with making your own milk tea and tapioca pearls. Have you ever prepared homemade bubble tea and realized you had more than you could ever consume?
* If you buy through links on our site, we may earn an affiliate commission. For more details, please visit our Privacy policy page.
Discover how to store bubble tea, bubble tea tapioca pearls (both cooked tapioca pearls and uncooked tapioca pearls) in this article. If you're interested in learning more, scroll down and read on.
Can Boba Be Refrigerated
What Is Boba Tea?
Its alternative names are boba, boba milk tea, pearl milk tea, tapioca tea, tapioca milk tea, or bubble tea. This popular drink originated in Taiwan in 1980s. It is a tea-based beverage that is often made with tea and chewy tapioca balls, also known as boba, pearls, or boba pearls, though it may also be made with other ingredients like red beans, grass jelly, aloe vera, etc.
Bubble Teas are popular beverages nowadays. Most bubble tea shops offer different flavors of boba tea, and variations of bubble teas typically include black tea, oolong tea, green tea, and occasionally white tea.
Most boba tea shops give buyers the choice to choose the amount of sugar or ice in their beverage. You have the option to choose 25%, 50%, 75%, or 100% sugar level in your drink. As for the ice, you can choose, no ice, less ice, or regular ice.
---
What Are Tapioca Pearls?
One of the most common ingredients of boba tea is Tapioca pearl. Tapioca starch, which is used in making tapioca pearls, is acquired from the cassava root. They are used to create the delightful translucent and chewy texture, tapioca balls.
Water, sugar, or another type of sweetener like honey can all be used to make tapioca pearls to enhance their color and texture. There are many different flavors and sizes of tapioca balls, including translucent, popping, little, and black ones. The most common way to sweeten tapioca pearls is to soak them in sugar syrup.
Tapioca pearls, sometimes referred to as boba, are typically added to a variety of beverages, including milk tea, bubble tea, iced coffee smoothies.
---
Can You Store Tapioca Pearls In The Fridge?
Yes, you can actually keep them in the fridge. If you want to store cooked tapioca pearls, just follow these simple methods below.
Store your cooked boba tapioca pearls in the freezer to increase their longevity.
Tapioca pearls can be cooked in big quantities, used as needed, and then the remaining cooked tapioca pearls can be stored in the freezer.
By using this method, you may preserve the consistency and chewiness of your cooked tapioca pearls for a longer period of time.
If you decide to cook you tapioca pearls, do so normally.
Next, put the cooked tapioca pearls in a zip bag.
Next, empty the bag of all the excess air. It is much better to use a vacuum sealer to completely eliminate all the air from your zipper bag. A vacuum sealer would make your food last for a lot longer.
Place the bag in the freezer flat and let it freeze.
Once you decide to use the tapioca pearls, get it out of the bag, and simply put it in a bowl of boiling water.
You must wait a few minutes for the water to boil. The frozen pearls will practically soften as a result.
After that, the tapioca pearls should be strained and rinsed.
You may now mix it into your sugar syrup or boba tea, iced coffee, or smoothie.
---
Store cooked tapioca pearls in the fridge.
Another way to store your tapioca pearls is to place it in the fridge. Place them in your simple syrup and move them to an airtight container or wrap them securely in plastic wrap. They can only be kept in the refrigerator for only 36 hours.
The tapioca pearls will gradually start to harden and get crunchy in the center if you give them longer time than 36 hours.
---
Keeping Tapiocal Balls At Room Temperature
The quality of tapioca pearls is finest when consumed immediately after cooking. Tapioca Pearls should be kept at room temperature for a minimum of 4 hours.
Keeping tapioca balls at room temperature for more than 4 hours will cause the pearls' quality to deteriorate.
In order to avoid having to refrigerate or freeze the Pearls, try to only prepare tiny portions that you are certain to consume in the four-hour window.
---
How To Store Uncooked Tapioca Pearls
Storing Sealed Or Packed Tapioca Pearls
Typically tapioca pearls are opaque when uncooked, and become translucent when cooked.
Many uncooked tapioca pearls or boa pearls, are sold in airtight containers that should be kept in a cool, dry place, such as a pantry or closet, where the temperature stays below 77 °F.
Packed boba pearls that has not been opened is thoroughly dehydrated and will remain for months or even years in your pantry. Additionally, if you place them in the refrigerator, they will unavoidably absorb moisture from the condensation.
If you check the details on the pack, they have an expiration date, so you should consume the tapioca or boba pearls before it expires.
---
Storing Uncooked Tapioca Pearls After Opening
In case you are going to open your bag of uncooked tapioca pearls, and if you don't intend to use them all, you should follow the instructions below to maintain its freshness.
Remove all the extra air from the remaining ingredients before sealing the bag in a food-safe plastic. then keep it somewhere dry and cold.
As much as possible, try to cook any remaining uncooked pearls within two days for the best quality.
Note
To prevent the tapioca balls from sticking together during cooking, carefully stir the them. The majority of brands call for either soaking the balls overnight or heating them in water.
---
How To Maintain Fresh Boba Tea Overnight
You can keep your milk tea in the fridge. If your milk tea is still fresh, it will last for around 24 hours in the fridge. Bear in mind that fresh bubble tea tastes best when you drink it immediately. However, if you must keep bubble tea in the refrigerator, try to consume it before the whole 24 hours have passed.
Be aware that the tapioca pearls will also alter after being kept in the refrigerator if you are preserving bubble tea that has previously been blended with them. It is great if you can preserve the liquid bubble tea without the tapioca pearls because they do not keep as long as the other components of the bubble tea.
If you wish to keep the bubble tea in the fridge, it could be a good option to drain off the tapioca pearls. The milk tea will still taste fine the next day even if you won't be able to have the tapioca pearls with it.
---
The items listed below are the best you can buy online to make a great milk tea.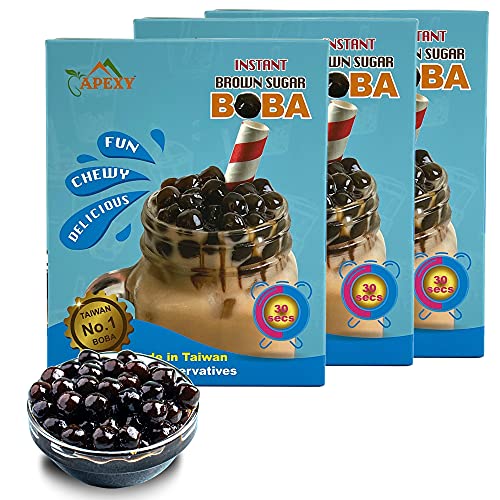 Brand: APEXY
Specialty: Gluten Free, Vegan
Material Feature: GMO Free, Gluten Free, Vegan
Package Weight: 1.37 Kilograms
Item Form: Pearls
Real boba that is flavorful. This APEXY instant boba pearls contains delicious, high-quality boba that you can create at home and that pairs well with boba tea, milk, sweets, ice cream, and other savory treats.
Quick Microwavable Boba. With little effort, you may easily make your own DIY boba tea. In fact, all it requires is a quick 30 second microwave heat-up to make it fresh and ready to eat. No mix or sugar is required.
Delicious, chewy, and sweet. Their boba pearls have a smooth, sweet taste reminiscent of syrupy brown sugar. As soon as you slurp it up the straw, you will enjoy each and every taste.
If you want to purchase this product, simply click on Amazon
---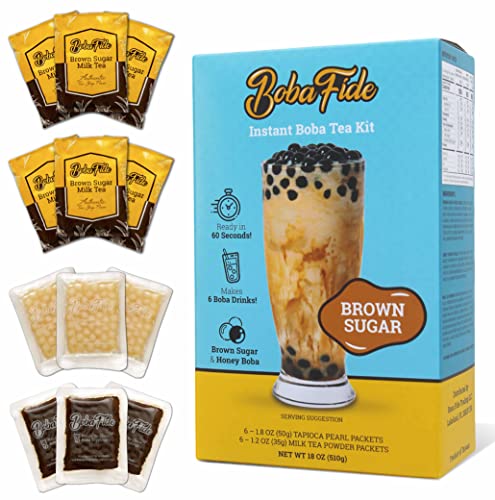 Brand: Boba Fide
Item Form: Powder
Flavor: Brown Sugar
Tea Variety: Black
Weight: 11.64 Ounces
It contains two chewy boba variants. They include traditional boba in brown sugar syrup and white boba in genuine honey syrup in their bubble tea kit. That is twice as much irresistible chewing delight.
Perfect for boba lovers. This product is hassle-free and suitable for children. Enjoy delicious bubble tea by boiling boba or put it in the microwave for 25 seconds. A simple activity that may be enjoyable for both parents and children.
Their boba making kit delivers mouthwatering tea shop flavor in the convenience of your own home and is made in Taiwan from premium ingredients that are free of gluten and preservatives.
If you want to purchase this product, just click on Amazon
---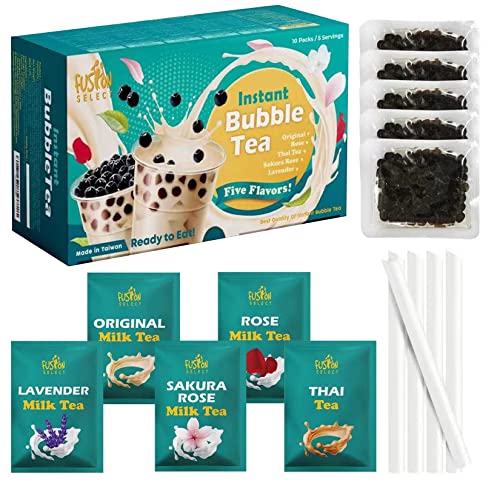 Brand: Fusion Select
Item Form: Powder
Flavor: Mix Floral
Tea Variety: Lavender
Unit Count: 1.00 Count
Each box includes 5 packs of flavored powder mix, a choice of Original Milk Tea, Rose Milk Tea, Sakura Milk Tea, Lavender Milk Tea, or Thai Milk Tea. It also includes 5 straws. You may share and savor this delicious beverage with your loved ones.
Easily prepare your milk tea in just 45 seconds. Their creamy quick boba milk tea, which is ready to drink in 45 seconds, will satisfy your milk tea need in less than a minute. To enjoy your preferred beverage, you no longer need to go out.
Their product may be used to create blended frappes and smoothies as well as hot and iced milk tea beverages.
Buy this product now on Amazon
---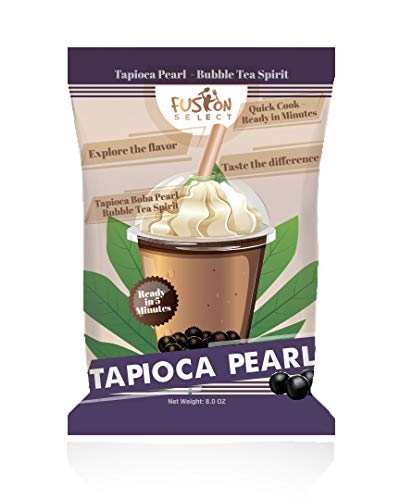 Brand: Fusion Select
Flavor: Black Sugar
Tea Variety: Black
Number of Items: 1
Making Fusion Select Tapioca Pearl is quite simple. You can quickly make delicious bubble teas by following the simple instructions on the package. You can have cooked boba pearls in just 5 minutes.
Any bubble tea beverage tastes fantastic with their tapioca pearls. For the best results, follow the directions on the back of their box.
Purchase this product now on Amazon
* If you buy through links on our site, we may earn an affiliate commission. For more details, please visit our Privacy policy page.