Fish stock is a great ingredient that can instantly make your dish delicious and unforgettable. However, there are times that fish stock might not be available or you simply don't want to use your own fish stock. In this case, you need to know the best substitute for fish stock. Being familiar with the right fish stock substitute will surely save the day.
| Product | Brand | Name | Price |
| --- | --- | --- | --- |
| | Kirkland Signature | Kirkland Signature Organic Gluten-Free Chicken Stock Reasealable Cartons: 6-Count (32 fl oz.) | Check Price on Amazon |
| | 365 by Whole Foods Market | 365 by WFM, Stock Chicken Organic, 32 Fl Oz | Check Price on Amazon |
| | Knorr | Knorr Homestyle Stock For A Homey, Warming Stock Beef No Artificial Flavors 4.66 Oz, 4 Count | Check Price on Amazon |
| | Emeril | Emeril's All Natural Organic Stock, Beef, 32 Ounce (Pack of 6) | Check Price on Amazon |
| | Sushi Chef | Sushi Chef White Miso Soup Mix, 0.50-Ounce Packets (Pack of 24) | Check Price on Amazon |
* If you buy through links on our site, we may earn an affiliate commission. For more details, please visit our Privacy policy page.
So, in this post, let us go through some of the best fish stock alternatives that will surely improve your dish. Read on to learn more!
Substitute for Fish Stock
Chicken Stock
While there's a significant difference between the taste of fish and chicken, chicken broth is among the first options people have when they don't have fish stock.
Thankfully, it is easy to prepare the chicken stock. Depending on your preference, you can have chicken stock by doing the following:
Simmer chicken meat and bone with vegetables
Use leftover roasted chicken carcass and slow cooking it
Sauteing chopped pieces of chicken wings and backs and then simmering it with veggies and water
Chicken stocks are both delicious and healthy alternatives because they are rich in collagen, iron, and vitamins.
Preparing chicken stocks may take up to six hours. If you don't have this much time, you can turn to ready-made chicken stock products. Here are a few chicken stock products you might want to consider:
Organic Chicken Stock by 365 WFM – made with slow-simmered organic chicken flavored with fresh carrots and celery roots. Best used for stews, soups, and sauces.
Buy it now: Amazon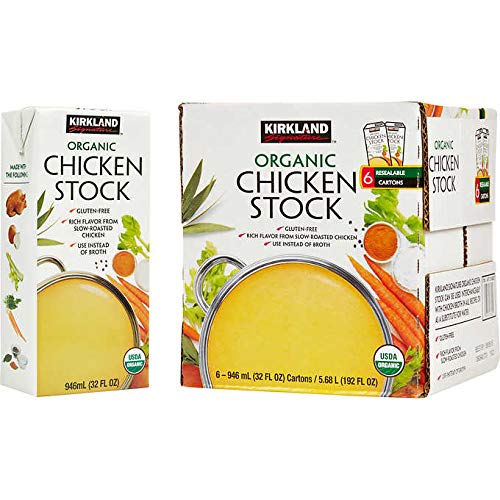 Buy it now: Amazon
Chicken Base Stock by Minor's – this chicken stock was made with oiled, seasoned, and grilled chicken. It comes with great flavors enhanced with beans, rice, grains, and salt. No added MSG and no trans fat included.
Buy it now: Amazon
---
Beef stock
Beef stock is another fish stock substitute that you should give a try. Yes, fish and beef may have a huge difference in taste, but beef stock can work a lot of magic, too.
Remember that beef stock may have a stronger taste and flavor than fish stock. So, you may want to use a smaller amount of beef stock. Of course, this may still depend on your preference. The point is that beef stock may work as fine as fish stock when it comes to preparing your dish.
Beef stock is made with simmering beef bones and scraps of meat. You can then add a mixture of celery, carrots, and onions.
If you wish to have more flavorful beef stock, experienced chefs have a trick. What they do is first roast beef bones. From there, you slowly heat the bones in water with medium heat. Let it simmer and cook the bones slowly and gently for a long period of time.
Now, if you want to get some commercially prepared beef stock, that's a choice too. Here are some of the best beef stock products you'll find on the Internet right now.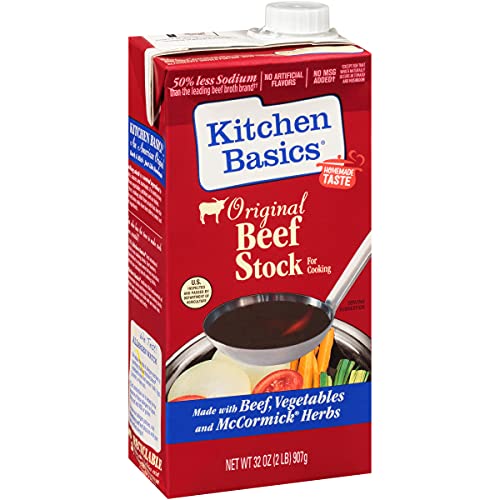 Original beef stock by Kitchen Basics – gluten-free, no MSG added, natural, and packed with so much signature flavor of Kitchen Basics. The package is designed to ensure easy pouring of resealing, so you can use this product multiple times.
Buy it now: Amazon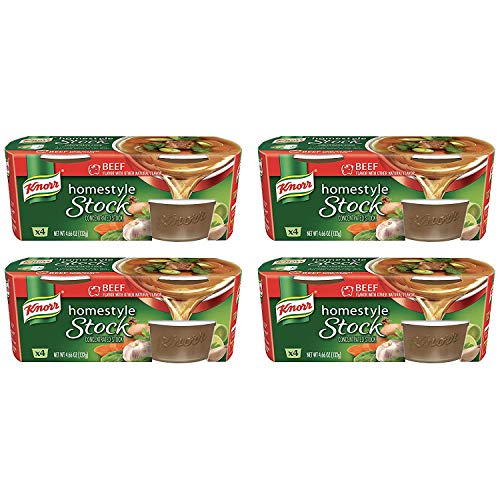 Beef homestyle stock by Knorr – made with carefully selected herbs, spices, and beef, this beef stock will transform your dish into a mouth-watering and delicious gastronomic experience. There is much to love about this beef stock. It is low in fat and free of cholesterol and MSG.
Buy it now: Amazon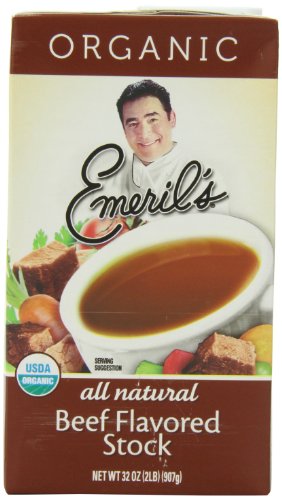 Beef stock by Emeril – this beef stock is perfect for simmering potatoes, rice, and vegetables. Ingredients are of high quality and made with natural and organic spices. You can visit Emeril's website for more delicious recipes and ideas about how to get the most of their beef stock.
Buy it now: Amazon
---
Miso soup
Misoshiru or miso soup is probably the most popular Japanese soup ever known. It's the traditional soup that consists of fermented soybeans, salt, and a fungus known as koji. Sometimes, rice, barley, and other ingredients are added.
There are different types of miso soup. Depending on which region you are in Japan, the miso soup may be called the Shinshu soup or Sendai miso.
Miso soup uses the dashi soup stock. The stock can be made up of dried baby sardines (niboshi), smoked and dried bonito fish (katsuobushi), dried kelp (kombu), or dried shiitake mushroom.
You can create miso soup in your home. You can store it in your fridge for future recipes that you may have.
The beauty of miso soup is it is versatile. This means that even if your recipe needs fish stock, you can use miso soup instead.
No time to boil fish bones for the fish stock? You can choose to use pre-made miso soup, which you can easily find them online. Here are some of them: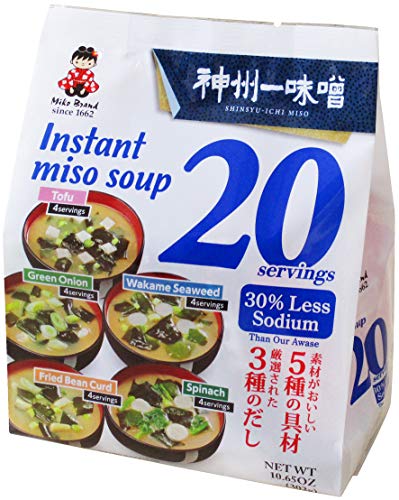 Miso soup by Miko – this is of awase-variety and is made with 30% less sodium. The miso soup is quick and easy to prepare. There are different flavors to choose from which include wakame, tofu, green onion, fried bean curd, and spinach.
Buy it now: Amazon
Miso soup by Kikkoman – this miso soup is flavored with tofu. Preparing the soup is so much easier. All you need to do is mix the contents of one packet, add it into a bowl, and pour boiling water.
Buy it now: Amazon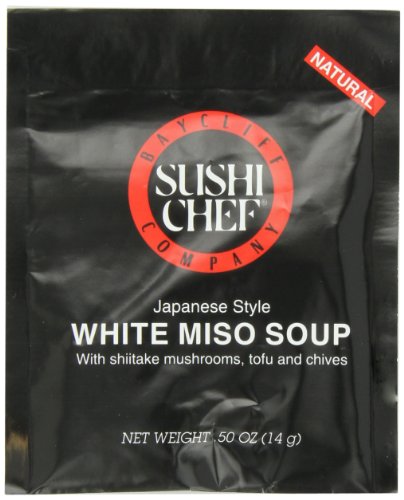 Miso soup by Sushi Chef – this is white miso, which means it is made with soybeans, salt, tofu, and rice. Because it is white miso, the flavor is mild. It's a perfect choice if you're looking for a fish stock alternative.
Buy it now: Amazon
---
Vegetable stock
Choosing vegetable stock makes a whole lot of sense if you're trying to prepare a vegan dish. Vegetable stock is easy to prepare. All you need is to simmer a combination of vegetables such as leek, celery, garlic, onion, mushrooms, and carrots.
For a better aroma, you can choose thyme, bay leaves, peppercorns, and parsley stalks. You can add other vegetables, spices, and herbs to spice up your stock depending on your taste.
Since the vegetable stock has a milder taste, you can use it as a substitute for fish stock. However, you may want to add more salt to redeem the ocean's taste. Of course, the result won't be exactly the same as when you use fish stock, but it should still be a good option.
You can choose any of the following vegetable stocks for your next recipe: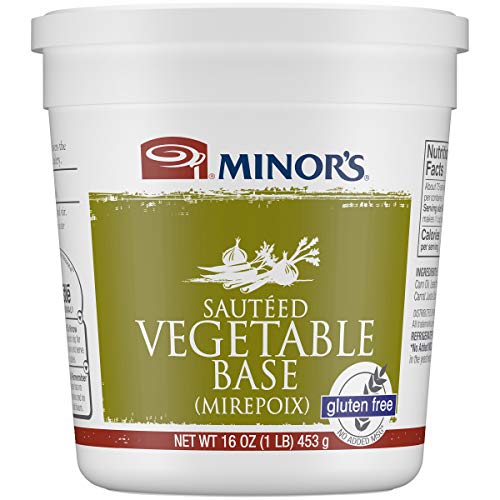 Vegetable stock by Minor's – this vegetable stock is made by sauteing vegetables and then boiling them. The savory taste comes from the mix of onions, carrots, and celery. It is the best option if you're preparing stews, sauces, entrees, and of course, soups. The product is gluten-free and has no added MSG.
Buy it now: Amazon
Vegetable bouillon by Knorr – this product comes with vegetable bouillon cube pieces. You can easily add the cubes to your dish during cooking. The cubes are made of onion, parsley, vegetables, and various spices. Like every Knorr product, this vegetable bouillon comes with the authentic and signature Knorr flavor.
Buy it now: Amazon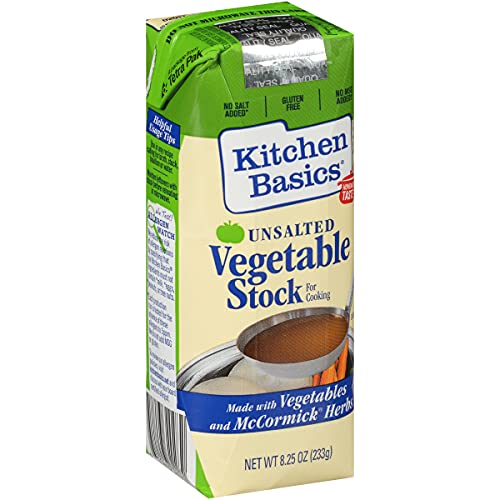 Vegetable stock by Kitchen Basics – this vegetable stock is certified by the American Heart Association as a heart-friendly product. The vegetable stock is unsalted and only organic and natural ingredients were used. You would love its package as well because it makes the stock easy to pour and store.
Buy it now: Amazon
---
Soy sauce
Soy sauce is probably one of the most common and oldest condiments in the world. It is made by fermenting soybeans and wheat. Soy sauce has been a staple household item in various places.
Soy sauce is a versatile ingredient that can easily add saltiness to your meat or seafood dishes. Thus, aside from salt, soy sauce is a great way to instantly add flavor to your food.
Yes, it is possible to use soy sauce as a substitute fish stock. The trick here is that you don't overdo it. If you add too much soy sauce, then your food would surely taste too salty. This may also become a bigger problem if you add extra salt.
Remember that soy sauce has a strong taste. So, it is best that you carefully estimate how much soy sauce you'll use as a fish stock alternative.
Here are some soy sauce projects that you may want to use.

Kikkoman Soy Sauce – Kikkoman is a healthy option for many people. It's a reputable brand that has been proven to deliver high-quality products. The premium taste of Kikkoman's soy sauce will give you a taste of Japanese cuisine.
Buy it now: Amazon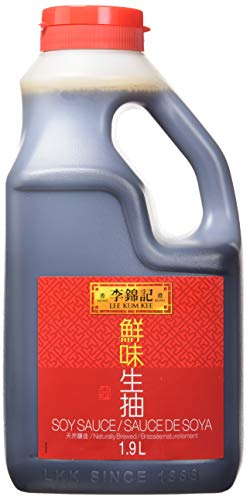 Lee Kum Kee Soy Sauce – Lee Kum Kee is a popular food brand in China. It's loved by many not just in Asia, but also in Western Countries. Lee Kum Kee's soy sauce comes with a complexity of flavor as you combine it with other condiments, flavors, and tastes.
Buy it now: Amazon
San-J Soy Sauce – if you're looking for a healthier option for soy sauce, then this product is the right one for you. It is gluten-free and no wheat is used. San-J's soy sauce is a perfect option if you are trying to marinate meat and prepare sauces, gravies, and soups.
Buy it now: Amazon
---
Wakame seaweed stock
Wakame is a unique variety of seaweed. It is flavorful and generally salty in taste. Because it is seaweed, it serves as a great substitute for fish stock. It comes with the taste of the sea, which is something similar to what you get from fish.
Because wakame seaweed is already salty, you don't need to use too many condiments or other ingredients. To prepare wakame seaweed stock, you would need wakame seaweed, onions, and shiitake mushrooms for more flavor. You simply need to simmer all your combined ingredients for about 5-6 hours.
If you wish to buy ready-made wakame seaweed, here are some products to consider:
Buy it now: Amazon
Wakame seaweed by Shirakiku – the seaweed is already cut for easy eating and serving. You can use this seaweed for stock, ramen, soup, and sashimi garnishing.
Buy it now: Amazon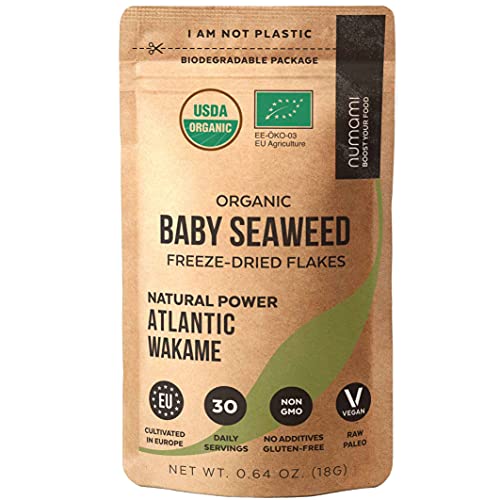 Wakame seaweed by Numami – the seaweeds used in this product are delicately selected in a North Atlantic farm. Only organic baby seaweeds are chosen and prepared. Not only that but the seaweeds were cultivated in the clean waters of the Atlantic to guarantee great taste, fishy flavor, and texture.
Buy it now: Amazon
---
Takumi Stock Powder
Another great but little-known fish stock substitute is the Takumi stock powder. This product is made with kelp and mushrooms. The kelp ensures that you still get that fishy smell and taste, while the mushrooms infuse your food with salty but umami flavor.
There are different brands of Takumi stock powder. So, it is up to you to check which one would best meet your needs. Here are two Takumi stock powder products to get you started: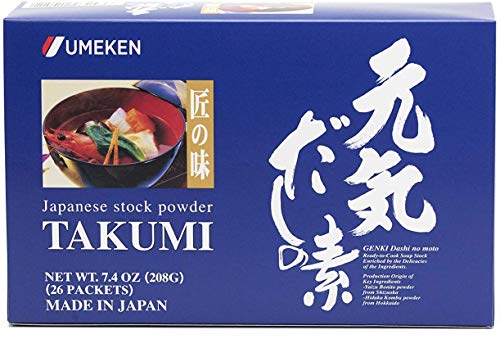 Umami powder by Takii – instantly add umami-salty flavor to your food with this product. Ingredients include shiitake mushrooms, calcium carbonate, and salt.
---
Choosing the right fish stock substitute
Looking for the right replacement for fish stock shouldn't be difficult. You can always go to our list and find the right ingredient for you. Of course, aside from the fish stock substitute mentioned above, you can also try seafood stock, bottled clam juice, fish broth, fish sauce, and crab stock. By exploring and experimenting, you should be able to know which fish stock alternative would meet your needs and preference.
Don't worry if you don't get it right the first time. Cooking is always a learning experience. So, don't be afraid to use the different fish stock substitutes featured on this blog. Happy cooking!
| Product | Brand | Name | Price |
| --- | --- | --- | --- |
| | Kirkland Signature | Kirkland Signature Organic Gluten-Free Chicken Stock Reasealable Cartons: 6-Count (32 fl oz.) | Check Price on Amazon |
| | 365 by Whole Foods Market | 365 by WFM, Stock Chicken Organic, 32 Fl Oz | Check Price on Amazon |
| | Knorr | Knorr Homestyle Stock For A Homey, Warming Stock Beef No Artificial Flavors 4.66 Oz, 4 Count | Check Price on Amazon |
| | Emeril | Emeril's All Natural Organic Stock, Beef, 32 Ounce (Pack of 6) | Check Price on Amazon |
| | Sushi Chef | Sushi Chef White Miso Soup Mix, 0.50-Ounce Packets (Pack of 24) | Check Price on Amazon |
* If you buy through links on our site, we may earn an affiliate commission. For more details, please visit our Privacy policy page.