Do you enjoy drinking boba tea? If so, you might enjoy this article. In this article, we'll teach you how to prepare mango bubble tea. This is a type of boba that is mango flavored. This is an ideal pair for bubble tea drink especially in the summer. It is so much less expensive to make your own bubble tea than to purchase it from a store, yet it tastes just as delicious.
* If you buy through links on our site, we may earn an affiliate commission. For more details, please visit our Privacy policy page.
If you are interested in making mango milk tea, scroll down and continue reading.
How To Make Mango Boba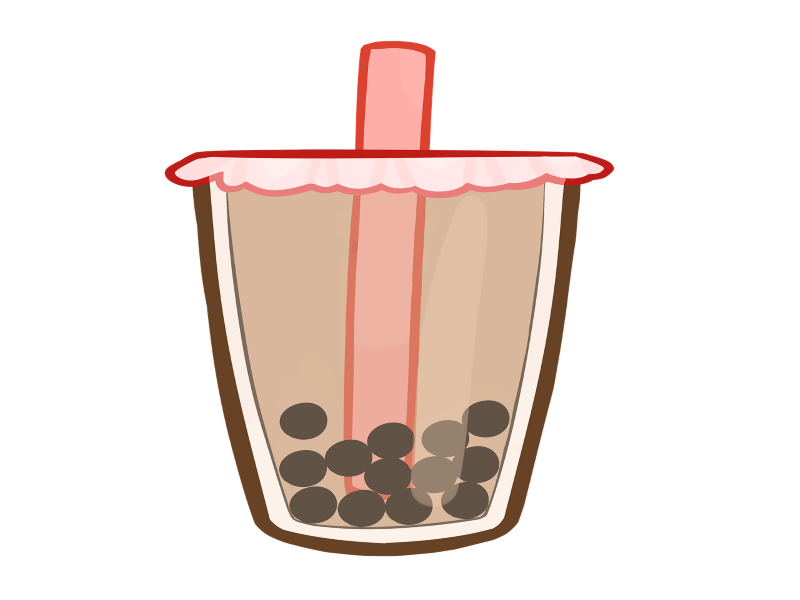 What Is A Bubble Tea?
The tea-based beverage known as bubble tea first appeared in Taiwan in the early 1980s. It is traditionally served with chewy tapioca pearls, also known as boba pearls. Other toppings, such as grass jelly, red beans, and aloe vera, can also be used to prepare it.
There are many different flavours of bubble tea. Black pearl milk tea and green pearl milk tea are the two most popular flavors. But today, we're going to focus on mango boba tea.
---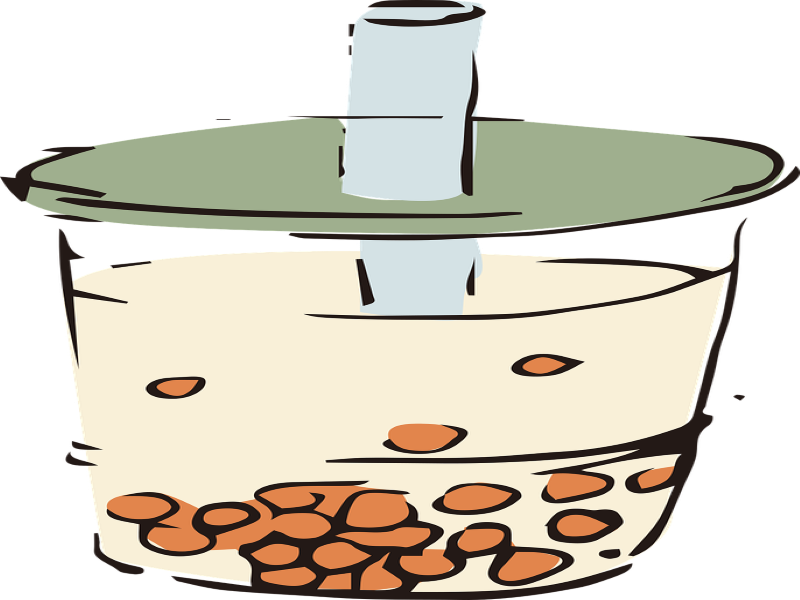 Tapioca Pearls
Tapioca are starch obtained from the cassava root. They are used to make delicious translucent spheres known as tapioca balls. Traditional tapioca pearls were first used in Southeast Asian cuisine as a less expensive substitute for sago. They are most frequently referred to as boba or pearls when used as a component in bubble tea. The starch balls generally have a diameter of five to ten millimeters or 0.2 to 0.4 inches.
Tapioca pearls can be created with various ingredients to change their color and texture, such as water, sugar, or another kind of sweetener like honey. Tapioca balls come in a variety of flavors and sizes, including transparent, popping, tiny, and black. Tapioca pearls are frequently sweetened by being soaked in sugar syrup.
---
What Is The Taste Of Mango Boba?
The tapioca pearls which are mango boba, are sweet and chewy. The beverage, which also incorporates tapioca ball toppings, has a sweet mango flavor in addition to an earthy tea flavor.
---
What Are Mango Boba Pearls?
Fruit is used to make mango tapioca pearl balls. They have a sweet flavor and a vivid yellow color as a result.
---
What Are The Common Ingredients Of Mango Boba?
Tea, tapioca starch, syrup, and mangoes are the ingredients of mango boba. It's a tasty, cool beverage with tapioca pearls that are mango-flavored.
Because it is a delightful, fruity twist on bubble tea, mango bubble tea is a well-liked beverage.
---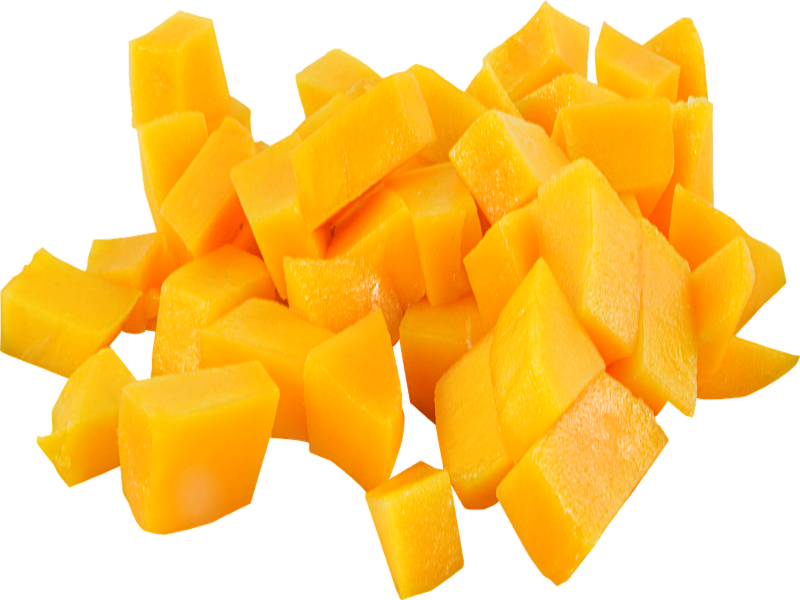 Mango
For the finest flavor, it is best to use a sweet, ripe mango. Instead of using fresh or frozen mango, you can substitute mango powder. Just be sure you strictly follow the directions because the ratio may vary from brand to brand.
---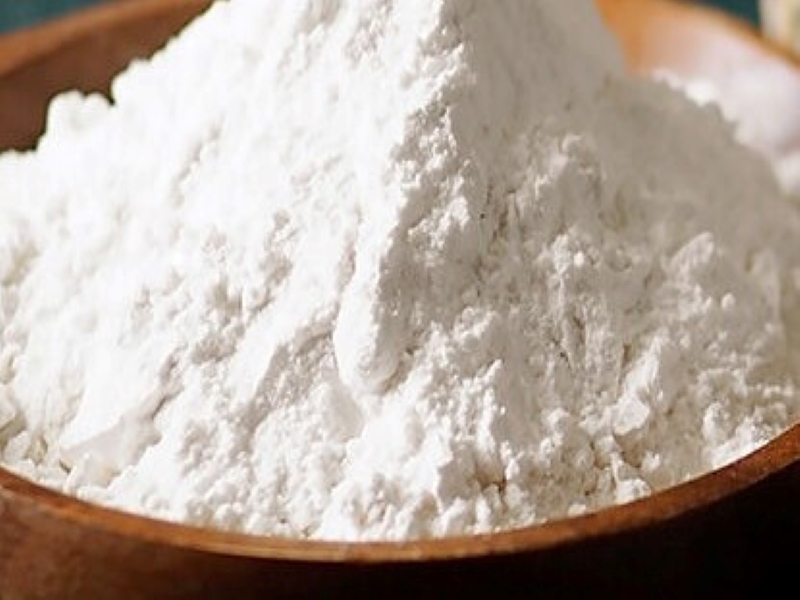 Tapioca Flour
Also known as tapioca starch. This is the essential component that gives tapioca pearls their distinctive, gelatinous texture. There are many possible substitutes for tapioca starch. You have the option to use cornstarch. If using cornstarch, reduce the recommended quantity by half. Use 1/2 tablespoon of cornstarch for every tablespoon of tapioca starch. In addition to tapioca starch, other options include potato starch, all-purpose flour, and cassava flour, you can use 1:1 ratios for these.
---
Water
Warm water should be used in making the mango bubble tea.
---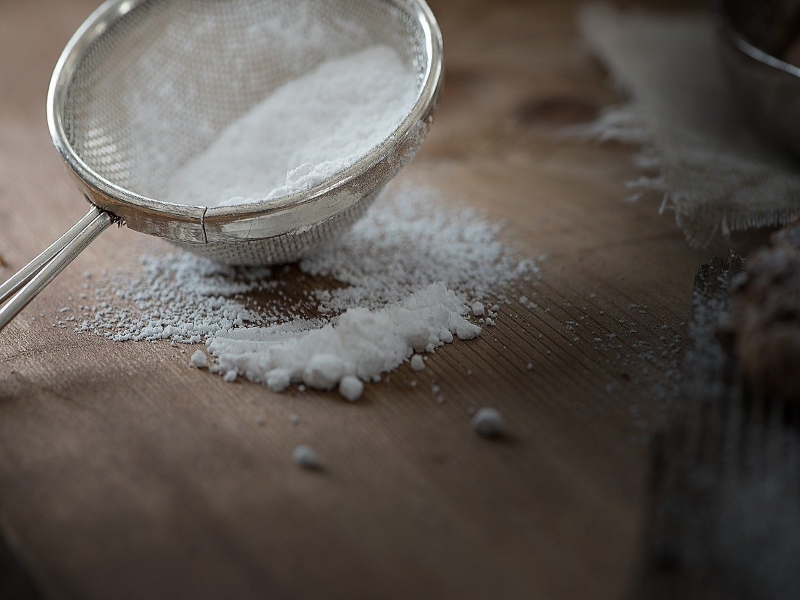 Powdered Sugar
To sweeten the mango and improve the flavor, a little bit of powdered sugar is used. Avoid using a liquid sweetener.
---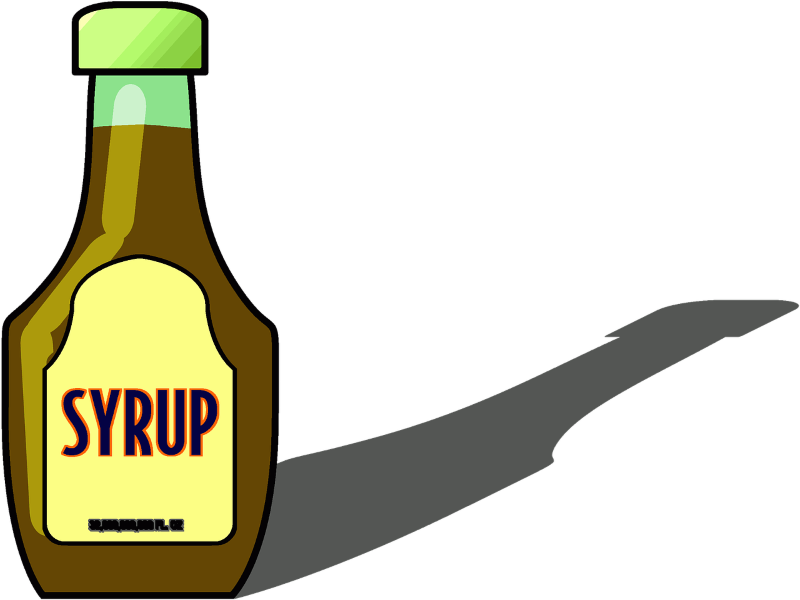 Syrup
Instead of creating your own fruit syrup, you have the option to purchase one from the supermarket. Instead of using simple syrup, you may substitute date syrup, for a healthier version.
---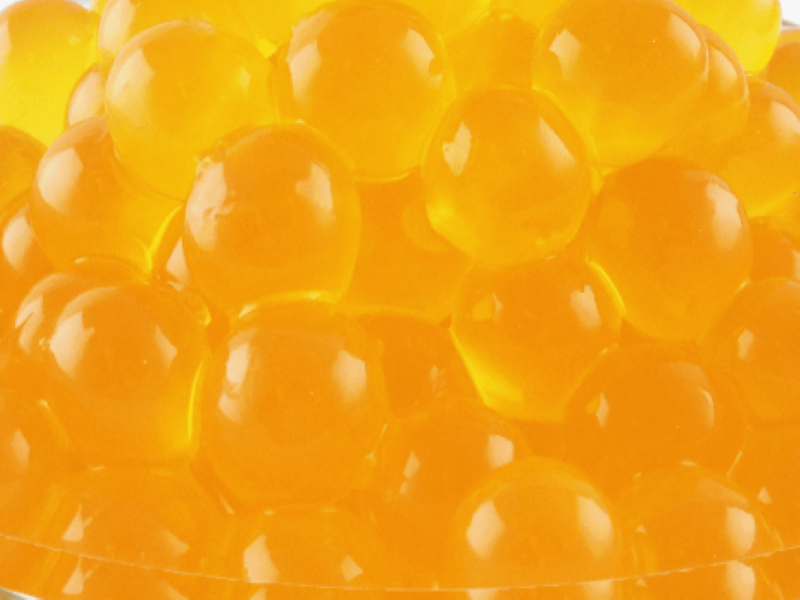 How To Prepare Mango Tapioca Pearls
Ingredients For The Mango Tapioca Pearls
1 Mango
2 cups tapioca starch plus extra more for dusting
1/2 cup water
1 tablespoon powdered sugar
Ingredients For The Beverage
Mango coconut milk or plain milk (preferred)
syrup
Instructions
Prepare the Mango. You must first scrape the flesh from your ripe mango. After that, puree the mango until it is smooth. Smooth tapioca pearls require a mixture that is as lump-free. Taste the mango, and add the powdered sugar, one tablespoon of tapioca starch, and warm water if you feel they are necessary. Mix the ingredients thoroughly.
Next, you need to heat the mixture. To "ignite" and produce the results we need it to in order to make mango boba pearls, tapioca starch needs heat. In actual, temperature is the main cause of errors while creating handmade tapioca pearls.
Next, you need to heat the mixture. To "ignite" and produce the results we need it to in order to make mango boba pearls, tapioca starch needs heat. In actual, temperature is the main cause of errors while creating handmade tapioca pearls. You have two options for heating the mango tapioca mixture: the microwave or the stovetop. If you are using a stovetop, pour the contents into a medium heat skillet and cook while stirring continuously. As for the microwave, heat the mixture in 20-second intervals while stirring. This will take you about 1:30 minutes to complete.
Then, add the rest of the tapioca. Before adding the remaining tapioca starch, give the mixture only a few minutes to cool. Add it gradually, mixing well between additions. Continue adding tapioca till it produces a glossy, non-sticky dough. It could be simpler near the finish to knead it using your hands on a surface that has been dusted with more starch. Be aware that the dough can still be hot. When the dough is done, cover it with plastic wrap.
Mango boba pearls should be shaped. To prevent it from drying out, only take off a small portion of the dough at a time. Sprinkle your tabletop with tapioca starch, and roll the dough into a long rope for 3/8 inches, 1 cm thick. If you want larger pearls, cut the rope into pieces that are little more than 3/8 inch (1 cm) apart. Be aware that the pearls will enlarge during cooking. To prevent them from sticking together, roll each piece into a ball and then dusted with tapioca starch. Use the leftover dough to repeat this. If you haven't cooked the pearls yet, you may prepare them now or freeze any that you won't need right away.
Cook the mango boba. Put the pearls in a saucepan with boiling water, simmer in a low heat, and cover the pot for 20 minutes. Then turn off the heat, cover the pan, and let the it steam for an additional 20 minutes. The mango tapioca balls should now have a light transparent appearance and a light "bouncy" feel.
To end the cooking process, drain the pearls through a sieve and rinse with cold water. Also, remove extra starch by rinsing. Alternatively, if an ice bath is more convenient for you, you might immerse the pearls in it.
To make the mango bubble tea, put the syrup in the glass's bottom. To cover the walls, feel free to swirl it within the glass as well.
Then, include the mango coconut milk, pearls, and ice cubes. Consume right away.
---
Nutritional Information
Calories: 159kcal
Protein: 1g
Carbohydrates: 41g
Potassium: 66mg
Sodium: 1mg
Fat: 1g
Saturated Fat: 1g
Sugar: 6g
Fiber: 1g
Vitamin C: 13mg
Vitamin A: 373IU
Iron: 1mg
Calcium: 4mg
---
Tips
Cut the fruit into little chunks and extract as much fruit as you can off the skin. You'll get the strongest mango flavor from this.
To obtain the fruit's flavor as rich as possible when straining it, be sure to push down on the fruit.
Making a simple syrup requires constant stirring to ensure that it dissolves rapidly and doesn't burn. To make things go more quickly, avoid turning the heat up too high. Use low heat and go slowly.
The tapioca starch must be added to the dough when it is still extremely hot in order for it to properly form a dough.
When drinking your mango bubble tea, make sure to use a boba straw.
The mango boba may be used to produce smaller tapioca balls for a mango tapioca pudding dish, as well as mango bubble milk tea, just milk, smoothies, and mango juice.
---
Storing Mango Bubble Tea
You have the option to store your mango boba. Make sure to separate the boba pearls, syrup, and tea. When you are ready to consume it, blend them all together.
For up to a week, you may keep them in the refrigerator in an airtight container. They may get somewhat harder in the refrigerator, but they are still suitable for usage.
---
Below are some of the top tapioca starches available for purchase online.
Brand: Anthony's
Weight: 2.5 Pounds
Package Weight: 1.31 Kilograms
Variety: Tapioca Starch
Item Form: Flour, Starch
This product is USDA Organic Tapioca Flour/Starch
You can be assured that this is Vegan, Non-GMO, and a Product of Thailand.
Tasteless and odorless flour is excellent for use in gluten-free recipes as a thickening or binder.
It is derived from Manioc root that was farmed organically.
If you are interested in this product, simply click on Amazon
---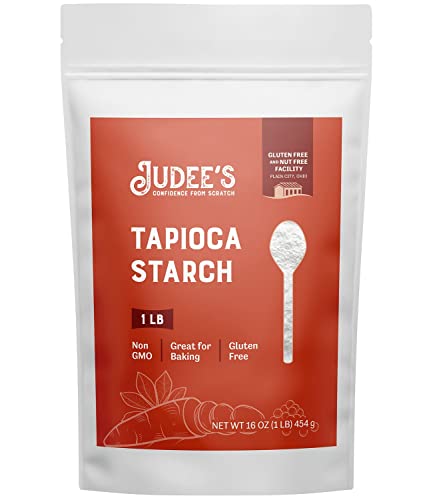 Brand: Judee's Gluten Free
Weight: 1 lb
Allergen Information: Gluten Free
Package Weight: 0.47 Kilograms
Material Type Free: Gluten Free, Peanut Free
This tapioca starch is perfect for making boba balls. A must-have for gluten-free baking makes your baked goods lighter and fluffier. Use it to thicken sauces and gravies when you cook.
To maintain freshness and make your baking as delightful as possible, the product is sold in a stand-up, resealable pouch.
Packaged in a gluten- and nut-free facility to ensure every bag doesn't have harmful allergens.
It is a singular non-GMO ingredient you can rely.
If you are interested in purchasing the product, click on Amazon
---
Brand: PuroRaw
Package Weight: 0.9 Kilograms
Variety: Tapioca Starch
Item Form: flour, starch
In a resealable packet, this product from PuroRaw offers you the finest, the purest, the highest quality, 100 percent natural tapioca flour.
This tapioca flour is an excellent addition to your kitchen's cabinet. A great thickener that gives body and substance to many of your culinary creations is tapioca flour. Use tapioca starch in a variety of dishes, including puddings, boba pearls, soups, and sauces and gravies.
Almost any type of diet may use tapioca flour. Gluten, grains, soy, and nuts are not present in tapioca starch. Our Tapioca starch is made from a single ingredient that is kosher, vegan, paleo, all-natural, and non-GMO. If you're seeking for a culinary or baking substitute, then this is the perfect product.
Since tapioca is a pure starch, it won't change the flavor or aroma of any cooked or baked foods that use it as a thickener.
As an alternative to corn starch, tapioca starch is used. Tapioca is used for more than just thickening. Use tapioca starch to coat chicken or veggies while frying to give them a crispier texture, or use tapioca flour to bake as part of a gluten-free flour mix.
Buy this product now on Amazon
---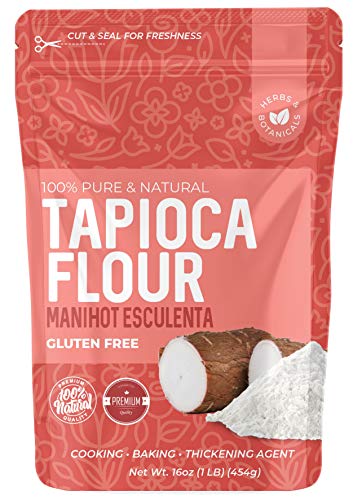 Brand: Herbaila
Package Weight: 0.45 Kilograms
Variety: Tapioca Flour, Starch
It acts as a thickening agent. For your baking and culinary requirements, ground tapioca powder is a healthier alternative to flour or cornstarch.
High in resistant starch, a kind of starch that skips digestion and resembles soluble fiber in certain ways. This starch supports metabolism.
Kosher wholefood extract is helpful for many different diet plans and may promote healthy weight reduction.
Purchase this product now on Amazon
---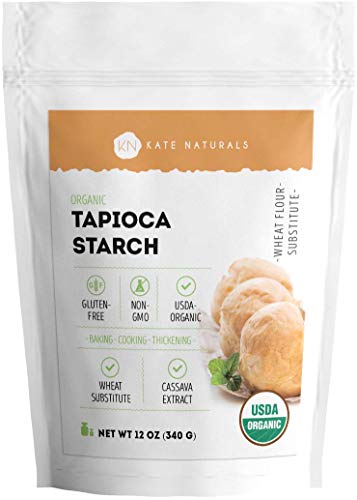 Brand: Kate Naturals
Weight: 12 Ounces
Package Weight: 0.34 Kilograms
Variety: Tapioca Starch
Item Form: Powder
This product is Gluten-free tapioca starch. Their organic gluten-free tapioca starch, a natural thickening similar to arrowroot flour, is suitable for people who are sensitive to wheat or gluten.
Create flatbreads, loaves, and balls of tapioca without gluten. Use their organic tapioca flour as a thickening or binding ingredient. When you use tapioca starch, you don't need to worry about gluten or wheat. Can also be used for ice cream.
Guaranteed fresh quality. To provide you with the greatest quality, they ensure that their organic tapioca flour starch is both fresh and well packaged. Given that it comes from the natural cassava root, Kate's organic tapioca starch is a fantastic supplement to paleo diets.
Feel free to buy this product on Amazon
---
Frequently Asked Questions
What Does Mango Milk Tea Boba Taste Like?
Mango bubble tea is usually prepared just with fruit puree and is sweet and juicy.
Does Mango Boba Have Gelatin?
No. Gelatin is not used in the production of boba pearls since tapioca starch, which is derived from the cassava root, is used instead
How Bad Is Bubble Tea For You?
The amount of sugar in bubble tea is extremely high. Boba are essentially made up of only carbohydrates. They are lacking of all fiber, minerals, and vitamins.
* If you buy through links on our site, we may earn an affiliate commission. For more details, please visit our Privacy policy page.