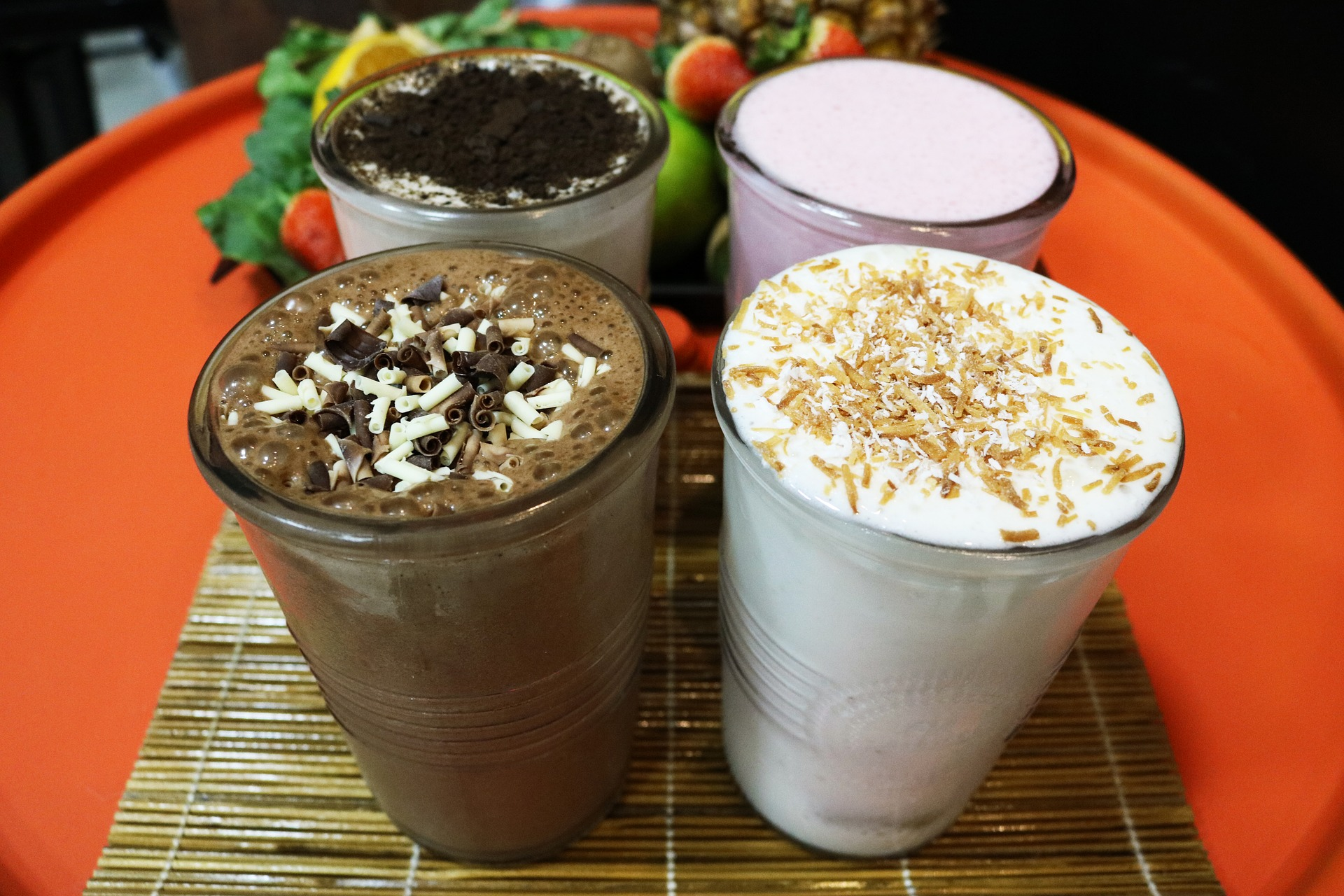 Summer could be one of the best seasons as you are able to explore other places or go out of town and get some dip on a beach. Since summer would also mean you'll have to deal with the hot and scorching sun, a visit to a local ice cream shop would seem magical.
A scoop of vanilla ice cream added with rainbow candy sprinkles, chocolate milkshake, strawberry milkshake or a rootbeer float would be the best things to quench your thirst. Most people won't argue that the taste of a milkshake would be the ultimate treat during the summer.
What is a Milkshake?
For those who might be wondering, milkshake is a cold drink made of milk, a sweet flavoring such as fruit or chocolate and ice cream, whisked or blended until it is frothy. Sweeteners such as butterscotch, caramel sauce, chocolate syrup, fruit syrup, or whole fruit can also be blended to form a thick, sweet, and cold mixture.
A Brief History of Milkshake
A fun fact to know about milkshakes is that back in 1885, the first known printed reference to a "milkshake" had whiskey as one of the ingredients. The milkshake is derived from the gesture of customers when they had to order this drink, they shook hands with the bartender.
The consistency of the first milkshake is like the eggnog, and was used for medicinal purposes. The addition of ice cream came out in the early 1900s. The electric blender in 1922 was invented by Stephen Poplawski and its sole purpose was to make milkshakes. Milkshake is also called a frappe, cabinet, velvet, and frosted shake.
Aside from being a delicious drink, milkshakes have been used as an attempt to assassinate an important person. In 1963, the CIA attempted to assassinate Fidel Castro by infusing poison into a chocolate milkshake but they failed.
The world's most expensive milkshake is the LUXE milkshake sold for $100 a pop. The recipe of this good milkshake includes Tahitian vanilla ice cream, Madagascar vanilla bean seeds and vanilla extract, and edible gold. To add up, LUXE milkshakes are served in a glass adorned with more than 3,000 Swarovski crystals. And who would forget the foie-gras and pizza-flavored milkshakes? Talk about a luscious and insane treat.
A huge trend of milkshakes was made in 2016 when the Black Tap milkshake was introduced. It is a milkshake made with loads of ice cream, peanut butter cups, cotton candy, and cake slices. This 1600-calorie drink was sold for $15. When it comes to a special milkshake day, the National Vanilla Milkshake Day is celebrated on June 20.
Getting a hangover after an all-night party might be inevitable. However, you can have a remedy by drinking banana milkshake as it can cure nauseating aftermath. Since bananas are high in potassium and magnesium, these nutrients can help resupply your body with those lost electrolytes after vomiting.
How Milkshake is Made?
Using different ice cream flavors and with any type of milk can make a delicious milkshake. If you want a creamy milkshake, you may add heavy cream. You may combine your choice of ice cream flavor and milk in a blender. Blend on low until smooth and you can pour into a cup and garnish with whipped cream, sprinkles and fruits such as strawberries or cherries if desired.
Since the original milkshake depends heavily on ice cream servings, you might be asking if you will be able to have a milkshake without ice cream. The answer is actually yes. There are several ways on how you can make your milkshake without ice cream and still get that creamy milkshake. Read further to find out how.
Make Milkshake Without Ice Cream
Basic Milkshake Without Ice Cream
One of the simplest ways to make a milkshake without ice cream is to combine ice cubes with milk, sugar, and a dash of vanilla extract. Blend them in a blender to create a creamy texture. The trick is to get more fat in the milk to achieve a more creamy milkshake. To create this simple smoothie, you will need 2 handfuls of ice cubes (approx. 10 ice cubes), 2 cups of milk, 3/4 cup granulated sugar or 2 tablespoons honey, and a dash of vanilla extract.
On a blender, combine all the ingredients and blend them until smooth. For that extra creamy milkshake, use equal parts heavy cream and milk. Thinner non-dairy milk, such as almond or oat milk, needs to have frozen banana, frozen strawberries or mixed berries to achieve a creamy and thick basic milkshake without ice cream.
Frozen Banana Milkshake Without Ice Cream or Nice Cream
As mentioned, frozen bananas can help thicken your milkshake, and using them to create a milkshake without ice cream would be a good idea. You will need 2 frozen bananas, 2 cups of milk, and 3/4 cup granulated sugar or 2 tablespoons honey. Put them in the blender and also blend these ingredients on a high speed until you achieve the perfect smoothie.
This healthy dessert doesn't need protein powder. Simply blend your bananas with the milk of your choice such as whole milk, almond milk, and oat milk. To create additional taste and textures, you can also put Nutella, chocolate, or peanut butter.
Avocado Milkshake Without Ice Cream
Avocado is a fruit that's very popular in providing smooth and buttery texture on different dishes. Right now, avocado can be used to have a thick shake without ice cream. To have a silky-smooth and seriously creamy milkshake, this recipe calls a handful of ice cubes (approx. 5 ice cubes), 2 cups of milk, a peeled and cubed avocado, and 2 tablespoons of honey.
Using a high speed blender is recommended to achieve a perfect smoothie. Put those ingredients in the blender and let them blend until smooth and creamy.
Chocolate Milkshake Without Ice Cream
This no ice cream milkshake is intended for those who prefer chocolate milkshake over vanilla milkshake. The secret for this treat is to add unsweetened cocoa powder to the basic milkshake without ice cream.
The exact things you will need are 2 handfuls of ice cubes (approx. 10 ice cubes), 2 cups of milk, 3/4 cup granulated sugar or 2 tablespoons honey, and 2 tablespoons of cocoa powder. Put them all together in a blender and blend to achieve the right smooth texture.
Frozen Fruit Milkshake Without Ice Cream
Those who love the taste of fruit on their milkshakes will benefit from this recipe. The methods are the same when making the frozen banana milkshake, but instead of using bananas only, you can mix it with any frozen fruit or berries such as strawberries, blueberries, blackberries, or a combination of them.
What you will need for this frozen fruit milkshake without ice cream are 2 cups of frozen fruit, 2 cups of milk, and 3/4 cup granulated sugar or 2 tablespoons of honey. Simply combine them in a blender and blend until you get the desired smoothie texture.
Greek Yogurt Milkshake Without Ice Cream
If you want tanginess rather than sweetness, this Greek yogurt milkshake without ice cream is the answer. This recipe uses 2 handfuls of ice cubes (approx. 10 ice cubes), 1 cup of Greek yogurt, 1 cup of milk, and 2 tablespoons of honey. The result would still be a thick milkshake once you blend the ingredients in a blender.
You can add more milk, two scoops or tablespoons of cocoa powder, and a handful of chopped fresh or frozen strawberries to the recipe card to make it more flavorful.
Tips For Making Milkshake Without Ice Cream
One of the reasons why ice cream is added on the milkshake is to provide that rich and creamy taste. Since you will be making a milkshake without ice cream, use heavy cream or half-and-half in place of milk for a creamier and thicker milkshake.
There are people who don't want to add ice cubes on their milkshake. If you're one of those who doesn't like ice, use frozen fruits like bananas. It may change the taste of your milkshake, but it will be delicious for sure.
As mentioned as well, using a high-speed blender is recommended, especially when blending the ice. Other blenders might struggle to crush these hard ingredients and may affect the quality of the milkshake. Can't find any blender? Use an immersion blender instead but don't put the ice when blending the ingredients.
Another trick to achieve an even creamier milkshake is to freeze the milk before using it. On the other hand, freezing the serving glasses for at least 15 minutes before use will also keep the milkshake colder for longer.
If you have leftover milkshakes, that is still consumable for up to 24 hours if you store it in a freezer. Simply thaw in the fridge for several hours before serving for that rich milkshake without ice cream.
A Simple Recipe for a Milkshake Without Ice Cream
This is a simple recipe for a vanilla milkshake without ice cream. You will need these ingredients:
15 ice cubes
2 cups of milk
1/2 cup of sugar
A pinch of vanilla extract
Procedures:
In a blender, put ice cubes, milk, sugar, and vanilla extract. Blend them until smooth. 
Pour in glasses

You can put in some add-ons on top of the milkshake such as  mangoes, blueberries, strawberries, raspberries, grapes, or watermelon if you want some fruity twist. Enjoy your milkshake without ice cream! 
Serving Ideas for Milkshake
Adding something to the milkshake is definitely more fun. Aside from adding fruits to get some fruity twist, you can also combine your milkshake with other things such as chia seeds, almonds and other nuts to add some great flavor.
Vegan folks can also enjoy some milkshakes. There are great substitutes for plant-based milk such as almond milk, oat, soy, and coconut milk that you can use for that flavorful vegan milkshake. It might not be as rich as the non-vegan milkshakes, but it can still be tasty.
Those who would want to sweeten their milkshakes without using sugar can benefit by using honey or maple syrup. If you have a Splenda, that will work as well. Extra toppings will also make your milkshake experience more enjoyable and fun. Chocolate shavings, mini-marshmallows, sprinkles, brownie bits, salted caramel syrup, maple syrup, chocolate sauce and cherries are some of the toppings you can have. A dollop of whipped cream will make a good toppings for your milkshake.