Popular Burmese sauces will definitely leave you a lasting impression. These sauces will transform your Burmese food to an extraordinary and remarkable dish. To learn about these interesting sauces, scroll down and read further.
| Product | Brand | Name | Price |
| --- | --- | --- | --- |
| | Burma Love Foods | Burma Love Fish Sauce (Anchovy Sauce), Gourmet Seasoning, Salt Substitute, 100% NATURAL | Check Price on Amazon |
* If you buy through links on our site, we may earn an affiliate commission. For more details, please visit our Privacy policy page.
If you want to upgrade your Burmese rice dish, chicken curry, mango chutney, chickpea fritters, khao suey (Burmese version of Thai's Khao soi), or any food either sold by street hawkers or home-made dishes, then you must try these popular Burmese sauces we have listed below.
BURMESE CUISINE
Burma, officially the Republic of the Union of Myanmar, is the largest country in Mainland Southeast Asia. It has a wide-ranging array of dishes from its unofficial national dish (mohinga) to traditional Burmese dishes like Burmese salads, curries, soups, and fermented seafood.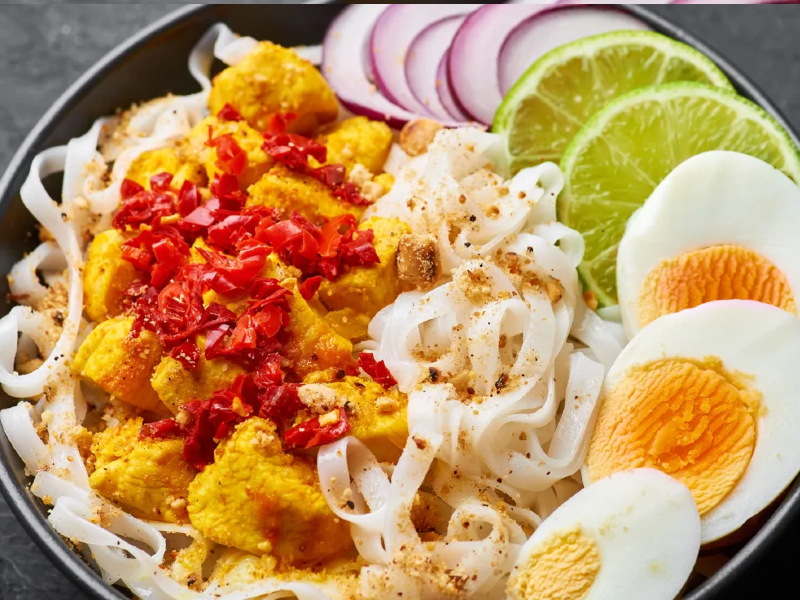 The flavor profile of Burmese recipes is sour, salty, and spicy. And its popular sauces will confidently make these Burmese food a great food.
Just like most of the national dishes, Burmese food is usually served in a copper pot (e.i the vermicelli noodles, fish soup, fermented tea leaf salad, and other delicacies in Eastern Myanmar).
COMMON INGREDIENTS AND TOPPINGS
The common ingredients and toppings most Burmese recipes have are glutinous rice, coconut milk, coconut shavings, lahpet (pickled tea leaves), ginger, boiled eggs, green cabbage, banana stem, red onions, green onions, spring onions, shallot oil, fish paste, soy sauce, fried garlic, fried peanut oil, sesame seeds, fresh mint, chickpea flour, and other Indian spices.
The mentioned ingredients and toppings will definitely make any Burmese recipes more delicious, enticing, flavorful and satisfying. But even so, there are still some who want more. Hence, having dipping sauces is necessary.
TYPES OF BURMESE SAUCES
If you want to upgrade the taste of your favorite food, you can try Burma's popular dipping sauces listed below.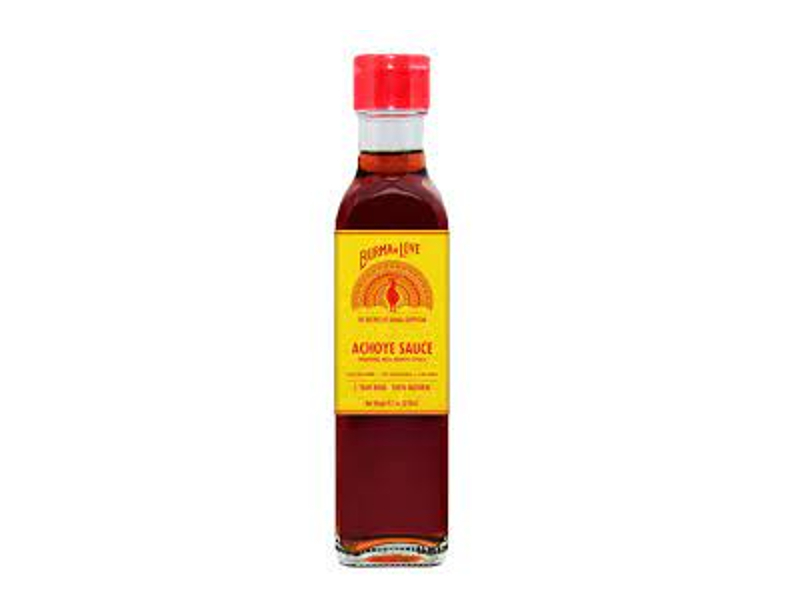 Burma love fish sauce is a commercial sauce you can buy at any Burma restaurants and on Amazon Prime. It is an umami-rich condiment made from two ingredients, Vietnam's wild-caught anchovies and Thailand's natural sea salt.
Unlike other condiments, this well-known Burmese sauce has no added artificial coloring, MSG, sugar, or any preservatives.
This fish sauce is also a primary ingredient in most cuisines not only in every household in Burma, but also in Burma Superstar and Burma Love restaurants.
This distinct and versatile fish sauce will surely enhance and deepen the flavor of any Burmese cuisine you prepare at home.
This fish sauce is also a great substitute for salt and is a perfect complement to soups, stews, and other Burmese dishes. Burma love fish sauce can also be used in making sauces and marinades.
Aside from being a low-sodium salt substitute, Burma love fish sauce is also shellfish free, gluten free, egg free, peanut free, and dairy free. Indeed, a versatile condiment perfect for any Indian cuisine and Burmese recipes.
Buy it now on Amazon
---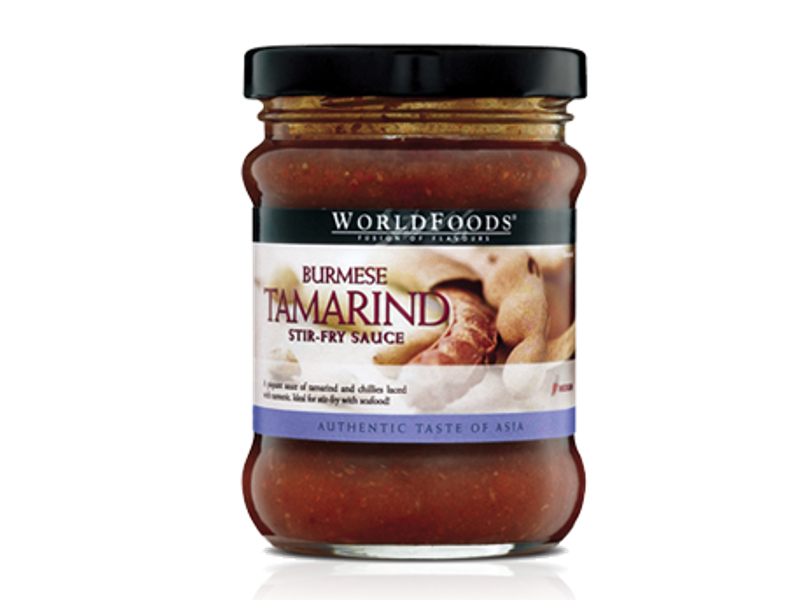 BURMESE TAMARIND STIR-FRY SAUCE
Burmese tamarind stir-fry sauce is an appetizing sauce of tamarind and chillies mixed with turmeric. This Burmese sauce is ideal for stir-fried seafood and other Burmese recipes. It boosts your dish's flavor to create an authentic meal.
Burmese tamarind stir-fry sauce is made from water, sugar, onion, tamarind puree, turmeric, yeast extract, salt, ginger, fresh garlic, modified tapioca starch, and dried chili.
This condiment also contains protein, carbohydrates, and fiber.
This commercial fish sauce is available online or at any Asian supermarkets.
---
TART-SWEET CHILE-GARLIC SAUCE (Nga Yoke Thee Achin)
Nga Yoke Thee Achin is a common sauce in Burma. It is usually made from tart, apple cider vinegar, fish sauce, garlic, and sugar. This condiment has a tangy and spicy flavor, and is a perfect complement to any Burmese dish like rice noodles, egg noodles, and even with fried eggs.
The recipe for this chili sauce is quite plain and simple. So if you don't have time going out to purchase commercial hot sauces and have stored ingredients in your kitchen, then you're good to go.
Here are the ingredients:
1 cup dried red chilies
¼ cup fresh garlic ( coarsely chopped )
¼ cup fish sauce
¼ cup sugar
¾ cup water
¾ cup rice vinegar or apple cider vinegar
PROCEDURE:
Split the red chilies into half and remove the seeds.
Add water in a small put and place the chilies. Bring to a boil in a medium low heat for at least 5 minutes or until the texture becomes soft and bloated. Add the garlic for the last minute, but if you are using one, you need to put it in the pot earlier.
Once done, place the garlic, chilies, and their liquid in a blender or any food processor. Add the sugar and fish sauce, and grate to a coarse paste. Add vinegar and repeat the process.
Transfer the paste to a clean and dry glass jar. Store the chilli sauce in the fridge at least 24 hours before using.
---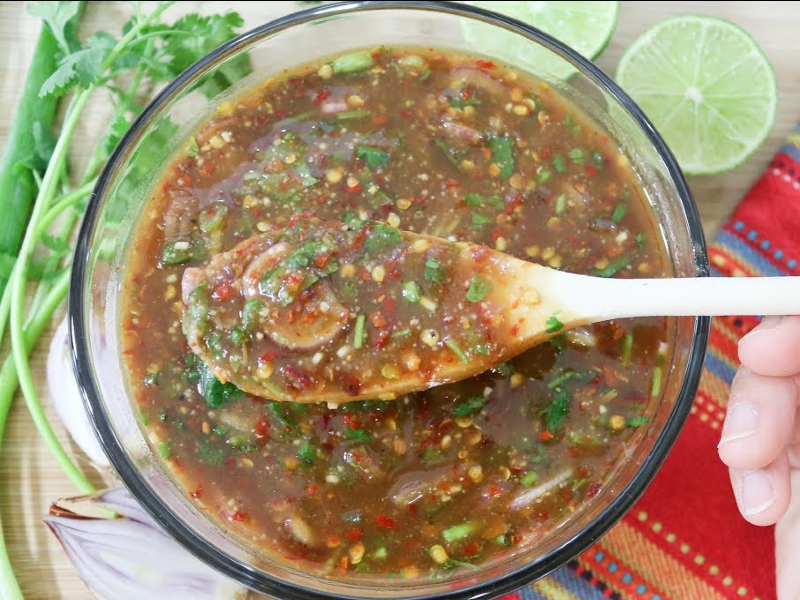 BURMESE TAMARIND SAUCE
Another popular sauce that can pair with any Burmese recipes is the Burmese tamarind sauce. There are store-bought tamarind sauce, but if you opt to make it at the comfort of your home, its recipe will take no time to prepare.
Here are the ingredients you need:
1 tbsp. tamarind pulp
1 tsp. salt
5 tbsp. fish sauce
5 tbsp. palm sugar or brown
5 cloves of garlic, minced
4 fresh chilies, chopped
½ tbsp. roasted chili powder
Handful of cilantro, chopped
3 kaffir lime leaves, chopped
PROCEDURE:
1. Add at least 5 tablespoons of lukewarm water in a bowl and soak the tamarind pulp for about 20 minutes or until softened.
2. Squeeze and crush the pulp to create a thick and smooth paste. Make sure to remove the seeds.
3. Add water to the saucepan and bring to a boil. Add the tamarind paste, dish sauce, sugar, and salt. Stir gradually.
4. Once the salt and sugar are dissolved, remove the saucepan from the heat.
5. Add the remaining ingredients.
---
WRAP UP
Eating your favorite dish will no longer be that boring. As long as you have any of the dipping sauces on your table, you will definitely enjoy your meal to its fullest.
And that's pretty much about the Burmese popular dipping sauces. I hope this post has helped you one way or another. Feel free to navigate our site for more interesting food recipes content. You can also show us your support by sharing this post to your friends and relatives.
Thank you for reading!
| Product | Brand | Name | Price |
| --- | --- | --- | --- |
| | Burma Love Foods | Burma Love Fish Sauce (Anchovy Sauce), Gourmet Seasoning, Salt Substitute, 100% NATURAL | Check Price on Amazon |
* If you buy through links on our site, we may earn an affiliate commission. For more details, please visit our Privacy policy page.