Let us get to know some of the most popular meat dishes in an extremely resource-rich country, Burma!
Burma, officially known as Myanmar, is a Southeast Asian country consisting of over 100 ethnic groups. Being the largest country in Mainland Southeast Asia, Burma is also diversely abundant when it comes to dishes.
Burmese cooking is embodied with a wide selection of dishes like traditional Burmese curries (chicken curry, pork curry, and beef curry), Burmese soup, and Burmese salads. These dishes are usually eaten with steamed white rice.
The country extensively uses fish products for its cuisine such as fermented seafood (ngapi), dried prawn, and fish sauce.
The most common ingredient in coastal cities is seafood, while inland cities use poultry and meat.
Indian dishes and breads, egg noodles, noodle salads, noodle soups, dry or fried noodles are also among the Burmese street food you should not miss to try.
If you are planning to visit Burma, might as well check out some of the country's must-try meat dishes.
Most Popular Meat Dishes In Burma
Burmese dishes are made of flavorful ingredients, and various regions offer distinct and unique dishes usually influenced by Thai, Indian, and Chinese cuisine. Listed below are some of Burmese cuisines having meat as part of their recipes.
MOHINGA
Mohinga recipe is an essential part of Burmese cuisine and is crowned as Burma's unofficial national dish.
This rice noodles and fish soup dish is often sold at roadside stalls, mostly in larger cities in the country.
Mohinga is commonly served during breakfast. The ingredients being used may vary depending on what region it is being prepared but its main ingredients are rice vermicelli noodles and catfish. Additional ingredients for this recipe include fish sauce, fish paste, banana stem, ginger, lemongrass, onions, and chickpea flour.
This Burmese dish is traditionally served in a bowl topped with hard-boiled eggs, fresh mint, and chopped onions.
---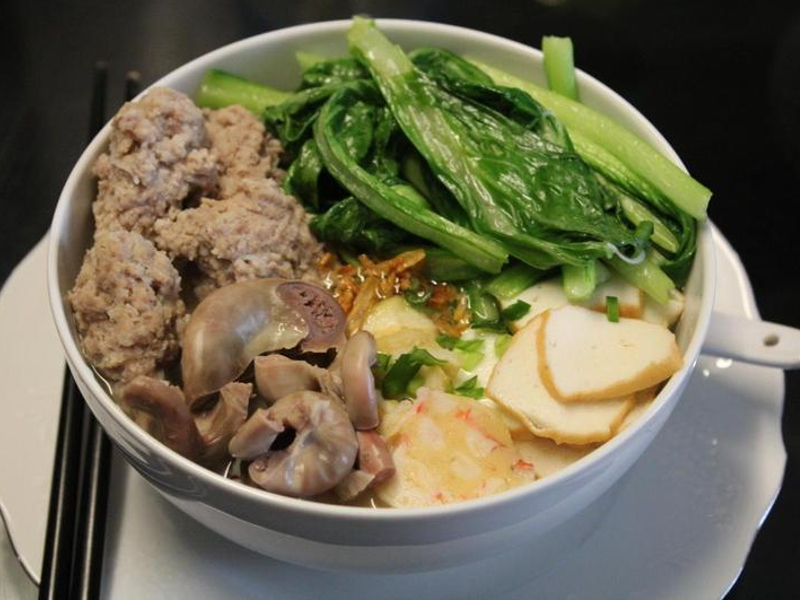 KYAY OH
Invented by Chinese immigrants living in Burma (Myanmar), Kyay Oh is among the favorite dishes in the country.
Kyay oh is a popular noodle soup, but is also considered as a meat dish since its ingredients include pork, chicken, or fish. This dish also has a dry version (with no broth).
Kyay oh is made with marinated meatballs, eggs, and rice noodles, while its broth is made with fish, chicken, or pork. This meat dish is usually served in a copper pot.
This meat dish is a bit expensive and is usually served in restaurants. If you are a huge fan of noodle soup or noodle dishes, Kyay oh will surely satisfy your craving.
---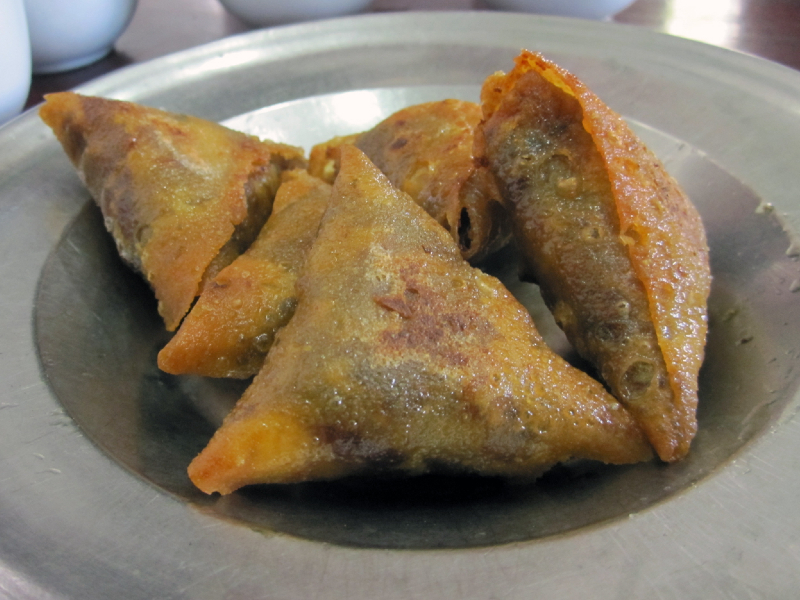 SAMOSA
Samosa is an Indian cuisine with a crunchy texture and a triangular shape. It comes in different flavors ranging from vegetables to meat. Samosas can be baked or deep fried.
Other ingredients include onions, spiced potatoes, lentils, boiled peas, chili pepper, chhena, maida, and condensed milk. Samosa recipe is simple, and you can cook this dish at home.
Samosas are best served with chutney, salad, and other pastries.
---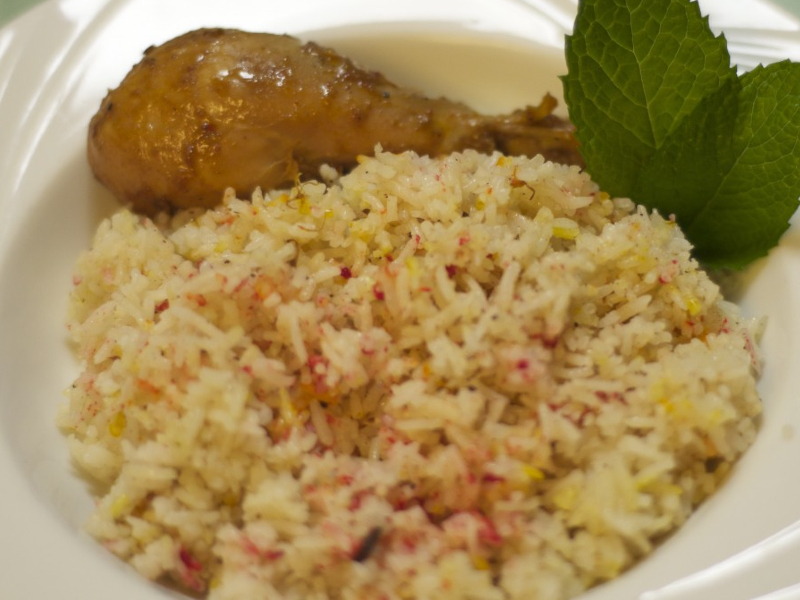 DAN BAUK
Dan bauk is a Burmese rice dish that contains pieces of curried chicken, mutton, or lamb. This Burmese cuisine is inspired by Indian biryani, and is typically made with long-grain rice and Indian spices such as turmeric, saffron, star anise, cinnamon, cardamon, cumin, and garam masala.
Other ingredients of the Burmese version of Dan bauk include vegetables like carrots, beans, and peas. While nuts, sesame seeds, fried garlic, and raisins are added as toppings.
This Burmese food is best served with mango chutney, pickled tea leaves, fresh mint, fresh salad, and/or green chili dipping sauce.
This Burmese dish is usually prepared in huge buffet servings, but can also be prepared at home in an instant pot.
---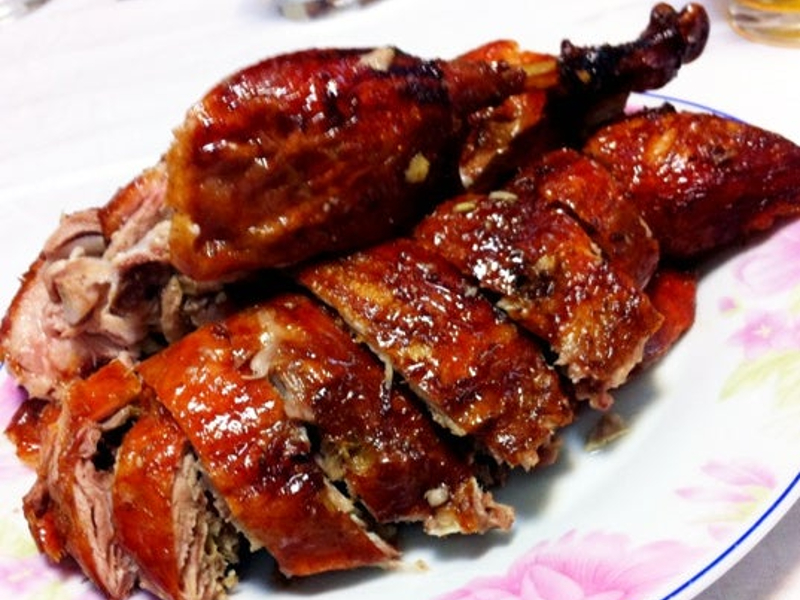 BE KIN
Be kin is a Burmese dish similar to Chinese-style roast duck. This recipe uses a whole duck marinated in a mixture of seasonings, sauces, and spices.
Glaze the duck with the marinade and roast at a medium low temperature until tender and juicy on the inside, and crispy on the outside.
Once done, cut the duck into small pieces and serve with a duck sauce or chili sauce. This Burmese food is best eaten with a glass of ice-cold beer.
---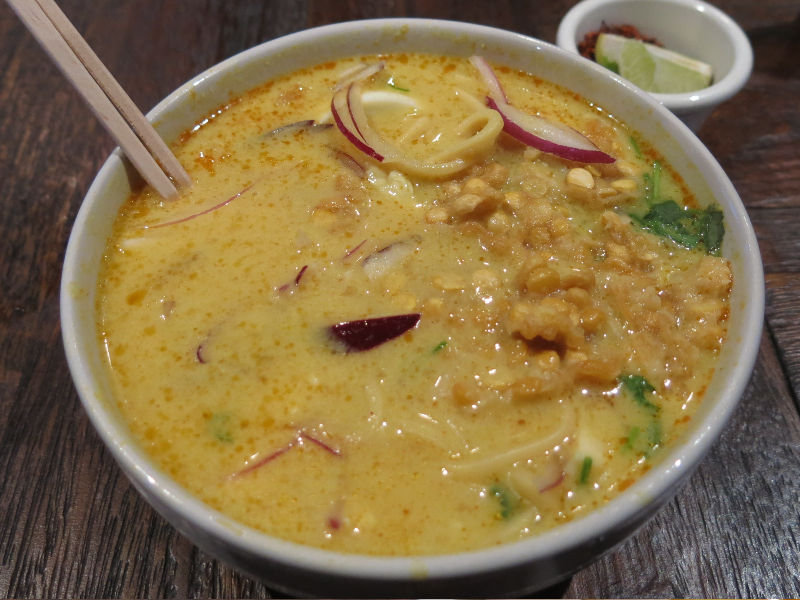 OHN NO KHAO SWE
Ohn no khao swè is one of the Burmese dishes you must try. It is made of wheat noodles in a curried chicken and coconut milk broth. Its broth is thickened using a gram flour.
Once cooked, this Burmese dish is topped with sliced raw green onions, crisp fried bean fritters, crisp noodles, sliced hard-boiled egg, chillies, red chili flakes, and flavored with fish sauce and lime or lemon juice.
---
BURMESE CHICKEN CURRY
Burmese chicken curry is Myanmar's traditional stewed curry. This dish contains southeast Asian flavors and Indian spices.
This Burmese food is also known as see-pyan and its recipe is made with chicken. Ingredients used for the marinade include oil, garam masala spices, fenugreek, cumin, turmeric, coriander, and curry powder.
The marinated pieces of chicken are then cooked in tomatoes, lemongrass paste, curry paste (made of onions, hot peppers, garlic, and ginger) and fish sauce mixture.
Once cooked, the chicken curry dish is served with white rice or steamed rice.
---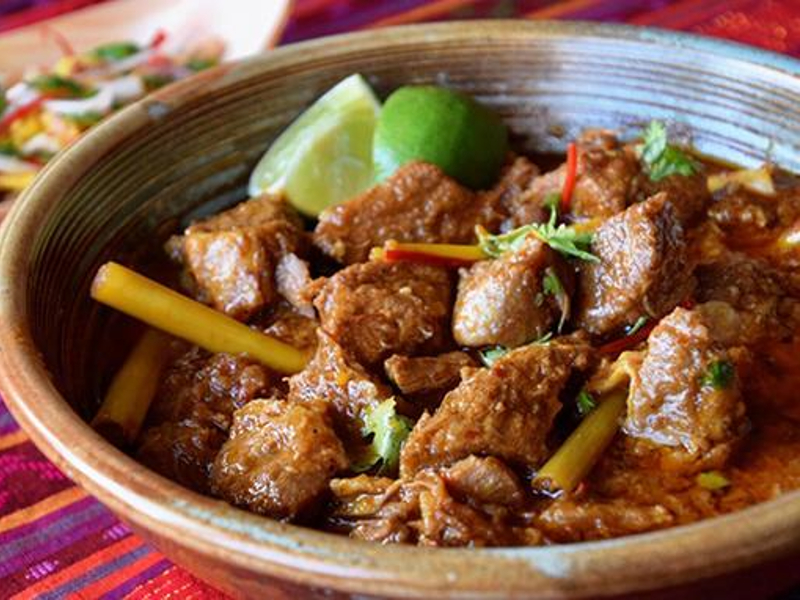 BURMESE PORK CURRY
Burmese pork curry recipe uses a slow-cooking method to transform the pork's flavor and texture. Rinsing the pork with rice vinegar before cooking also leaves a tangy taste.
Other ingredients in making this Burmese curry recipe are spring onions, garlic, ginger, fresh serrano chili, tomato, red chili powder, salt, sugar, paprika, turmeric, fish sauce, dark soy sauce, tamarind paste, groundnut oil or vegetable oil, lemon grass, fresh cilantro leaves, and shallots.
Cook the pork in a medium high heat while stirring occasionally for two hours or until it becomes tender.
---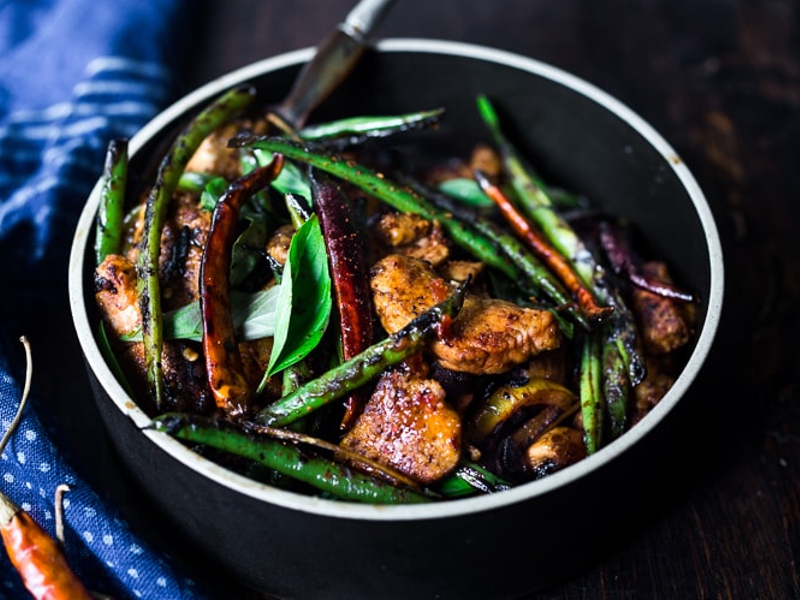 FIERY BURMESE CHICKEN
Fiery Burmese chicken is made with skinless and boneless chicken breast. It is usually cooked in a wok and served in a bowl over rice, and accompanied with fermented tea leaves salad.
Fiery Burmese chicken recipe main ingredients are chicken, cornstarch, kosher salt, pepper, peanut oil or coconut oil, and Chinese Five spice.
Stir Fry sauce ingredients include soy sauce, honey or sugar, rice vinegar, rice wine or Chinese cooking wine, and chili garlic sauce.
For the stir fry veggies, you need fresh green beans, asparagus or snap peas, bell pepper, sliced onions, garlic, dried Thai chilies, scallions, and Thai Basil leaves.
You can visit Burma Superstar restaurant to try this mouth-watering Burmese specialty.
---
BURMESE BEEF CURRY
If you haven't eaten a beef curry cooked the Burmese way, make sure not to miss this Burmese beef curry when you are in the country.
Aside from diced beef, this recipe is also made with onions, garlic, ginger, ground turmeric, coriander leaves, red chili powder, garam masala, and/or curry powder.
You can garnish the beef curry with fresh herbs to enhance its flavor.
Burmese beef curry is best served with steamed white rice or glutinous rice.
---
WRAP UP
Aside from the above-mentioned dishes, there is still a lot of enticing food Burma has to offer. If you are a huge fan of Burma food aside from Burmese curry, might as well try their snack called Pathein halawa. It is made of sticky rice, butter, and coconut milk, garnished with coconut shavings.
You can also try their egg curry. This dish is a sour curry made with hard-boiled chicken or duck eggs. The eggs are cooked in mashed tomatoes and tamarind paste.
And that's pretty much about the most popular Burmese dishes. I hope that this post has helped you one way or another.
Thank you for reading!