I guess almost everyone around the world loves to eat rice, who doesn't? But you have to make sure that the rice you are cooking is clean and you are cooking a good quality rice. Cooking rice does not only mean filling the pot with rice and adding water, you also have to make sure that it is clean to cook and of course safe to eat. Therefore, the very first thing that you need to do is to clean the rice by rinsing the grains, most of the time rinsing the grains is a pretty simple process however there are times when a rice washer is needed to make it easier to wash the grains. In this guide, we will be talking about the best rice washer that you can find in the market today as well as the links are also provided.
* If you buy through links on our site, we may earn an affiliate commission. For more details, please visit our Privacy policy page.
Guide to Washing Rice and Using Rice Washer
Importance of Washing Rice Effectively
It is of utmost important to wash the rice properly as washing the rice makes a difference with the taste and texture after it is cooked. This means that you have to do it until the wash water runs clear. When rice is not properly washed, the starch that remains on the grains will greatly affect the texture of the cooked rice, it tends to be sticky and forms clumps. Other than that, rice that were not properly washed may differ and can have an impure taste as compared to a properly cleansed rice.
Most of us have tried cooking rice and many also agrees that washing the rice is not that easy as it may seem. In fact, many have tried washing the rice and yet it seems that the water is still cloudy after repeated tries. A cloudy water is an indication that the water is not yet clean.
The tendency for us is that seeing a cloudy water means rice is not yet clean that is why we still repeat the same process of cleaning the rice, however little did we know that we are already wasting the grains that might be considered as good grains since draining the water might actually spills some of the grains. Not to mention the time and effort you into cleaning the rice for cooking.
Why does anyone need a rice washer
Rice cooker usually come in handy when cooking the rice, same goes to using rice washers to wash the rice in preparation for the cooking process. Using rice washers does not only make the washing easier, but it also makes sure that you are saving those perfectly good grains instead of wasting them.
Other than that, it saves you time and energy when using rice washers as compared to manually rinsing and washing the rice with the use of your hands.
We also have to put in extra effort to properly wash the rice grains before you cook the rice, by removing the starch (which is evident in a cloudy water).
Benefits of using Rice Washers
Using Rice Washers as an added equipment when cooking rice on a rice cooker can be beneficial, below are the list of the advantages when you use rice washer.
Decrease the use of water
Normally, without the rice washer we tend to clean rice for more than once or twice, in turn using too much water. But with a rice washer, the amount of water used is decreased.
Large Quantities
Most of the rice washers available in the market are designed to hold to as much as 6kg of rice in a single cleaning process.
High Speed
If you are using a water source that is high powered, all the more the washing and cleaning process of the rice tends to be 2x faster than when manually washing the rice.
Easy to Use
Rice washers are user-friendly, this means that washing rice using rice washer is very easy. In fact, almost anyone can use the washer in washing rice.
Check out the guide below for the list of Rice washers that you can purchase online.
Best Rice Washers You Can Find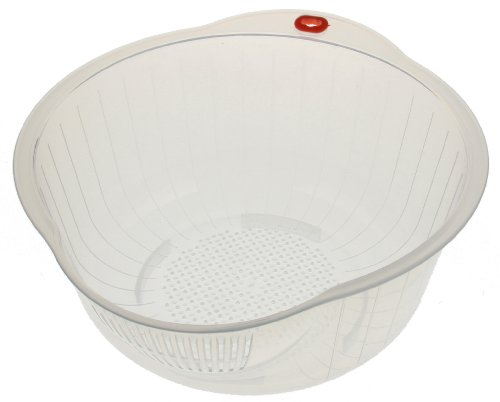 The Kotobuki Japanese Rice washer with footed bottom made in Japan has a dual drain system that strains from side and bottom drainers of the washer to ensure water is drained thoroughly and also for easy cleaning of the washer. The Footed bottom help stabilized the washer when put to stand in place.
It is made of plastic with a dimension of 9 x 9 x 4.25 inches LxWxH.
You can buy here on Amazon
---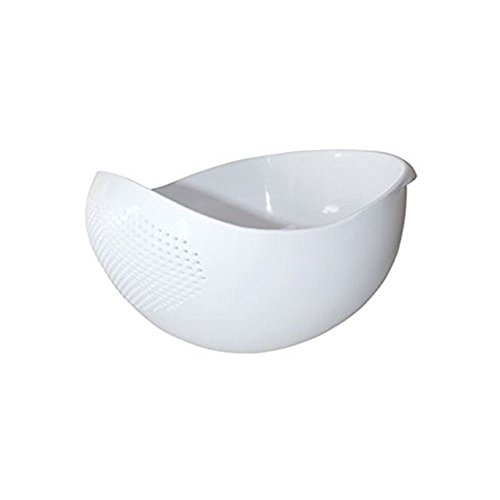 Another rice washer in this guide is Rice Wash Sieve by Everyfit. A multipurpose washer and strainer in one. Multipurpose wherein you can wash the rice while at the same time use the same washer when washing vegetables, fruits and others.
Made from high quality Polypropylene material guaranteed to be eco-friendly and durable .The edge is designed with a small handle to hold the the washer easily. Also, has fine draining holes for rice sieving.
The shape is design to prevent spilling of rice during the draining process while at the same time is able to clean and wash rice ready for cooking delicious rice.
The rice washer has a dimension of 21cm*18cm and weighs about 175 grams.
Colors available for purchase are: White, Blue and Pink.
You can buy here on Amazon
---
A multipurpose bowl by Joseph Joseph Prep design with integrated colander which means that you can rinse the food on the bowl and at the same time drain off excess water. Multipurpose in a sense that it can be used to rinse, drain, and even mix and serve the bowl on the exact same bowl, clever isn't it?
The bowl can be used to prepare foods such as salad or fruits and vegetables and use the same bowl to serve the prepared salad and fruits.
Other than that, it can also be used to rinse and drain rice before cooking, and even beans too. The holes for draining are seated on one side of the bowl and since the
The multifunction bowl is dishwasher safe for easy cleaning and washing of the bowl.
The dimensions for these item is 3.46 x 8.27 x 5.12 inches LxWxH.
You can buy here on Amazon
---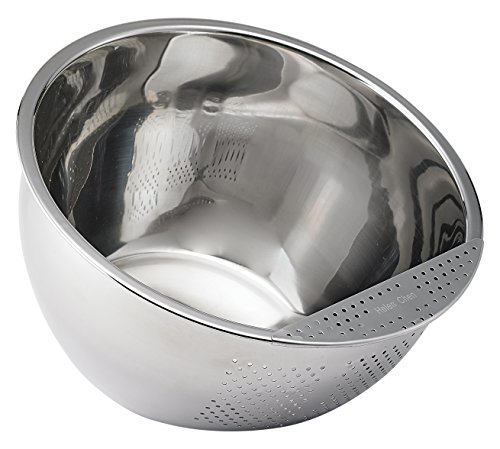 Another rice washer option that is available in the market. Helen's Asian Kitchen Rice washing bowl designed for soaking, cleaning and rinsing rice ready for cooking. It is also used to clean and rinse other foods such as legumes, quinoa, fruits and vegetables.
Made from stainless steel material that measures 9.05 x 9.05 x 4.53 inches LxWxH with a capacity of 3 quarts or a total of 12 cups of rice.
The bottom is designed to have a flat base, this is to ensure that the rice washer bowl stays in place during the soaking and rice washing process. The sides is where the draining takes places.
Cleansing and washing the rice using this bowl is pretty simple. Pour in the rice into the bowl, add in water, rinse rice thoroughly then tilt the rice washer to drain the water and starch. Then add water again, rinse rice and then drain again. Do this until the water becomes clear. Then place the cleaned rice to your rice cooker to cook rice.
The rice washer bowl is dishwasher safe, therefore it is easier to clean and wash.
You can buy here on Amazon
---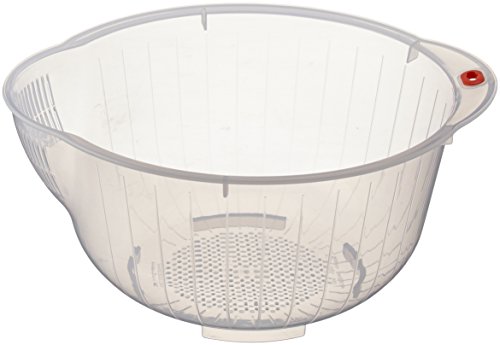 Inomata Japanese Rice washing bowl, is another dual drain system is designed with side and bottom drainers of the rice washer. To ensure that the water from rinsing the rice grains are drained without wasting perfect grains during the rice washing process and draining process.
Inomata rice washing 10 cups capacity (2.5 qt) is big enough to accommodate and clean foods such as fruits and vegetable as well as quinoa and beans. The bowl dimension is 10″x 11″ x 5″ inches LxWxH weighing about 3.2 ounces.
And because it is made of plastic, it is easy to use and easy to clean.
You can buy here on Amazon
---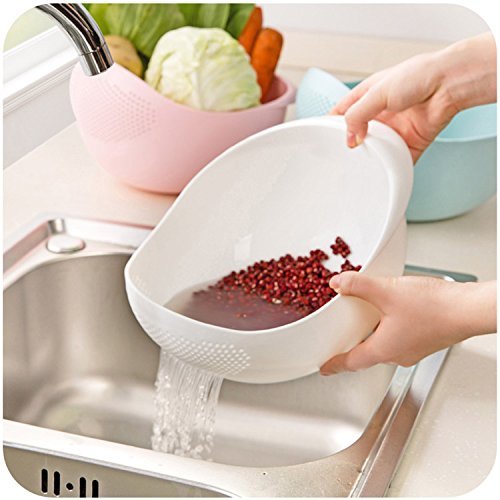 Per-Home Japanese Style Rice washer is another great option when planning to purchase rice washer needed to wash rice. It is designed to properly soak and wash rice grains. As mentioned, is it important to properly wash the wash to remove starch and toxins.
Aside from using it in washing rice, it can also be used in washing fruits and vegetable, barley, pasta and other grains as well.
It has a fine mesh colanders that allows you to wash and rinse on the same washer.
Made from PP material therefore guaranteed to be eco friendly and durable.
It is also dishwasher safe for easy cleaning and washing of the washer.
The rice washer weight about 215 grams with a size dimension of 10″ x 7.7″ x 6″ inches LxWxD
You can buy here on Amazon
---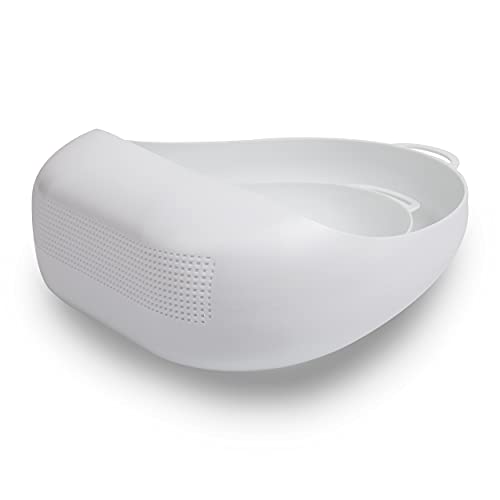 Mind Reader Plastic Rice Washer is a two-pack food strainer that consists of 2 sizes of straining colanders designed for washing and rinsing rice grains, fruits and vegetables among others.
The dimensions for each rice washer strainer are as follows:
Small strainer measures 8″ x 3.5″ x 9.5 " inches LxWxH
Large Strainer measures 10.4″ x 4.75 " x 11.5 " inches LxWxH
Obviously, the small strainer is used for small food while the large strainer is designed for big portions.
The holes for straining is located at the side of the washer, the tiny holes are small enough ensuring no food is falls outside the strainer.
It has a handle on top of the rice washer designed for easy handling and straining. It is also used to protect oneself from getting burned when cooked grains or pasta are being drained.
The rice washer is made from PP material, considered to be an ecofriendly item and believed to last for a longer period of time even with continuous usage.
You can buy here on Amazon
---
Conclusion
Rice washer are very popular especially the Japanese rice washers. It is considered to be a useful device to add to your kitchen. Not only it can decrease water usage, it can also save you some time, effort and energy.
I
* If you buy through links on our site, we may earn an affiliate commission. For more details, please visit our Privacy policy page.