When a trimmed lean meat is cut into strips and then allowed to dried for it to be dehydrated are called Jerky. The dehydrating process does not only include drying the meat but also goes through adding it with salt to prevent it from spoilage and growth of bacteria. Basically, the term Jerky simply means dried salted meat. There are numerous types of Jerky that is why we have compiled a list of the different types of jerky.
Different Types Of Jerky
Any type of protein rich meat can be dried and made into a turkey. Listed below are the most popular types of Jerky for Jerky lovers out there. Continue reading below to know more.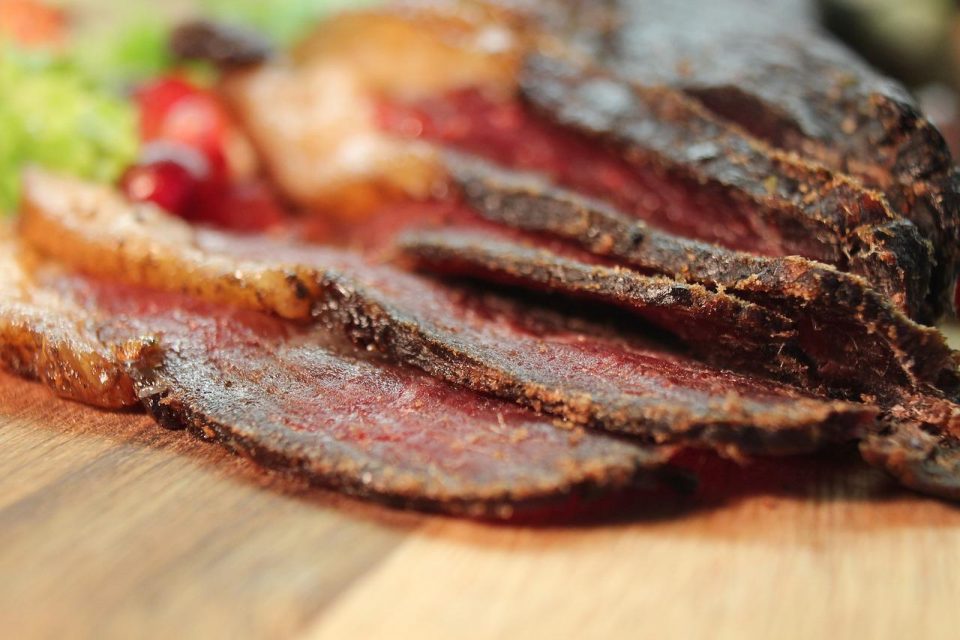 Beef Jerky
A beef jerky is the most popular and perhaps the most versatile type of Jerky. It is made from a beef or cattle.
Before, jerky is made to preserve the beef by using salt to cure it but it then became popular because this solid thick strips has a salty and umami flavor.
There are different flavors of beef jerky but the best beef Jerky flavors are:
Different Textures of Beef Jerky
There are different texture of Beef Jerky, from dry to tough and even leathery texture.
Soft Beef Jerky- A jerky texture that is made with more flavors as compared to other traditional jerky varieties.
Old fashioned beef jerky- features a dry and tough texture making it difficult for the jerky to chew. Although you can immediately taste its flavor as you continue to chew on it.
---
Poultry Jerky
If you are looking for a substitute of Beef Jerky that is more healthier, you may want to consider the poultry jerky since it has low fat content as compared to beef jerky while at the same time still has high content of protein.
Poultry refers to all varieties of fowls that includes: Turkey meat, Duck meat, Chicken meat and Goose meat.
---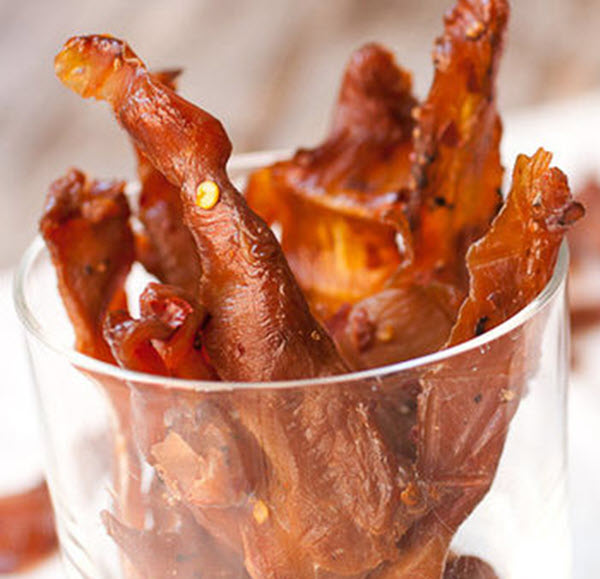 Turkey Jerky
There are two flavors of Turkey Jerky: Original Turkey jerky and Spicy Turkey jerky. If you are on a diet, turkey jerky is perhaps the perfect jerky choice since it is considered to be the type of jerky that has the most low saturated fats and calories.
Similar to other jerky types, turkey meat is marinated using soy sauce, brown sugar, garlic, onions and spices. Marinated turkey meat is then cured in hickory smoke until completely cooked.
---
Alligator Jerky
An Alligator Jerky belongs to the exotic meat jerky types. This type of Jerky has high protein content, but low in calories and unsaturated fats, although has good amounts of monosaturated fat.
From the name itself suggests, Alligator jerky is made from strips using Alligator meat (tenderloin). The Alligator tenderloin is then flavored using varieties of seasonings and final touches of hickory smoke.
The flavor of Alligator jerky is mild and has a firm texture. Compared to chicken and fish, Alligator Jerky has low fat content.
---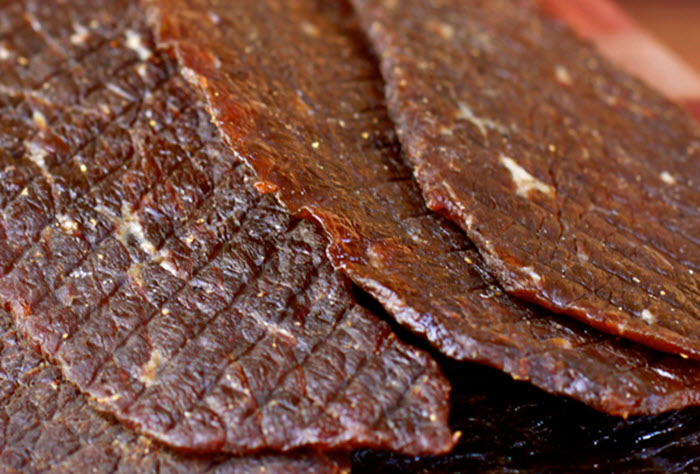 Buffalo Jerky
Buffalo Jerky is also called Bison Jerky. This type of Jerky has high protein content but low in fat therefore considered to be one of the healthies jerky.
There are dozens of Buffalo jerky flavors that includes Gluten free, Teriyaki, Spicy and Black Pepper.
---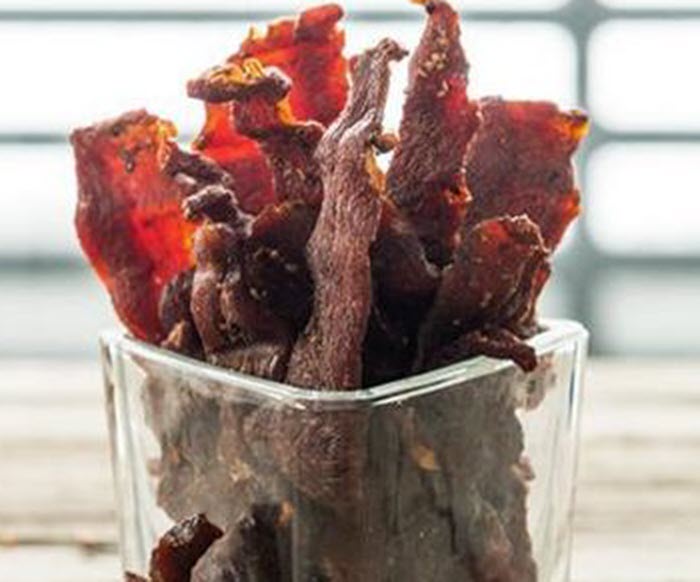 Duck Jerky
Duck Jerky is obviously made from duck meat that is marinated using Teriyaki soy sauce, salt, garlic, onions, brown sugar and other spices. After which it is then smoked until Duck meat is already cured.
Duck jerky does not contain any additives nor nitrates or MSG. It has a mild but with a sweet taste, although it is more creamier and has high fat content.
---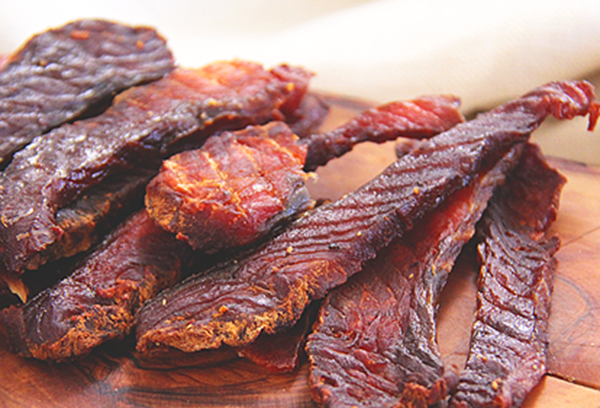 Fish Jerky
Compared to the traditional beef jerky, Fish jerky has more nutritional content that could benefit one's health. There are different fish Jerky options to choose from:
Wild Salmon Jerky – salmon is known to have high amounts of Omega 3 (an essential fatty acid) and protein content but low fat content.
Trout Jerky – known to contain high amounts of Vitamin B. It has a smooth and rich taste and a soft texture. Known to contain high amounts of Omega 3 essential fatty acid. This type of Jerky is made from Rainbow Trout. Not just delicious, but nutritious as well. The thick strips of Rainbow trout are seasoned using ingredients such as miso tamari, garlic, black pepper, oregano, corn starch, lime, sage and salt then hickory smoked.
---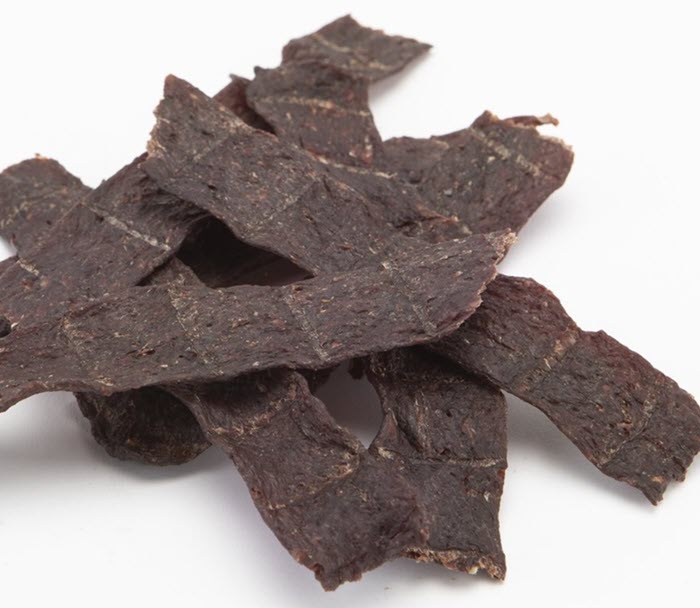 Ostrich Jerky
Since Ostrich meat and beef meat have the same red color, both are often compared in terms of its taste.
Ostrich meat used to make Ostrich jerky should be raised in an environment that is free from steroids and does not use growth hormones.
Ostrich meat is a lean meat that provides health benefits as they are high in protein, and low in cholesterol. To prepare the meat to make beef jerky, it is first marinated using marinade mixture of soy sauce, onions, garlic, brown sugar and spices of choice. After marinating, it is then cured in hickory smoke until desired texture is achieved.
Ostrich Jerky are known not to contain any traces of MSG, nor nitrates or additives.
---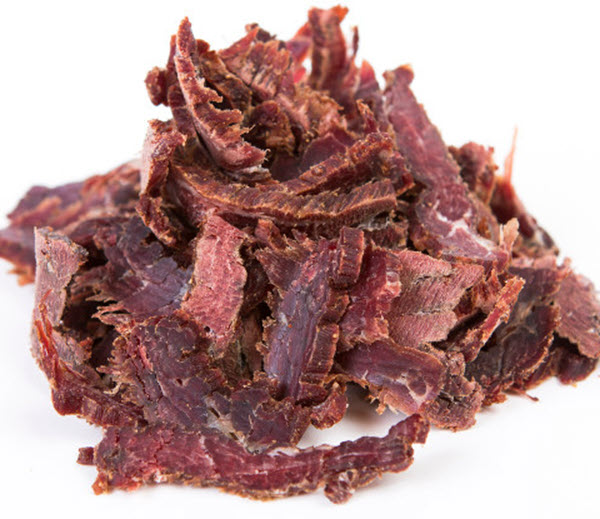 Kangaroo Jerky
The Kangaroo meat used to make Kangaroo jerky is high in protein content, omega 3 essential fatty acids as well as iron content.
The Kangaroo meat is a lean red meat that are cut into thick strips. The strips are then marinated using soy sauce, brown sugar, onions, garlic and varieties of spices. It is then smoked and cooked.
---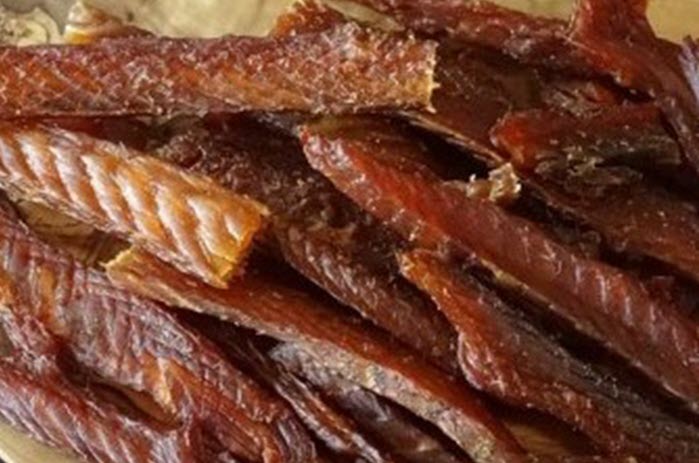 Snake Jerky
The most common type of Snake jerky is one that is made of rattlesnake meat. Although it is not advisable to make this type of Jerky at home since it needs an expert to perfectly make it especially when it comes to handling the snake and its venom.
Smoke rattlesnake meat is usually available packed in tin cans. It is seasoned with broth such as salt, brown sugar and smoke flavor.
Rattlesnake meat does not contain MSG, nor nitrates or fillers. Growth hormones were not used too. Aside from that, compared to other jerky varieties, Snake jerky has low sodium content.
---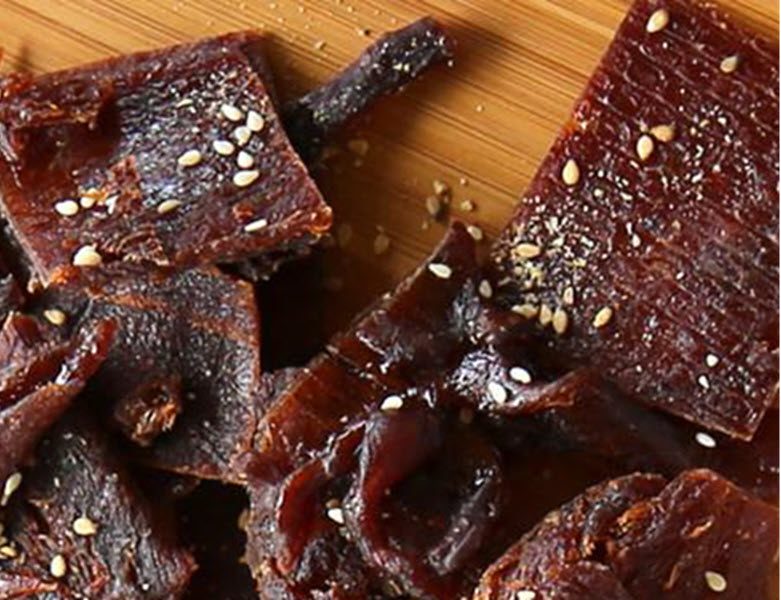 Tuna Jerky
You might be wondering whether or not Tuna can be made into a jerky, Yes there is what we call Tuna Jerky. If you are looking for the best type of Tuna meat, nothing can beat the Yellowfin Tuna. Although any type of tuna will do, but the best kind is the Yellowfin Tuna.
Creating your very own Tuna Jerky at home is possible and very simple. All you need to do is to marinate the strips of tuna meat using ingredients such as: corn syrup, black pepper, soy sauce, ginger, red pepper, nutmeg and additional spices that will suit one's preferences too.
---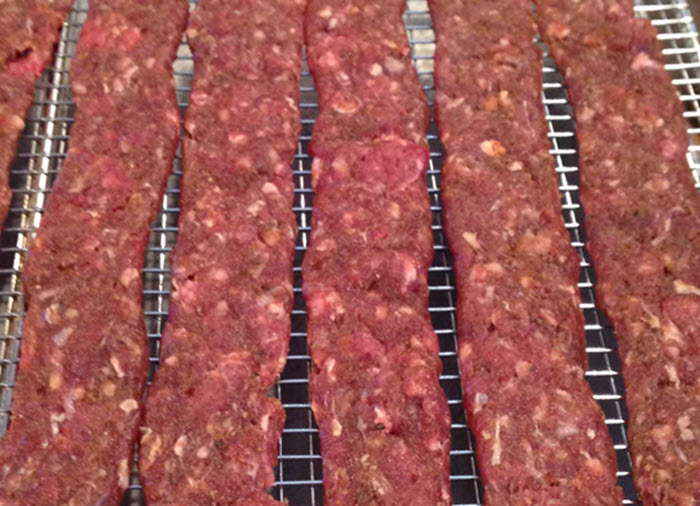 Venison Jerky
Venison Jerky is also known as Deer Jerky. A type of jerky that is high in protein and loaded with nutrients.
Premium Deer is the best option used to make this type of Jerky. The solid strips of Venison meat are first marinated in ingredients such as salt, garlic, onions, soy sauce, brown sugar and spices of choice. Deer meat are cooked using Hickory smoke.
---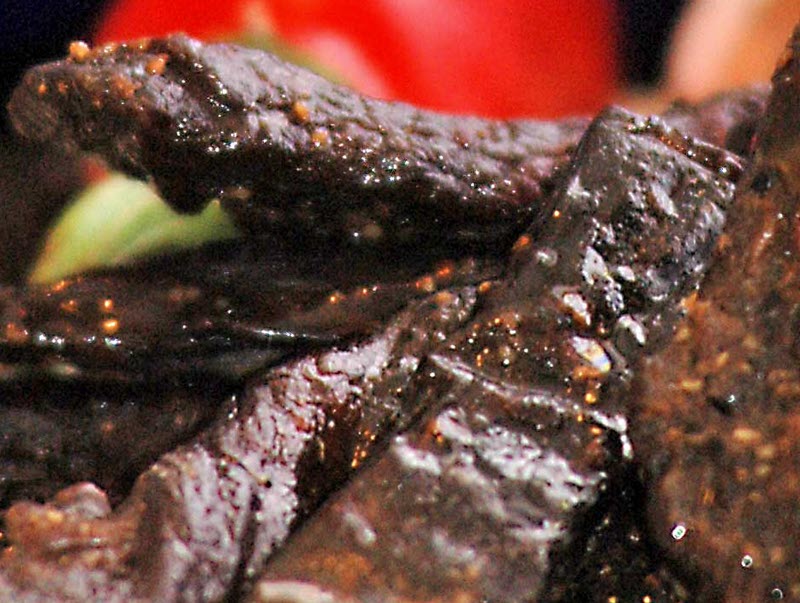 Wild Boar Jerky
Another type of Jerky for Jerky lover is the Wild boar Jerky. The thick strips of wild boar meat is first marinated using marinate mixture of brown sugar, soy sauce, garlic, onions and spices and are then cooked in hickory smoke.
Wild boar meat has no MSG added, nor contains additives and preservatives therefore it is safe and nutritious as well. Always check to make sure that wild boar meat is steroids and growth hormones free.
---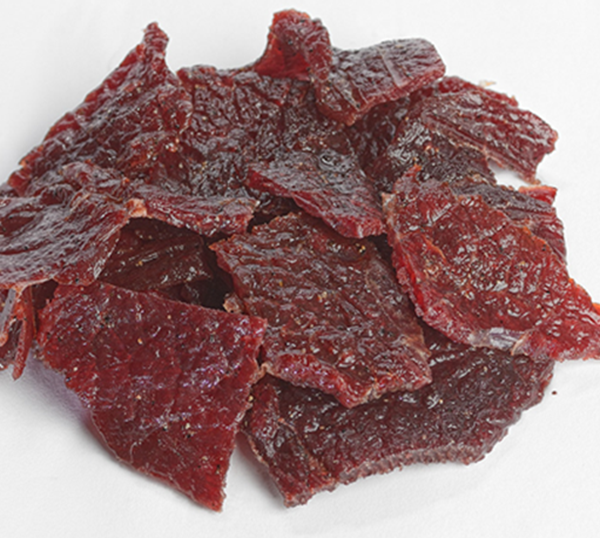 Yak Jerky
Yak Jerky is not only delicious but nutritious as well as it contains high in protein and has low calories and fat as compared to beef Jerky. Yak Jerky is made of lean meat that are cut in solid pieces. Yak meat are then marinated using the marinate mixture of soy sauce, garlic, onions, salt and spices and then hickory smoked.
Conclusion
As mentioned, any meat that is high in protein can be dried and made into a jerky that is why there are so many different varieties of Jerky.
Most of the time, the old fashioned beef jerky is the favorite of the crowd not only because it is delicious but healthy and nutritious as well. It is high in protein and low calories. Although the other types are delicious as well.
From the list of Jerky types mentioned, which one have you tried and which one you like the most. Let us know what you think.