Roaming around the streets in Malaysia whether in the city's capital Kuala Lumpur or even in small towns, you can see a wide selections of colorful stalls selling street foods. The street foods in Malaysia is highly influenced by Indonesia, India, Thai and Chinese cuisines. Listed below are some of the most popular Malaysian street food that you don't want to miss when you visit Malaysia.
Popular Malaysian Street Food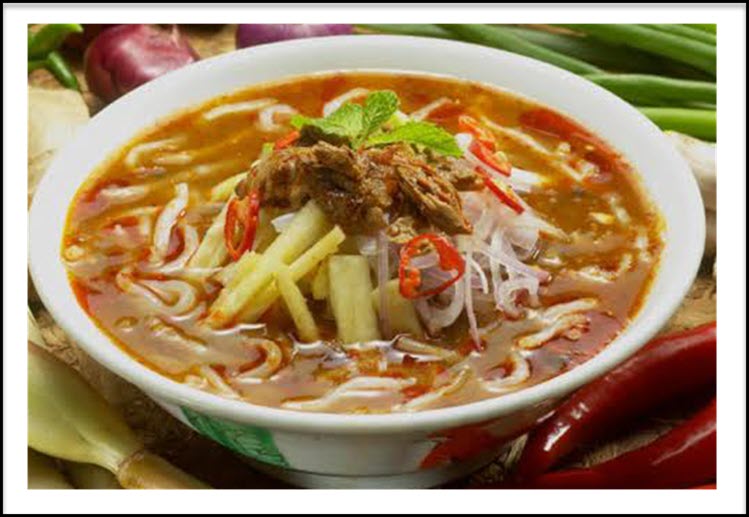 Penang Assam Laksa
Penang Assam Laksa is a rice noodle dish in Fish broth. Basically, the noodle soup (Laksa)or a spicy noodle dish is changed to a tangy flavor by adding Assam (Taramind). Considered to be one of the most popular Malaysian street food.
The soup is made of mackerel and one of its main features is the presence of tamarind in the ingredients.
To make the food more flavorful, you can add a scoopful of shrimp paste.
---
Rojak
Rojak is another popular Malaysian street food. It is a salad that consists of fruits and vegetables, a fruit and vegetable Salad
There are two types of Rojak: Fruits and Vegetables salad with a tangy dressing which consists of bean sprouts, cucumber, turnip, guava, watery rose apple or Jambu air, and mangoes that are unripe. Other versions of this variety consists of Taupok (Fried Tofu) and Chinese Fritters (Youtiao). The dressing is made of crushed peanuts. lime juice and ground chili.
While the other type is Rojak Mamak that consists of prawn fritters, hard boiled eggs, slices of cucumber, potatoes and bean sprouts. The sauce for this type is made of sweet and spicy chili sauce.
---
Ipoh Hor Fun
Ipoh Hor Fun is a flat rice noodle dish commonly found as a Malaysian street food. It is also called Kai See Hor Fun.
It is usually served with chicken and prawns broth. It also consists of prawns, mushrooms, spring onions, fish balls and shredded chicken. Best served with soy sauce mixed with hot Chilli.
---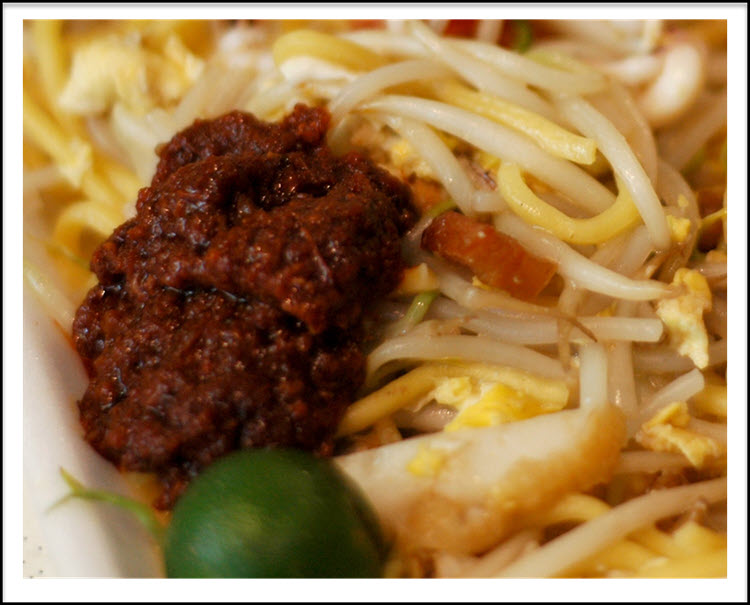 Hokkien Mee
Hokkien Mee is another famous Malaysian street food that consists of different varieties of ingredients.
It is another noodles dish that is made from cooking yellow egg noodles in dark soy sauce. The mixture is then topped with squid, prawns, meat such as pork and pork lard. If you want Hokkien Mee noodle dish to be a little spicy, you can add sambal belacan. Sambal Belacan is the most important ingredient in Malaysian Cuisine. It is a shrimp paste that is made from using small shrimps that is mixed with salt. The mixture is then fermented for weeks.
Another version of this dish is the Penang version wherein the egg noodles are cooked in shrimp stock and then embellished it with fish cakes, lime and spring onions.
---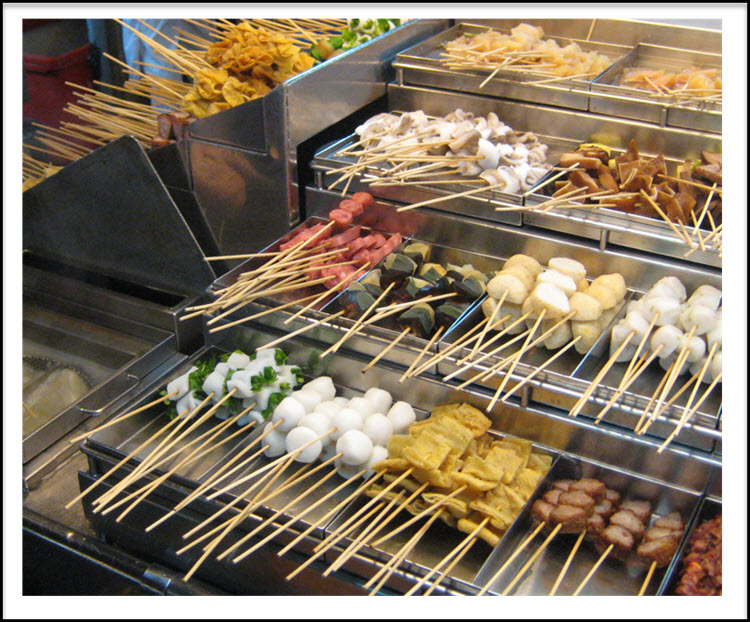 Lok Lok
The term Lok Lok means "Dip Dip", a unique Malaysian street food. The main concept of this Malaysian street food is first to choose from different varieties of semi cooked skewers such as meat, fish balls, meatballs, vegetables, and seafood then dip the chosen skewered Malaysian street food into a steaming deliciously hot broth that is usually made of different sauces and soup. Each of the skewers have different prices. So, the number of sticks with the corresponding prices will be counted and will then be billed to the customer.
Although, it is somehow similar to that of a hot pot or steamboat style, both differs with Lok Lok wherein the cooking of the Malaysian food is done at the back of food trucks.
---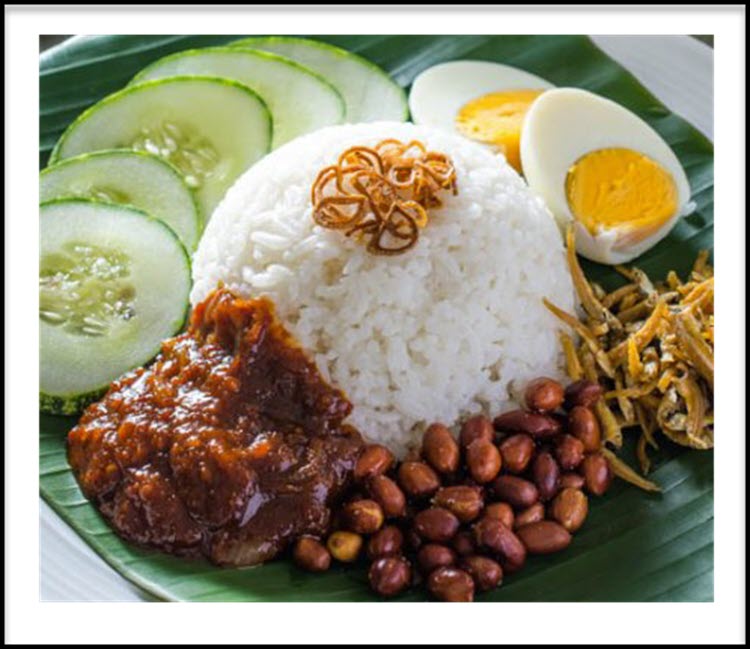 Nasi Lemak (Coconut milk rice)
When in Malaysia, this street food is a dish that you don't want to miss trying. Nasi Lemak is a coconut milk rice that is usually served with boiled egg, roasted peanuts, fried anchovies, cucumber slices and chili sauce (Sambal). A fragrant rice that is considered to be Malaysia's national dish.
Although Nasi Lemak is not only served in street food stalls, but can also be found in menus of restaurants in Malaysia, but street food vendors have a unique way of serving the dish using fresh banana leaves.
Nasi Lemak is usually served as a breakfast meal, but is also best when eaten anytime of the day.
---
Chee Cheong Fun
Chee Cheong Fun is a popular rice noodle in Malaysia. It can either be served as a snack or a small meal. Although it is similar to other rice noodle` rolls that are served in other dim sum stalls and restaurants but its distinctive feature is that it is made of thick rice noodles combined with dark sweet shrimp sauce.
Chee Cheong Fun is a thin roll dish that is made from Shahefen with fillings of vegetables, shrimp, and beef.
---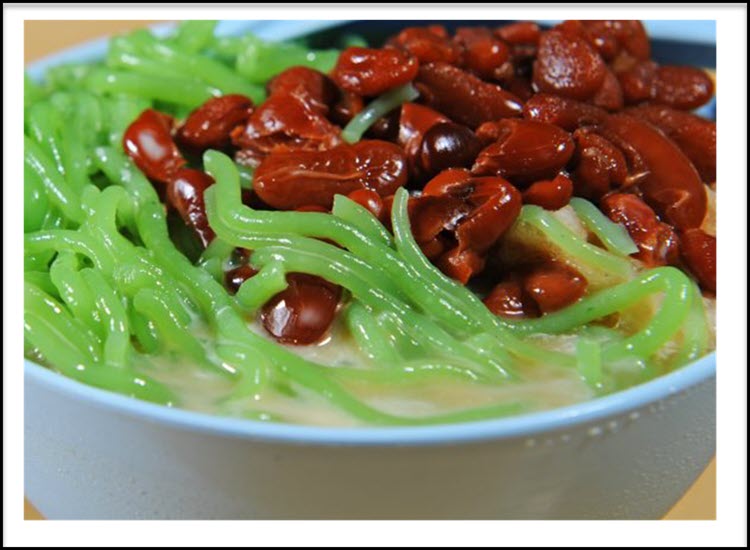 Chendol
Chendol or also called Cendol is a refreshingly iced sweet dessert that consists of green rice flour jelly, coconut milk, palm sugar syrup (Gula Melaka) and shaved ice. It is usually served in a bowl or a tall glass.
The flour jelly in this dessert is made of mung bean flour and food coloring for that green color of the jelly.
It is often garnished with durian (sweetened red beans) or jackfruit for that extra unique taste.
---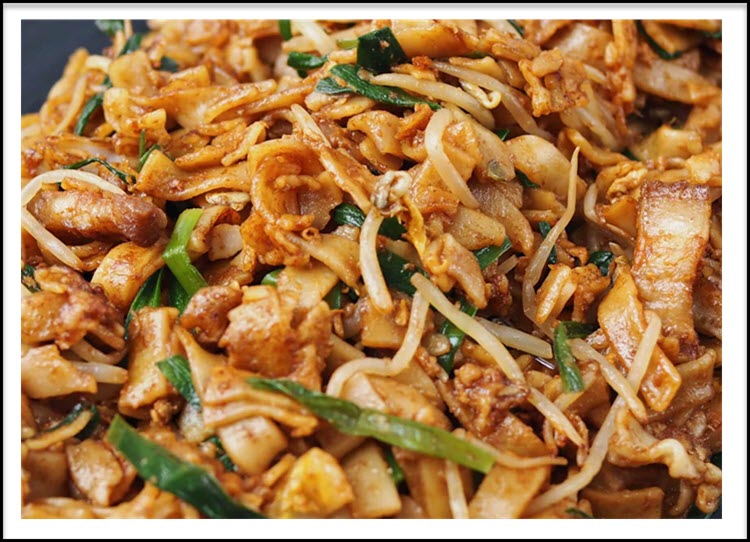 Char Kuey Teow (Char kway teow)
Another popular Malaysian street food is Char Kuey Teow. A stir fried flat rice noodles cooked in Chinese wok for that smoky flavor. A large wok is usually used and Char kway teow is cooked over high flame, make sure though not to burn the noodles while cooking it over high flame. The dish is seasoned with soy sauce, bean sprouts, sausage, spring onions, and egg.
---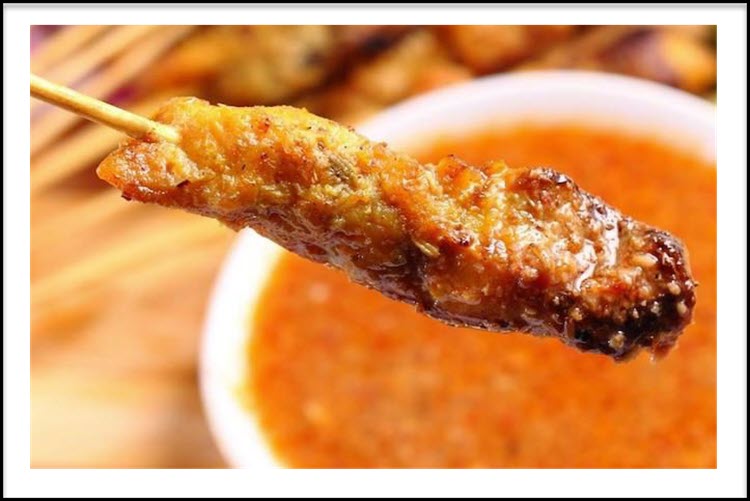 Batu Maung Satay
At night, most street food stalls are selling grilled meat on bamboo skewers called Batu Maung Satay. Charcoal grilled skewers of marinated meat such as pork, chicken and or beef. Usually served as smokey hot combined with cucumber, onions and peanut sauce.
---
Apom Balik
The on-the-go dessert known as Apom Balik. A pancake that is available in Malaysian street food stalls. It is made from Sticky rice.
Apom Balik has a crunchy shell, is sweet and fluffy. Common fillings of Apom Balik includes sugar, corn (sweetened) and peanuts (crushed).
---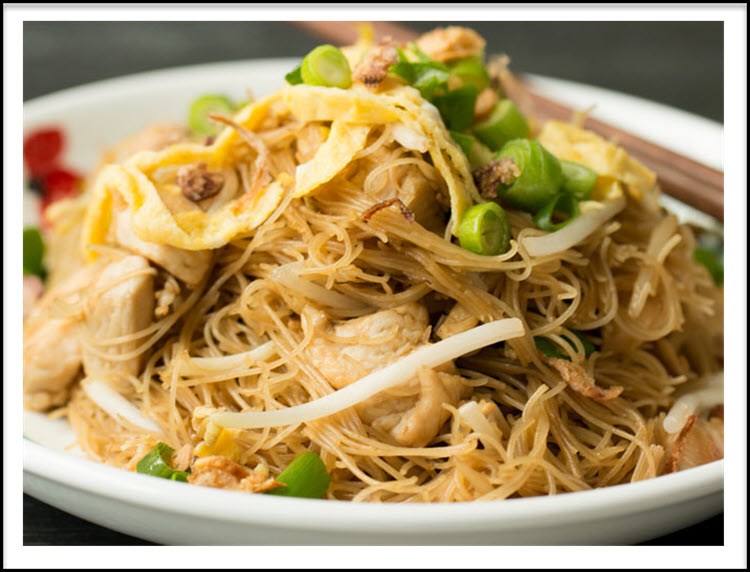 Fried Bee Hoon
Fried bee hon or also called Fried Bihun is a simple Malaysian dish that should be on your lists of foods to try when in Malaysia. It is readily available and a popular Malaysian street food.
Rice vermicelli is simply stir fried and combining it with other ingredients such as fried eggs and bean sprouts. Sausages are often added to the fried bee hoon dish.
Although there are different versions of Fried bee hoon since it can be found in Chinese, Indian and Malay restaurants. The distinguishing feature of each version relies on the sauce and spices used that could add to the flavor of the fried rice vermicelli. Some would add chili or sambal when serving fried bee hoon and side dishes can be added too.
---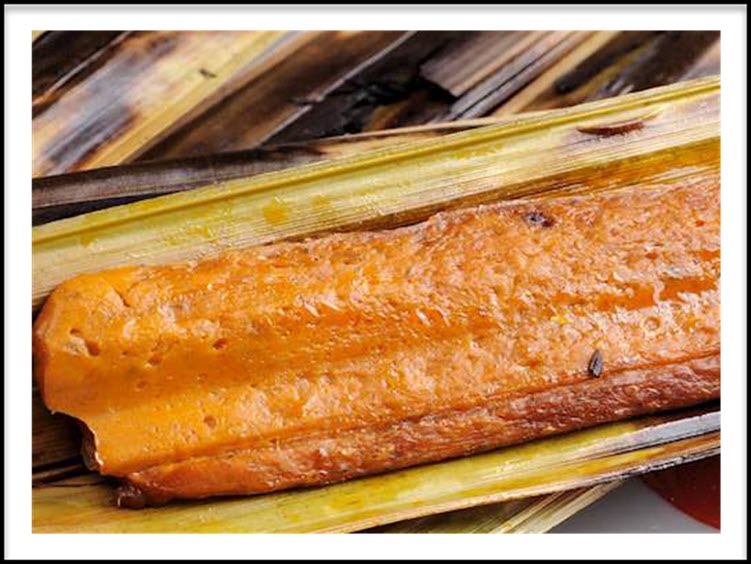 Otak Otak (Grilled Fish Cake)
Otak Otak is made of ground fish that is mixed with spices and are wrapped with banana leaf parcel. It is a southeast Asia fish cake that originated from South Sumatra.
Grilled fish cake can also be found in Indonesia, but the Malaysian version of this food can be distinguished by its reddish-orange in color. The color is because of the mixture of chili and turmeric that was used to add flavor to the fish cake.
---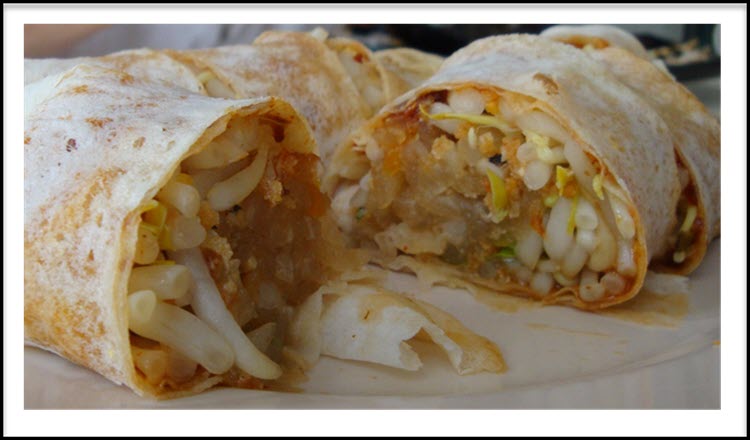 Popiah
If you are familiar with the popular dish from the Philippines and Indonesia called Lumpia, well Popiah is the Malaysian version of the dish.
Popiah is the spring roll version in Malaysia. The ingredients such as turnip, jicama, carrots, lettuce leaves, bean sprouts and chopped peanuts are mixed and then rolled in a thin flour or soft crepe wheat pancake. Although there are several variations wherein different fillings are used such as Chinese sausage, seafood, meat and tofu.
Similar to Fresh lumpia, Popiah can also be eaten raw (fresh) or can also be deep fried. To make the dish more flavorful, it can be served with a dipping sauce such as a hoisin sauce (sweet sauce) or a spicy chili sauce. Whichever sauce suites you best.
---
Ramly Burger
The burger gets its name from its Founder Rambly Bin Mokni. The founder and the managing director of the largest frozen and fast food processing company in Malaysia. It is estimated that the company can produce at least a million patty everyday, that accounts for over 70% of its daily production of patty consumption.
You can easily spot street food stalls selling Ramly burger on Malaysian streets because that stalls have the company's logo.
The Ramly Burger is a unique kind of burger because the patty that is used is wrapped in fried egg then placed in between burger buns.
---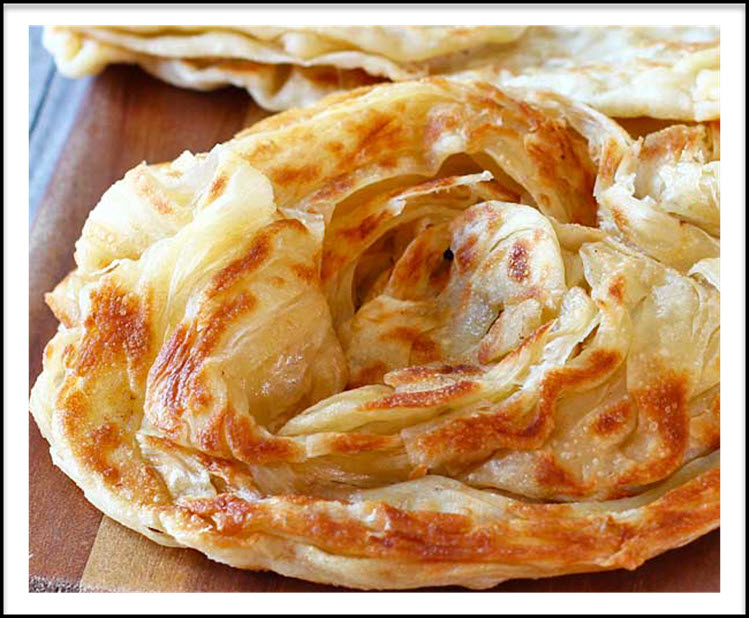 Roti Canai
Another popular Malaysian street food on the list is Roti Canai. The dish is an Indian influenced dish. Usually served during breakfast but can also be eaten anytime of the day.
There are different versions of Roti Canai: standard version wherein it is served with lentil curry (dal) or other types of curries such as fish curry, chicken curry or mutton curry. The other version is the customized version that is mixed with onions, cheese, egg and sardines.
---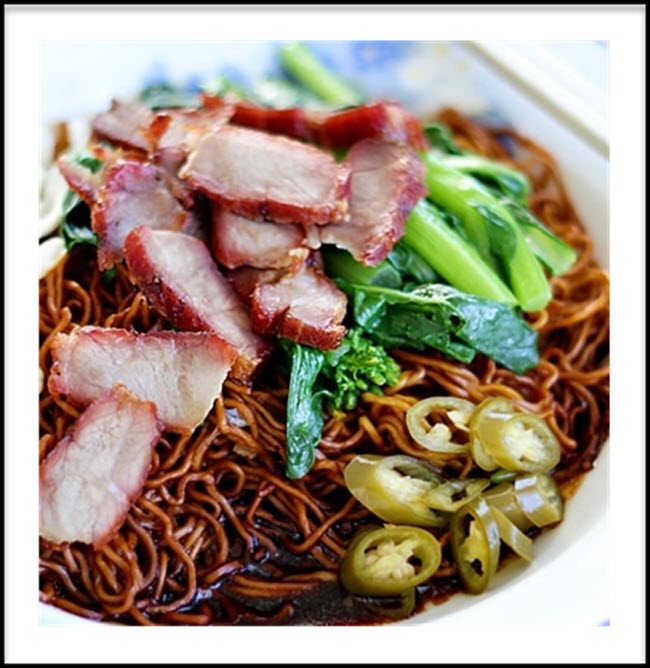 Wan Tan Mee
Although Wan Tan Mee is a Cantonese origin, street food stalls in Malaysia usually have two versions on their menu: the traditional version and the localized version.
The traditional version of the wonton noodles is made by thin egg noodles taken from hot broth then served it with vegetables and other ingredients such as spring onions and wontons. The Wontons is either filled with chicken, pork and or shrimp.
The Localized version on the other hand is usually served as dry, sometimes deep fried wontons are used. The egg noodles used is garnished with oyster sauce. Most of the time, the noodles used in the localized version is eate with slices of barbecued pork or also called as Char Siew along with green leafy vegetables.
---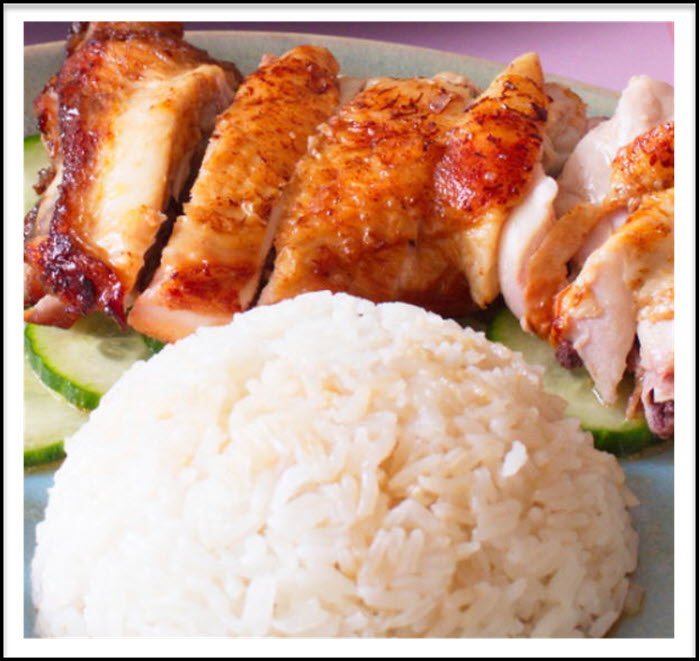 Chicken Rice
Chicken Rice is a popular Malaysian Street food. It is made of steamed chicken combined with soy sauce and cucumber slices. Most of the stalls selling Chicken rice also has roast pork belly and barbecued pork on its menu for more availability of foods to choose from.
---
FAQs
What is the most popular Malaysian street foods?
The most popular Malaysian street foods are Banana leaf rice, Nasi Lemak, Hokkien Char Mee and Satay.
Why do Street Food vendors in Malaysia uses banana leaves when serving rice dishes?
The banana leaves are used by Malaysian Street food vendors as an alternative to plates when eating street foods in Malaysia. It is not only economical but also gives the rice dish the fresh aroma and flavor of Malaysian Rice dishes.
Do Malaysia have street foods for vegetarians?
Nasi Lemak is the food of choice as street food for vegetarians when in Malaysia.
Are Malaysian Street foods also best with non-vegetarians?
Malaysian street foods are usually made of fish (usually fried fish), chicken (mostly fried chicken), pork, and beef. Cooked in different cooking methods such as stuffing, deep fried, grilled and or toasted.