Ice cream and ice cream cones, now that's a perfect combination. Who wouldn't want to indulge in these wonderful sweet ice cream treats? Ice cream and ice cream cones together make the ideal summer treat because of their cooling, creamy sweetness and crunchy texture. Ice cream cones are as necessary as the ice cream itself since they improve the flavor and texture of your ice cream desserts.
* If you buy through links on our site, we may earn an affiliate commission. For more details, please visit our Privacy policy page.
Your entire ice cream experience might be altered by the type of ice cream cone you select. This is why it's crucial to pick the appropriate one, based on your preferences and the specific ice cream you're consuming.
There are several types of ice cream cones available in the market today. You can enjoy and try each one of them, customize the way you always consume ice cream in a cone with its unique flavor, texture, and ingredients.
If you want to know the various types of ice cream cones, scroll down and continue reading.
Types Of Ice Cream Cones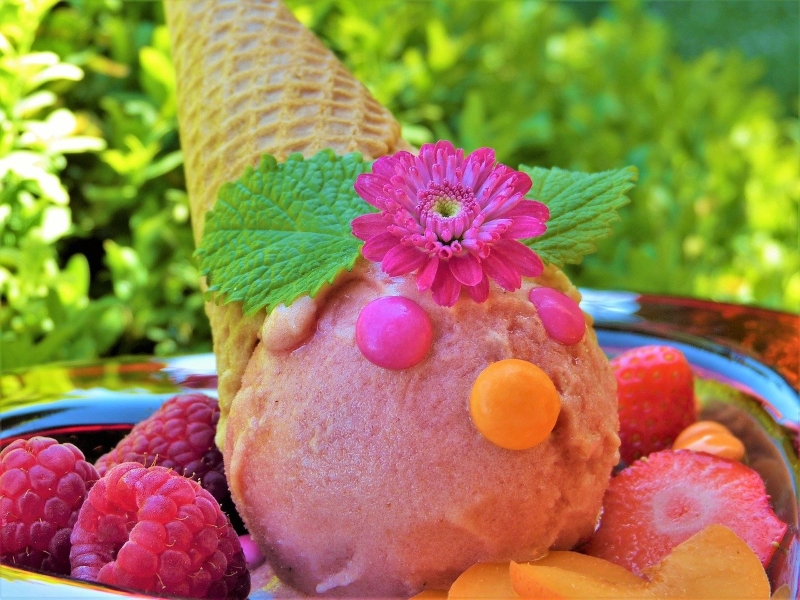 Ice Cream Cone
Ice cream cone is also known as cornet, or poke. Ice cream cones are brittle, cone-shaped pastries that are often formed of a wafer texture that is similar to a waffle. Ice cream cones come in a variety of designs, such as pretzel and chocolate-coated cones, which are coated on the inside. Informally, an ice cream cone is also a cone that has one or more scoops of ice cream on top of it.
---
Check out the different types of ice cream cones below.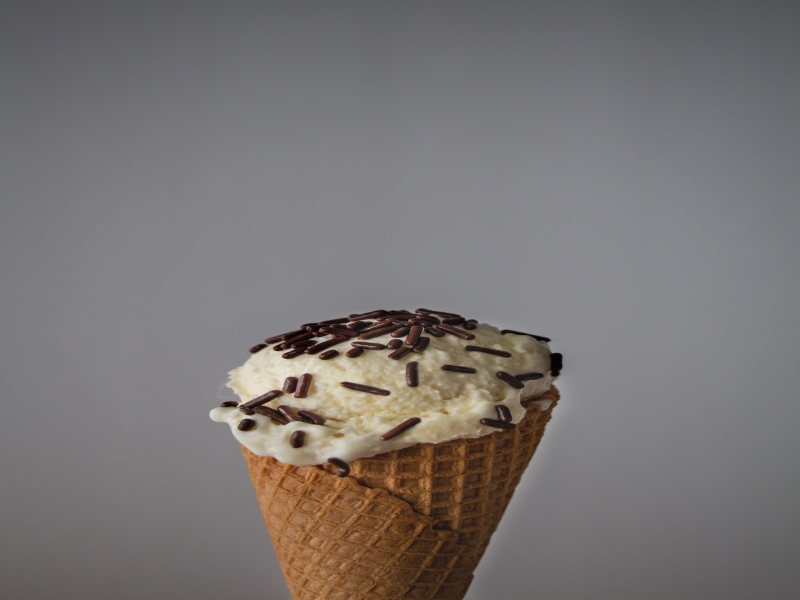 1. Sugar Cones
Sugar cone is a traditional, somewhat sweeter option to cake cones. This type of cone can be made thicker and crunchier by adding molasses or brown sugar to the baking process, although they are typically smaller and have a darker color than cake cones or waffle cones. Furthermore, the addition of grain and fiber makes sugar cones thicker and firmer.
A sugar cone is certainly something to try. Just be careful not to confuse sugar cones with waffle cones, as many people do. This is as a result of the lattice design and comparable dark color.
A sugar cone is an excellent option if you want a cone that won't immediately become soggy from the ice cream. Along with the smoothness of your ice cream, they also provide a delicious crunch. The cones may become even crunchier by adding molasses or brown sugar.
---
2. Waffle Cones
Another classic type of ice cream cone is a waffle cone.
Waffle cones often taste like sugar and have a pointed waffle-style pattern. Their shade ranges from a medium to deep caramel brown color. Waffle cones have a crispy texture and may contain more sugar than other sugar cones, but they also provide a fantastic source of fiber.
Waffle cones use cake and pastry flour to create their sweet and crispy flavor, which enhances the looks and texture of your ice cream serves. The crispy, syrupy features of your cone batter come from the addition of molasses or dark brown sugar, whilst fiber strengthens and lessens breakage.
These waffle cones are first pounded in a specialized waffle iron before being rolled into cones. The top part of these ice cream cone types have a large opening or wide mouth that can accommodate more ice cream than many other cones, despite the fact that their base is pointed.
Waffle cones are the best option if you like to top your ice cream with extras. They can accommodate more sauce, sprinkles, nuts, and other toppings because of their bigger brims without running the potential of spilling any of them. Waffle cones go well with fruit, granola, frozen yogurt, and granola.
Searching for the perfect waffle cone for your ice cream flavor won't be challenging thanks to the variety of sizes, styles, and flavors available.
---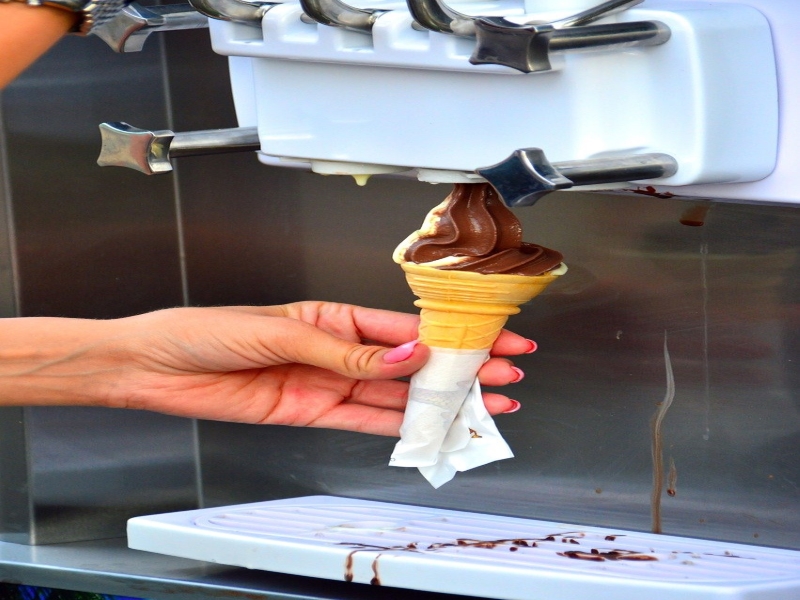 3. Cake Cones/Wafer Cones
Cake cones, also known as wafer cones, are lightly sweet and light in texture. Make sure your cake cone isn't too bland, which may result in a flavor that tastes like cardboard, or too rich, which could dominate the ice cream.
Cake cones have the potential to taste too rich or a touch cardboard-like. and dull The flavor of the ice cream may be overpowering if the cone's flavor is too intense. This is obviously not what you prefer.
Cake cones are the ideal blend of sweetness and crispness that go perfectly with all ice cream flavors. They are made with pastry, cake, and tapioca flours. By perfectly combining flour, sugar, and shortenings, a product that resembles cake batter is made. Even by itself, this has the potential to be quite good. Although full sizes and double scoops are also available, these cake cones are great for kid-sized portions.
---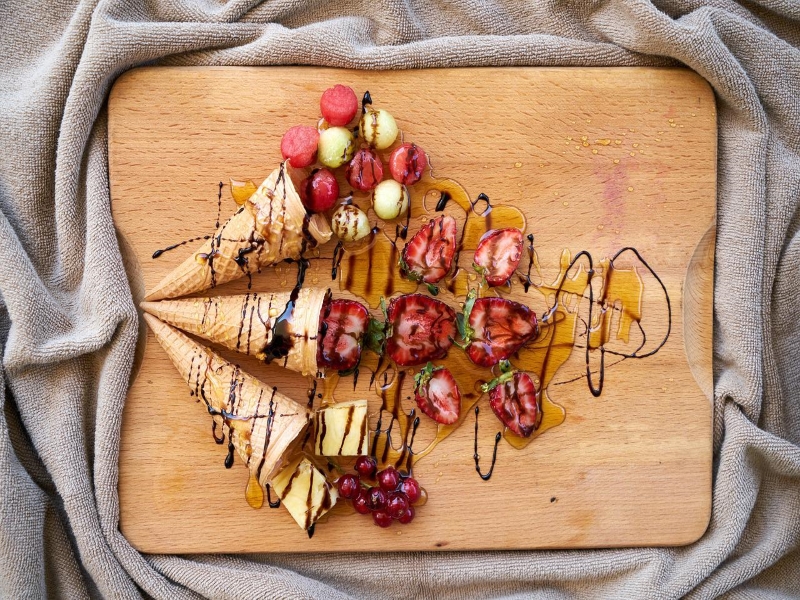 4. Chocolate Dipped Cones
If you love chocolates, then you should try this type of cone, Chocolate dipped cone.
Chocolate dipped cones give every ice cream flavor a touch of rich, chocolatey deliciousness. All ages of chocolate lovers will be unable to resist this feature. These cones have a thick, chocolate-coated rim and are dipped in a creamy milk chocolate dip.
If you have an ice cream shop or ice cream truck, your consumers will be tempted to purchase another scoop thanks to the chocolate covering and fresh, crispy, crunchy feel of these chocolate-dipped cones. These cones will add fresh, profitable menu items to your ice cream parlor or cafe's offering, which is great for increasing impulsive purchases.
---
5. Ice Cream Sandwich Wafers
Even though these wafers for ice cream sandwiches are not cones, these are nice addition to the list. Any ice cream flavor may be transformed into a delicious ice cream sandwich thanks to them.
A fresh and enjoyable way to enjoy a variety of ice cream flavors and other frozen foods is with these wafers.
The delicious diversity of sandwiching cookies with any of your ice cream alternatives is now available to your customers of all ages with the help of these ice cream sandwich wafers. These wafers may also be used for ice cream cake, cheesecakes, and pie crusts in addition to ice cream sandwiches. If you love toppings, broken wafers can be used as ice cream toppings.
---
6. Pretzel Cones
The pretzel cone can be the unique twist you've been looking for if you want a crunchy and salty substitute for the classic ice cream cone flavor. A few of your richer ice cream flavors benefit from a firmer, more flavorful base that is provided by the combination of wheat flour, sugar, and salt. For the ideal accompaniment to your frozen delights, the lightly salted exterior cone is created to showcase the delicacy of each of your flavors. These pretzel cones are the perfect foundation for your 1-2 scoop desserts and are excellent for soft serve ice cream or hand-dipped ice cream.
---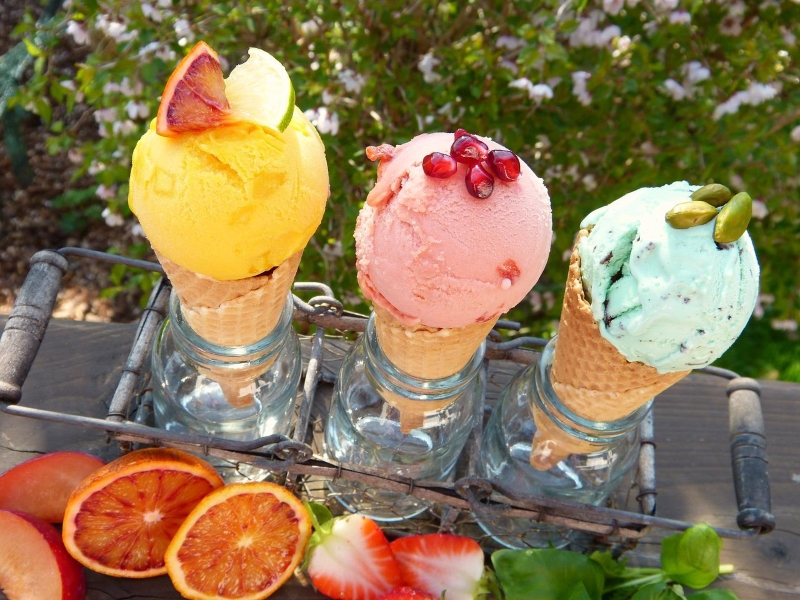 7. Gluten-Free Cones
The ice cream cone industry has listened as more people nowadays want to avoid gluten. People with Celiac disease and gluten sensitivities can still enjoy ice cream and cones altogether. Thankfully, a gluten-free alternative is now offered.
Ice cream vendors usually have this type of cone nowadays. They will make sure that, despite some restrictions, all customers may enjoy a sweet and delectable ice cream goods. People may now enjoy these delicious treats because of the gluten free option.
These cones are not only gluten-free but also quite flavorful. They have a flavor that will lure you to come back for more scoops time and time again since it is so crisp, fresh, and crunchy taste.
---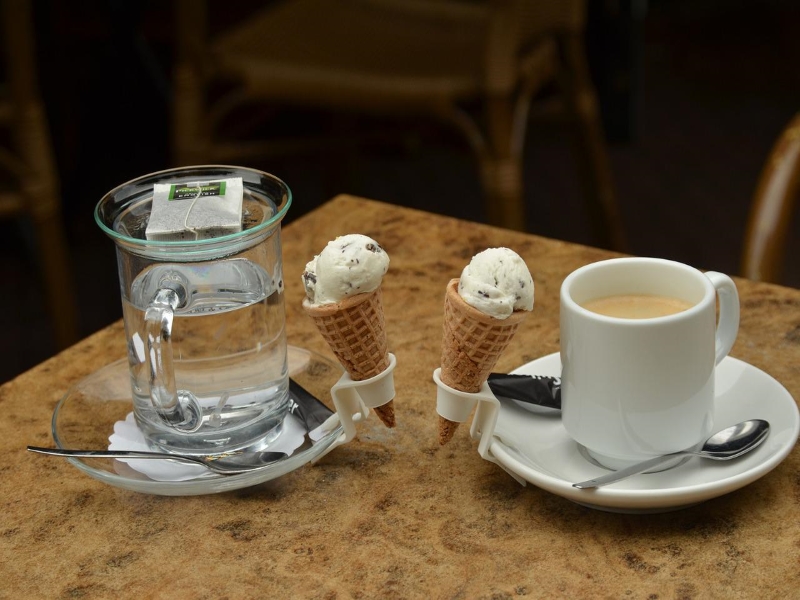 8. Kid Cones
Kid cones offer an extra sweet treat in addition to the ice cream. These kid-friendly, smaller-sized cones provide the right amount for a kid's scoop. The cones are tiny enough for kids to hold them without making a mess on the ground or making them uncomfortable. Kid cones are sturdy enough to accommodate fresh, hand-dipped, or soft-serve ice cream varieties.
Additionally, these little cones are the perfect size for sampling. If you run an ice cream parlor, you can utilize these cones to give customers a taste of several flavors so they can decide whether they like them or not. If you're a grown up individual and craving, you'll want something a lot bigger.
---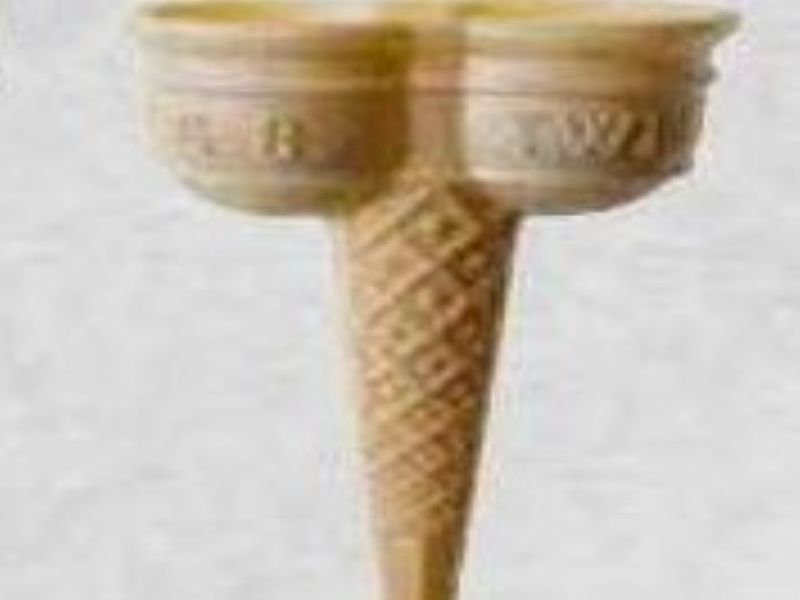 9. Twin Cones
Two is better than one! This is definitely true for twin cones. Twin cones offer enough room for several ice cream scoops to fit inside of one cone. The pile of scoops stacked on top of one another has been eliminated by these cones. Instead, two rounded cups are placed side by side so that you may savor each one individually. This will let you to enjoy two scoops of various flavors without having them mix in the cone. If you're having trouble choosing between two flavors, this is the best option. You can choose both.
The traditional pointed bottoms of these cone types are solid and strong enough to support even the largest twin scoops.
---
10. Jacketed Cones
Your cone is shielded from contamination from the exterior and prevents unnecessary messes with a paper covering. You won't need as many additional napkins if you use these jacketed cones to demonstrate that hygiene is a top priority in your café or ice cream store. By presenting your ice cream in a jacketed cone, you can keep your hands clean and the cone free of contamination.
Because of the covid-19 virus, today's society places a greater focus on cleanliness and sanitation than ever before. If you use this type cone hands will never touch the cone, this is a fantastic option if you don't like the concept of someone delivering it to you.
These are also a nice option for ice cream sellers. These cones for ice cream vendors demonstrate the commitment to cleanliness and can help you avoid spending extra money on extra napkins. These jacketed varieties will keep your hands clean and the cone entirely uncontaminated at all times, providing a clean, mess-free ice cream cone experience.
---
11. Waffle Bowls
This ice cream cone bowl is the ideal option for any dessert as a wonderful foundation for multiple scoops of ice cream or sundae delight. These go well with soft serve or hand-dipped ice cream, frozen yogurt, or custard. Naturally, the bowl is pleasingly firm, ensuring that it won't go soggy from the weight of all that delicious ice cream. You also have the option to finish the crunchy texture of the waffle bowl, after devouring all of your ice cream. For ice cream sellers, customers won't have to choose between a dish and a cone any longer.
---
History Of Ice Cream Cone
The first known cones were wafers that had been rolled and baked to make it crunchy. It's hard to tell exactly when they started serving sweets, and ice cream in particular. According to some historians, the ice cream cone originated in France in the early 19th century. An 1807 drawing of a Parisian girl enjoying a dessert might show an ice cream cone, and edible cones were first mentioned in French cooking books in 1825, when Julien Archambault explained how to roll a cone from "little waffles". The Modern Cook, published in 1846, by Italian-British chef Charles Elmé Francatelli suggested using ice cream cones as a component of a larger dessert meal.
At the beginning of the 1900s, edible ice cream vessels were quite popular in the United States. In 1902 and 1903, two Italian innovators and ice cream vendors invented molds for edible ice cream cups. A creative machine resembling a waffle iron with a cup form, patented by Manchester resident Antonio Valvona, was created "for making biscuit-cups for ice-cream" over a gas range. The next year, New Yorker Italo Marchiony patented an upgraded version with a break-apart bottom to allow for the production of more creative cup forms from the light waffle batter.
Arnold Fornachou, a Syrian-Lebanese concessionaire, owned an ice cream stall at the St. Louis World's Fair in 1904. When he ran out of paper cups, he realized he was next to Ernest Hamwi, who was a waffle vendor. He sold some of his waffles to Fornachou. To contain the ice cream, Fornachou rolled the waffles into cones. Although there is great debate, some people think this to be the time when ice cream cones gained popularity.
The Norfolk, Virginian Doumar family and Abe Doumar both claim invention of the ice cream cone. Doumar started selling paperweights and other things at the age of 16. One evening, he purchased a waffle from another seller, Leonidas Kestekidès. Doumar stacked an ice cream scoop on top of the waffle before rolling it in on itself. At the Exhibition in St. Louis, he started selling the cones. Doumar constructed and had a four-iron baking machine made when his "cones" became a hit. In 1907, he and his brothers sold close to 23,000 cones during the Jamestown Exposition. Abe then built Doumar's Cone's and BBQ in Norfolk, Virginia, which is still operating today, using a semi-automatic 36-iron machine that could make 20 cones in a minute.
---
How To Make Ice Cream Waffle Cone
Ingredients
2 eggs, large
2/3 cup all purpose flour
1/4 tsp salt
1 tsp vanilla extract
1/2 cup brown sugar
1/4 cup milk
1/4 cup unsalted butter
Instructions
Collect all the necessary ingredients. Combine the flour and salt in a small bowl.
Next, brown sugar and eggs are whisked together in a separate medium bowl.
Then, combine the flour mixture with your egg and sugar mixture. Combine thoroughly.
Add the milk, vanilla essence, and melted butter together.
Preheat the waffle cone maker. Spread 2 to 3 tablespoons of the batter equally on the surface of the maker.
Cook for approximately 1 1/2 to 2 minutes with the lid closed.
The cooked, flat waffle should be immediately removed from the machine and rolled firmly around a cone roller to form. A tight bottom point should be used. To establish the form, hold for three minutes.
The cones should be placed on a wire rack to cool. Continue the procedure by using the remaining batter.
---
If you want to make a good ice cream cone, you might want to look at the things listed below.
Brand: CucinaPro
Color: White, Black
Material: Iron
Wattage: 350 watts
Item Weight: 3.4 Pounds
Style: Non-stick
In only a few minutes, you can make your own ice cream cones and bowl, or you may decide to create stroopwaffles.
The package also contains a cone roller for making stroopwaffles or delectable waffle cones.
If you are interested in this product, simply click on Amazon
---
Brand: Fox Run
Material: Wood
Color: Beechwood
Is Dishwasher Safe: No
This sturdy baking tool is the ideal pizzelle roller, Norwegian krumkake roller, or waffle cone maker and is made of 100% food-safe natural Beechwood.
Use to create sweet Norwegian krumkakes, cream horn cookies, crisp or chewy Italian pizzelles, waffle cones, and wafers.
You can purchase this product now on Amazon
---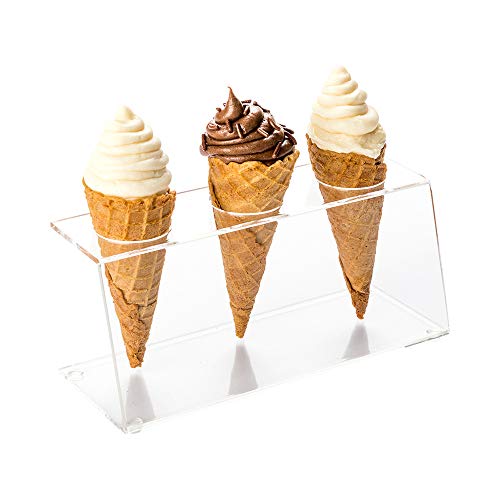 Brand: Restaurantware
Color: Clear
Material: Acrylic
Style: 3 Slots
Number of Items:1
With a 6-slot capacity and freestanding style, this food cone stand has you covered for serving everything from ice cream cones to little desserts.
This unique ice cream cone holder gives the impression that your appetizers or sweets are floating in midair thanks to its crystal transparent acrylic construction.
If you want to buy this product, just click on Amazon
* If you buy through links on our site, we may earn an affiliate commission. For more details, please visit our Privacy policy page.